She's fully capable of standing alone, I just know it. Her legs are sturdy, her balance is unwavering and yet there's that itty bitty finger grip. She's not quite ready to let go, and that's okay.
You know how many times in life I knew I possessed every ounce of strength and skill to do something and yet I chose to wait, clutching on to the guidance of others for whatever reason, until my confidence grew so strong, it pushed me like a rip current?
While I hold that tiny hand, providing the steadiness she thinks I give her, I know her confidence is brewing like a long-awaited cup of coffee. It will come and, in the meantime, I smile knowing that something as little as my finger–a tiny part of me–is all she needs to feel secure.
*****
It was a homey weekend. We ventured out only to take the crew to the airport and gather ingredients for broccoli soup.
We crafted. We're working on switching some rooms just for fun in our house and, in the process, Lainey will get her own. Poking around Ohdeedoh for inspiration, I found a room I fell in love with but knew I had seen it somewhere before. And then I smiled, recognizing it as my blog friend, Meg's. Meg is crafty, kind, homey and adorable. Her house tour will leave you completely inspired, and we love this room so much, we are incorporating a little "READ" in Lainey's room too, next to a hanging book shelf above her bed. The room is a work in progress, but we did accomplish finishing our letters this week. I love the work of Eloise Wilkin, and we happened to have two copies of the same book, so we (gasp) tore one up to decoupage onto cardboard letters. Someone needs to pry this damn Mod Podge out of my hands before I start shallacking walls.
More to come on her room.
*****
We dwell outside a lot these days. Nella cries at the door to go out, cries once we're out to get down, and cries when we finally come in for the night. She is happiest when she is hot, dirty, and scraping her butt along pavement.
Sister likes it too. This is her badass cyclist look.
Last week, a neighborhood cat ventured down to our driveway and decided he's in love my kids. Now, we find him sleeping in strollers in our garage and hear him crying outside our door first thing in the morning. Lainey thinks it's the coolest thing that ever happened to us.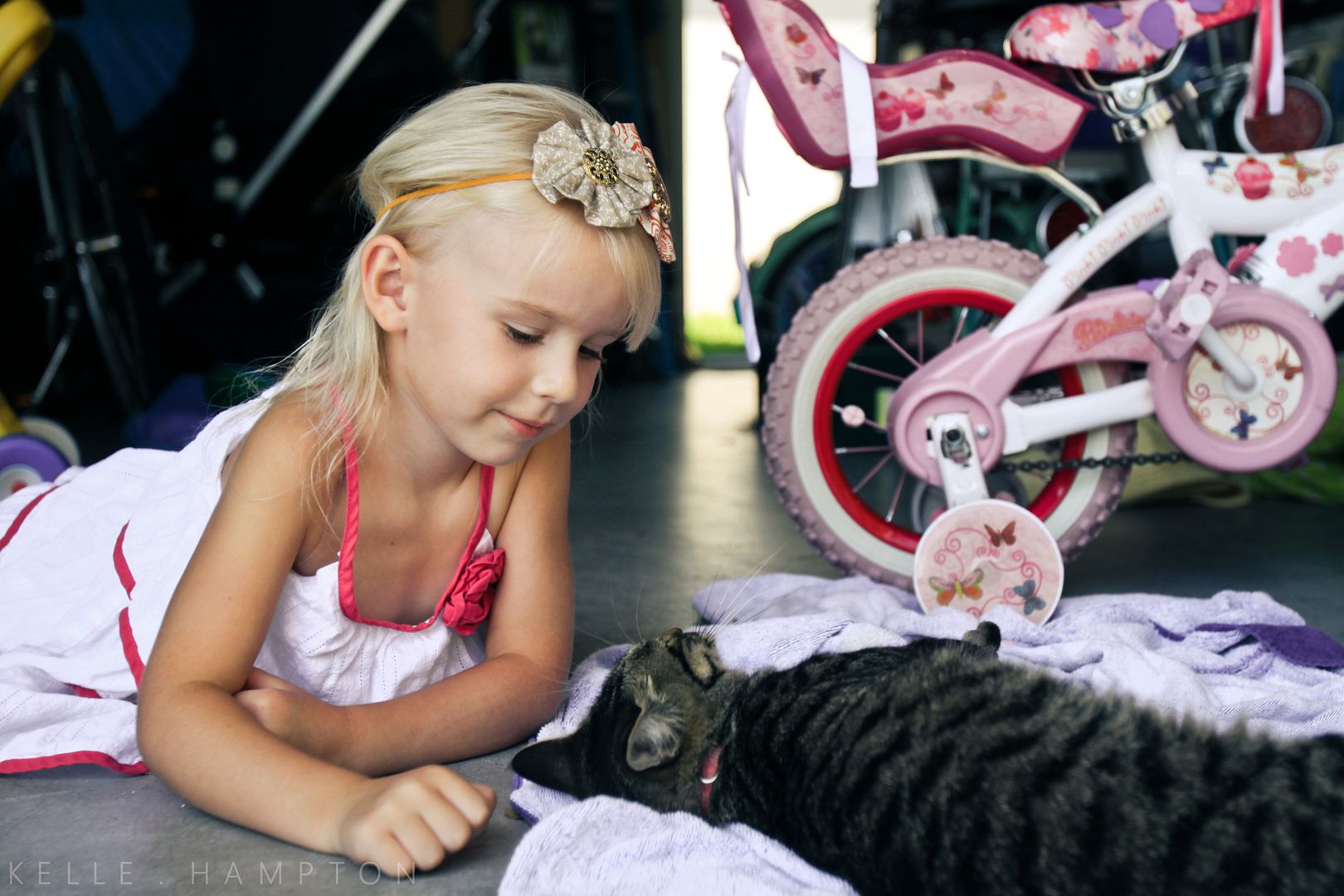 And Nella and Cat are making friends, slowly but surely. There have been stand-offs.
But Lainey usually intervenes and does some good mediator work and now Cat, Kid and Sister are getting along swimmingly.
Do you see a cat?
Cat camoflauges himself in our mulch, just like Latte does.
*****
This morning, Lainey and I set out on a much-needed date.
We drove farther than usual to a hidden Cracker Barrel nestled away from the main stretch, between a Super 8 motel and a storage garage off of CR-951. It made me think of this trip, where Cracker Barrel breakfasts were as common as stopping for gas. I love Cracker Barrel. I like the way their store front smells like licorice and cinnamon and wood floor polish. I like the Smoky Mountain Hymn CDs they sell and their pickle barrels full of Raggedy Anns and sock monkeys.
We played checkers. I let her win.
We ate pancakes. I let her pour her own syrup.
We talked about words, and when she asked "What does p-y-u-b-w-z?" spell (because we're in that stage), I let her think "pyubwz" was a real word and she was awesome for spelling it.
And right when I felt like the Cracker Barrel off the beaten path was far from home, we bumped into good friends–right there in the general store next to harmonicas and penny candy.
Lainey's friend, Aleena.
The girls were thrilled to see each other, evident by their strange dance moves and endless giggling. They have a secret hand shake, these two. We noticed it a couple times after they received stickers at the end of ballet class. They tap fists in some wonder-twin-powers-activate move and then follow it by wiggling their fingers under their chin and mumbling some Mork-ish babble. It's inventive and hilarious.
There's still more daylight that calls for driveway butt scoots tonight. Nella's, not mine.
*****
Winner of $60 gift certificate, courtesy of Oh Ollie: Comment #67, Heatheroo: Yay the oh is back…isn't it sad when your kids "outgrow" things…but I'm glad Nella still has her oh….it makes me smile! Have a lovely weekend!
Congratulations Heather! Please send your info to [email protected].
*****
When Brett saw the box from our returning sponsor on our counter this week, he got all excited. "That homemade lotion stuff is back?" he asked. He loved this stuff, and he wasn't the only one.
Heal My Sole is returning as a sponsor this month. Heal My Sole, a company that began with an idea and some homemade recipes in a kitchen, offers all natural body products. We tried the massage candle (smells amazing), the citrus scrub, and the all natural bug spray which we loved. It's perfect for kids and works great for beach no-see-ums and post-rain mosquitos.
Use Code KELLE10 for 10% off your order until 8/26, and one comment on this post will be randomly chosen to win a $40 gift certificate, courtesy of Heal My Sole.
*****
Last week seemed to last forever, but this week I am pushed forward by the current of everything good. My legs are sturdy, my balance unwavering.
We are looking forward to some fun adventures on our calendar this week.
Cat is crying at our doorstep. Must go.
Happy Monday to all…and to all a good night.