I walked out in the garage in my nightgown early this morning to fetch the back-up supply of half & half and there, on top of my car, dimly lit by the overhead garage light was Cat, sprawled out and sound asleep. This is becoming pretty funny.
We kind of unintentionally stole a cat.
*****
Last night was special–like coming home from summer camp and exclaiming to your parents that your cabin mate was the coolest girl in the world is special.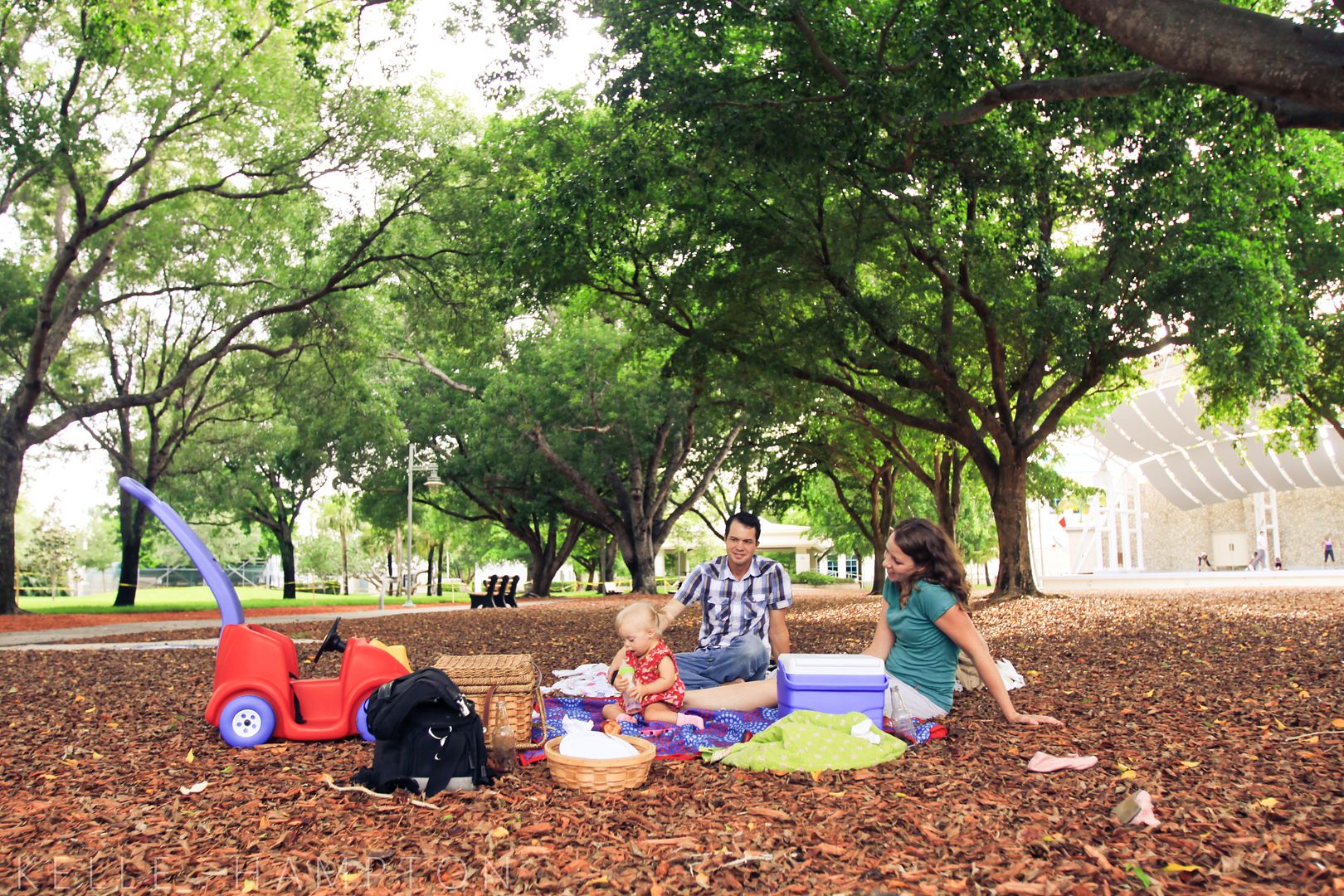 I "met" Brooke through a writing opportunity with Babble (Girlfriend can do wonders in the kitchen…check her out). And the great universe, in its way of drawing kindred spirits through the Internet, finally paved the way for us to meet in real life. I felt like I knew Brooke's family already and yet it's always cool, that movie-like moment where we both arrive at the arranged meeting place, search each other out and hug like long lost friends. I wanted to do the whole "I'll be the girl holding a book with a red rose" to reveal my identity, but two kids and a beat-up stroller heaped with junk pretty much gave it away.
This adorable family slayed me with their kindness and their quest to live fully.
The scene was sublime–quilts spread over a carpet of dried leaves, a canopy of leafy shade overhead, a rare July evening breeze, the proverbial picnic basket, my mom's old-fashioned potato salad (I forgot the serving spoon. I packed a picnic for a professional foodie, and we had nothing with which to scoop potato salad but two cheap plastic forks)…
But the conversation? Oh, it was rich. While John & Brooke's kids whisked the girls away to entertain them on swings and slides and things with wheels, we adults talked about life and love and faith. We asked good questions and concluded it was okay not to have all the answers.
The sun sank slowly as our comfort level grew, and for each hour we lingered, we could have stayed another.

Nella wants a piece of the action every time Lainey plays games on my phones.


The encore to our park picnic came in the form of Kilwin's Fudge and Ice Cream Shop, conveniently located only a block from the park. I smiled watching Lainey make new friends and successfully contain her shy smile.
Nella seriously threw down on some rasberry sorbet.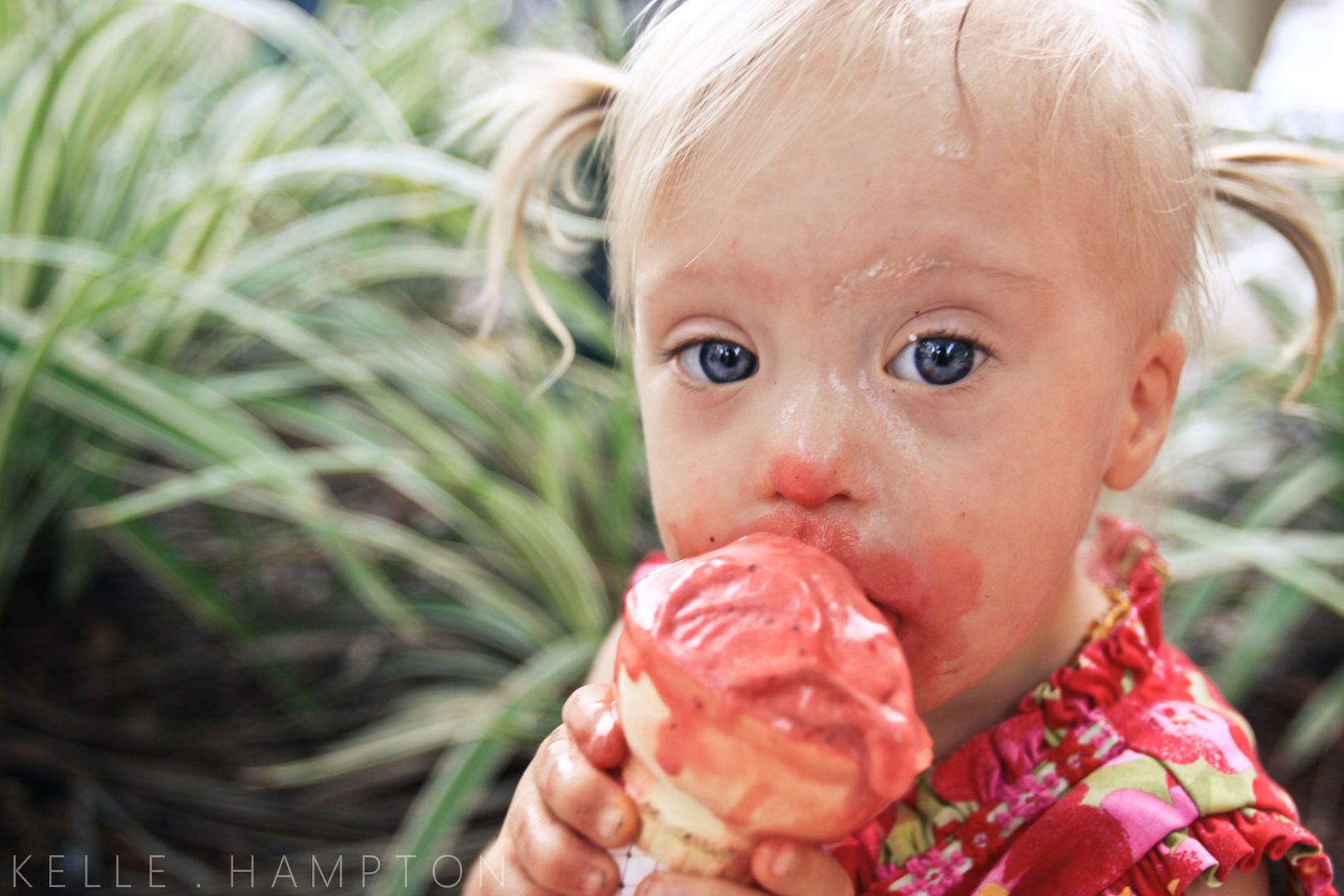 …and when it was finally time to pry the cone from her deadly grip, it was a hot mess of an ordeal. A sticky fit ensued.
After hugs and last exchanges, I buckled two tired girls in the car and, as I drove, I thought about just how awesome it is that in a world of so many differences, when you really get to know people and open yourself up in an honest way to learn something…you'll discover how very much the same we really are. I find such comfort in that sameness.
*****
Brett's away this week, training for a new job, and I find that more responsibility for me comes with more ambition. I like the challenge of holding down the fort, giving extra attention to the girls and maybe–just maybe–I'll blow his mind when he returns to a clean house and trash cans that I actually remembered to drag to the curb.
Today we cooked and baked with friends.
Shrimp chowder, cupcake cones with sprinkles, and a kitchen sink bath for Nella after she so generously offered her help with frosting duties.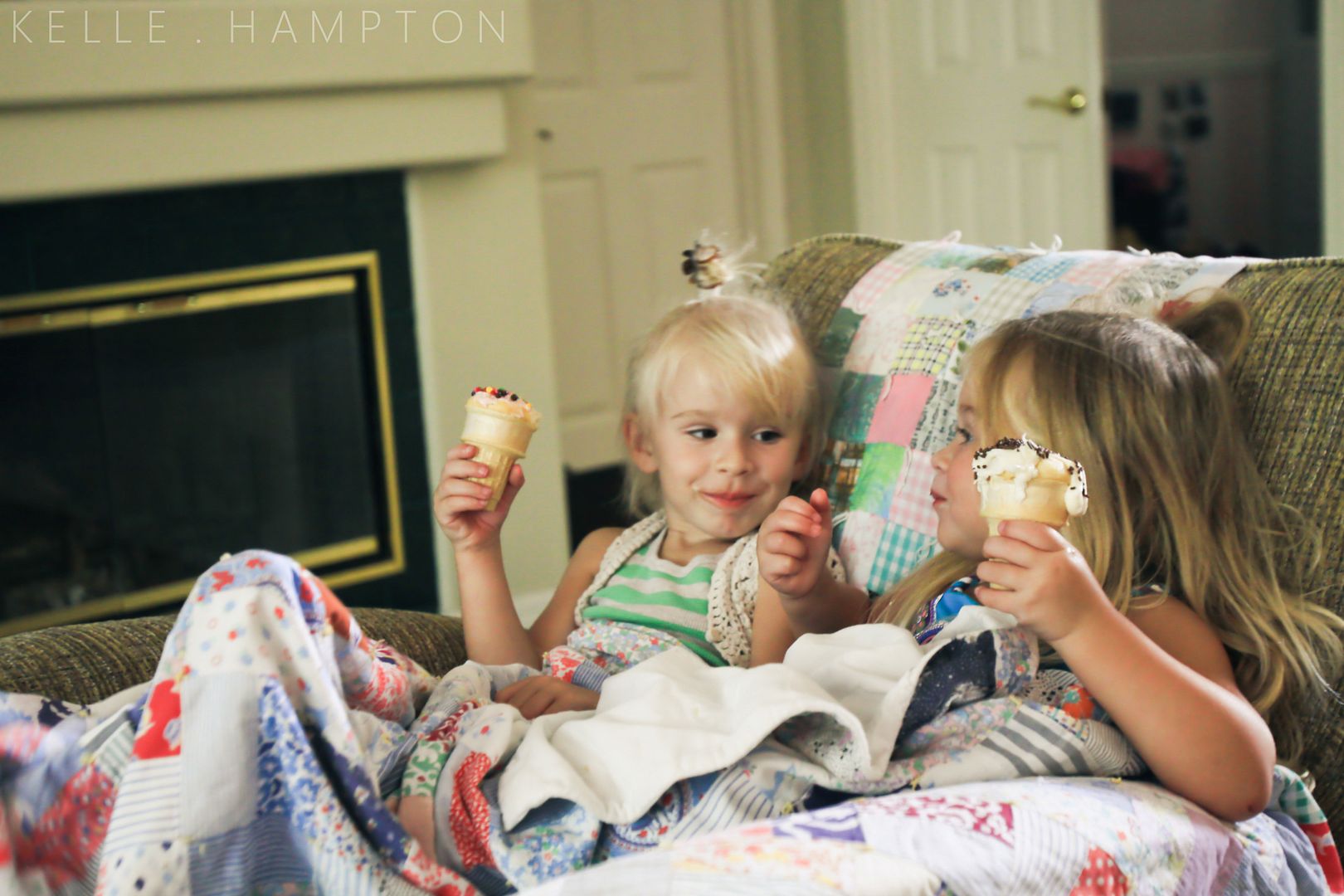 And when our day was almost spent and shadows stretched long in the driveway, we retreated from homey comforts to outdoor adventures just for a bit.
And then called it a really good night.
*****
The winner of the Heal My Sole gift certificate is Comment #292, Small Town Girl: Cracker Barrel, I really do love that place! Being in Vermont, we experience Cracker Barrel very seldomly. It reminds me of trips to Port Charlotte/Fort Myers to see my grandmother.
Congratulations, Small Town Girl! Please send your contact info to [email protected], and you'll soon be shopping for some sweet smelling scrubs.

*****
Scentsy Independent Consultant, Jessica Clough, is back to sponsor (thanks for shopping with her last month!) again this month. Thanks to her, a new ritual in our home is the breaking-of-the-bar. When I need some cleaning mojo, I always begin by breaking a new scent bar and revving up my warmer. The rest is history. Today, a block of Groovy Grapefruit and Michael Jackson's "Beat It" inspired a full kitchen shake down.
I'm already dreaming of fall and think Autumn Sunset, Clove & Cinnamon, and some sultry Embers scents might jump start my enthusiasm.
One lucky commenter on this post will win a Cupcake warmer and a Happy Birthday scent bar, courtesy of Jessica Clough's Scentsy Shop.
*****
We're exhausted.
Happy evening to you.