At this moment, from my desk chair, I can peer between the blind slats of our office/soon-to-be-Lainey's-room window and view a scene that summarizes the goodness of summer, the commencement of a lazy weekend, the celebration of a daddy who's returned after a four-day retreat. A shallow puddle of water from an abandoned running hose slowly spreads across our driveway cement, and tiny wet footprints escape from its edge. There are barefoot babies, a mess of trikes, a bottle of bubbles tipped over and spilled, and a beach chair throne erected in the thick of it where Brett sits, content, as bright sky fades to dim sky fades to dark sky.
I love Friday nights. We make a big deal of weekends with its waffles and coffee refills and no-such-thing-as-time mentality, but really the peak of a weekend's glory is all about the Friday night. It's the Christmas Eve of Weekend. The potential of really great things.
While Brett was gone, I remembered to haul garbage cans to the curb, lock the doors, dim the lights, and I only had to scrape dog poop out of our entryway rug once. It's amazing just how much I get done when I am motivated to prove a point to myself. Something about badassery, I guess, but still–knowing I am capable is satisfying.
I worked harder, stayed up later, woke up earlier, kissed more, cleaned more, and was that more aware to be present.
I enjoyed them so much this week.

Bed photos: ISO 800, f/2.8, 1/50 s (16-35 mm) , no flash
Last night, I tucked them into my bed later than usual. Lainey fell asleep quickly and easily while I staved off Nella who laughed and babbled and tried to scale her sister's body, no doubt aware she wasn't to be disturbed. Finally, her steady breaths joined her sister's, and I huddled over them, studying my favorite features. Paper thin eyelids that beg to be kissed, soft wisps of hair swept over forehead, shallow slopes at the tops of their noses where I run my finger again and again.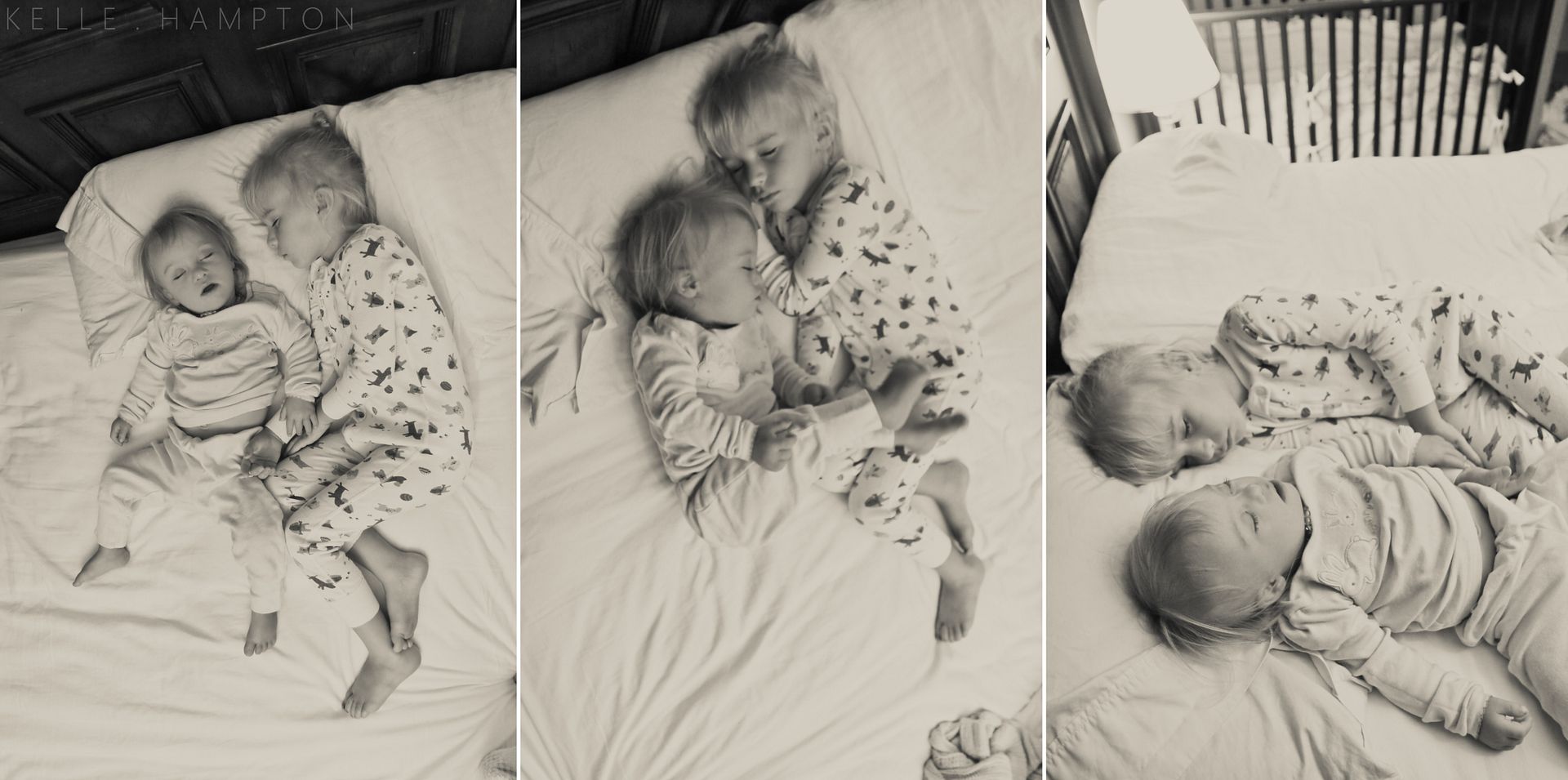 There is a magic to a sleeping child–a spell cast on the beholder. When I watch my children breathe steadily as they dream and peacefully sleep, I am so acutely aware of the gift they are, and I am smitten with love in a breathless moment of They Belong to Me.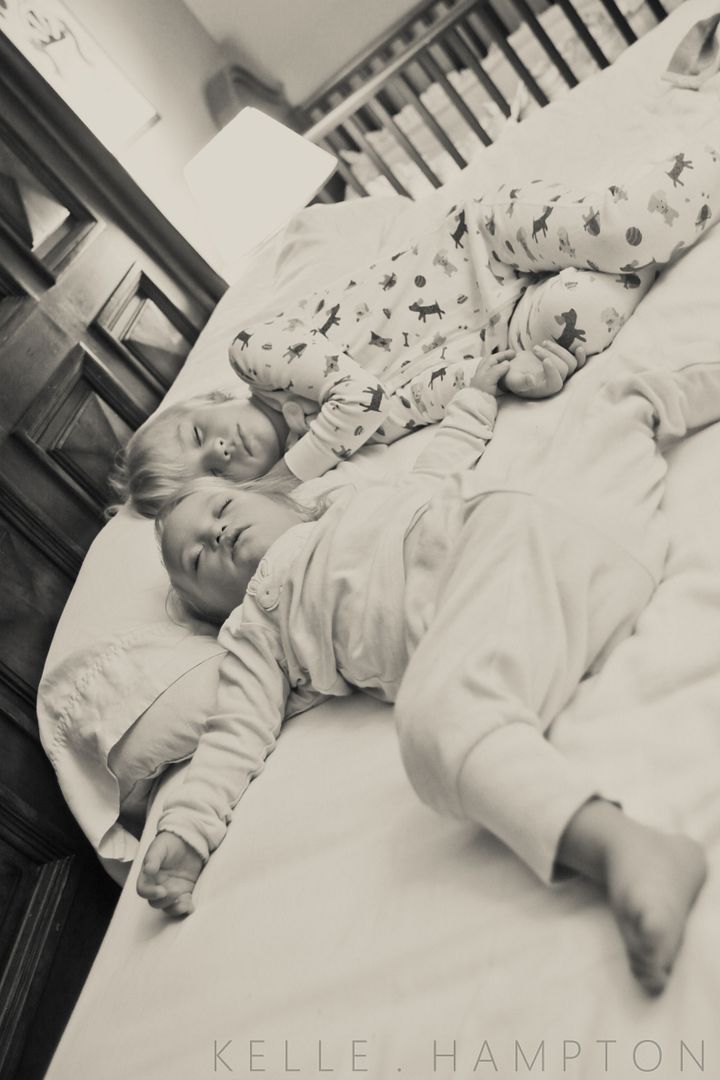 Big, big love.
*****
We enthusiastically welcomed our morning today with an early hike along a stretch of boardwalk near my dad's place. The setting was picturesque, brilliantly enhanced with dabbled sunlight and lush greens. Perhaps it was my last hoorah in proving I was a badass before Brett came home, a valid proclamation evident from our trek across the finish line an hour after we commenced.
But first, I felt brave and ambitious as we approached the starting line of our journey. The sun was angled for comfortable shade, Latte was trotting energetically, Lainey had a half-skip to her step, and Nella smiled and waved as the wheels of her car ka-bump, ka-bump, ka-bumped over each boardwalk plank.
We stopped to collect pinecones.
We paused to snap pictures of grasshoppers.
And the half-way point took my breath away with its mirror image clouds and rippled water–like Monet's stippled paintings.
It was peaceful, that half-way point.
We stared at still water, waiting for the surface to break with a manatee snout or dolphin fin, but the gulf was quiet, and so we made up for it in meaningful chatter. I answered questions like "Mama, what are bears afraid of? What do pigs give us? What do cows eat?" because she's enthralled with this food chain idea lately and wants so badly to make sense of it. Before I could answer what makes a bear fearful, she answered her own question with her quip of "I think bears are afraid of themselves–when they look in the mirror"–and then she laughed and carried on.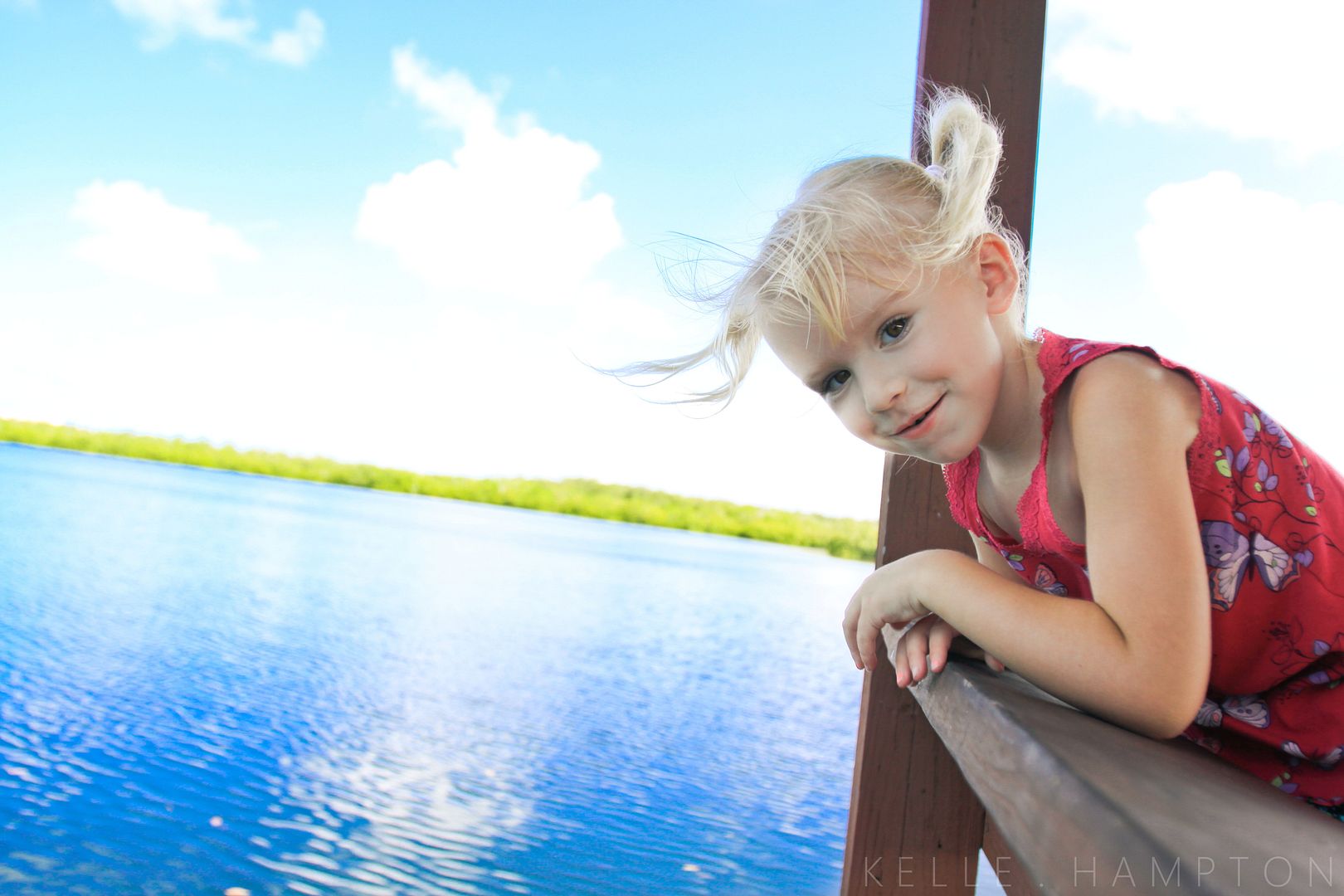 Everything changed the moment we turned to walk home. The sun climbed higher, the mosquitoes grew hungry, the dog started panting, Nella fell asleep and Lainey insisted her Build-a-Bear wanted to sit by himself in the push car.
What began as a semi-manageable congregation of toddler plus baby plus dog-on-leash turned into a living hell. For three quarters of a mile, I walked–holding a camera case; guiding a leash; cradling a slippery, sweaty baby; slapping mosquitoes; and thrusting my hips to push a car with a grumpy toddler and a lazy stuffed bear.
I tasted the salt from my sweat as it streamed down my temples and beaded above my lip. And with every ka-bump, ka-bump, ka-bump on the way back, I alternated curse words with the little bits I knew of the Serenity prayer.
But we made it. Home. At last. And Brett pulled in late this afternoon, and now we are complete.
Looking forward to the weekend.
*****
*****
Giveaway Winner:
I wish blogs had sound effects because I'd do some really cool Price is Right call down for giveaway winners. Just imagine it.
(I'm yelling really enthusiastically): "And the winner of the Scentsy cupcake warmer and Happy Birthday bar is…(drum roll, drum roll, Bob Barker freak out…)"
Comment #22, Alisha: That last photo melted my heart. Nella looks so grown up sitting at the table and the way she is looking so adoringly at her big sister is SO beautiful.
Congratulations, Alisha. Sorry it's not a new car. Please send your contact info to [email protected], and your house will never stink again.
*****
Re-Introducing:
One of our favorite sponsors is returning this month: Popina Swimwear. I've proclaimed my allegiance for their retro swimwear in several posts, and it's true–I love their butt-hugging, breast-boosting, waist-cinching vintage suits. So much, I occasionally wear them under jeans out and about when I'm feeling a little Betty Boop.
Picking a swimsuit to wear from my collection of Popina suits is like choosing what my babies will wear their first day home (You remember that? It's so much fun). Every option is good.
One of my favorites: The Grace. Very Beach Blanket Bingo, Baby.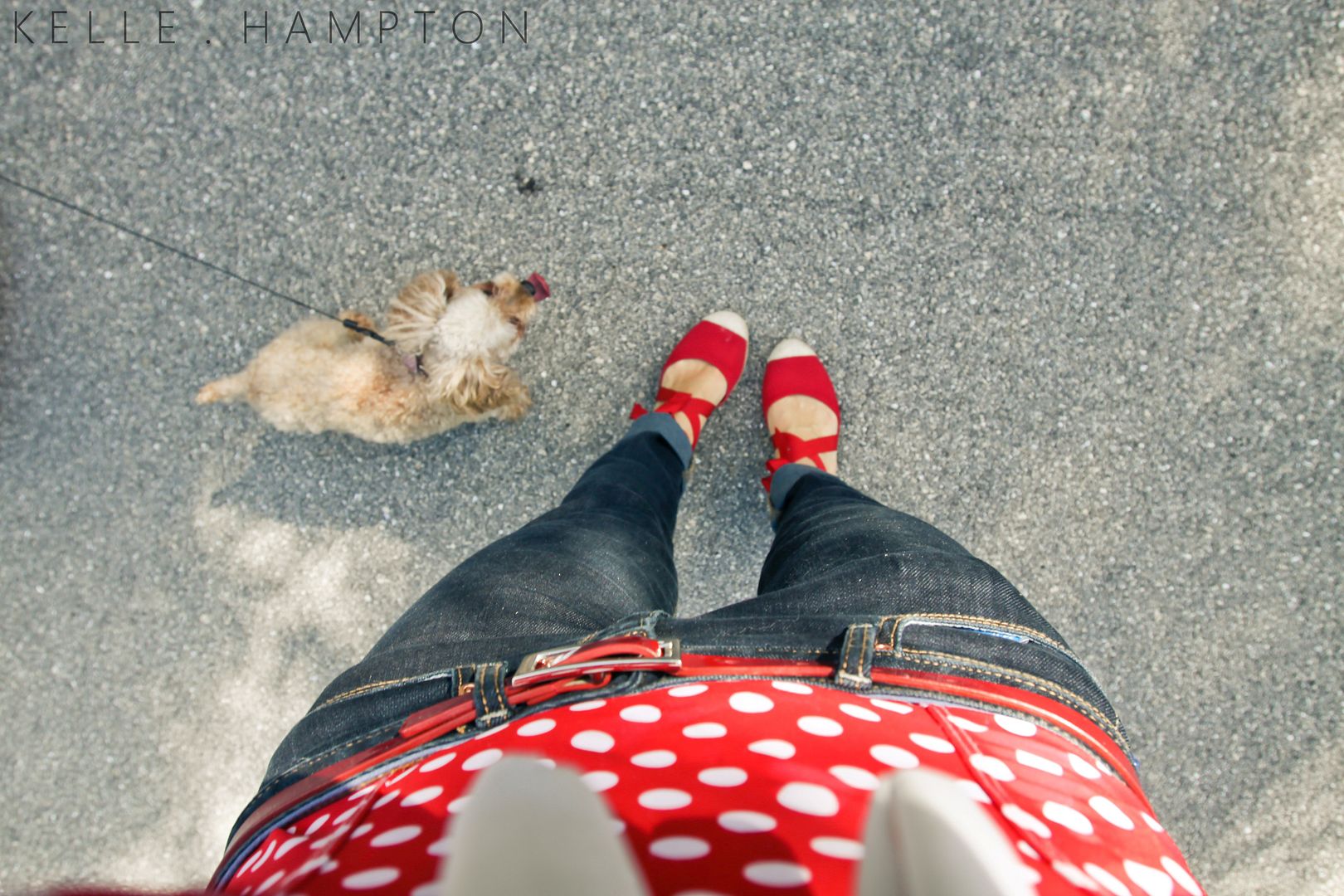 Wear it. Love it. Shop for yours here.
Oh, and giveaways make weekends better. Popina is kindly giving away a swimsuit of winner's choice to a commenter who will be randomly selected from this post. Tell me what you hope your weekend looks like.
Ours: Quiet. Coffee. Long Bath. Lying on the floor in the living room watching some old Meg Ryan movie while kids climb on me and play with my hair. Unplanned gatherings with friends. Hot grill. Hot pavement. Bare feet. Music. Writing. Sleep.
*****
Happy Weekend.