On cooking shows, when, say, Martha Stewart whips up some eggs, scrapes in some butter, dollops perfect spoonfuls of creamy batter into muffin tins, it happens gracefully. Dishes magically disappear when she's done with them, and of course she sprays her counters clean in between each step. Because that's the way it's supposed to be done. And cupcakes with lemon curd frosting taste so much better when you're enjoying them in a clean kitchen, right?
The way I cook? Complete opposite. Egg shells cracked and thrown on the island, melted butter slopped on dish rags, batter carelessly dripping onto cookbook pages and never wiped off. It's a measure of excellence: the more crusted crap on a cookbook page, the better the recipe.
Throw in a home improvement project with the cooking? Hay-ell no.
So it was last night, as I was making lasagna and tying up the last bits of my weekend home project, the kitchen took a beating. It had already served as the holding tank for all tools and homeless knick-knacks that I cleared out of Lainey's room while I worked. And cleaning it up before I made lasagna wouldn't have been any fun. So I spread noodles into my pan while I elbowed the cordless drill. I knocked over an Allen wrench, two screwdrivers and a USB cord while I stirred my sauce. And yes, it would have been so much easier if I did it the Martha Stewart way. But Girlfriend ain't Martha.


Thank you Dad for giving up your weekend to make a couple girls very happy.



I like to mess up three rooms just to clean one. I rob Peter to pay Paul, dumping piles from Lainey's room to the kitchen, from the kitchen to Nella's room, from Nella's room to the entry way, until the entry way serves as the audition tape for Hoarders. But what happens in the end is that I'm so excited about what I accomplished–about all the rooms that look new and refreshed, homey and inviting–that I'm inspired to clean that last room, those remaining piles–and clean it I did. I love new projects.
I needed a change, that is all. I wanted a new inexpensive home project and felt it was time Lainey had a space that was all hers. Most everything from this room is stuff we already had around the house. What we added was extremely inexpensive (Mason jars, marbles, dominoes, cardboard letters, paint, etc.).
When I was pregnant with Lainey, I poured all of myself into her room. When it was finished, I'd spend my evenings sitting on a chair in her room taking it all in. Sometimes I'd cry because I couldn't believe the crib I ran my fingers along would hold a baby–my baby. Brett would wake up every morning to find me sitting in there–lights dimmed, feet propped, coffee in hand. "What are you doing in here again?" he'd laugh. And "Just dreaming" was how I'd reply. There's something special about the space you create for your kids. This one was especially meaningful because now that I know her–what she likes, how she thinks, what turns the corners of her mouth into her infamous shy smile–it was so much fun to create ideas that would capture who she is. My creative, curious, colorful girl.
Her new space:


Lainey's old Pottery Barn Kids kitchen–used to be pink. I repainted it red and put a coat of chalkboard paint on the refrigerator. My friend Rebecca made new curtains for the pie cabinet.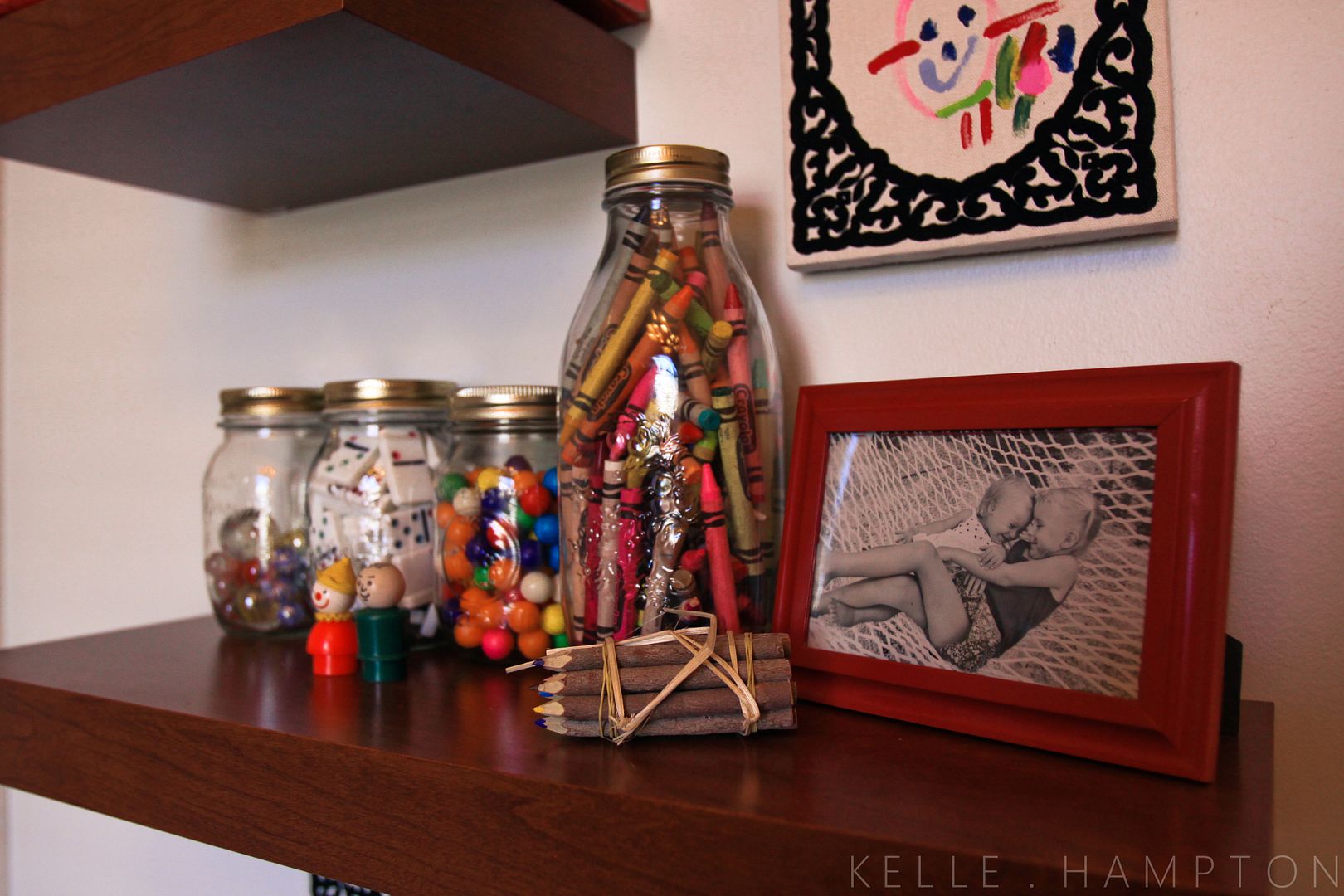 My one hold-up in this room was the chandelier. I hated it. This room used to be a dining room a long time ago and, to me, the light screamed dinner table. I wanted it gone. When my dad suggested we keep it, I fought him hard. He suggested painting it funky; I thought I'd hate it.
I humbly admitted once we were through that he was right. I freaking love this lamp.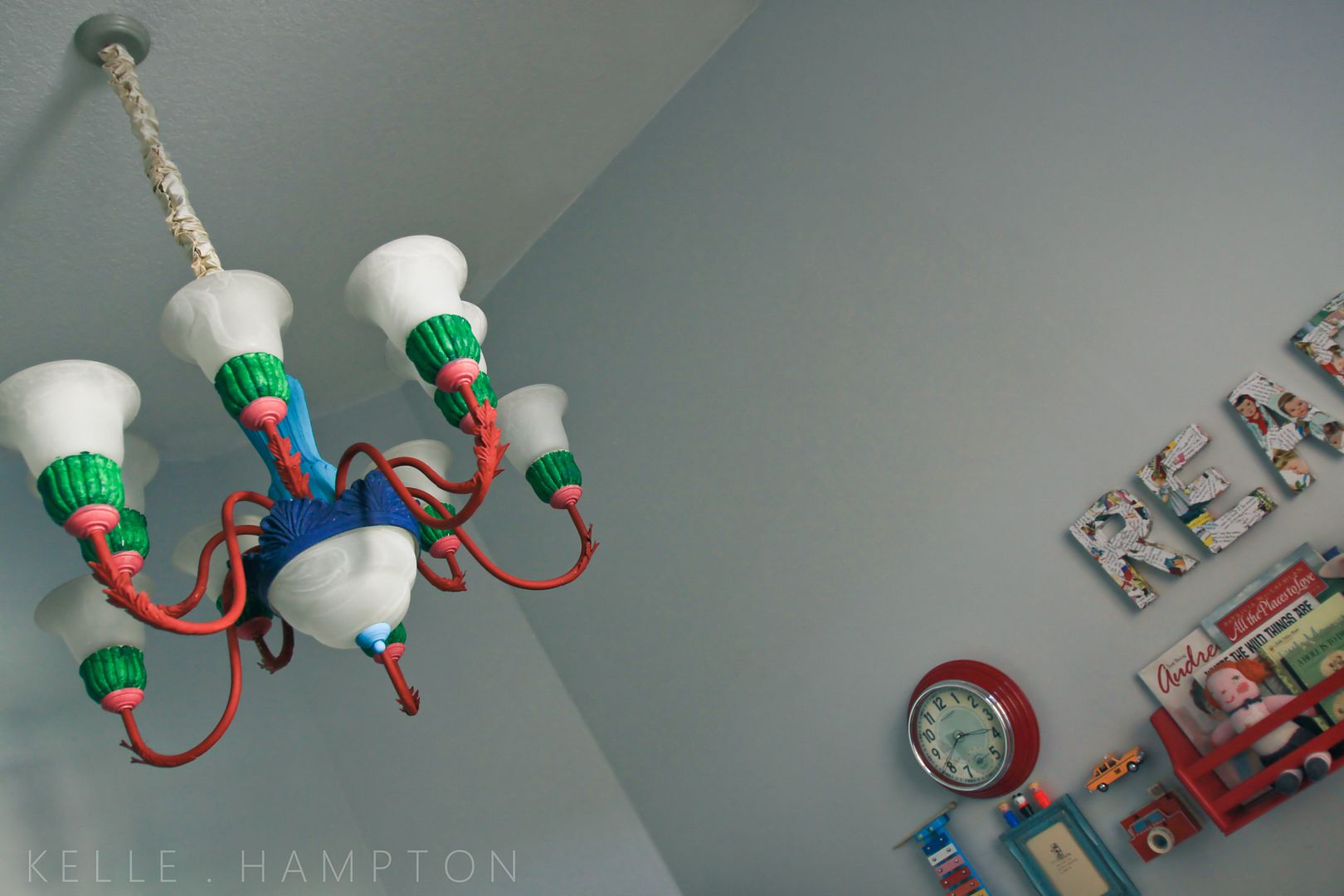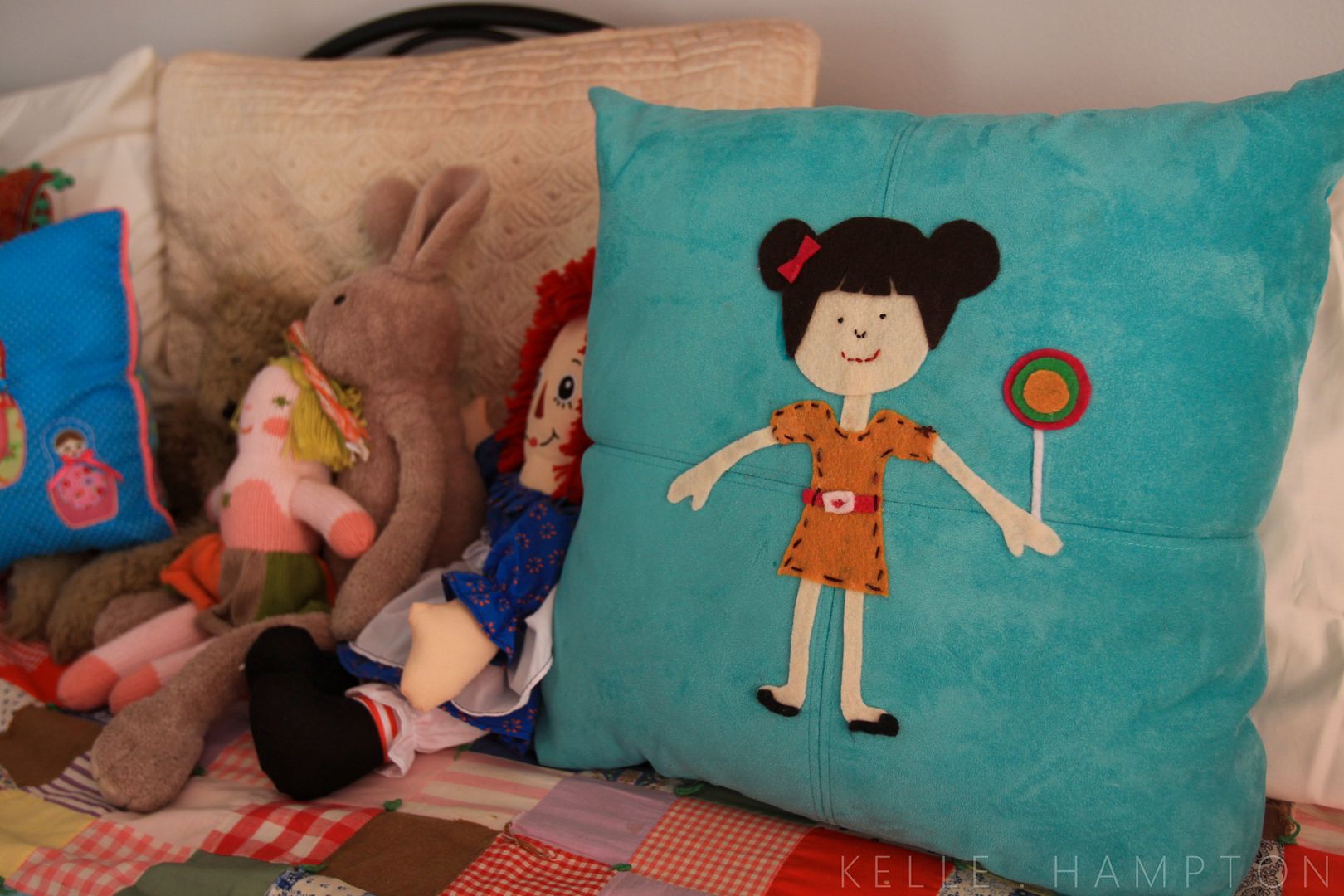 Plain 'ol toss pillow jazzed with some felt we cut, glued and stitched.






Toys adhered to wall with Velcro.


Discontinued Ikea curtains: $15 for both panels; shelf: $4 piece of wood painted and screwed into window opening.


Prints above dresser are 8×8 photos mounted on Styrene. I like canvas, but it's expensive and I can't justify it because I like to switch out photos and wall art when I get bored. These were $7 each from WHCC. You can also get them mounted on mat board with varied thickness.
Since we've finished this room, Brett has again found me sitting–lights dimmed, feet propped up, coffee in hand. "Just dreaming," I say. Because it makes me happy.
It makes her happy too.
*****
More from the weekend:
I scoured paint stains off my forearms and enjoyed my babies.


Devyn Bag: best multitasking bag ever. Laptop, purse, insulator.




I love their secret language. I love the way Little Sister adores Big Sister.
We spent a lot of time with Poppa this weekend. I opened the door to Nella's room last night to see little globes of light skipping across the ceiling. The room was dark, and Lainey and Poppa twirled flashlights like batons. "Sssshh. You can't come in," whispered Lainey. "We're on a camping trip." They stretched out on their backs and hid under blankets so the mountain lions wouldn't find them. And I closed the door smiling, thankful for grandparents and flashlights and memories of imaginary campfires.
Poor Nella got kicked out of the room because she didn't like it dark and cried every time the flashlight clicked off. "No Babies Allowed," as Lainey says.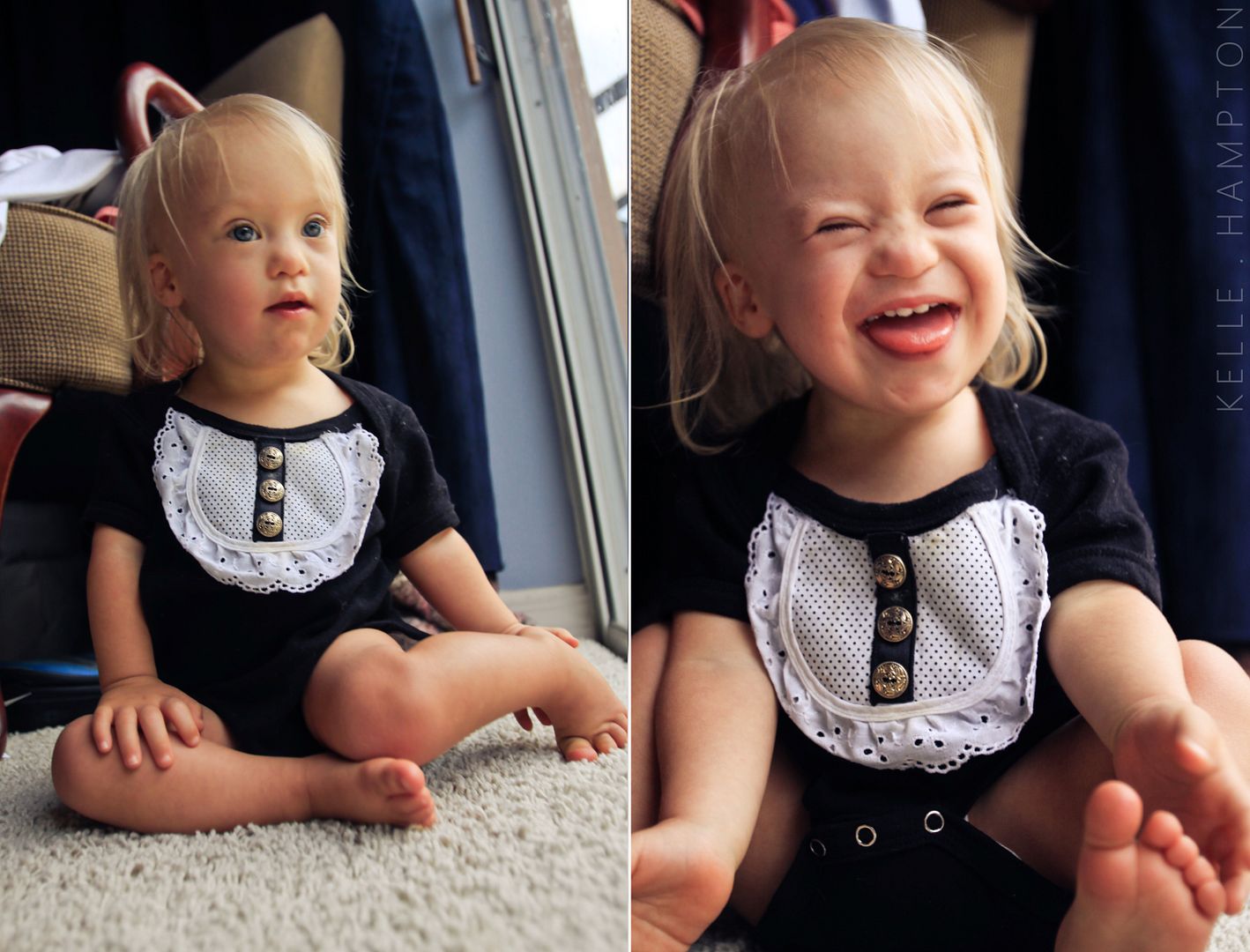 *****
I enjoyed your insightful comments from the Lake post. It reminded me of one of my favorite children's books, All the Places to Love (actually someone else pointed that out). If you haven't read it to your kids, it's worth buying your own copy just so you can inscribe the front with a letter to your littles and a running list of all the favorite places you enjoy together.
I used my 16-35 mm (2.8) lens on most of the photos in that post, and it's tied with my 50 mm for favorite lens. The wider angle allows for a more interesting and detailed background and fun possibilities for focus and subject placement within a shot.
*****
We have more projects this week–some we didn't ask for. Like when Lainey went out on the lanai to paint, I thought she was using her easel but instead, she went bananas on her table and chairs.
We have no choice but to turn it into the coolest paint-slopped art table you've ever seen.
I'll be back tomorrow for a special Hallmark post!
Have a great night! There is a colorful room calling my name.