Wednesday night delivered. Good conversation, parking lot cartwheels.


Okay, ready? Laugh. Act natural. Pretend there's not a self timer beeping in 3, 2, 1…and click.






Left: The Leprechaun Shuffle, Right: The Flash Mob Two-Step



All is well. (more on this and my friend next week)
And my girl is so happy to have her friends return.
*****
The Universe was kind last night. Like unicorn variety of kind.
Behold, the rainbow.
Behold, the sky swallowed up in magnificent lightning.
Behold, the cat came skipping up our driveway last night like he was just rolling in after Spring Break in Cabo.
It was a good day. To top it off, we took a leisurely stroll to the lake just as the sun was setting and our rainbow's brilliance faded into washed-out pastels.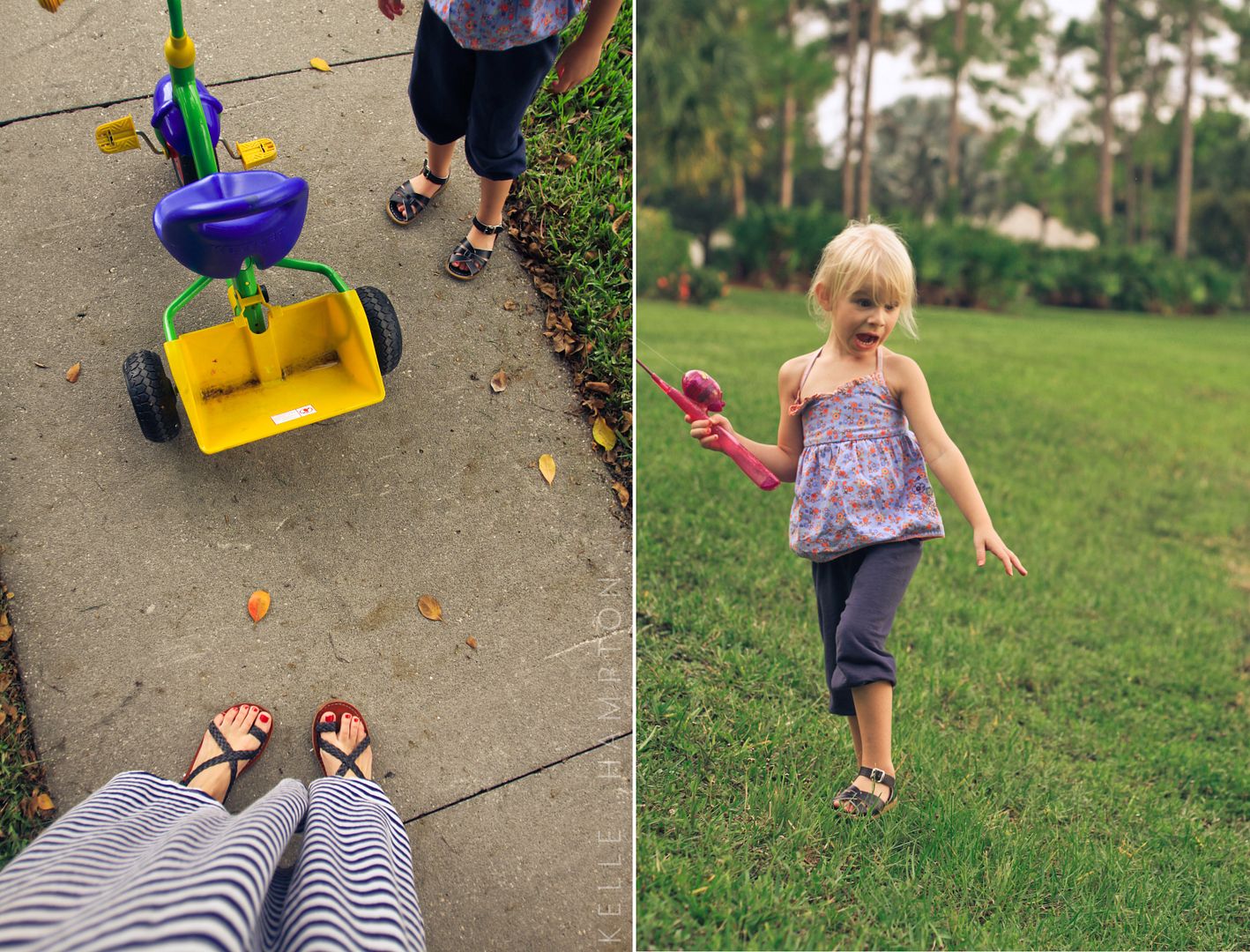 I took the liberty of adding the rainbow back in.
We were welcomed by friendly ducks who entertained the girls with their waddle.
Interference.



Someday the girls will discover that The Lake is really a pond and that the magic we create there is intentional in spite of the reality that it's not the most picturesque "lake." In fact, I make it a point to crop out the ugly blue machine that regulates the water–the one that is so cleverly hidden behind the ficus hedge but still screams "unnatural" with its vibrant blue paint and hissing pump sounds.
To my girls, our lake is storybook.
To my girls, it is a Beatrix Potter setting.
Where friendly ducks float into marshes.
And hungry bass chase Dora fishing pole bait.
I love to see things through the eyes of my girls. To let the blue water pump fade behind lush greens and ignore the fact that one side of "the lake" opens to traffic and passengers ogling our adventures. My girls don't see that.
And when I'm with them long enough, neither do I.
Last night, we hiked the mountains; we absorbed the tranquility only a spectacular lake view like ours could offer.
And like Christmas memories that age like wine–sweeter, richer, finer–I have to smile at every one of our adventures. Storybook tales for my girls. To retell years from now over Thanksgiving dinners, sister sleepovers, Christmas Eve night.
Remember our trips to the lake?
You mean that crappy pond with the red ant piles and those disease-infested ducks?



No, the lake. Our lake. The one with the big tree that lost all its leaves in that January frost. The one that caught the western sun with its reflection and turned the glassy waters pink like salmon. The one where I caught my first fish and you took a million pictures. The one with the picnics. The one where it rained and we had nowhere to go so we hid under the bushes until Dad came and rescued us. The one where you took Nella when she was tiny and new, and you cried as you held her but smiled when I caught your sadness. The one where we laid on blankets in October and pretended it was a Michigan fall–where we sliced apples and read books and tried to imagine the air was cool and crisp.
Oh yes. Now I remember. I love our lake.
*****
Friday Phone Dump:
*****
Welcome Back to sponsor, Tea Collection. I love all of the Tea articles in my girls' closet (Lainey's painter overalls are my all-time favorite), but I was just peeking at some new arrivals for Fall and fell in love with these pointelle leggings for Nella. Tea Collection offers comfortable, quality clothes for babies and kids, and I love the unique global inspiration they bring to their clothing.
From their Mercado Mexicano line: Nella's dress in this post–Ciudadela smocked dress.
Tea Collection's current Modern Mexico line is full of rich, vibrant colors and, as always, comfortable global style. Free shipping on any order for just a couple more days (ends 8/14) using Code GOTHERE.
*****
My girl's room is almost finished and I am loving how it turned out.

Hope your weekend is storybook.