Friday night, the moon was large, pushed to the center stage of black sky like an understudy who just scored the leading role. For a moment late in the afternoon, you could almost mistake the moon for the sun–just as big and almost as bright.
While the moon had his moment of spotlight outside this weekend, it glowed inside as well.
In the form of fall cravings.

Chili & Football

Brett likes football. He's not the die hard glued-to-the-screen fan who screams during good plays or misses Christenings and birthday parties for an anticipated game, but he likes watching football. I too have come to appreciate the thrill of roaring fans, the calming voice of commentators, the line-up of spandex-hugged tight ends. It means things are about to slow down and holidays are around the bend. So this weekend, we watched football and did Septemberish things.
The first pumpkin bread of the season. (Last year's pumpkin bread, Nella still had her glasses.)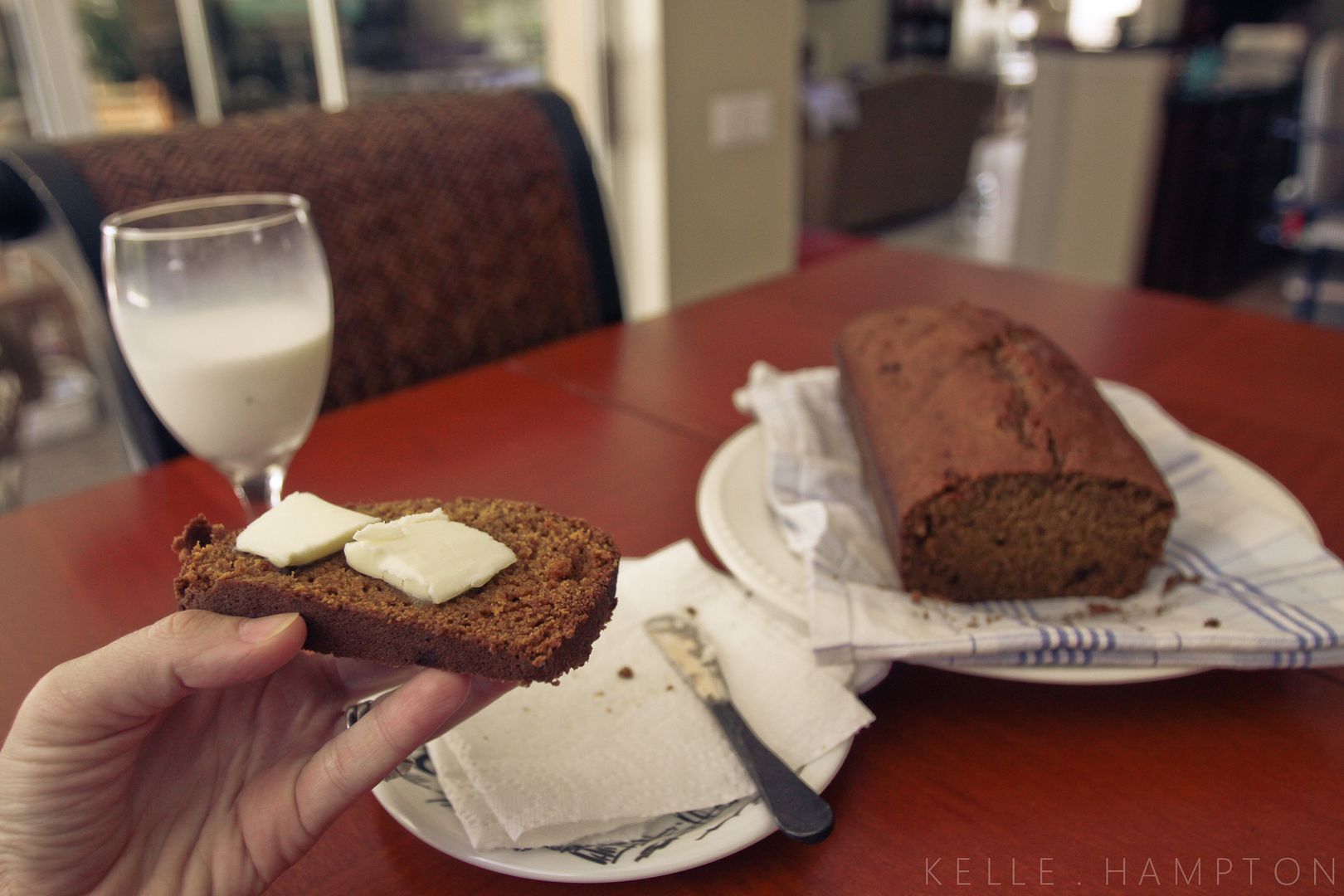 And homemade carmel apples.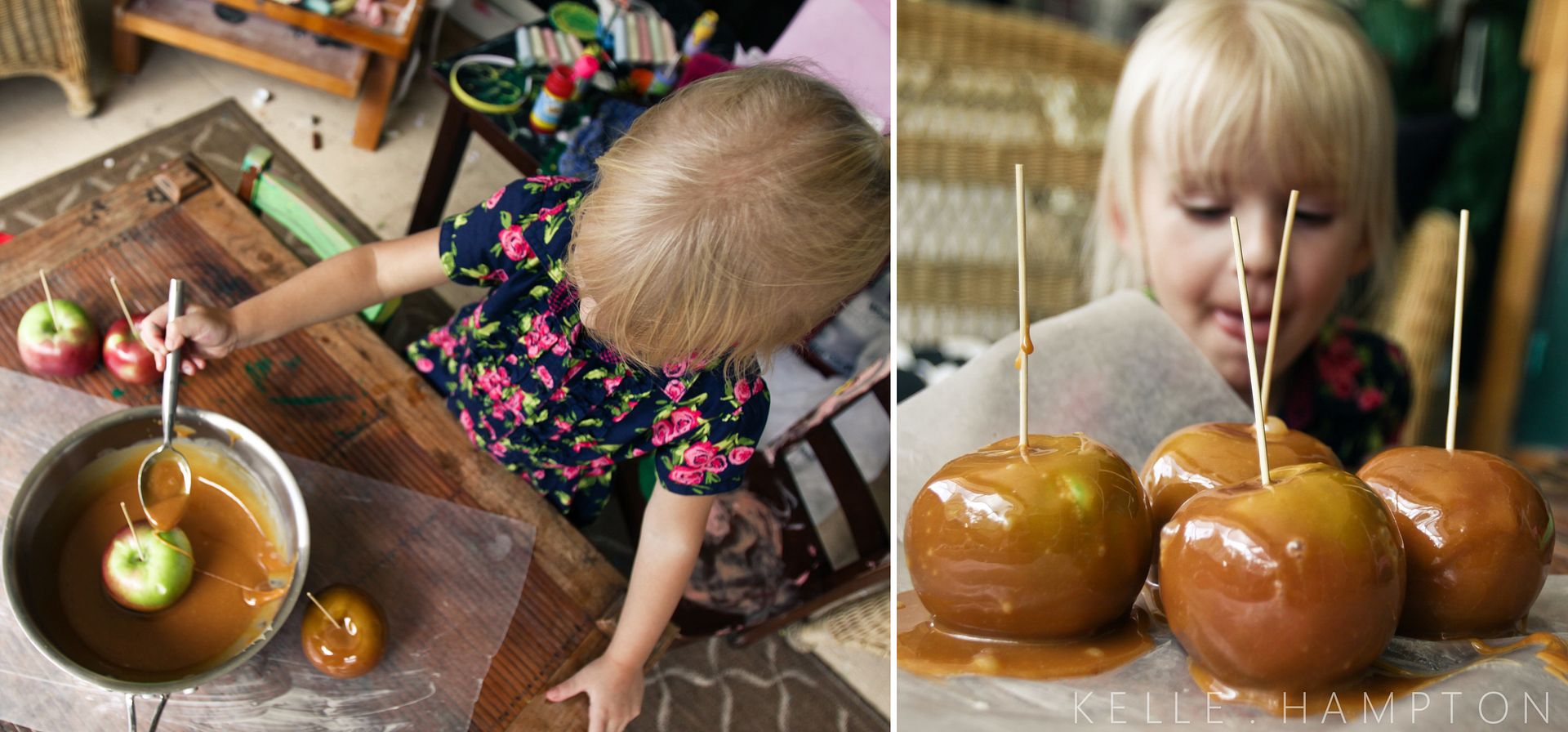 I woke up at midnight last night to get out of bed and eat the last one. Brett found me hovered over the kitchen island, in the dark, literally gnawing the last hardened puddle of carmel off of wax paper. I said "What?" He said nothing.
My seep-it-in-slowly approach to fall decorating continued this weekend with some crafty homemaking.
We hiked past tall palms and into the sparse evergreens of our woods, scouring the ground for anything that bore likeness to a deciduous tree. We found a nice weathered branch to hang in our dining room. Accessorized with a string of leaves we cut from decorative paper, it pulls a little Michigan into our Florida home.
Lainey chose the paper, glued the sheets together and helped sew the big needle through the finished leaves. And then she ditched me while I was left to finish it by myself. I kind of wish I would have cut the leaves out of felt instead of paper, but felt doesn't come in patterns and glitter, and Lainey wouldn't have it.
We'll swap snowflakes for leaves come December.
*****
Weekends work a bit like shaking an Etch-a-Sketch for us. For all the drawings we've accumulated throughout the week–the things we wish we would have done with the kids, the time we wish we would have allotted differently–we make up for it. We shake our week clean and start fresh.
More family walks.

Reuniting with an old friend. I swear, he has a parole anklet that beeps when he's out of range now. We don't see him much these days.

And outside play.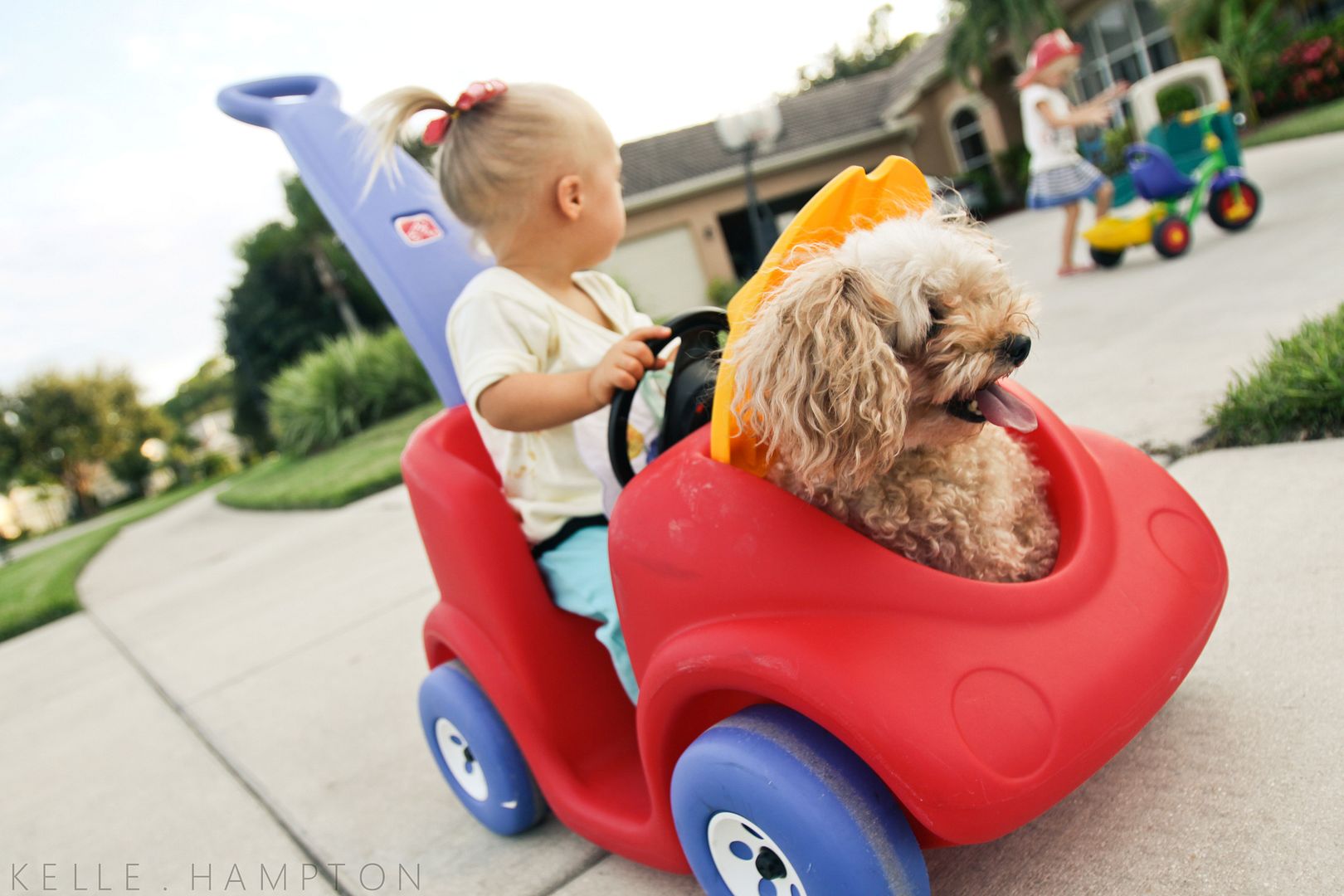 More backyard adventures.
And front yard entertainment.
More catching the last of the sun flare from a prickly grass seat–and staying out well past its encore.
And finally retreating in to etch new drawings to begin a new week.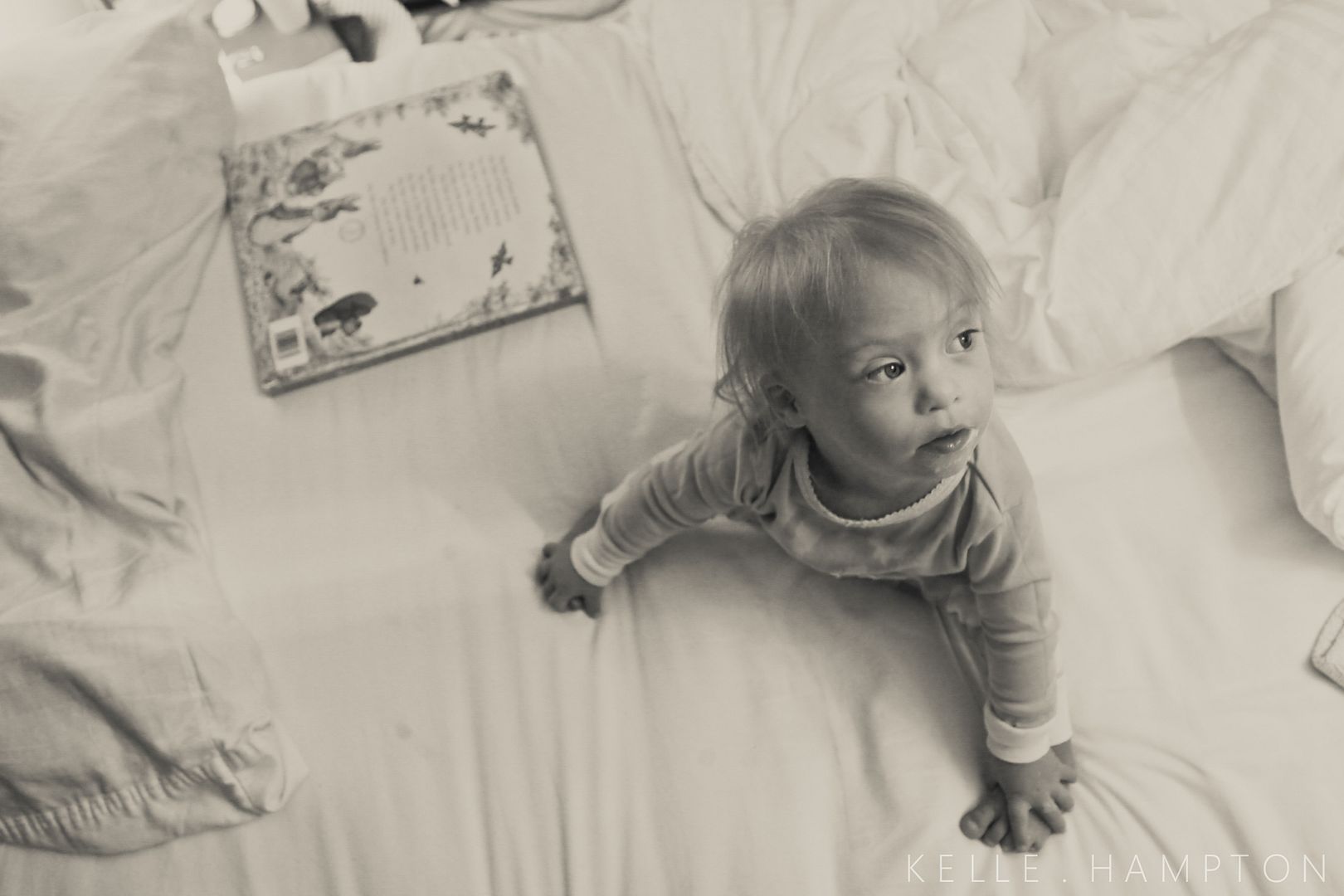 I'm always comforted by full-circle routines. Moons that wax and wane, tides that forge and recede, seasons that bloom and die out, and weeks that begin with challenged schedules which grow and fall and finally end with redeeming Saturdays. The shifts are both forgiving and motivating, and I thrive on the balance of enjoying this very phase and season while knowing I will never tire–next week, there's a new moon.
*****
New sponsor, Cozy Rags, joins us this month in sponsorship. Cozy Rags is owned by Nancy, also known as "Grandma Yokie," who makes all of her beautiful hand made blankets and accessories in her home's sewing room. Blankets come in a variety of animal or damask prints, are double lined and are made from the very softest material.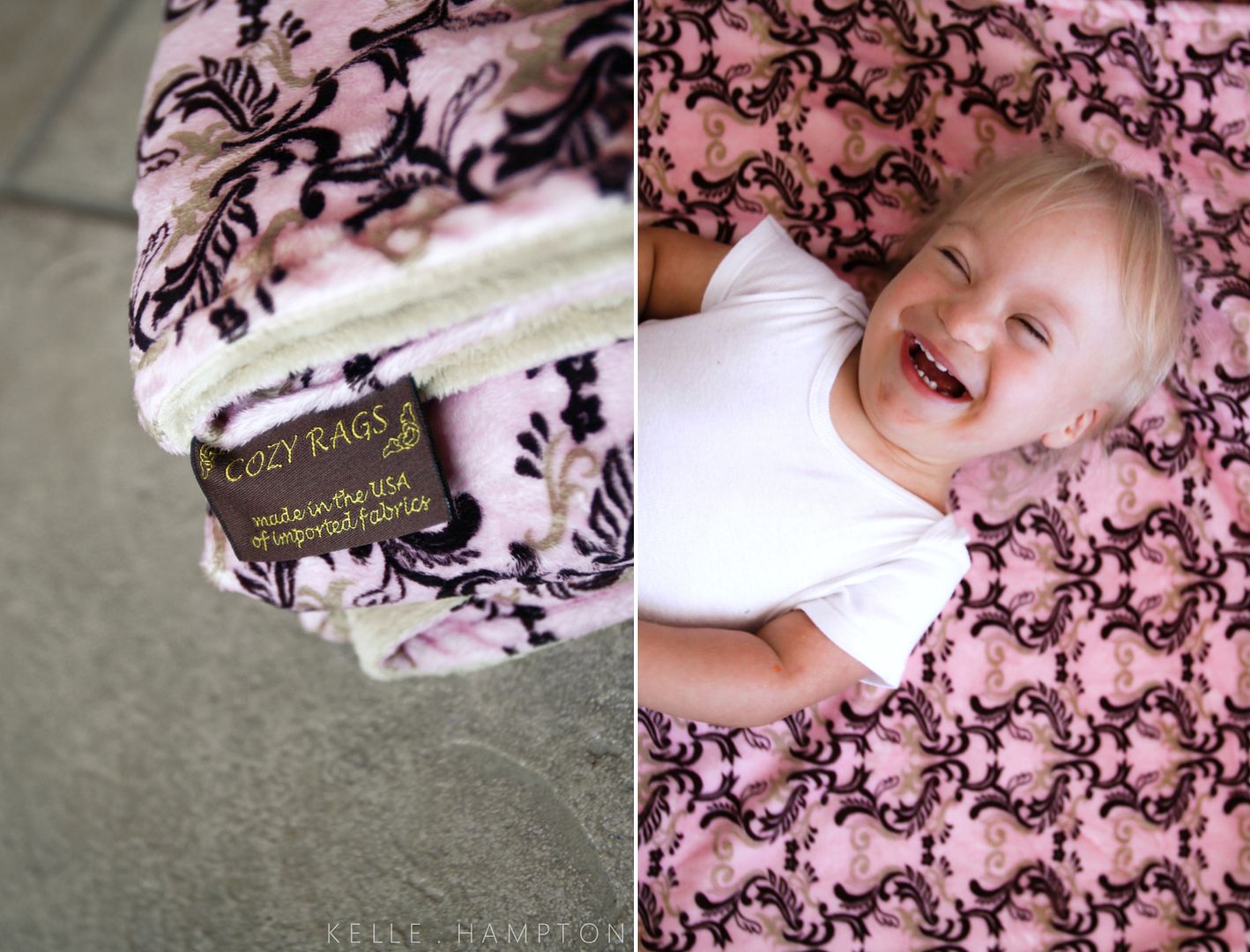 Nella obviously loves her plush pink damask stroller blanket.

Cozy Rags makes great baby gifts–if you can bear to part with them.
One commenter on this post will win a baby blanket of his/her choice, courtesy of Cozy Rags.
*****
I think the moon is somewhere between a waning gibbous and a last quarter right now. I don't know what the hell that means, but in my language it can only mean one thing…half full, Baby.
Here's to starting out weeks half full. Cheers to that.