I started Jillian Lauren's new book Everything You Ever Wanted (just out yesterday!) in the bathtub one night, where I often start new books, and ended up so engrossed, I realized I was sitting in cold water an hour later. Jillian is a brilliant writer who tells it like it is and does so with humor and remarkable self-awareness. Everything You Ever Wanted is the story of how Jillian became a mother and how, through the challenges that followed, she was guided by love for her son and her family in a path that ultimately led to accepting herself. I dog-eared so many pages in this book–things that made me laugh (I mean, come on: "What happens when schoolyard taunts of "Your mama is a ho!" are actually factually confirmed by said mama in her hoish memoir?), stories that made me cry and experiences that, while different than mine, make me feel less alone. I had to whittle down my questions for Jillian because there are so many relatable topics and honest truths about parenting in this story. You will fall in love with her just as I have, and I'm ever so thankful that she lends her voice and shares her story for other women so that we can feel the community in motherhood's "me too!" hug.
This book is much more than an adoption or special needs story–this is a motherhood story, a love story and a self acceptance story.
I'm thrilled to welcome Jillian's words into our online space today.  Now quick, grab some coffee and read along.
Your book begins with your challenges of infertility—the emotions of which you articulated so honestly. I know several women who've gone through this and have been witness to the deep emotional struggle of wanting a baby more than anything but not being able to will a body to meet the expectations of the heart. You refer to "wild fluctuations of self-hatred and self-pity" in your journey and describe the fertility disaster as leaving you hollowed out, but define a moment when—and this part made me cry—you finally, in the recesses, "feel the faith in me, small and glowing." Why do you think women put so much self worth into fertility and what would you say now to that version of you that felt hollowed out and defeated? Was it simply the hope of adoption and the relief of loosening those expectations on your body or was it something deeper that returned that faith within yourself?
I think there's some ancient tribal stuff that causes us to equate fertility with worth. I also think that there's a ubiquitous celebrity culture that fetishizes pregnancy and baby bumps and all of the attendant accoutrements. When that didn't happen for me, I felt more than just hollowed out and defeated, —I felt cursed. I've had a life with plenty of adversity, including drug addiction, depression, abuse, self-harm, you name it. Not to make myself sound like an after school special or anything, but it's been a ride! Even with all that, infertility is the most painful thing I've ever been through. It was extended and relentless and dragged me to terrible depths of doubt and self-pity and shame. I had specific expectations around how creating my family was going to go. I was like, okay, I'm behaving now. I'm a good girl. And the reward for that is the house with the white picket fence and the 2.5 children, right? ASAP! So when that didn't happen, all of my deep shame about myself and my past bubbled to the surface. I felt ruined and punished. How did faith rise out of those ashes? I can't say exactly. That's the mystery of faith, isn't it? We find it in our most broken moments. Maybe because suffering is an experience that connects us with our humanity, and the humanity of those around us. If I could go back now and whisper in my own ear, I'd tell me to just breathe and hold tight and lean into the storm. I'd tell me that I'd joyfully live through all that suffering again and more if I knew what gifts waited for me on the other side of it!
As an adopted child yourself, you express that you were never able to look at the world and see a reflection of yourself with no parents or siblings, and you thought pregnancy would fix that—that you'd finally feel this physical connection to the world. You challenge yourself with the question, "What do I want, a mini me or a family?" (loved that). I imagine that this bond you and Tariku now share–in the love story of mother and son sense, but also in the fact that you are both adopted–has shifted that perspective a bit, but maybe I'm wrong. Do you feel more connected to the world physically now and find a reflection through being Tariku's mother? Do you think he'll feel the same growing up?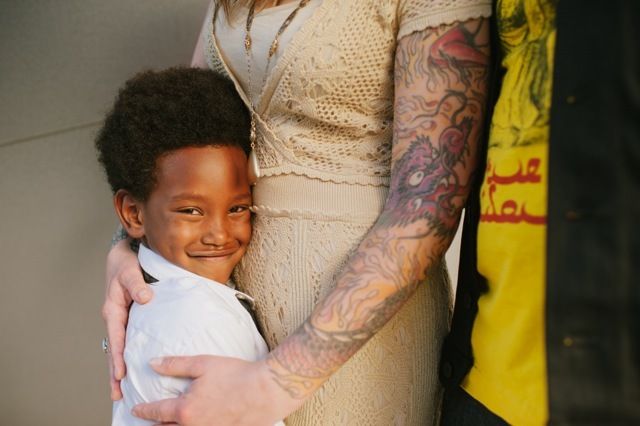 Wow, Kelle, I think this is my favorite question ever! This is really the blessing of telling our stories- that our readers find things in them that we can't even see ourselves. Yes, I absolutely think that mothering Tariku has made me feel connected to the world around me in a physical, primal way. My own unique story of motherhood has has allowed me to understand who I am, and has led me to my tribe. When you go through a rough time, you learn who your true peeps are! I truly hope that the fact that I was also adopted will resonate for Tariku, and that I'll be able to model for him the fact that we live connected to so many different things- by blood, by choice, by faith. Our position as adoptees is not without its complexities, but it's a truly privileged one.
Your first memoir (which I've now ordered and can't wait to devour) chronicles a completely different lifetime for you. You were (and, I admit, I Googled the heck out of this because I simply can't believe it) once a stripper and later a member of Prince Jefri of Brunei's harem. I couldn't help but chastise myself while reading this book—this beautiful brilliantly written account of motherhood from a smart woman who loves like me and wants the same things as me and has all the same voices in her head as me—for my judgment of people, of women. The story of a stripper-turned-harem member seems to drastically clash with a loving mother in search of answers for her son and yet, you're the same girl. We all are, really. That said, you talk about feeling shame for not appearing to be mother material and you echo what so many of us feel—that feeling judged as a mother is harder to weather than any other comments one might say about us. As you put it, "Why did motherhood suddenly make me cower before the masses? Make me want to fit in, seek approval?" Why do you think that is? And that said, is it harder to put this book out into the world than your first one that honestly exposed your former life?
Ha! I know- it's so funny to watch people's faces when they first hear about the harem thing. Especially people I meet at a faith-based event or pre-school or Mommy and Me! I watch people do elaborate mental gymnastics, while still trying to maintain their composure. Their mouths often actually hang open. When the first memoir was published, I was so scared of what everyone was going to think of me. I had lived my life in a compartmentalized way. Not necessarily because I was ashamed of my past, but because I figured that it wasn't all that relevant any more. I learned one of my biggest lessons through my neighbor Helen. For some reason,I was so concerned about what my sweet, 82-year-old, religious neighbor was going to think of me. I'll never forget the day she rang my bell with four copies of my book in her hand, telling me she was so proud of me and asking me to sign them for her daughters. Helen was 82! She had lived through poverty and prosperity and pain and joy and love and death. She had lost a husband and a child and countless loved ones and SHE DIDN'T GIVE A SHIT about a harem! Puhleeze, child! Or about how wild I was or who I had sex with or what drugs I did. She cared about who I was in my relationships– as a friend and a neighbor to her and as a mother to my child. Helen and I actually got much closer after that. When she could no longer stay in her house, I visited her often in her assisted living center, and then in her hospice facility. I spoke at her funeral. I treasure the time we spent together. I like to think my honesty in the book had something to do with how our relationship blossomed.
You shed light on some of the hard truths about adoption that you don't always hear but that are important to talk about—the fact that families don't magically save abandoned babies and everyone lives happily ever after. You reference Disney movies and their orphan narrative: the hard-knock life and the immediate sun-will-come-out-tomorrow finish. (so true!) Your experience—and that of many other adopting families—was entirely different and yet so understandable given the expanded story. And yet here you are: in love with your child, stronger, wiser and—obvious from the book—gaining a keen awareness for your own past struggles and strengths as a woman. Now that you're on the other side of the particular struggles you discuss in the book (are we ever on the "other side" of struggle as parents? Ha!), what would you say to parents considering or new to adoption?
First of all, adoption is beautiful and incredible. It's my favorite thing. We're doing it again right now. I'd do it ten more times if we had the space and the resources! That doesn't mean that it's not complex and sometimes painful. It's important to understand that adoption isn't an act of charity. You're not saving a disadvantaged child, who should then reward you with eternal gratitude. Many of our children suffer tremendous loss. In the case of international adoption, they lose an entire culture. We have to be respectful of the trauma our children go through, and the loss and grief that follow. I would say to potential adoptive parents that it's important to educate yourself. In the case of international adoption, you need an agency that's transparent, that you can trust, and that's respectful of the children and their histories. The agencies should be willing to walk you through their entire process, from beginning to end, and give you as many references as you need to feel comfortable. You should definitely talk to other adoptive families and familiarize yourself with the community.
More than anything, I think this book gives permission to all parents to truly be honest—to say that parenting can be hard, boring, isolating and to admit that we feel inadequate, selfish, guilty—and yet still know that we are good, that we love well, that we wouldn't trade this fulfilling path for any other. You admitted that here, after you chased motherhood so fervently thinking it was going to make you feel a part of something, it did the exact opposite—made you feel more isolated than you've ever been. Your prayers in this book made me tear up. The emotion was so palpable and relatable—we've all been there. There was one, after you were feeling particularly guilty, after your son was preferring his dad and pushing you away, where you cried out, "Please, God, help me be a better mother. Please, God or Jesus or Krishna or Allah or Mary or Moses or Grandma or whoever is on the other end of this line right now. Please throw me a bone here. I need help." I think we should just patent that prayer and give everyone permission to use it. Your vulnerability in this book is such a gift. For all the rock bottom moments that you so articulately describe in this story, can you summarize what pulled you out of them? I know it probably won't be a tidy singular answer, but what would you say saves you and reestablishes your confidence in these moments?
I wanted to give a radically honest account of my experience of motherhood, with all of its complexities and ambiguities and beauty. I wanted to tell the truth, warts and all because it's so much better and richer than some glossy façade I really hope that I give other women a sense of permission. That they can see their own transgressions and struggles, whether or not they're as dramatic as mine, in a more compassionate and maybe even humorous light. We live in a culture of relentless self-improvement, steeped in the rhetoric of "happiness." We're supposed to be so "Happy" all the time or we're failing somehow. I'm much more interested in meaning than happiness. Adversity has shaped me and made me strong. It's given me the family and life I have today, which is amazing. I'm not saying that I'm not happy, and that I don't have my moments of joy because I absolutely do. But I don't see life in this strictly binary way- things aren't bad or good. Things are hard and messy and gratifying and wonderful and everything. Everything, all at once! Bring it!
You went through a lot—a lot of schools, a lot of experts, a lot of advice–to truly get to a place where you felt Tariku's needs were being met. As a parent of a child with special needs, I could relate to so many of your thoughts. One of my favorites was when you expressed finding it comforting when one of Tariku's therapists referred to children with special needs as "our children", distinguishing them from typically developing kids—as in "our children have a harder time handling unexpected touch." I've had a few other parents and support team members of Nella's who've done the same, and I know how endearing that is. As you said, "it makes me feel less isolated and reminds me that children are raised by communities and not individuals. We may not have asked to be a part of this particular community—but who does?" Amen. How important has that role of community been in finding your rhythm as a mother?
The importance of this community is one of the reasons I keep writing. Through my story, I hope to extend a hand to others who may have questions, like we did. What would I do without the people I've met through the special needs community? This community has taught me how to be an advocate and a warrior. They've show me that I'm strong. They've taught me that my priorities were all kinds of screwed up before, equating achievement with worth. I would never have consciously admitted to that, but it was true somewhere in my bourgeois heart. They've showed me that worth is not about conventional achievement, but about connection and relationships.
One thing you do so well—and I think it's vital in parenting—is honoring both parts of us: the good and the bad, selfish and selfless, clueless and confident. You didn't tell a transformative story where selfish, insecure, isolated mom is suddenly replaced through love by nurturing, confident, connected mom. You celebrate the fact that, even after these trials and deepened love, you still value and understand all the parts of yourself that play a role—selfishness, vanity, incompetence and yet resilience, resourcefulness, unwavering love. Are you less hard on yourself after all of this? What does your self talk to those negative voices sound like today?
I can still be a total asshole to myself! It's not like I've achieved enlightenment and I'm some kind of monk. Today, for instance, I've been traveling and being very social, promoting the book, which is enough to make you crazy. You lose the grounding of the everyday routine– the family stuff. You're facetiming your kid from the bathroom of a hotel. It can really fire up the self loathing. But this is what my years of being an asshole to myself have taught me: it passes. It changes. It always changes. Sometimes the best I can do is to maintain a spirit of curiosity. This is the part of yourself that, no matter how dark things get, can still say, " Oh, how curious, that I'm calling myself a fat, mediocre, useless fraud. I wonder why I'd never think that about anyone else? I wonder why I can look at my son and see so clearly that he's filled with endless love and potential, but I look at myself and see someone worthy of nothing but disdain…." It can give you some perspective.
I've been asked many times if I worry about my children reading the honest things I write about or if I wonder how Nella will feel reading her birth story. I know my answer to this, but I'd love to hear yours. What are your thoughts about Tariku reading this book someday?
This book is a story of triumph and my son is the hero. I see it as a gift to him, and a valuable document of his precious first years of life. I may not always be a great mother, but I'm a good storyteller. This is my gift and it's a special thing I have to offer him. People can be judgmental around sharing publicly about children. I absolutely agree that it's not the right choice for every family. But when I was struggling, there were people like Rachel Cusk and Beth Kephart and you and Christine Moers and Kristen Howerton, who were being brave and honest and sharing about their families and offering me an education and a point of connection. I think that a lot of people who judge haven't experienced what it's like to be part of a marginalized community. People lambast Facebook all the time, but I have a friend whose child has a rare and severe medical condition, and Facebook is one of her greatest sources of strength and hope. I personally have an entire community of incredible friends with children from Ethiopia on Facebook. Tariku and I love to follow their stories. I think it makes us feel less alone. It's totally valid not to share publicly about our lives, but I also think we have to be careful not to confuse privacy with shame. And not to judge the ways other people find connection in the world.
This isn't really a question. Or I guess it is. Do you give me permission to write all over my walls or maybe tattoo on my body or, if I ever figure out the needlepoint thing, stitch on a pillow the closing statement in your epilogue? Because it's solid and such a simple statement of all we need to remind us that we're doing the best we can: "This house is full of love and warmth and music. And we try like hell; really we do."
I'm so glad it touched you. If you ever make that into a sampler, my life will be complete!
**************
You can order Jillian's new book, Everything You Ever Wanted, here.
And for you, dear friends, Jillian's put together some thoughtful gifts for a giveaway today–signed copies of all of Jillian's books, Bruce Kaplan's memoir I Was a Child, a signed Weezer CD (her hubby is the bassist) and a "mommy survival kit."
Just leave a comment with something you tell yourself when you feel the rabbit hole of self doubt opening. Whether you're a mom or not and whether those moments come in parenting challenges or through other experiences, we all have them. What's one thing you tell yourself to reestablish your confidence? Giveaway winner will be randomly chosen from comments and announced in Monday's post.