This post is sponsored by Honest.


Okay, so I've finally figured out how to have a seamless beach trip with 3 kids–have a babysitter take them. Just kidding. When I moved to Southwest Florida from Michigan's tundra, I promised myself that we'd be frequent beachgoers–jump in the car for impromptu sunsets and walk along the tide, coffee in hand, for weekend sunrises. I'm proud to say we have a very generous collection of beach memories in the ten years I've lived here, but I can't say they've all been graceful, especially with the addition of more kids. Beach Hillbillies is how we've done it for a long time–dragging toys, dropping shovels, forgetting sunscreen and packing all wrong. And I've figured out why we were doing it wrong–Too. Much. Stuff.
Being that most of our beach trips are short (usually for sunset) and often planned last minute, the packing less strategy has saved us. We bring the essentials, and they all pack up and stay in one place. Grabbing them to hop in the car is easy just as coming home and unpacking is.
With summer around the bend and more sunshine in store for us, I'm breaking down our beach essentials today. Did you hear that they all fit in one bag? One bag that zips shut? Can we consider this a beach miracle and celebrate with a drink named in its honor? The Beach Miracle (recipe to come–let's say it starts with coconut and pineapple).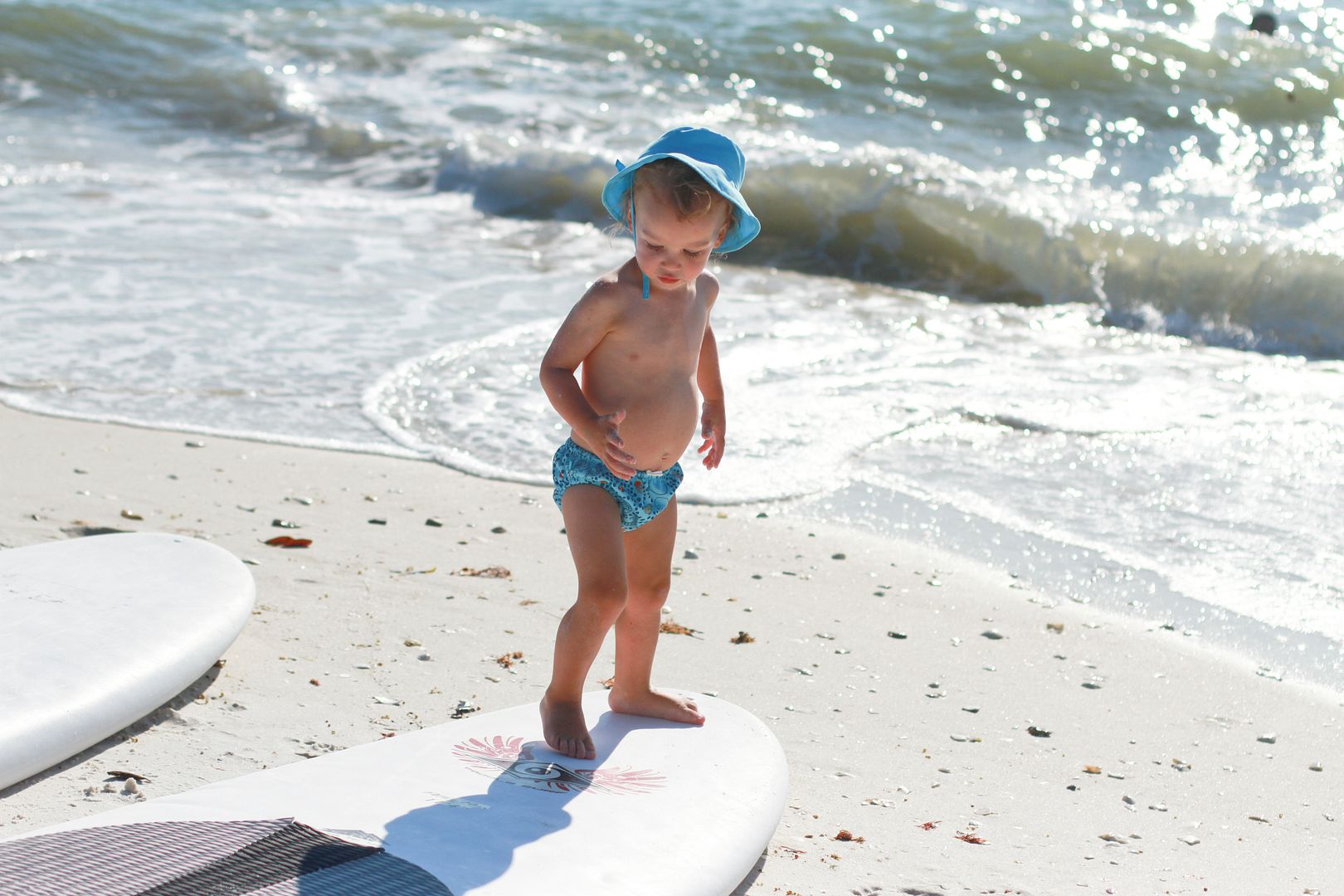 Backpack
I've used beach totes, baskets, push carts, you name it to haul stuff to the beach for years and finally had a Eureka! moment when I switched to a backpack. A: With three kids, it's essential to have my hands as free as possible to cattle prod–I mean, guide–the little ones as they make their way to the beach. B: It forces me to only bring what fits in the backpack. Simplify! C: Beach walks! With a backpack, I can leave our beach blanket on the sand, put valuables in the backpack and easily take it with us when we walk the beach. This was a game changer. I'm a beach backpacker for life now.
Beach Blanket
We have a beach blanket with a built-in handle that rolls up and is easy to transport. This saves room in the backpack for other essentials.

1 towel
We bring one really nice large beach towel and share it for dry-offs rather than wasting room for three in the bag and having that much more sandy laundry when we come home.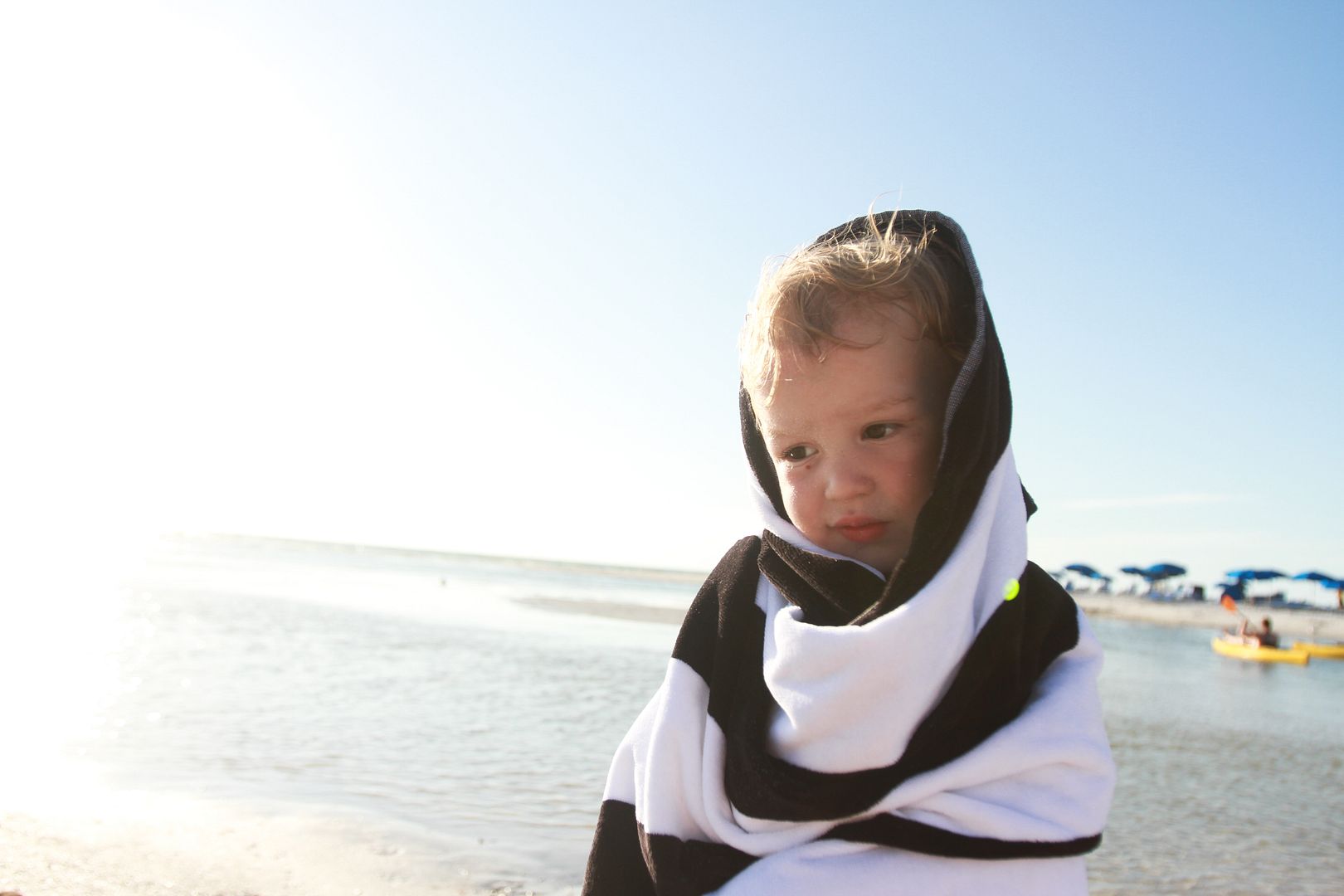 Small pail and a few good shovels (I love metal ones with wood handles)
I used to bring a beach tote PLUS a big basket of beach toys, and I can't tell you how many times I lugged kids and bags down to the beach only to have someone chase me with a "M'am! You dropped this alligator toy/shovel/rake/headless Barbie/broken pail/etc. Unless we're spending all day at the beach with plans to erect the greatest castle that ever was, all we need is a small pail and a few good shovels–and maybe a Barbie for Nella–all of which fit in the backpack.
Swim Diaper
We arrive to the beach already in swimsuits and flip-flops to make it easy. For Dash, I don't need to buy disposable swim diapers because his Honest swim diaper is reusable–and adorable to boot. It holds everything. Don't ask me how I know this. I love these swim diapers, though. You could also wear them under a regular swimsuit for girls, but Dash is comfortable in his swimsuit glory–Michael Phelps confidence.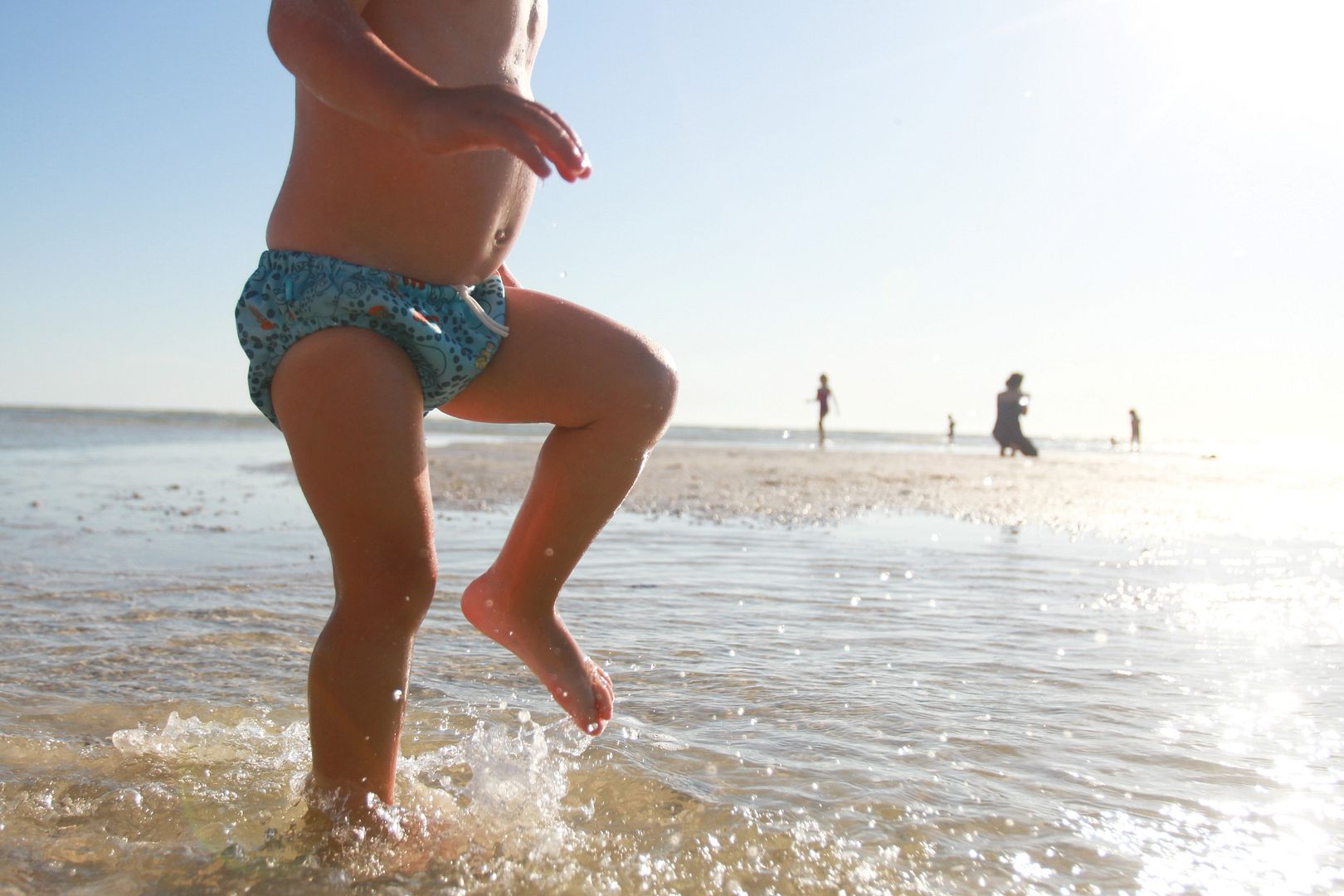 Dry Diaper
I pack one regular dry diaper to slip on Dash before we leave.
Cover-ups
Sometimes as simple as t-shirts or sundresses
Large Ziplock
To keep wet/sandy things separated when we go home (especially if you're putting a camera or cellphone in the backpack)
Small Ziplock
For shells and great beach finds.
Sun hats
Dash's Honest sun hat matches his suit–wide brimmed, water-repellant, UPF 50, stays on with a little Velcro strap.
Sunscreen
Dash has really sensitive skin and had a reaction to sunscreen when he was a baby. We switched to Honest sunscreen, and I love it. It's safe, naturally derived, goes on creamy and keeps my kids' skin protected. I use the sunscreen lotion on their bodies, and the kids like to do their faces themselves with the sunscreen stick (which is small and easy to keep in your purse for impromptu beach/park dates).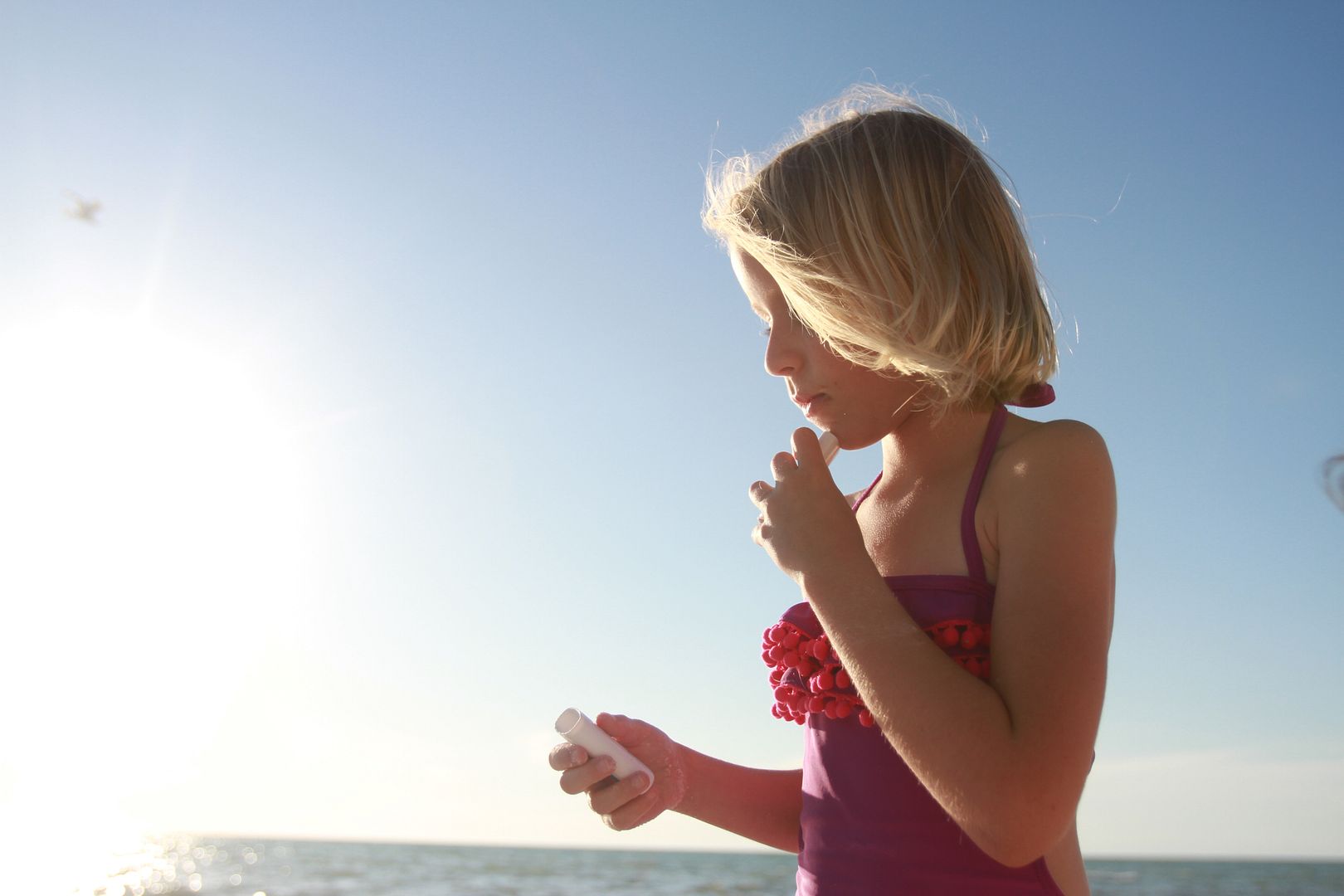 Baby Powder
Baby powder works great to get sticky sand off skin. A little shake down and wipe off before you leave means your car seats stay clean.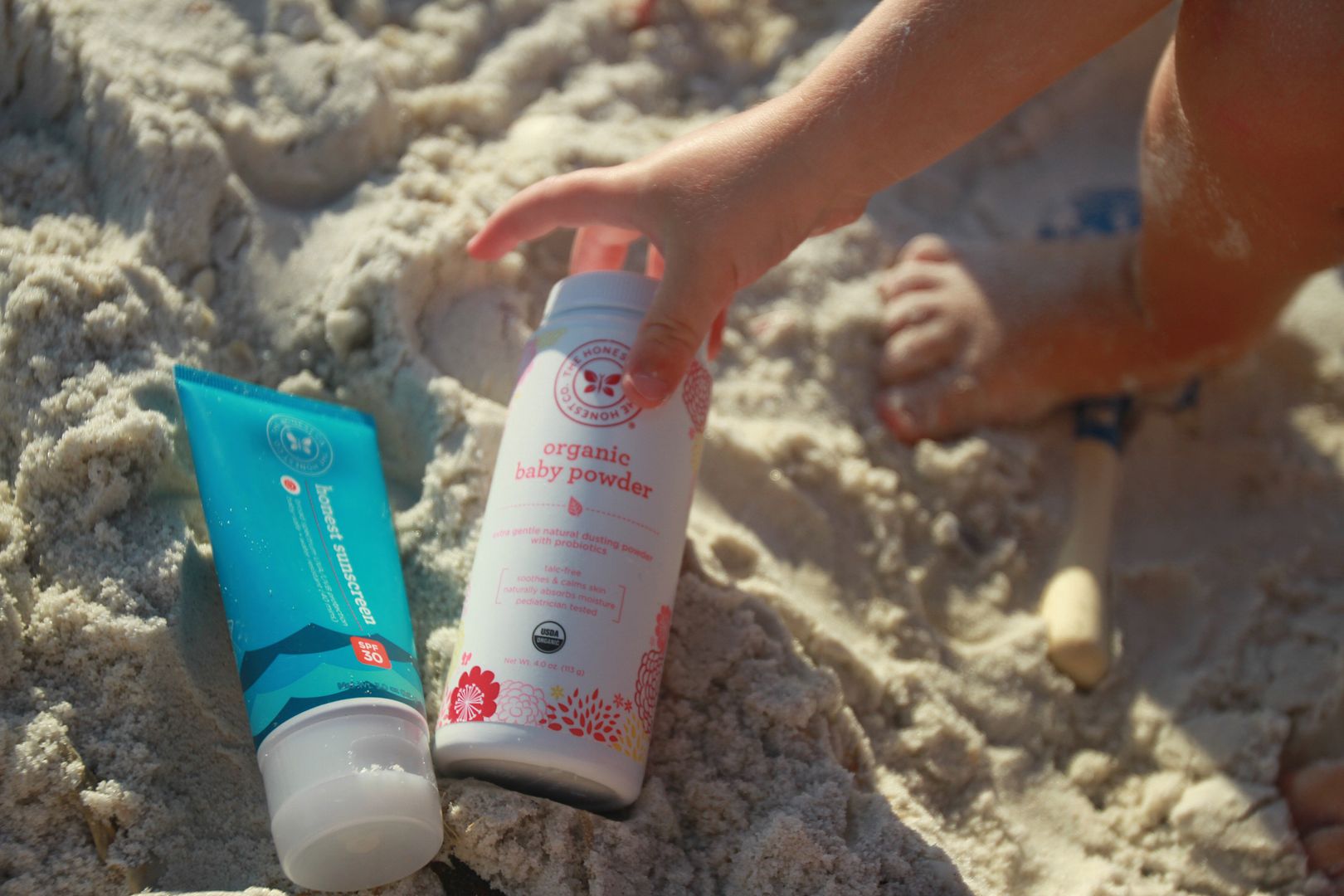 Bug Spray
Depending on the season and weather, our Southwest Florida beaches can host these tiny flying bugs we call no-see-ums. At night, they can be awful. I keep a small bottle of Honest bug spray–made from safe and naturally derived essential oils–in our backpack.
Optional: insulated water bottles, snacks, camera, life preservers, wallet (while not always the most cost-effective, it's often worth it for us to skip packing a cooler and buy a few treats and drinks at the beach shop), shell field guide (Lainey loves classifying her shells and keeping track of what she's found)
Honest is offering readers $10 off your first-time order over $40 with Code KHBEACH10OFF40.
Offer only valid for first-time purchase at Honest.com now through May 18, 2015, 11:59 pm PT. Offer cannot be combined with other coupons or promotions. Coupon only valid towards minimum order of $40 (excluding shipping & handling, international surcharges or applicable taxes). Offer cannot be applied to previous bundle or collective items and cannot be redeemed for cash. Terms of offer subject to change.
Summer's coming…can you smell it? The beach awaits.