Make Wildflower Crowns is always on our summer bucket list, but we're pumping it up this year, taking inspiration from British royalty and turning our wildflower crowns into fascinators. Actually, we have a fancy tea planned in Michigan this summer and I was looking for hats for the girls and decided we'd make fascinators instead. I still wanted a soft and summery feel, so we went the wildflower route–silk because real ones wouldn't make it in our suitcase.
They were super easy to make. Bigger kids could probably make them on their own (calls for a glue gun), and littler kids can at least assist in the designing phase.
Materials needed: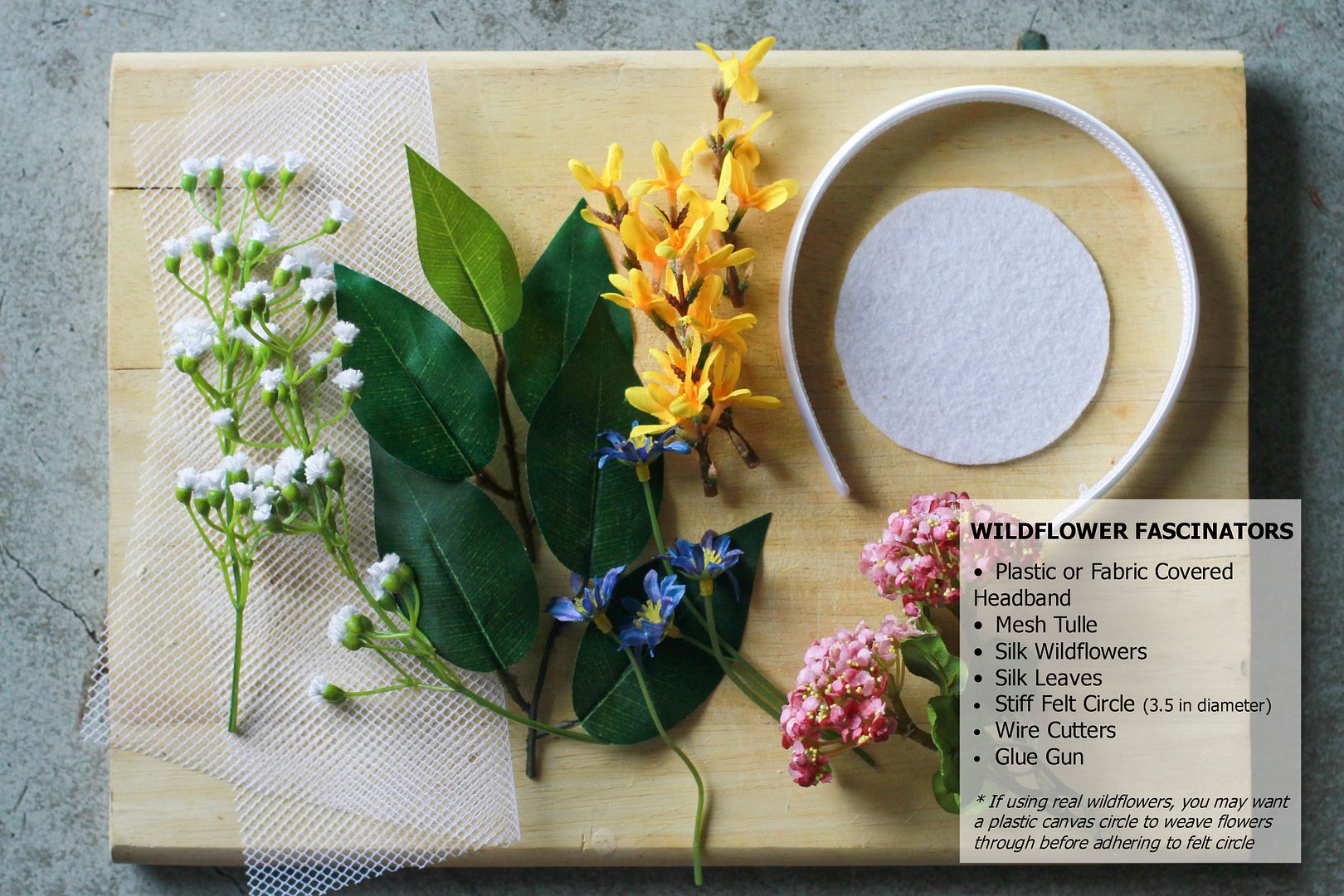 Cut a piece of mesh tulle (which will stick out or hang over fascinator depending on the look you want) to desired length. Fold a few pleats into it and hot glue into place on stiff felt circle, leaving plenty of tulle to hang off the edge.
Design floral arrangement, overlaying leaves and flowers and hot gluing into place as you work.
I handled the hot glue gun, but Lainey enjoyed creating the layout of her fascinator and telling me where to glue.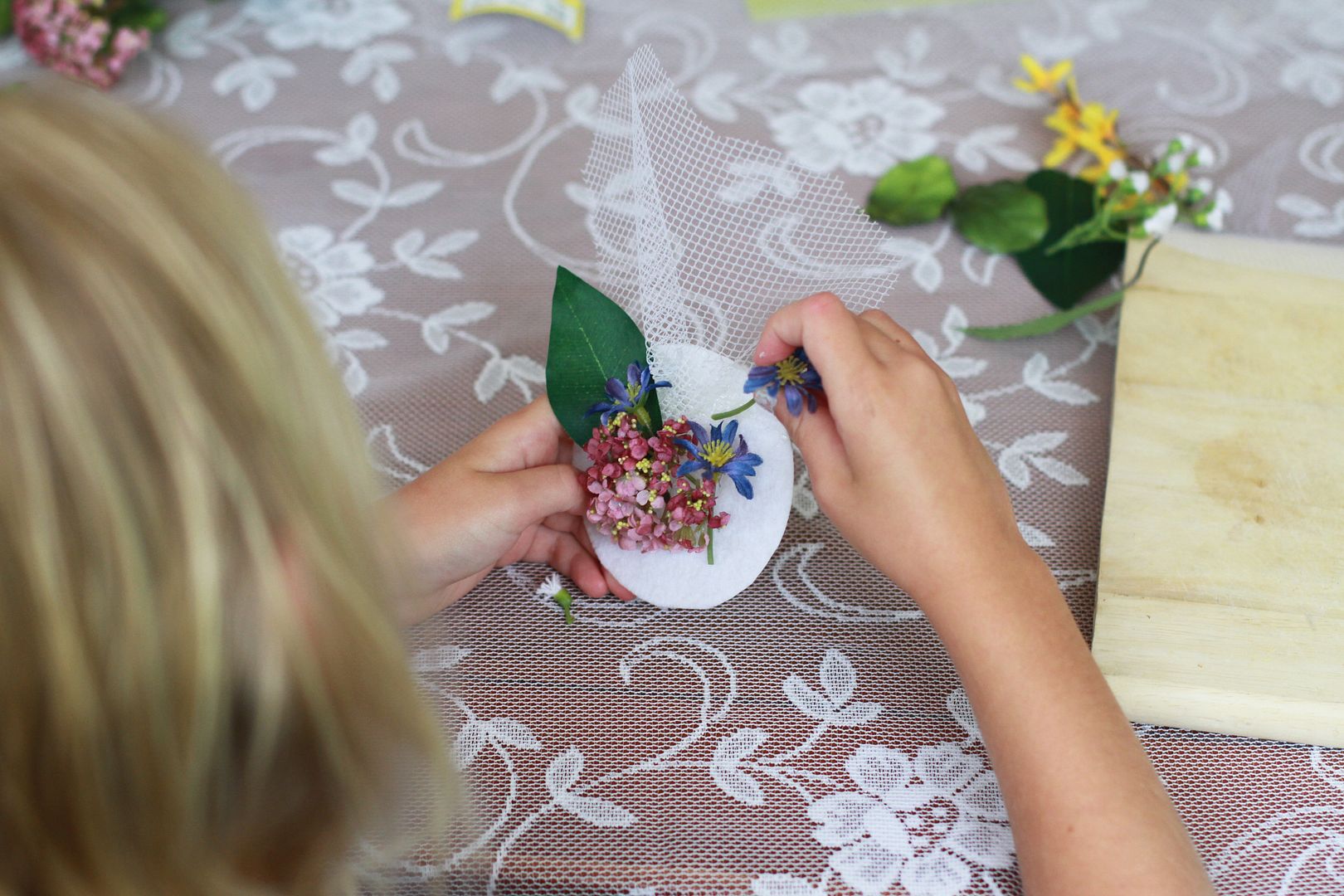 Try headband on and play around with where to place the felt circle to achieve desired look. When you have it how you like it, hot glue felt circle onto headband. The circle adheres better and stays put on thicker headbands.
Now look in the mirror and smile, dahling.

Her my-dad's-trying-to-make-me-laugh-but-I'm-not-going-to face.
Fancy, fancy.
I wanted to make a natural fascinator, so I went foraging around our yard and found some greenery and a few flowers from bushes that turned into a fun one with a bit of a Carmen Miranda twist. It would be cute with a white dress for a tropical party. Or, better yet, to walk around the house, sip lemonade and feel fabulous.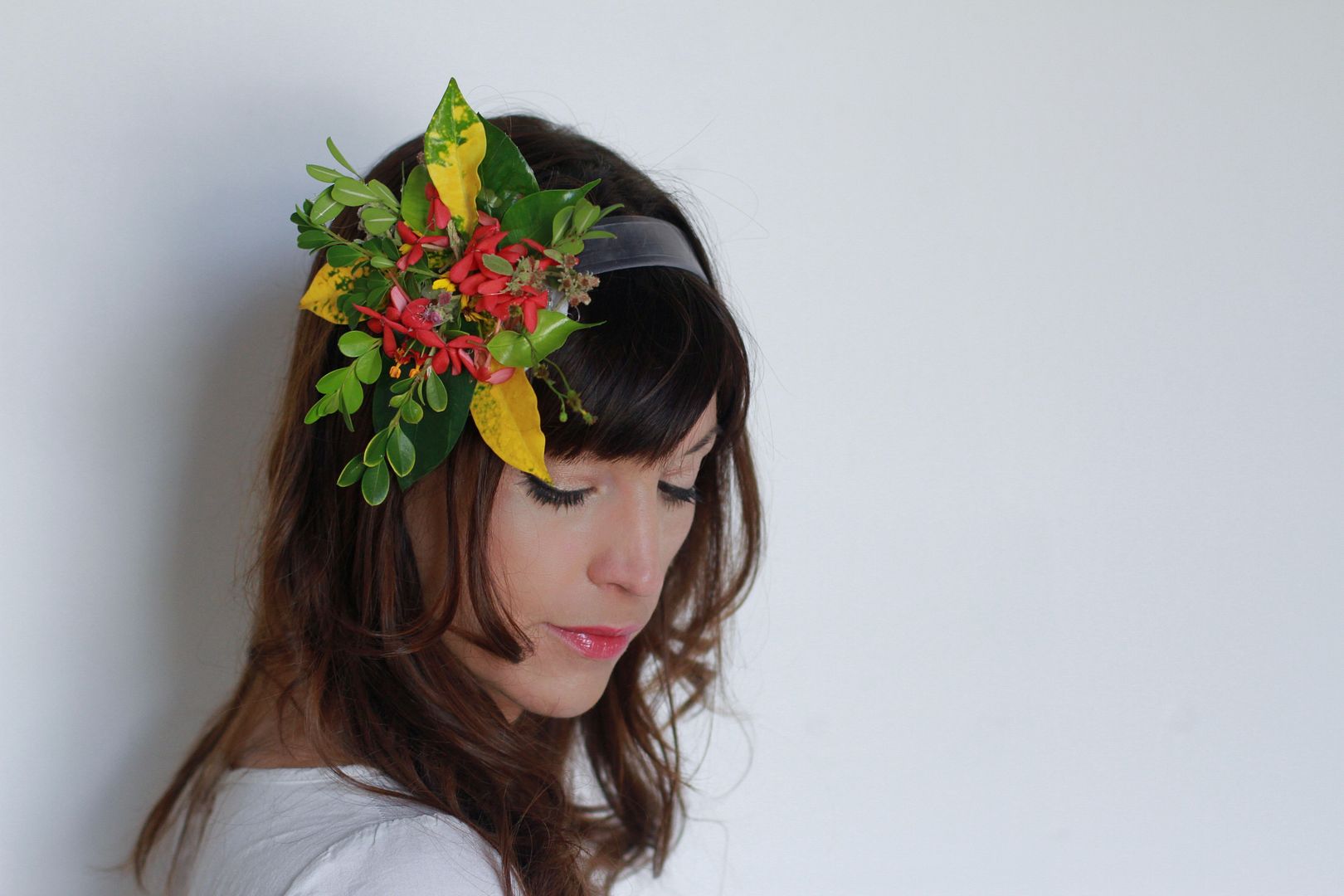 Real flowers are a little heavier and I wanted to weave the stems in before hot gluing, so I used a canvas circle (found in needlepoint/crosstitch aisles of craft stores) cut to 3.5 inches.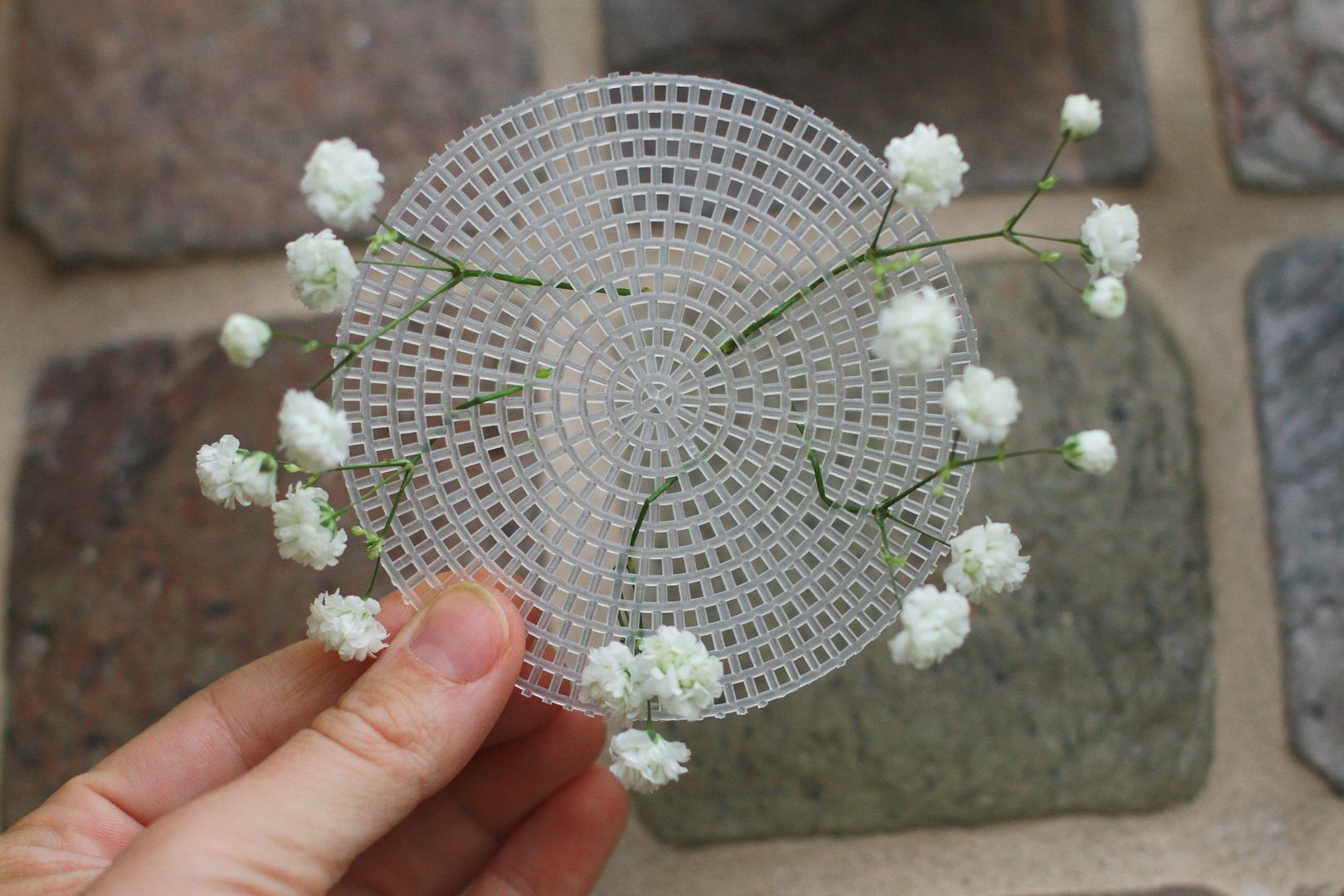 I poked a few flowers in to create a base (you may need to cut open the canvas grid in a few places for larger stems).
And then filled in the rest with the hot glue gun to secure everything…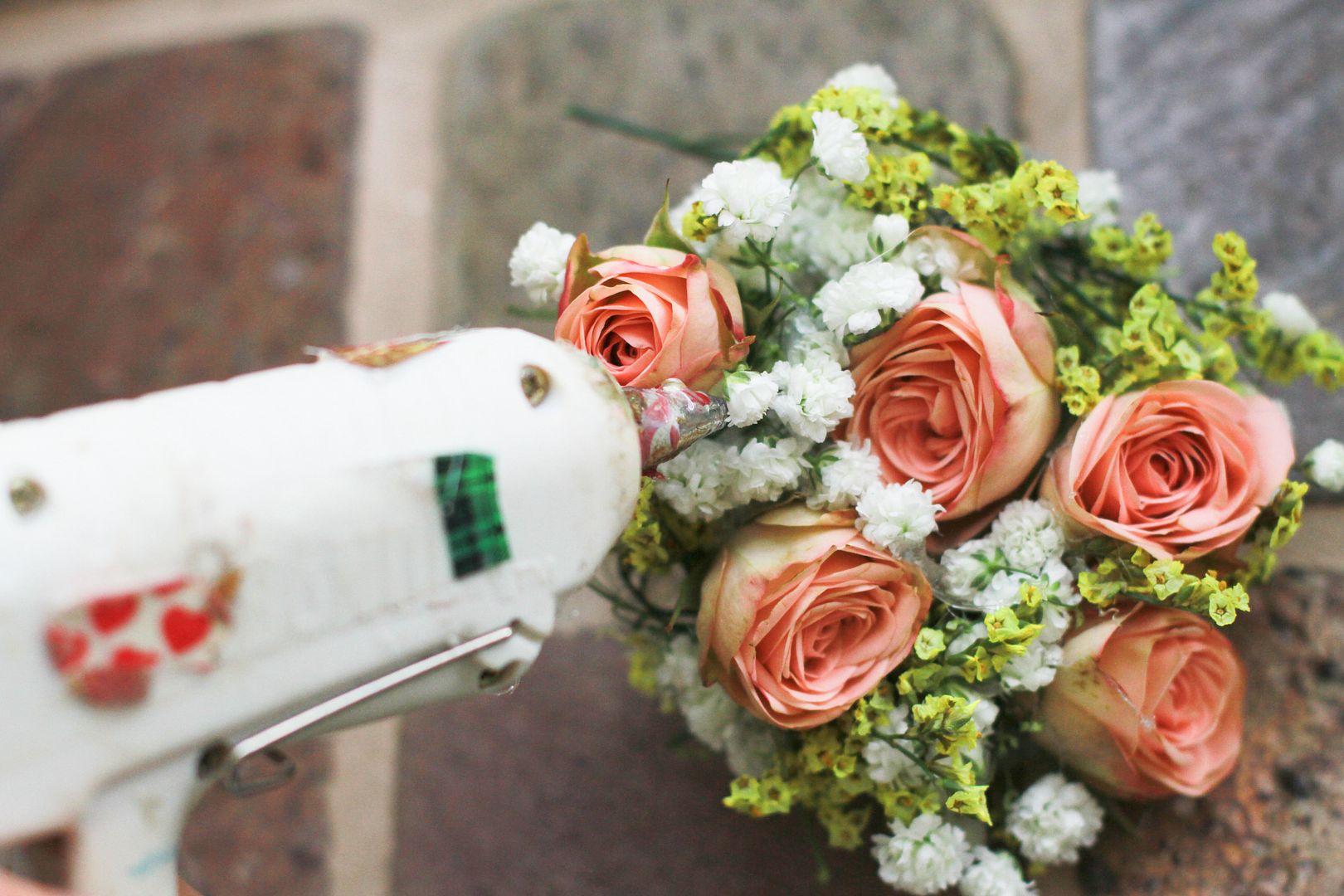 …clipped all the stems off the back, and glued a felt backing before securing to headband.
Now we'll have to make tea and twirl. Twist my arm.