From the day their little Amazon boxes landed with a thump at our doorstep, Kiki and Coco in Paris and Lulu & Pip have been Nella's favorite books. Filled with gorgeous photographs of a girl and her doll and accompanying stories of their adventures together, both of these books have been well-read in our home–taking "first chair" in our bookshelf orchestra beside the bed and first pick for take-along books on trips. Our copies have withstood road trips and have entertained our kids from restaurants here in Naples to pre-bed rituals in Poppa's Michigan cottage. Inspired by these books and Nella's love for them, I've been wanting to do a personal writing/photography project and turn it into a book for Nella about her own adventures with a toy/doll. Christmas break finally gave us the time to do it, and it turned out to be one of my favorite projects yet. Lainey and I started with shooting around some story ideas, following the conflict/resolution pattern in Kiki and Coco and Lulu & Pip; planned what the story photos should look like; and then set out for several days around town, capturing our adventures and having so much fun in the process. Once we edited a slew of photos, we arranged them in photo editing software and began to add some meat to the bones of our story. It turned out to be a great writing exercise to share with Lainey and a meaningful gift for Nella. The entire family has been impatiently waiting for the final product, Nella & Maude, to hit our doorstop, and once we heard that thump? We ran.
The result? A happy girl.
Several asked on Instagram if they can purchase this book. This entire project was a personal creative itch, an opportunity to make Nella really happy, and is inspired by another book and artist who already did this theme and did it well. So, I'd encourage you to buy Kiki & Coco or Lulu & Pip, read them with your kids and–especially if you're a photographer–let them inspire you like it did us to create your own story with photographs of your kids.
If you're interested in doing a similar project, I'll give you a few details and tips I discovered through making ours. There are several companies that can produce this sort of book. I chose Artifact Uprising for their quality, the size and orientation I wanted and the user-friendly book composition guide they offer. We made their 8.25 x 11 vertical hardback book (lemon yellow cover with a paper jacket), chose the 50-page option and cut it down to 40 pages total (based on several children's books I researched, the amount of photos we wanted to use and the fact that this book option requires minimum of 40 pages). I did the layout and text myself for the cover, back and each page in my photo editing software so I could have full control of how it would look.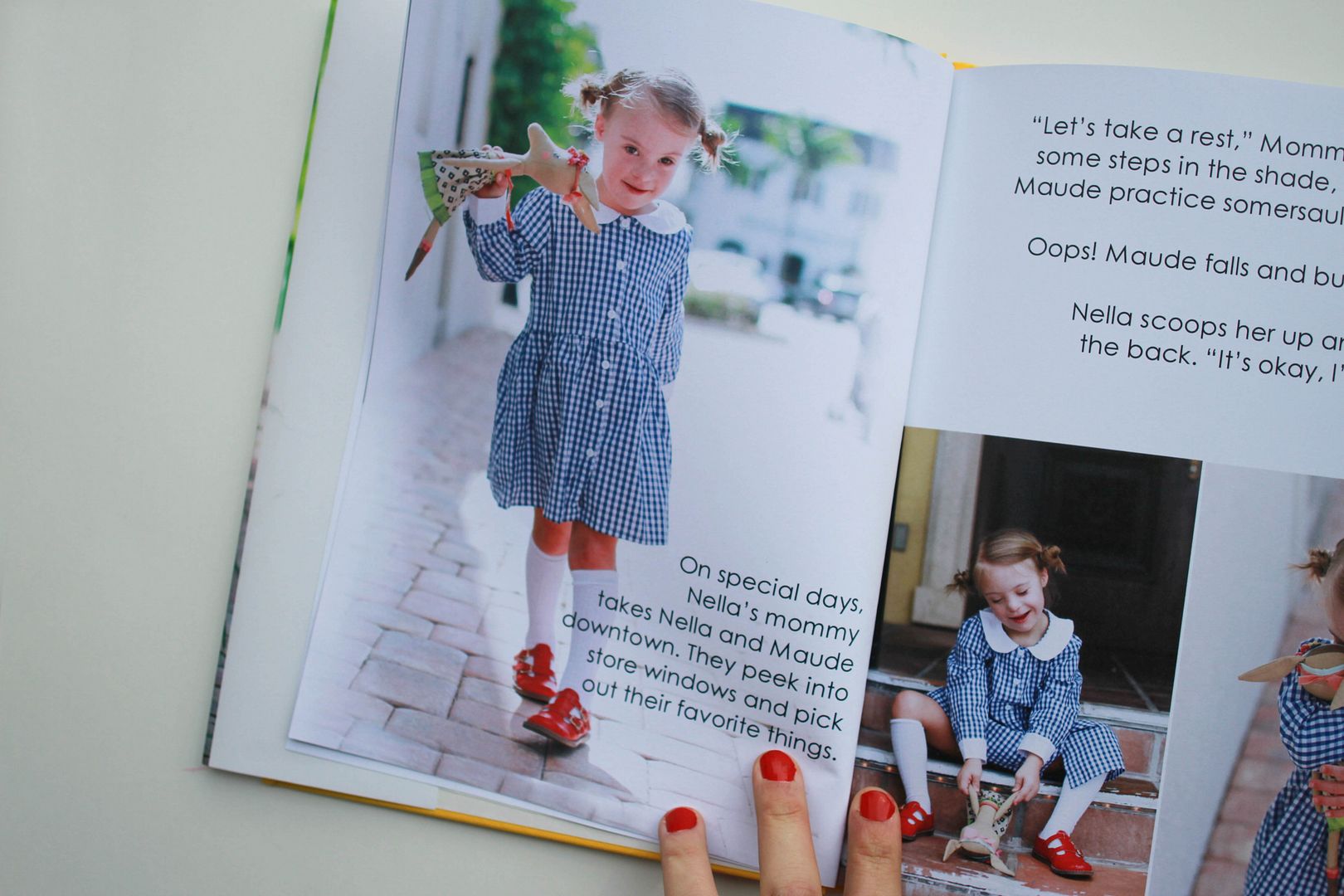 I used a lot of vertical photos to fill one side of a spread, some horizontal to take up an entire spread as well as clusters of photos organized together on a page, leaving part of the page blank for text. When taking photos, I thought a lot about space and color. Leaving lots of negative space in a composition is great for text–dark space for white text, light space for black text.
Example: Putting Nella to the left in this composition and leaving lots of blue sky to the right created a nice space where lots of white text could be placed on the page.
For one-photo full spreads like the one below….
I had to cut the original photo in half and place each half on one 8.25 x 11 page. Again, that big span of blurred-out negative space on the left creates a great place against which text can stand out.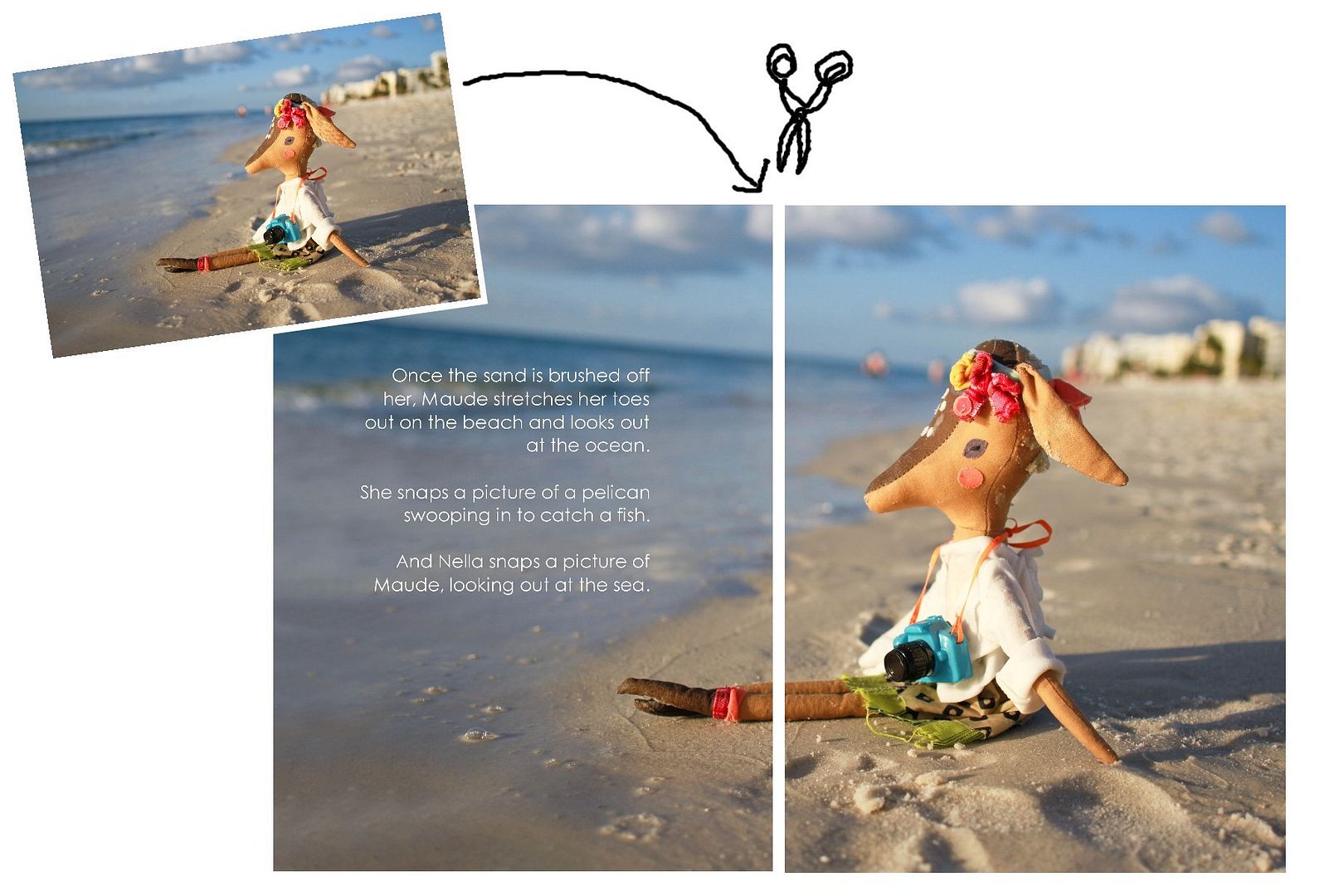 As for writing the story and putting the layouts together, it helps if you have lots of photos to work with. If you're taking pictures of a scene at the ice cream shop, think of ALL THE THINGS. Take close-ups of the ice cream, get wide angle views, use different perspectives, take pictures of the ice cream being scooped, your kid looking through the glass at the flavors, the scoop that fell on the floor. They make for great engaging photos for kids and help illustrate your story well.
Fun writing lessons for incorporating older kids in the process:
Descriptions.
Lainey was great at adding adjectives and describing scenes. I had one sentence that started with "Nella dipped Maude into the water…" and Lainey pointed out, "you didn't describe the water."
"Okay, how should I describe it?" I asked.
"You could say salty water."
"Very well, then. Salty water it is, dear editor."
Switching Overused Words.
She was also great at suggesting other words besides "says." Exclaims, adds, asks, whispers, announces. Now if only I can get her to edit my use of "beautiful" and "little" :o)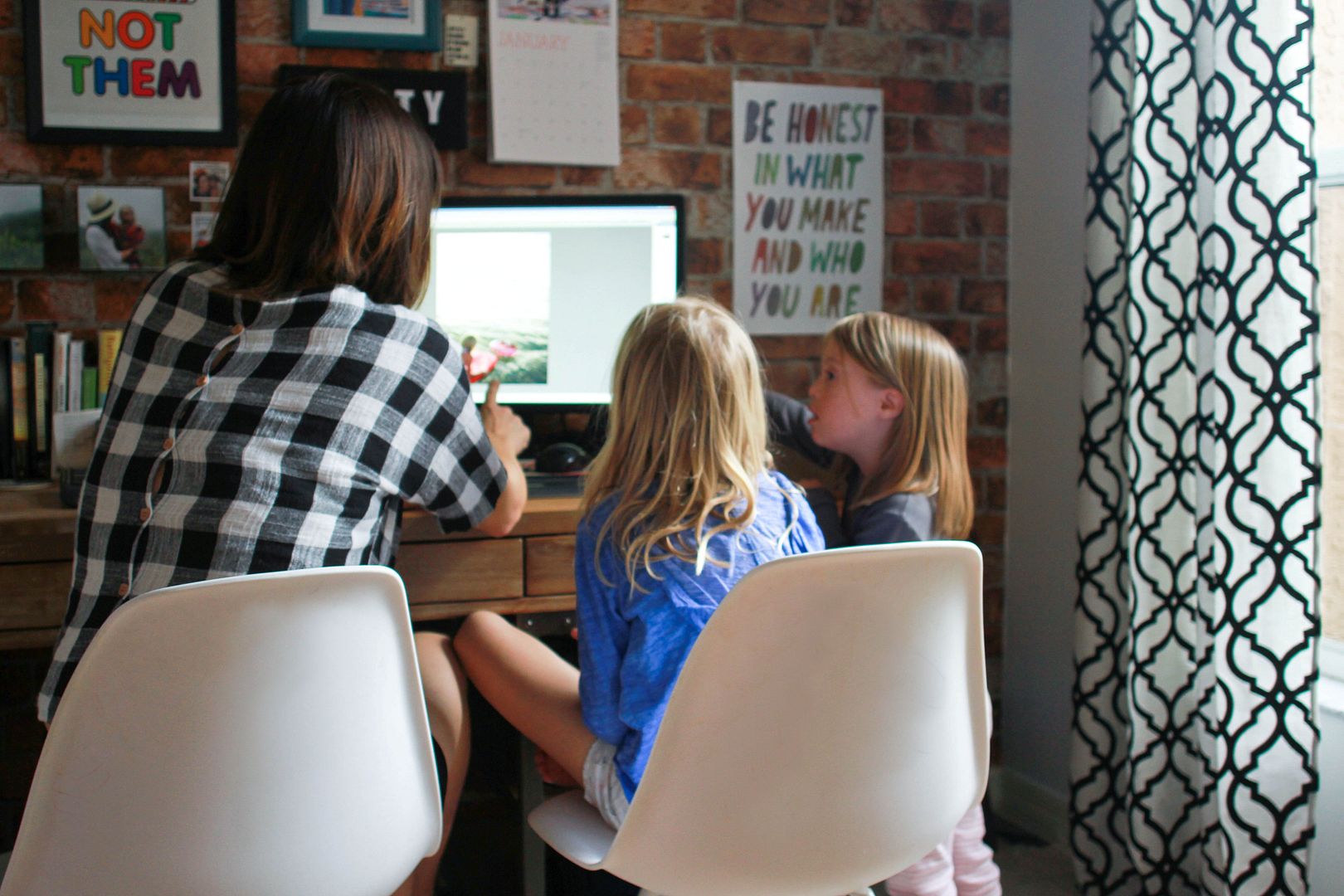 Onomatopoeia.
My dad called while we were working on the book and insisted it include onomatopoeia because "kids love that stuff." So we dug through the text and looked for a good place where it would fit. We ended up finding a place where Nella was walking in the water along the beach, and Lainey suggested her feet made a "slap, slap, slap" sound. Very well then, dear editor. Slap, slap, slap it is.
Story Lines and Directing Scenes.
When we were thinking of what we could do for conflict in the story, I suggested something at the beach because–well, that's what we have for location shoots. Lainey decided Maude should drift out to sea and be rescued. "And I can be the lifeguard who saves her because we have that lifeguard boogie board!"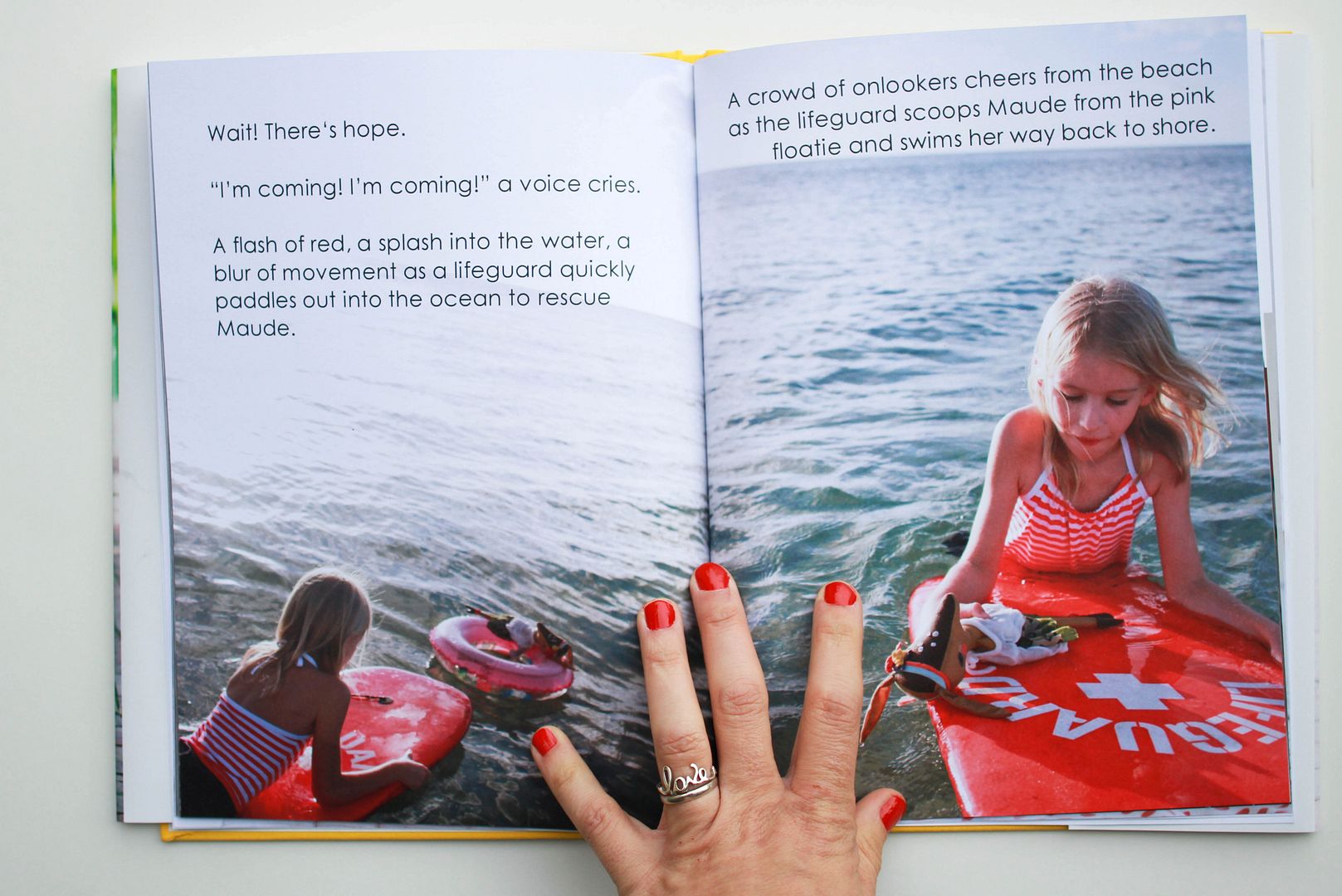 I won't bore you with the entire book, but I'll give you some of my favorite shots in it: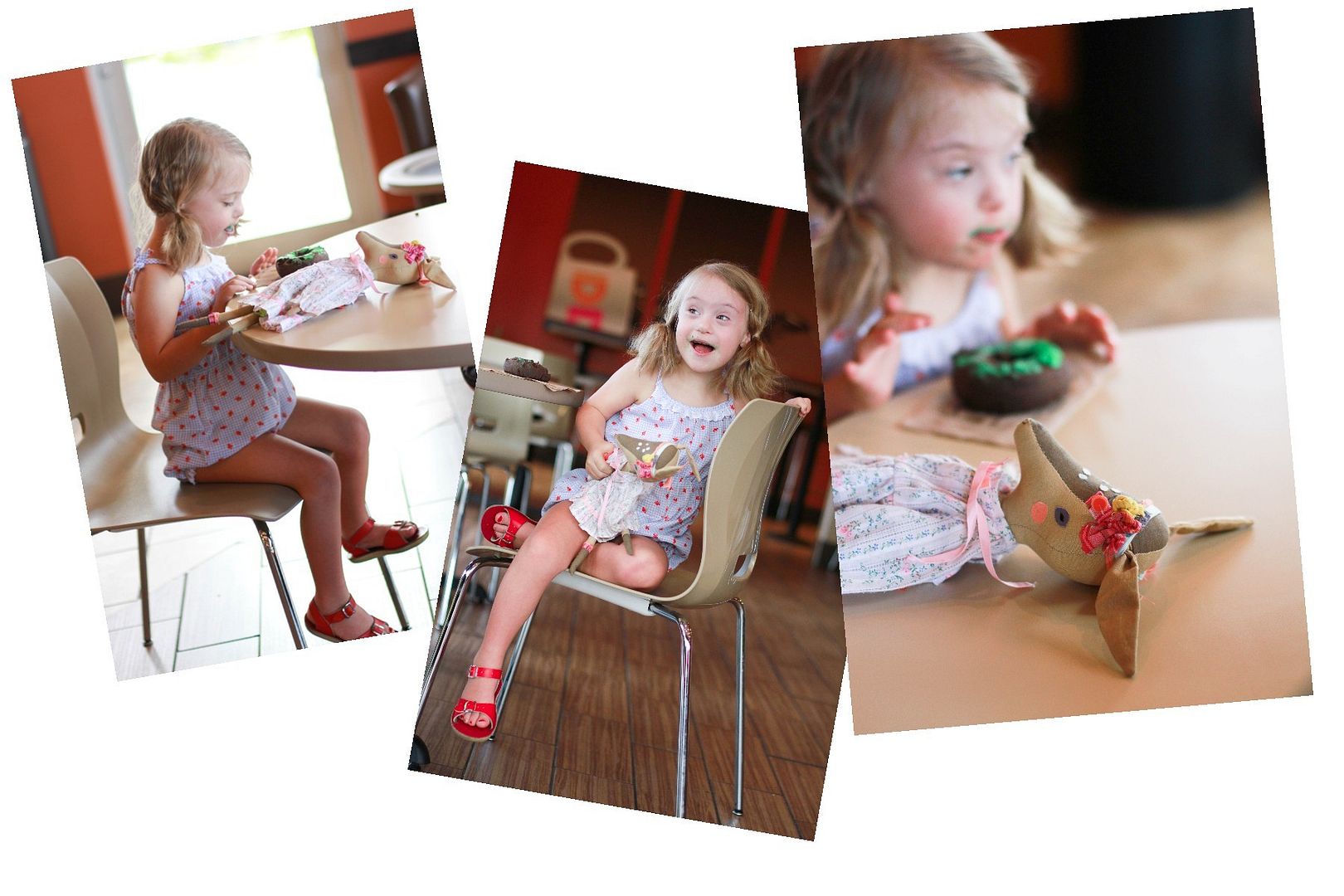 Lainey has a serious problem with these next pictures in the book because it's supposed to be a night time scene, and we shot it during the day for light. "Nobody's going to think that's really night time," she's pointed out numerous times.
And my favorite scene in the book…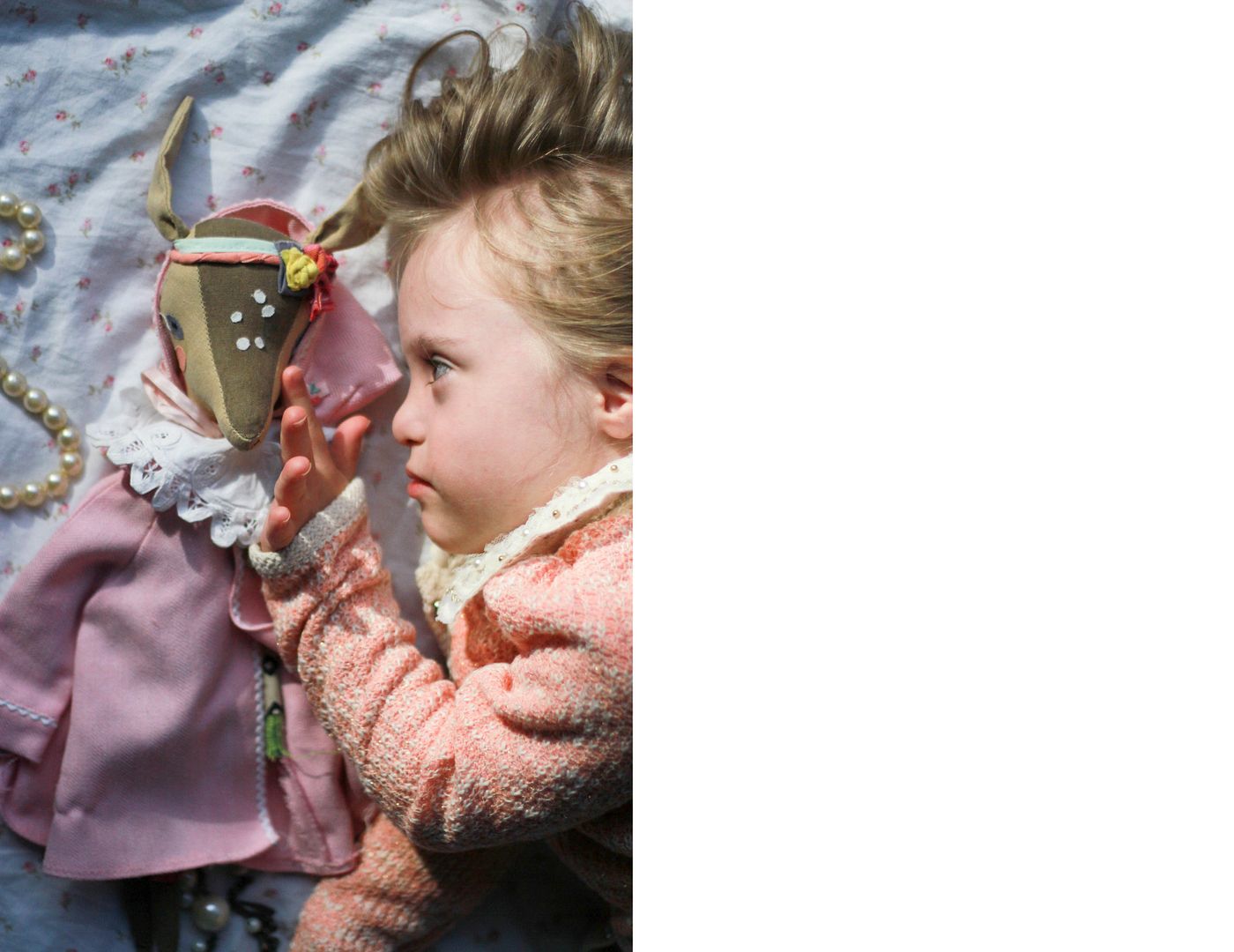 This was such a fun project for us, and the kids are already planning sequels–Nella & Maude in Michigan–and other combinations for each of them–Lainey and her blanket, Dash and his dinosaur.
And while this won't be a published option for children's books for me, it did scratch an itch that's turned into a massive creative rash…something in the children's literature theme is calling.