Okay, dog loving friends. Or cats. Or birds. Or whatever living creature it is that calls your place home and maybe–if he's lucky–gets his name added to the holiday cards. So your pooch might not love when your kids are holding him hostage to dress him up in doll clothes. Here's a chance for the kids to get what they want without the dog's distress and the next rainy day activity–pooch portrait art. We made these this weekend, and we were dying laughing at how ridiculous Latte looks all dressed up–but also…So. Much. Fun. And don't think for a second that you have to have kids as an excuse to make one of these. I think a whole gallery wall of these over a bar cart in a dining area or in a fun colorful bathroom would be hilarious.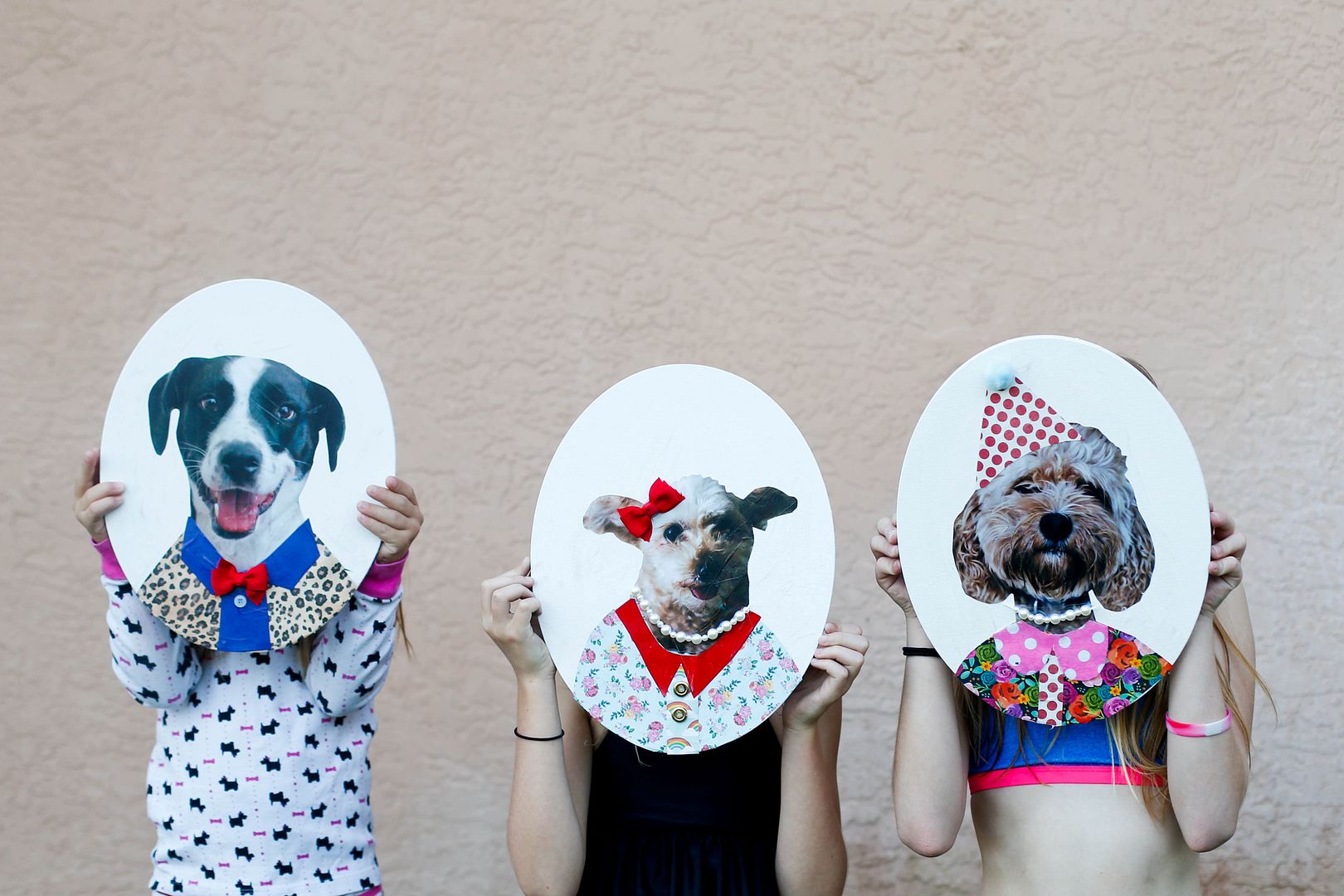 Here's what you need:
1 8 x 10 photo of your animal's head
11 x 14 oval stretch canvas
Mod Podge (we used satin)
Decorative scrapbook paper
Accessories: felt, pom poms, glitter, bows, buttons, pearls, rhinestones, etc.
We used these 11 x 14 oval stretched canvases (ready to hang) from Hobby Lobby ($8.99 each but click on the "40% off one item GET COUPON" button at the top of the site, and you can either print the coupon to use in store or use the code online). I picked up two of Lainey's friends this weekend and ran inside to get a picture of their dog, so they could each make one of their own dog (printed them 1 hour at Costco).
As for the pictures, you don't need a studio backdrop, and you can zoom and crop later. Just make them sit, hold a treat and snap it fast. For moody cats, God speed, because I don't know how to help you there. Here's what we started with: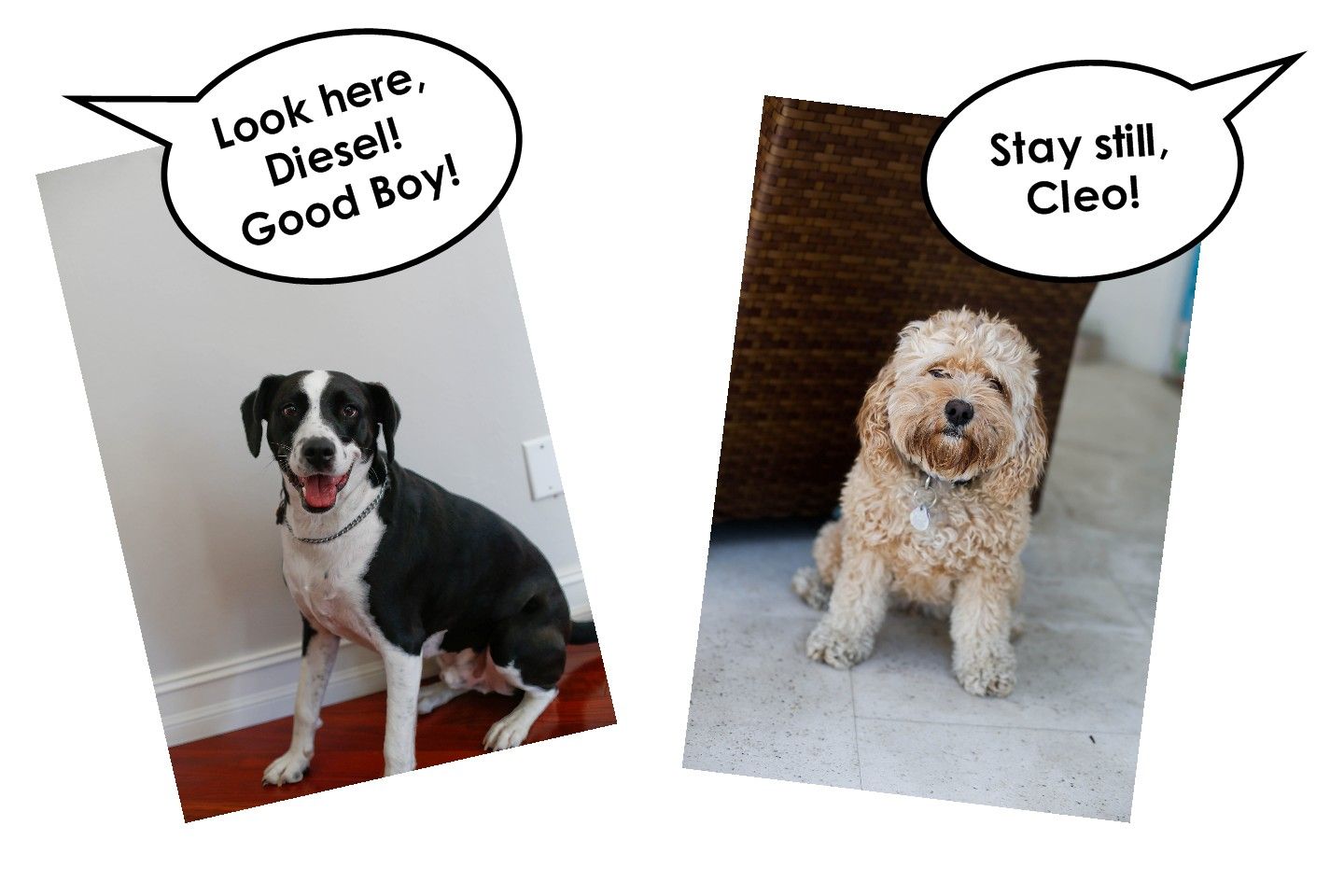 After you get your photo, crop and zoom so that just the head and neck area of your pooch fills an 8 x 10 print. Once it's printed, cut out the head to be mounted on the canvas (wait to mount it though).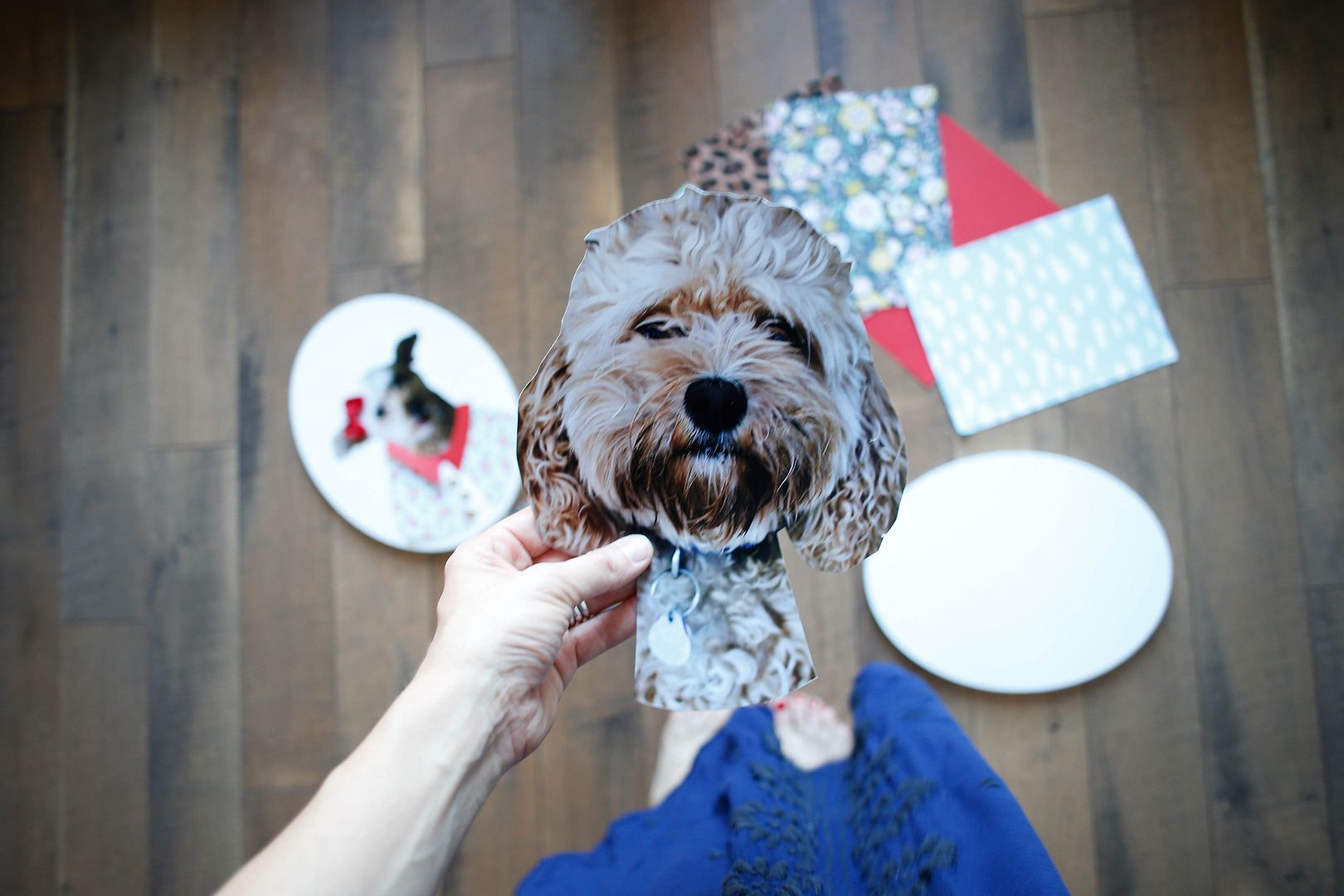 The fun part comes when you build your dog's outfit and match their personality with paper patterns and clothing designs.
Before you mount the head, you'll want to use it as a guide to cut out outfit shapes to see where necklines should fall. We didn't have any stencils ,so we just winged it with trial and error for outfit details, but that made it even more fun. We started cutting out basic t-shirt shapes from the scrapbook paper to make the dress/sweater base and, trimmed them down and then added collars, buttons, bows, jewelry, etc. We didn't adhere anything with Mod Podge until we had our entire design laid out. Once you know what you want, you can begin securing everything, starting with the bottom layer, with Mod Podge (only the flat items like paper and felt. Once everything dries, you can use hot glue to add your 3-D accessories like bows, buttons, pearls and rhinestones). Use Mod Podge like glue, brushing it on the back of each piece and securing it to the canvas, and then brush a layer of Mod Podge all over the top of the canvas for that decoupage effect (it will look murky but will dry clear).
Once it's dry, hot glue your 3-D accessories in place–pom-poms, pearls, bow ties, buttons, etc.
I can't take it. Latte's ears. And Diesel is so dashing!
You should know that Lainey's friends left their portraits to dry, and I kept them and hung them in my own house because I'm not, like, a regular mom. I'm a jackass mom.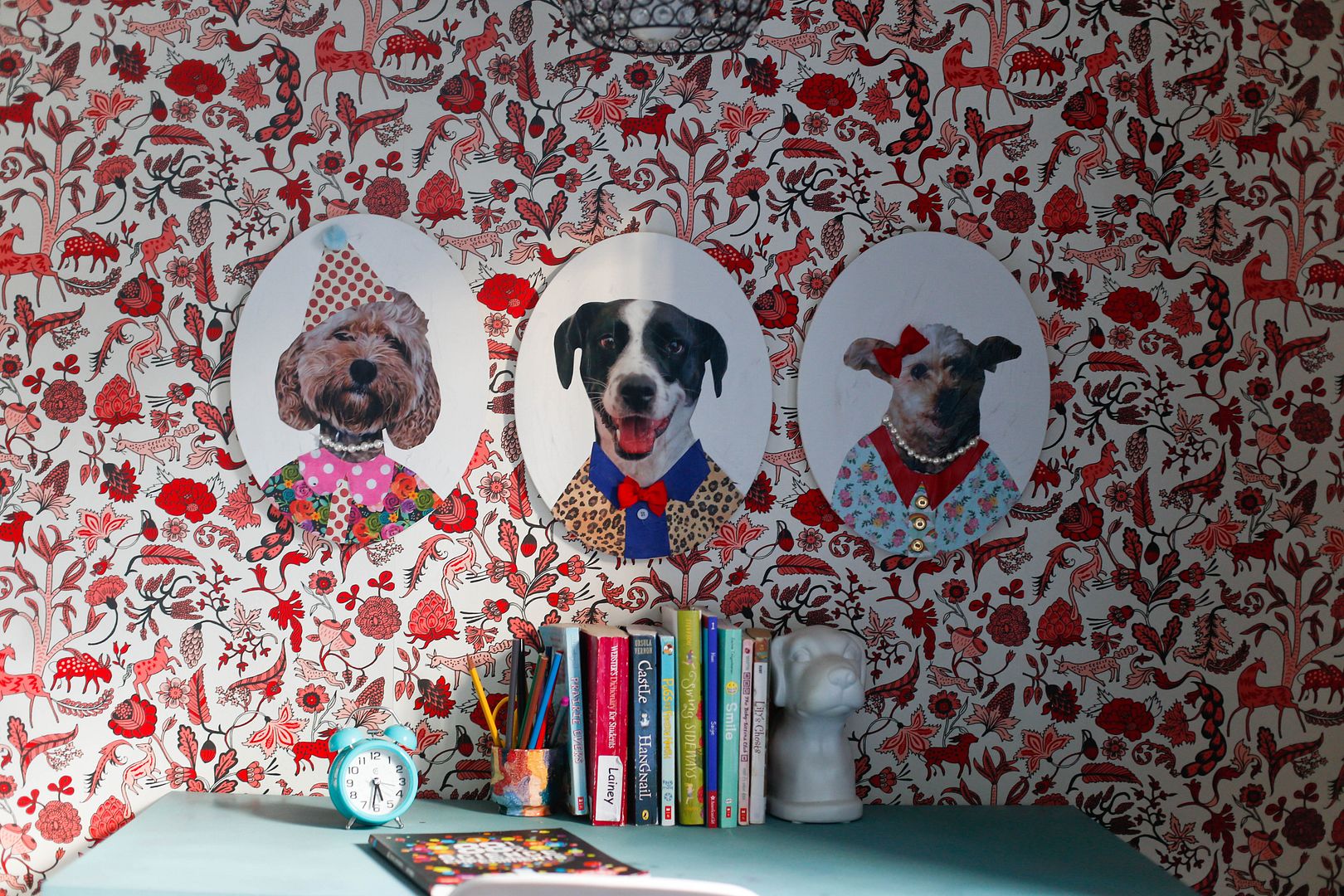 (tried above Lainey's desk first, but they were competing with that wallpaper a bit)
I'll give them back eventually.
Brett wants me to make one for Sophie which I love so much, so I'm on it. Time to go through the old folders of Sophie photos (hold me).