Our box of Michigan leaves arrived yesterday.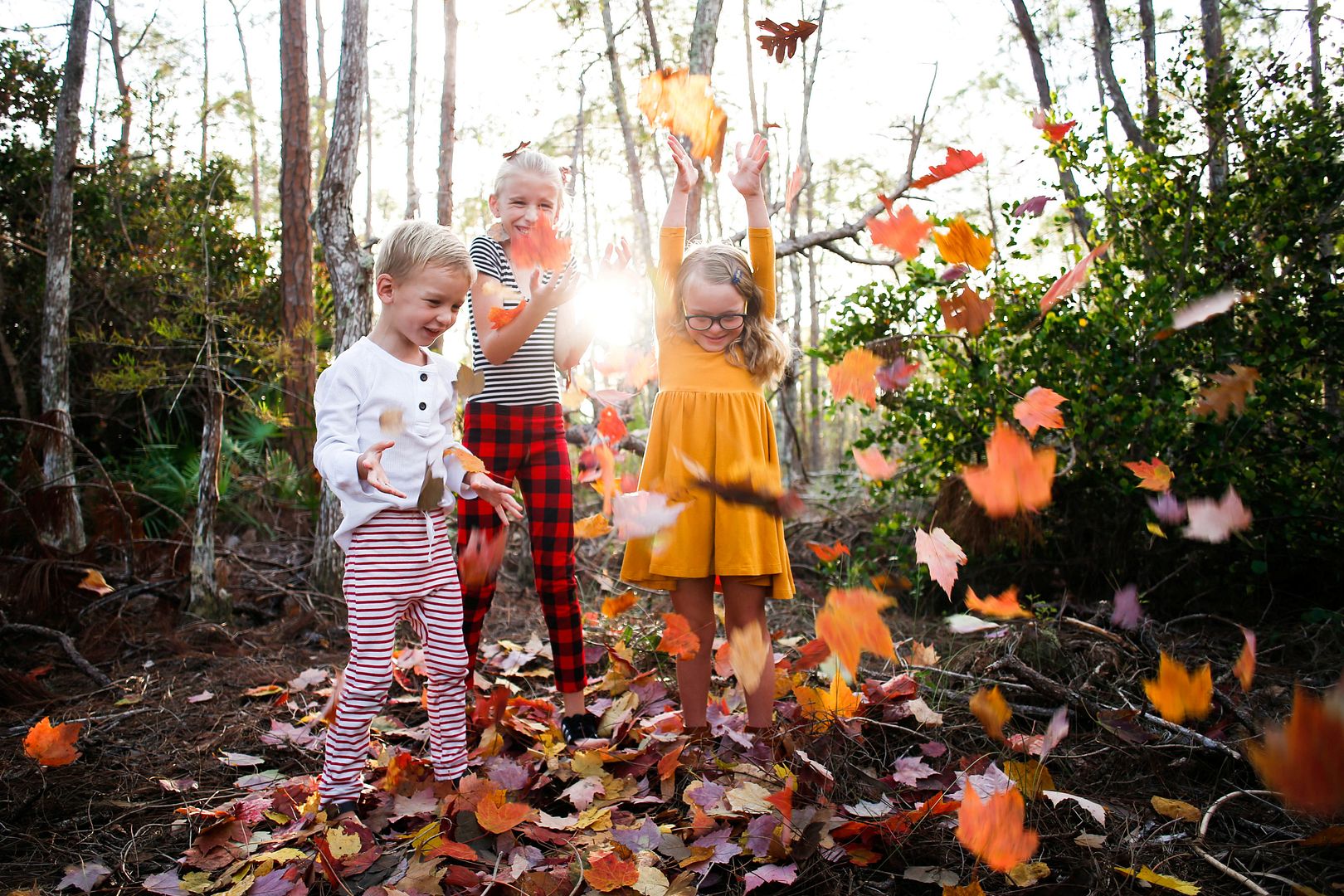 My cousin Joann has been sending them to us every fall for ten years now. She waits for the perfect conditions–peak colors and dry weather–and always texts me on the day she gathers: "Today's the day." Every leaf is hand-picked and vacuum-packed into a box that she pays a pretty penny to ship…just to make us smile. We were expecting the box to arrive Saturday, but it didn't make it which sent my cousin in a tizzy because she was afraid with the extra day of sitting at the post office, the leaves might lose their color or dry up or get moldy, but they were as perfect as ever.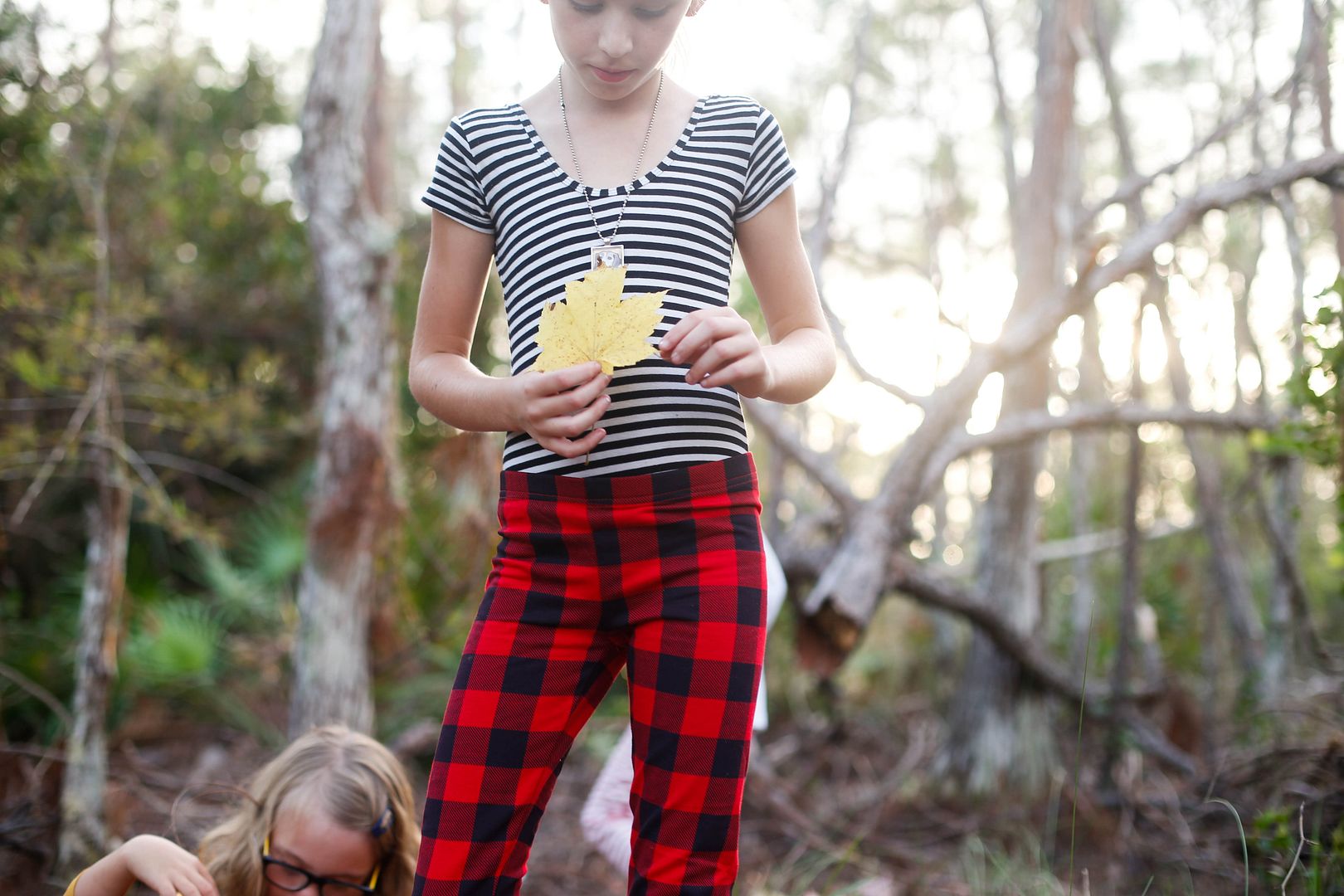 What began as a thoughtful gesture to give my kids a taste of a northern fall has turned into a deep-rooted ritual that connects us to home, each other and reminds us how happy something as simple as a box of leaves can make us.
One of my favorite books I often return to is Simple Abundance, a collection of essays for every day that foster a gratitude practice and celebrate finding sacred in the ordinary from Autumn leaves to an afternoon cup of tea. That book is the foundation of my "Enjoying the Small Things" celebrations, and ever since my sister and I toted copies of it in the 90's like the dorks we were and consequently started "comfort boxes" to stash our favorite little things that made us happy, I refer back to it often and think of it in moments like geeking out over our box of leaves. I recently bought a follow-up children's book by the same author, Sara ban Breathnach, called The Best Part of the Day and love this quote in the author's introduction: "Gratitude is often thought of as an intellectual concept, when really Gratitude is a small seed planted in the heart that is nurtured and nourished through acknowledging all the good that surrounds us. Good that can be discovered through the reassuring comfort of family customs, rituals, and traditions and restoring a sense of rhythm in our daily round and through the changing seasons."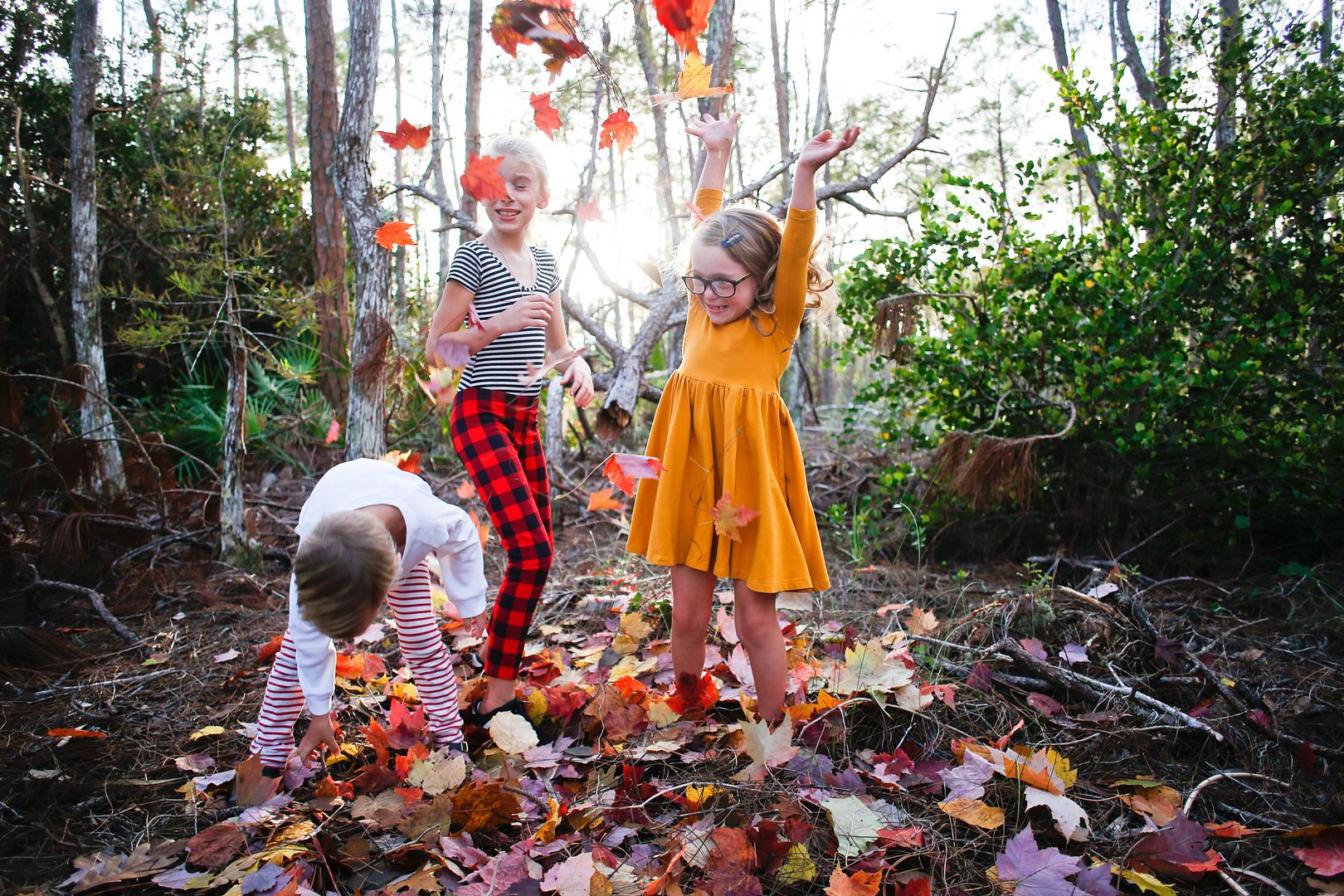 This tradition, these leaves, the way we run to the woods to do the same thing we do every year with them–toss them into the air and drink up their earthy scent and pile them up to make little pillows where we lay for pictures…

The way my kids all look at me while we do this, anticipating my happiness…following my lead…
The way they've come to look forward to them and enjoy them as much as I do…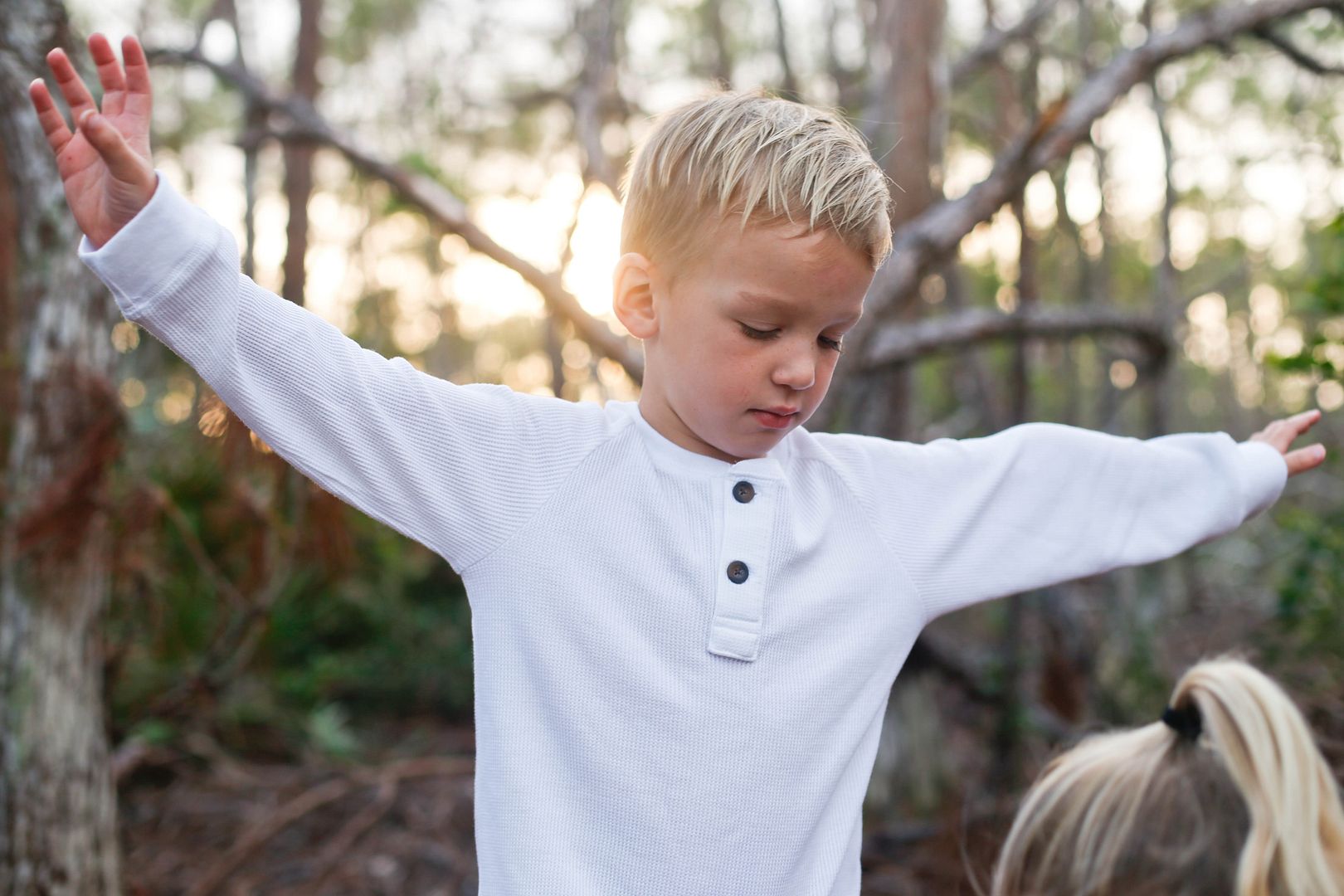 It's a small seed of gratitude that has grown into a sturdy ritual that grounds us and reminds us that no matter how challenging life gets, there is an abundance of little pleasures around us that can bring us back home.
My kids may not know a Northern Autumn, but they know the joy that comes from its treasures.
(Dash copied Lainey in the above picture, said "Look!" and we all lost it.)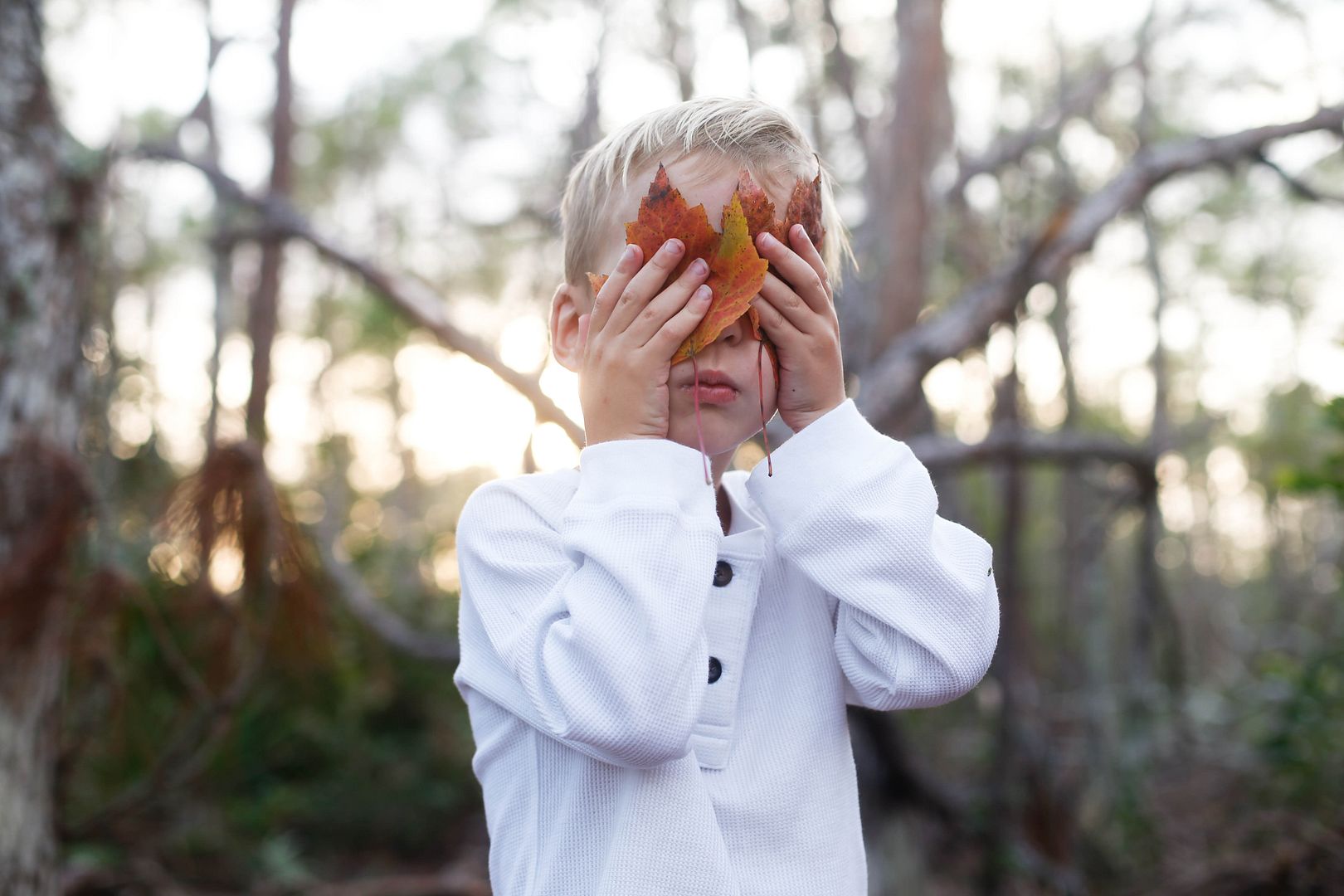 (I didn't notice until I was editing that Lainey is clutching the Sophie necklace my niece sent her)
We melted a pan of beeswax and dipped a good 30 leaves or so in it last night so we can enjoy our leaves a little longer and make a garland that will get us through Thanksgiving.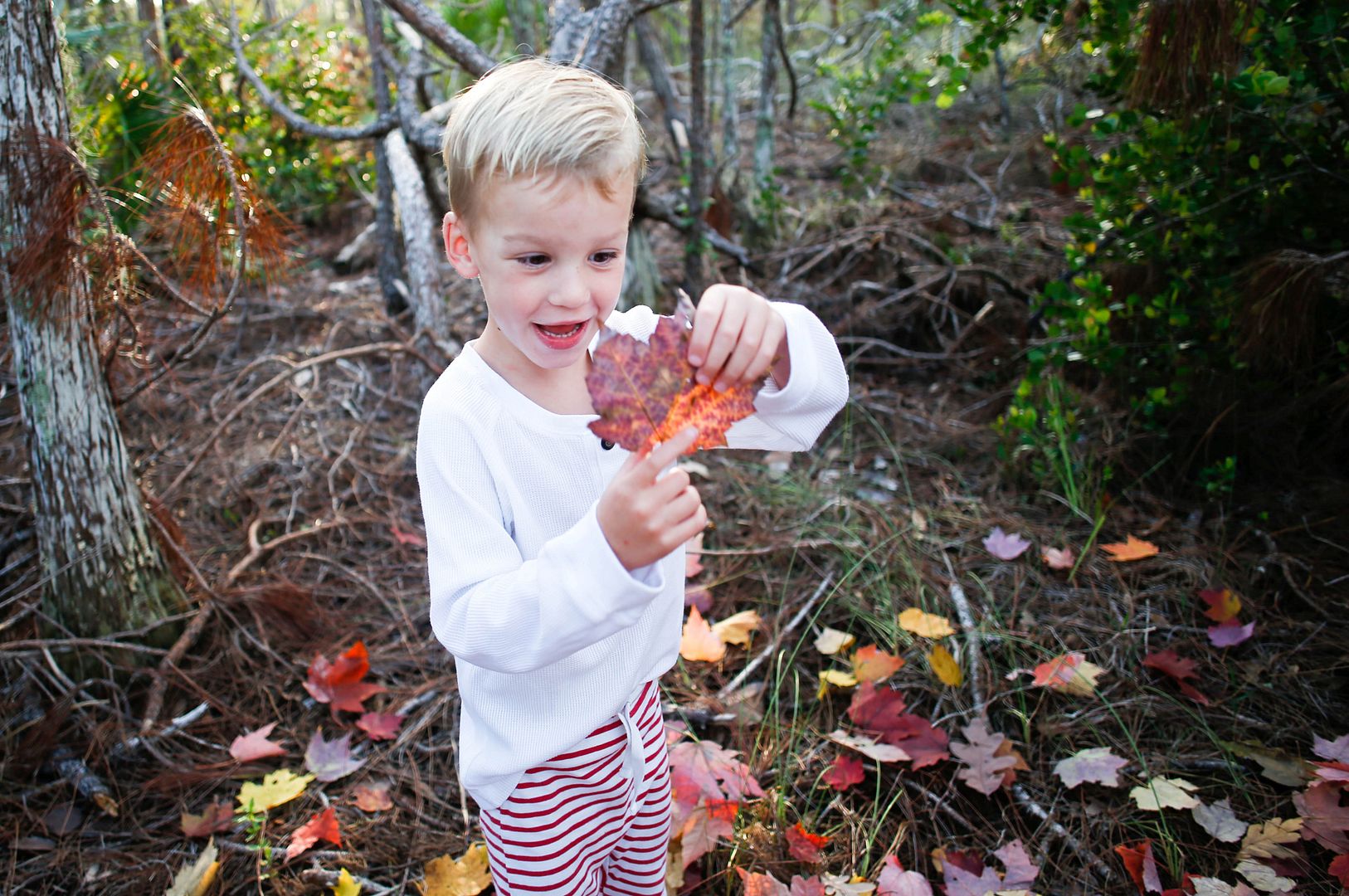 Until next year's box…sending vibrant Autumn happies your way today.