In yet another moment of deep self-analysis this weekend, I realized I am addicted to the euphoria associated with potential. Actually, it was more a moment of justifying that my house is never fully clean, a fact I excused with the idea that if it was perfectly clean, I wouldn't feel that rush that comes with a good project. And this is true. There's something creatively motivating about walking through piles of clutter, kicking random misplaced toys, passing by the fifteenth barette that Nella pulled out of her hair and tossed aside. Because simultaneously, I'm excitedly planning future attempts at managing clutter, how I'll paint some great bookshelf for the misplaced toys or scour a thrift shop for an old green glass jar that screams "barette holder." I know that not far off, there is a marvelous day awaiting where I will feel motivatived to attack the cupboards under my bathroom sink or touch up the base boards, and what will follow will be pure satisfaction. Flickering candles. Classical music. An invitation to friends for dinner–lemon caper chicken savored with wine around our dining room table…in an impressively immaculate house. My heart beats a little faster just thinking about it, even if presently I'm hopscotching across the few tile squares that aren't littered with a lone sock, a broken crayon, and a hairbrush that never made it back to the bathroom drawer (and never will).
I thrive on possibility, I feed on potential. My hands actually shook when I received a new syllabus on the first day of classes every semester. The paper was so crisp, its clean font and detailed outline promising possibility. That maybe I'd actually get lost in the sensational history that is Old Testament Studies (yes, I took it; no, I didn't find it sensational).
It's why we plan out future vacations, our itty bitty dreams just barely sprouting and unsupported by current funds but rousing excitement for the potential of what could be. We could be skiing in Colorado, watching lobster boats dock in Maine, or hiking glaciers with babies on our back somewhere deep in Alaska. And we will someday.
It's why I'll never drop the phrase "when I grow up" from my vocabulary because, no matter how old you are, the fueling potential of what you want to be someday should make your heart race and your insides tingle. When I grow up, I'm going to take a ballet class, make pottery, have a successful garden, cook for a great big family, and take my girls to Italy. I'm going to be a more consistent housekeeper, a more skilled photographer, a more thoughtful writer, a more passionate mother, a more patient wife, and a more selfless friend…when I grow up.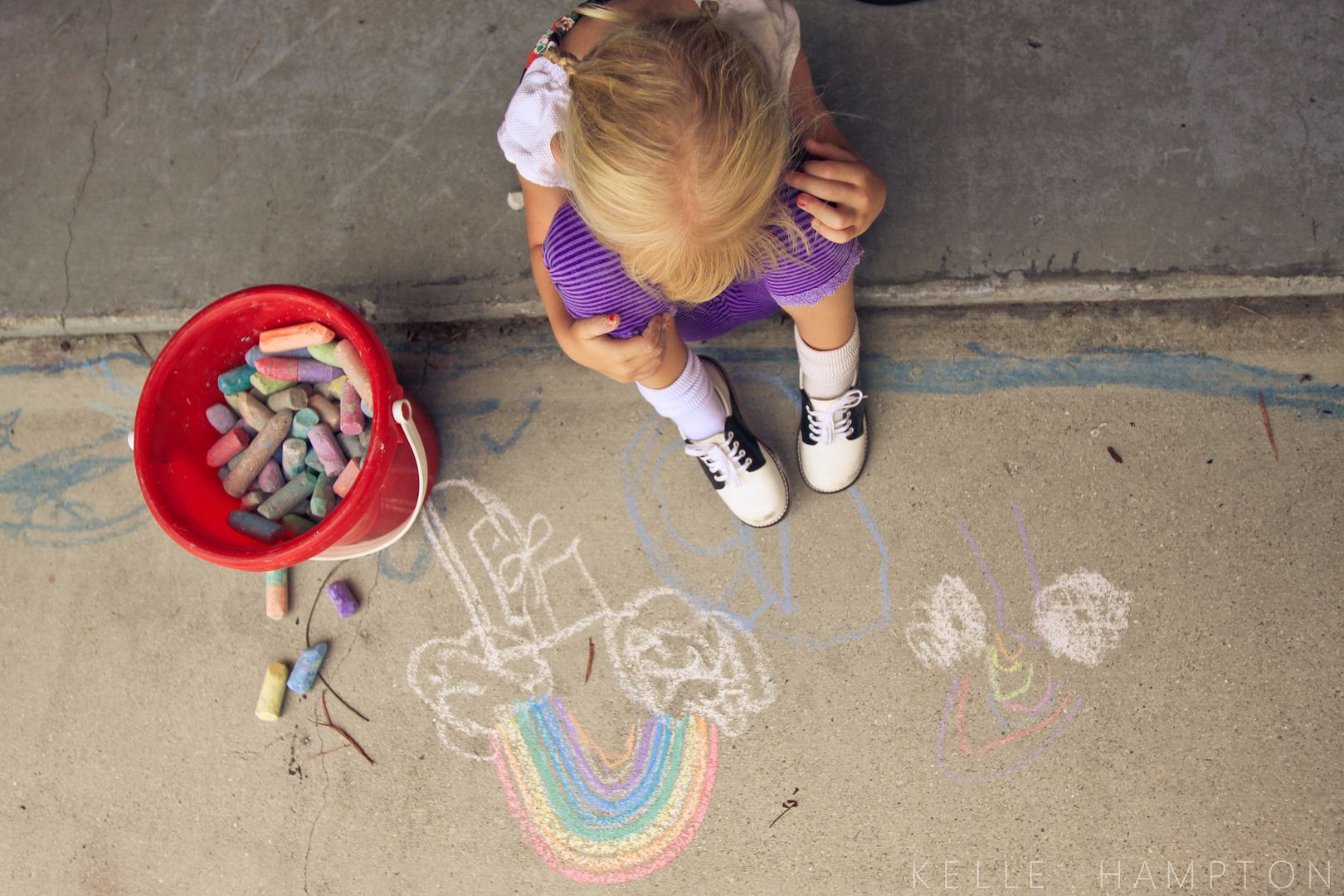 Mama's big rainbow to the left, Big Sister's itty bitty rainbow to the right.



It's why I start planning holidays in June, contemplating Halloween costumes in August, and dreaming of pumpkin bread and Christmas shopping and just how many light strands we'll dangle on our palm trees this year, months before it's time…because the thought of what we can do to make this year better than last thrills me. And potential drives me like no other force can.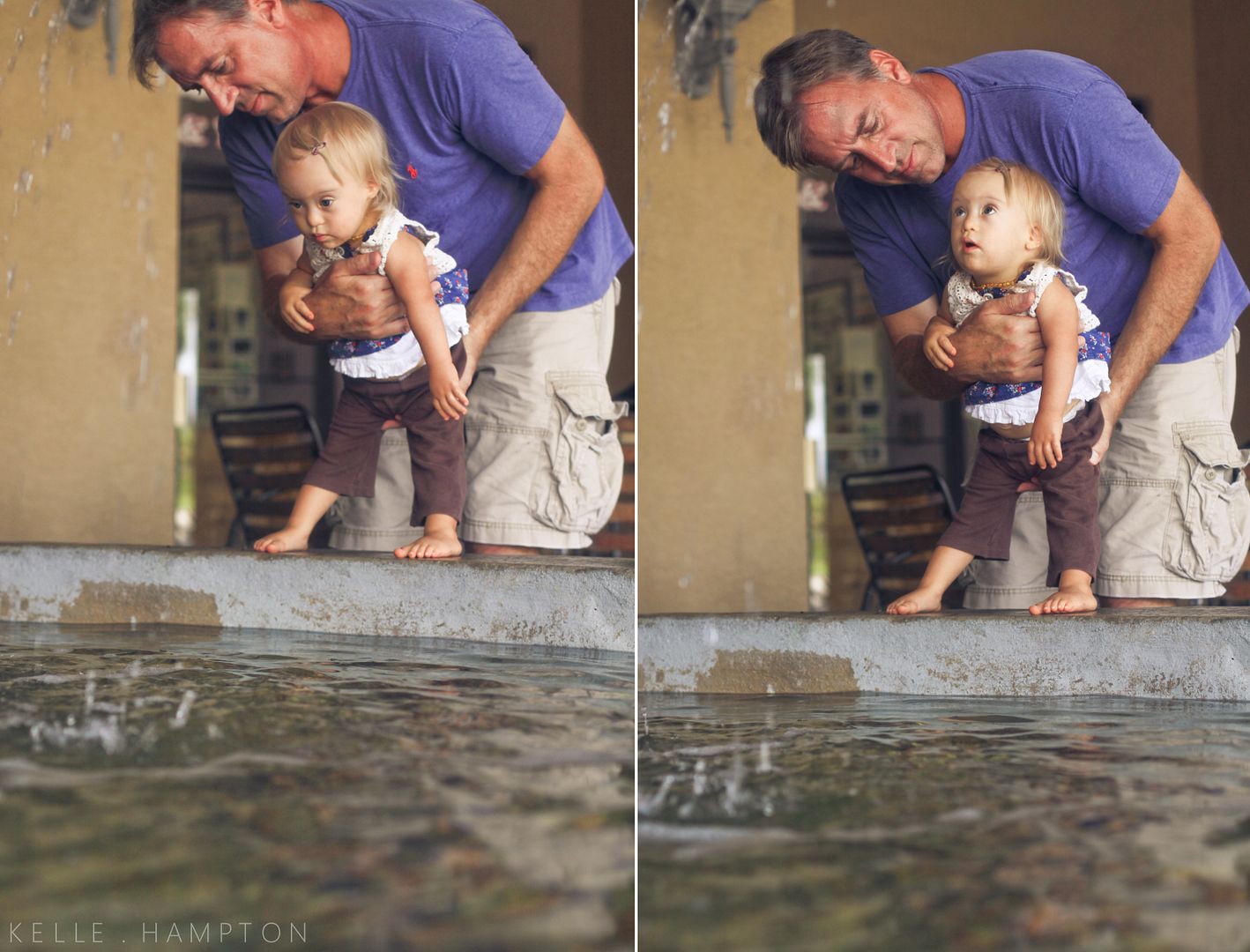 We make wishes on rusty pennies and throw them in fountains. They hold potential.




I am excited for the future.


Nella's dress, Tea Collection



This weekend, I spent hours in my closet in an amazing purge that was, believe it or not, actually enjoyable. Lainey tried on discarded old clothes (that happened to inlcude a gold sequin shrug from Las Vegas 2005; a pilly, faded brown turtleneck that adds five pounds of face weight and a pair of…wait for it…pleather pants), Nella climbed over the obstacle of shoe boxes blocking the entryway, and together we surrendered to the beautiful potential of…more organized.
And then it just crescendoed to heart-racing levels of potential. Cleaning overlapped to other areas of the house while I dreamed of room makeovers, DIY projects and thought about the potential that dwells in the coming months: late summer entertaining, pre fall rituals, visiting my mom in New York, trying new recipes, putting up the Christmas tree, setting new goals, creating new dreams. I love that this form of happiness is free, available to anyone and customizable to all talents, all incomes, all ways of life. Everyone has potential.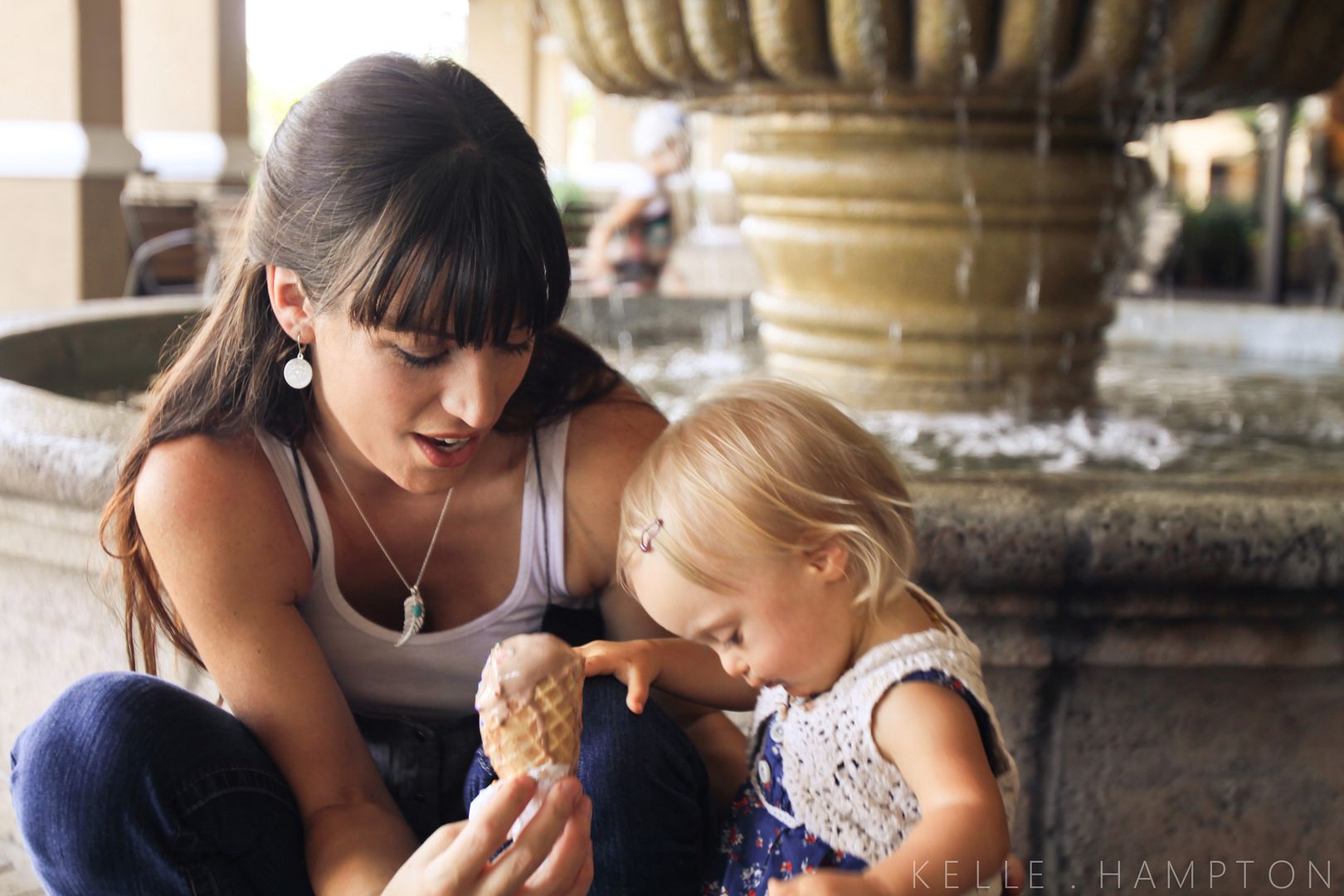 Our weekend treat of choice: Sweet Treats ice cream.
The rest of our weekend in photos and musings:
Jack

Lainey jumps every time this jack-in-the-box pops up. Even though she knows it's coming with another whirl of the crank and right after "the monkey thought 'twas all in fun." Still, POP! goes the weasel, and her little body jolts like she just saw…well, a gorilla mask. Unlike the mask, she thinks it's funny. What's funny is that Nella is completely unphased by both the gorilla and the jack-in-the-box.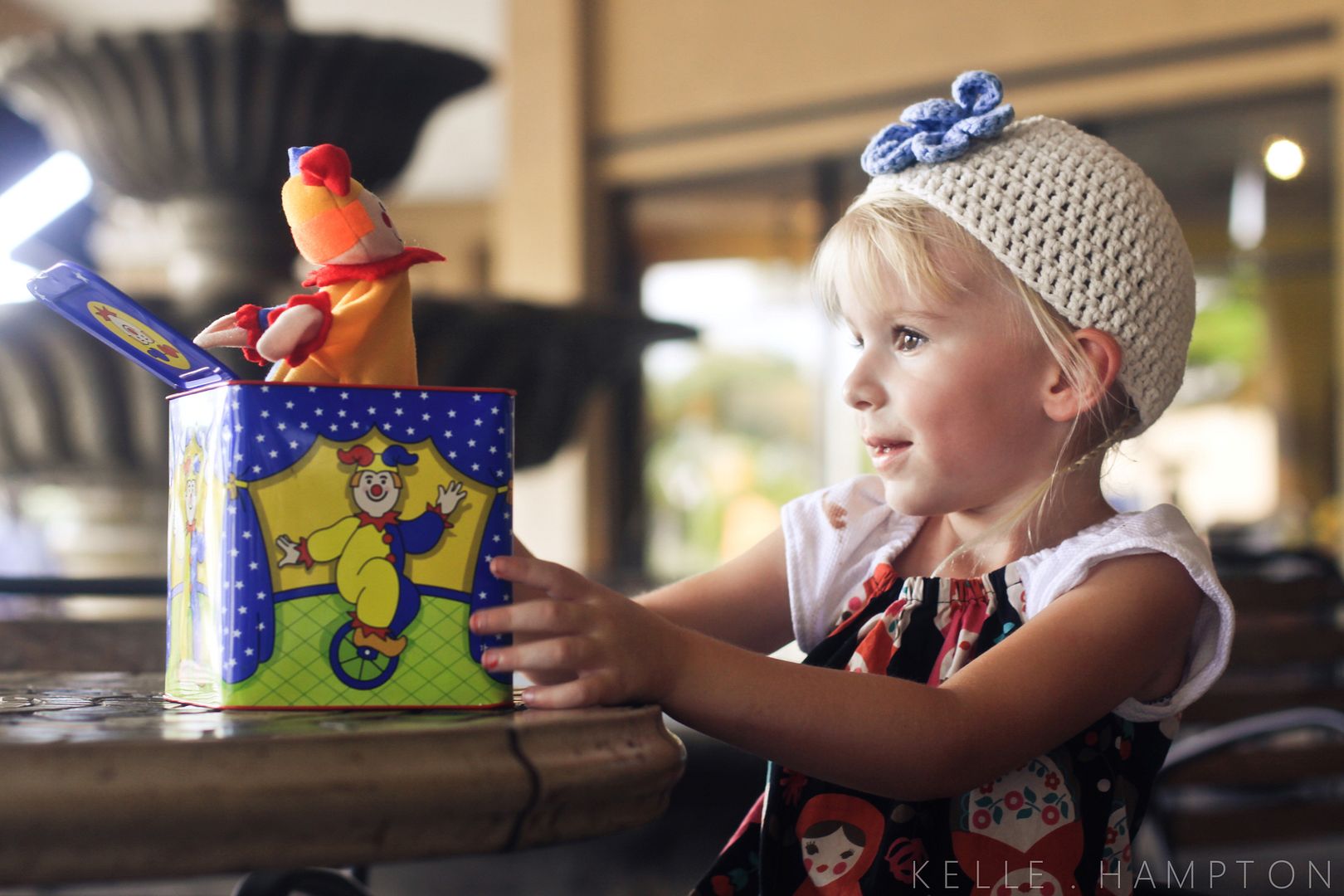 Nella does however love playing the piano. She will sit and peck at the keys for a good fifteen minutes, sometimes adding vocals as well. Her songs have a bit of Indie Rock vibe. She will be touring college campuses in about twenty years, I am sure.
Bake

Lainey and I threw down in the kitchen this weekend. Vanilla cupcakes with pink buttercream frosting. The balance is slowly shifting–less guidance on my part, more independence and following directions on hers.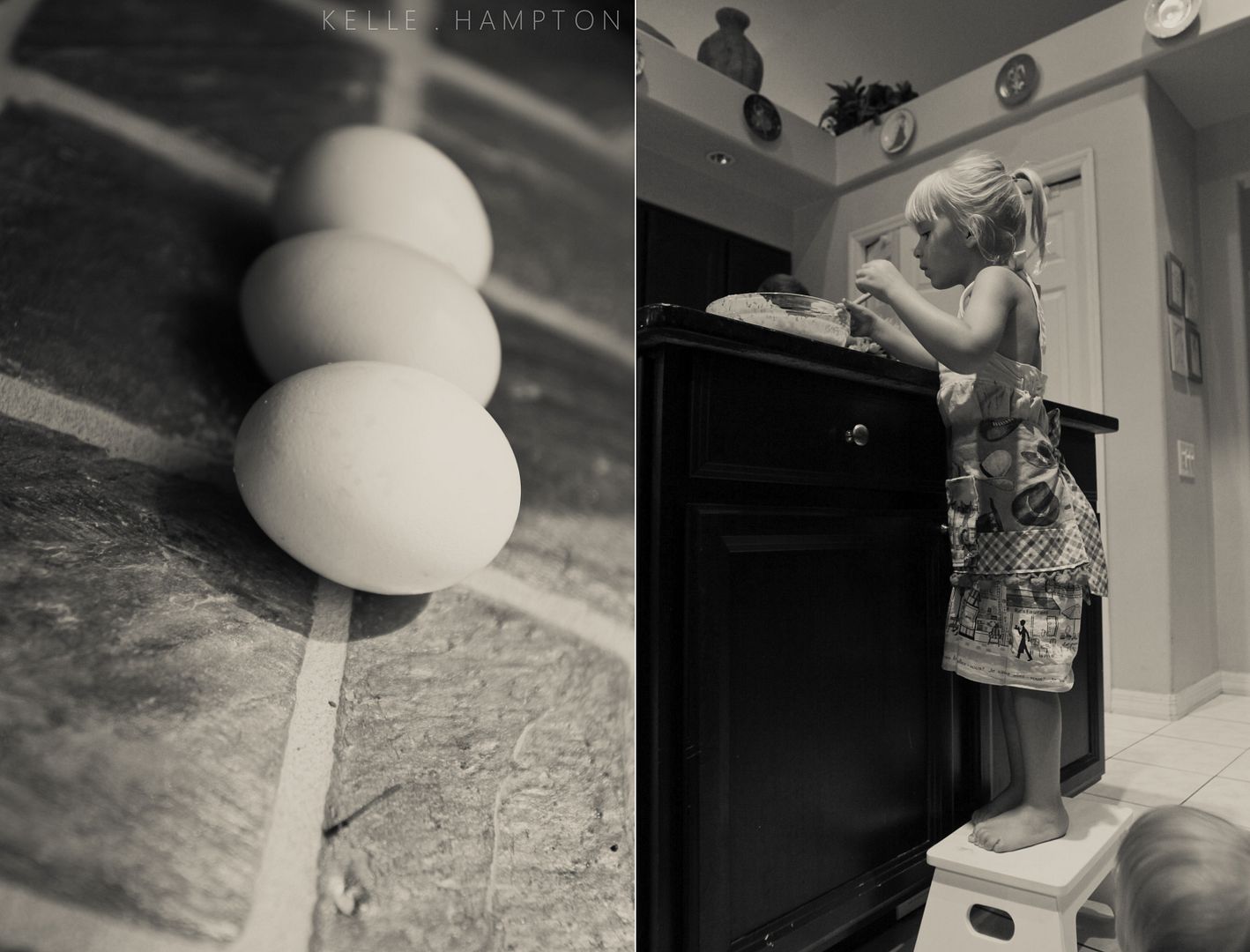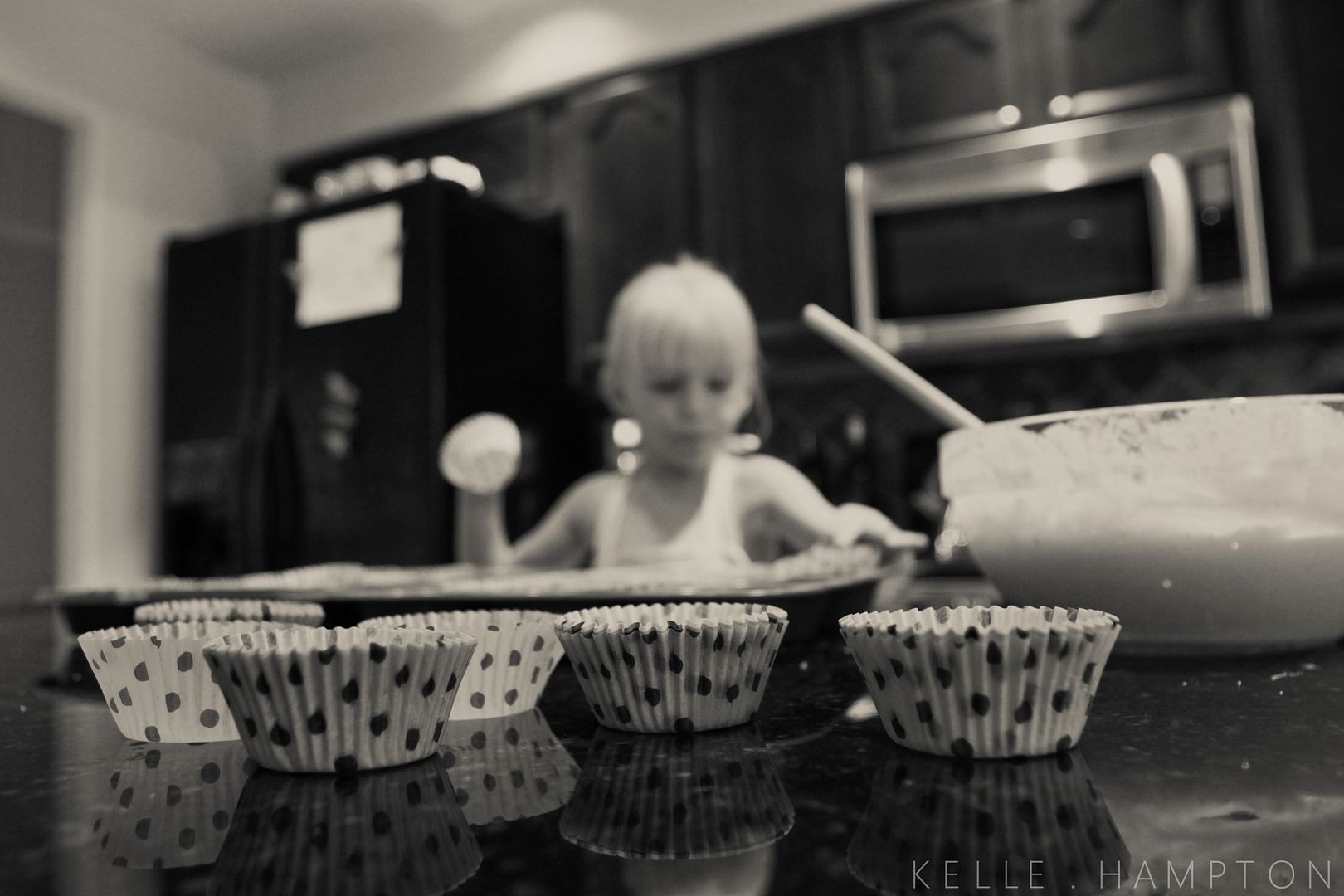 Polka dot cupcake wrappers, Darlybird.
A few eggshells make their way into the batter, but if she did it perfectly, there of course would be no potential to be better next time. Ah, that damn glass-is-half-full.
Party

We were invited to a birthday party last night. I purposefully left Nella with Brett and took Lainey alone because those short, impromptu outings with just the two of us leave remarkable impressions on her. We played Eye Spy and "the favorite game" in the car on the twenty-minute drive, and I marveled at her budding socializing skills while I watched her with friends at the party.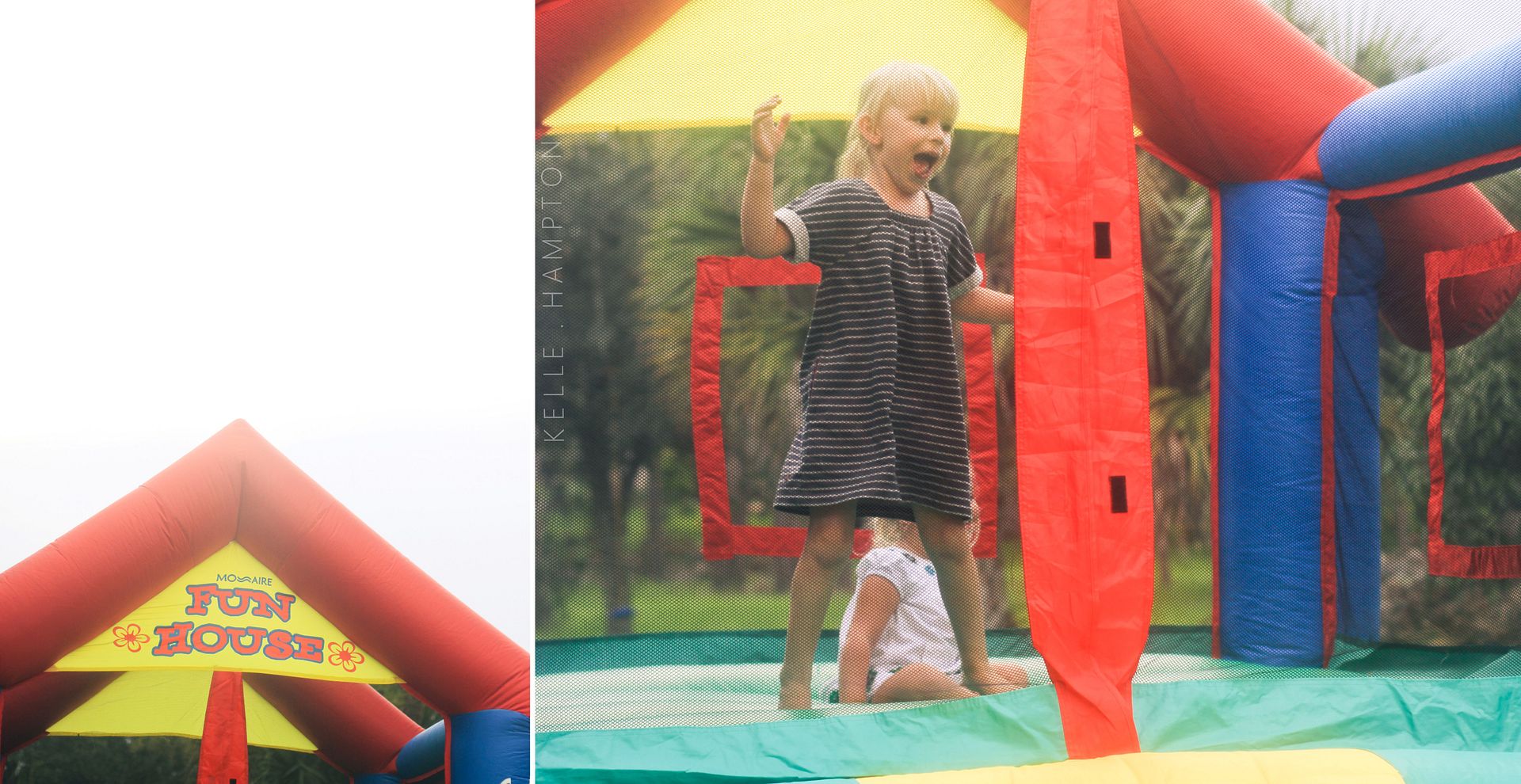 Felted Necklace, Darlybird.


Spy Camera

I like taking pictures of them when they have no idea.
Lainey, the Author

She wrote a book this week. Scripted the entire story while I furiously scribbled to keep up with her imagination. We used the 5×5 blank board book from Darlybird (only $3!), and she colored pictures to go along with her story when it was finished. She is proud, and it is the first thing she brings to whomever is visiting our home, including therapists.
Her story (verbatim as she told it except for the addition of the words "the princess said" I added to suggest a quote):
The Princess Goes to the Castle

Once the king went to the castle and saw the princess and said "Hi." The princess loved the king and she recognized she wanted to marry the king. "I love it when the king gives me a kiss on my cheek and says it's an I love you kiss," the princess said. And then the princess wanted to make him happy and that's why she wanted to make him cereal. The princess said, "the king is going to come to my birthday and give me another kiss." The princess sent the king a letter and he said, "thank you for the letter." The princess said, "I love the king because he's so nice." And the princess is so nice too. The End.
And I realize princesses don't marry kings because that's just wrong.

But I still cried when she smiled with pride after I read her story back to her.
Darlybird

So, I've dropped Darlybird three places in this post. They inquired about sponsorship a while back and, having never heard of Darlybird, I went to check out their site and got completely lost. It was like one of those dreams where you walk into a store with all your favorite things, everything's on sale, and your favorite song is blasting while you throw things in your cart in a mad shopping spree. And then Matthew McConaughey is the check-out boy. And maybe he forgot to wear a shirt.


Darlybird Rosy Ranunulous Hair Clip
I've been so excited about Darlybird's sponsorship because I think you all are going to love their incredible range of fun, whimiscal, colorful products from home goods to accessories…and I love making readers happy! The site is dripping with style and character, and every product has a personalized, fun description to go with it (worth visiting the site just for the colorful product descriptions).


Bla Bla doll, Giselle the ballerina, Darlybird


left: set of 12 wooden pencils only $5; right, cupcake papers and ballerina toppers, all Darlybird
I've already bookmarked the site as a favorite place for gifts. Use code ENJOYDARLY for 15% off your order (good until July 25).
Two comments will be randomly selected to each win a $50 gift certificate to Darlybird. Tell me what you want to do when you grow up. Happy Shopping!
You know what makes me insanely happy right now?

The fact that I have so much on my to-do list, I don't know what to do next. That's potential at its finest.
And I am loving this song. (The acapella part at the end? Turn it up. And twirl. I close my eyes to listen. It's crazy good.)
"Oh you can judge all the world on the sparkle that you think it lacks.

Yes you can stare into the abyss, but it's staring right back.
When my turn comes.

Ohhhh. Oh oh." ~Dawes, "When My Time Comes"