According to Lainey who just checked the clock, it is "eighty hundred o'clock." Which means a day late and a dollar short for a blog post.
So I'll start with a Friday Photo Dump: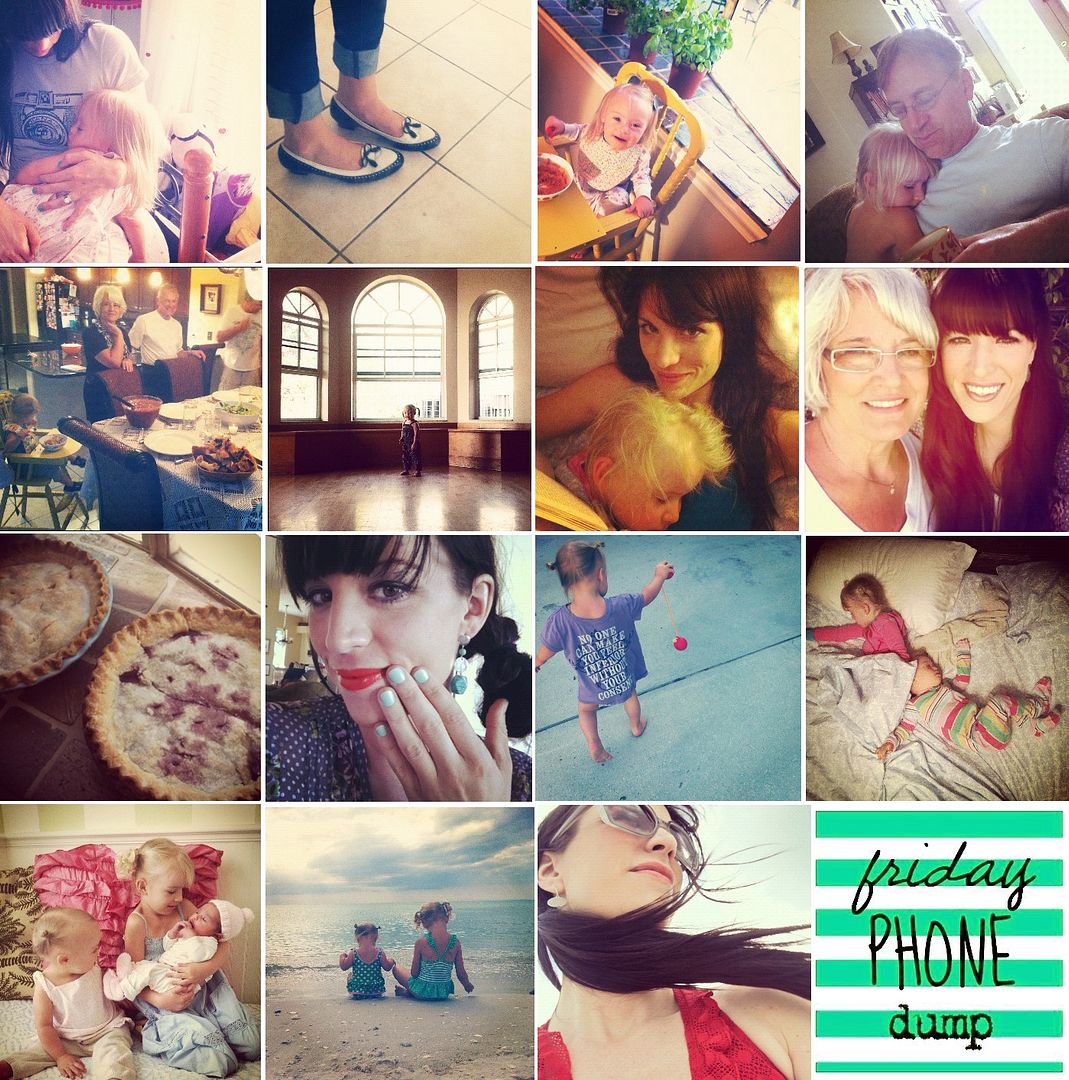 Friday Phone Dump photos are taken on the Instagram iPhone app (free) and dropped into a 12×12 collage using a photo editing software (Photoshop Elements works). I am @etst (enjoying the small things) on Instagram if you want to follow the feed.
I am exhausted in the same way tired full babies fall asleep, smiling. They are satisfied and fed. They want to sleep.
And no, I did not purposely drop that line in there to offer a nice transition, but hey, since it's there, I'm not letting it go to waste.
Hello, baby.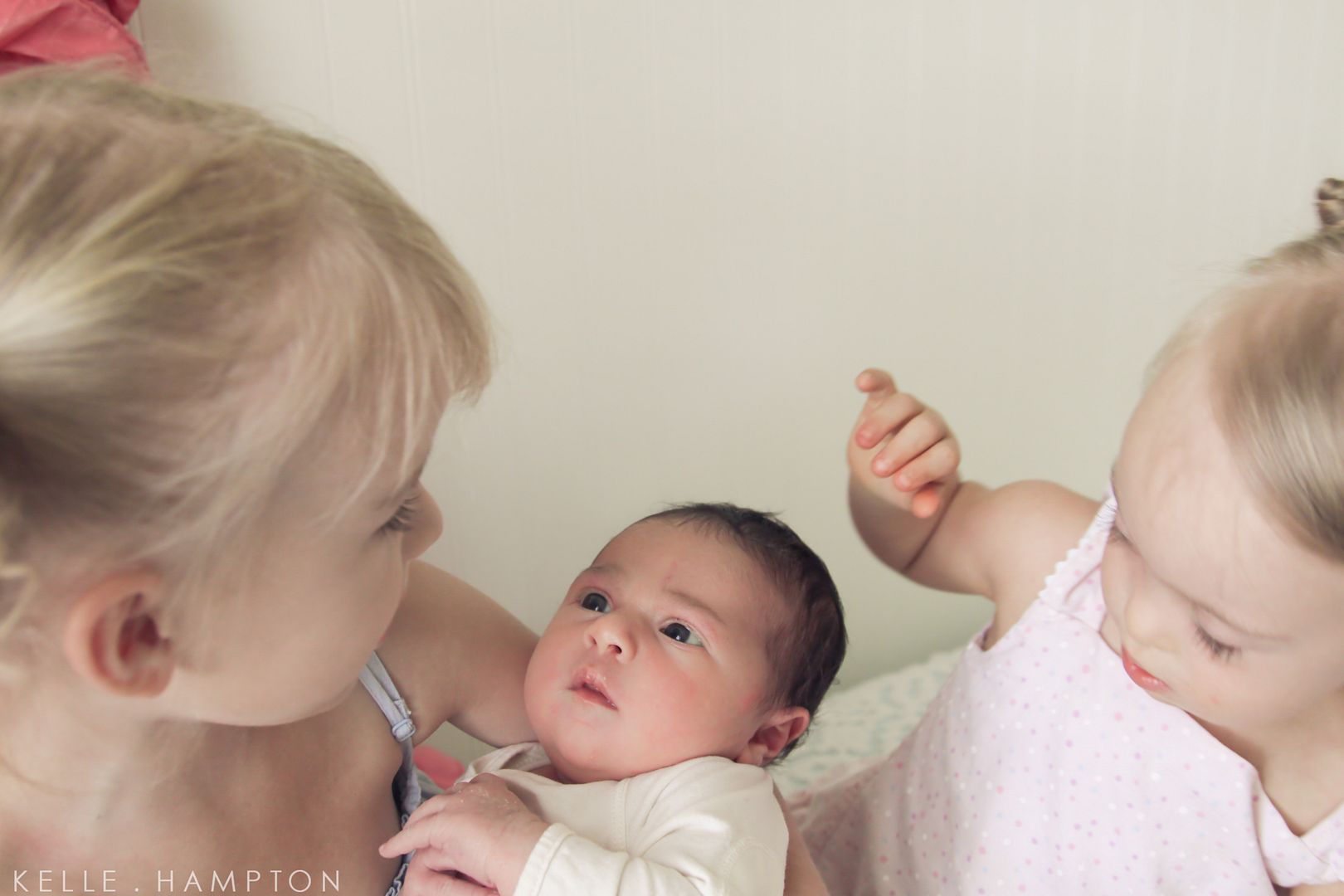 I reinstated my visitation rights with newborns this weekend after finally getting over a wretched cold. My reunion with Baby Ivy was very clouds-parting-angels-singing. I speak newborn. I dig babies.
And my girl? She's like her mama. She is drawn to babies, and something within her comes very much alive when she's cradling a tiny body. I asked her how she knows how to hold a baby so good. She answered, "I just know, Mom."
*****
With my mom here for only a couple more days, I feel the hourglass sand slipping, and fitting as much fabulousness into her trip has become my mission. We don't hold lofty standards for fabulousness. We settle for simple things–anything that writes good memories.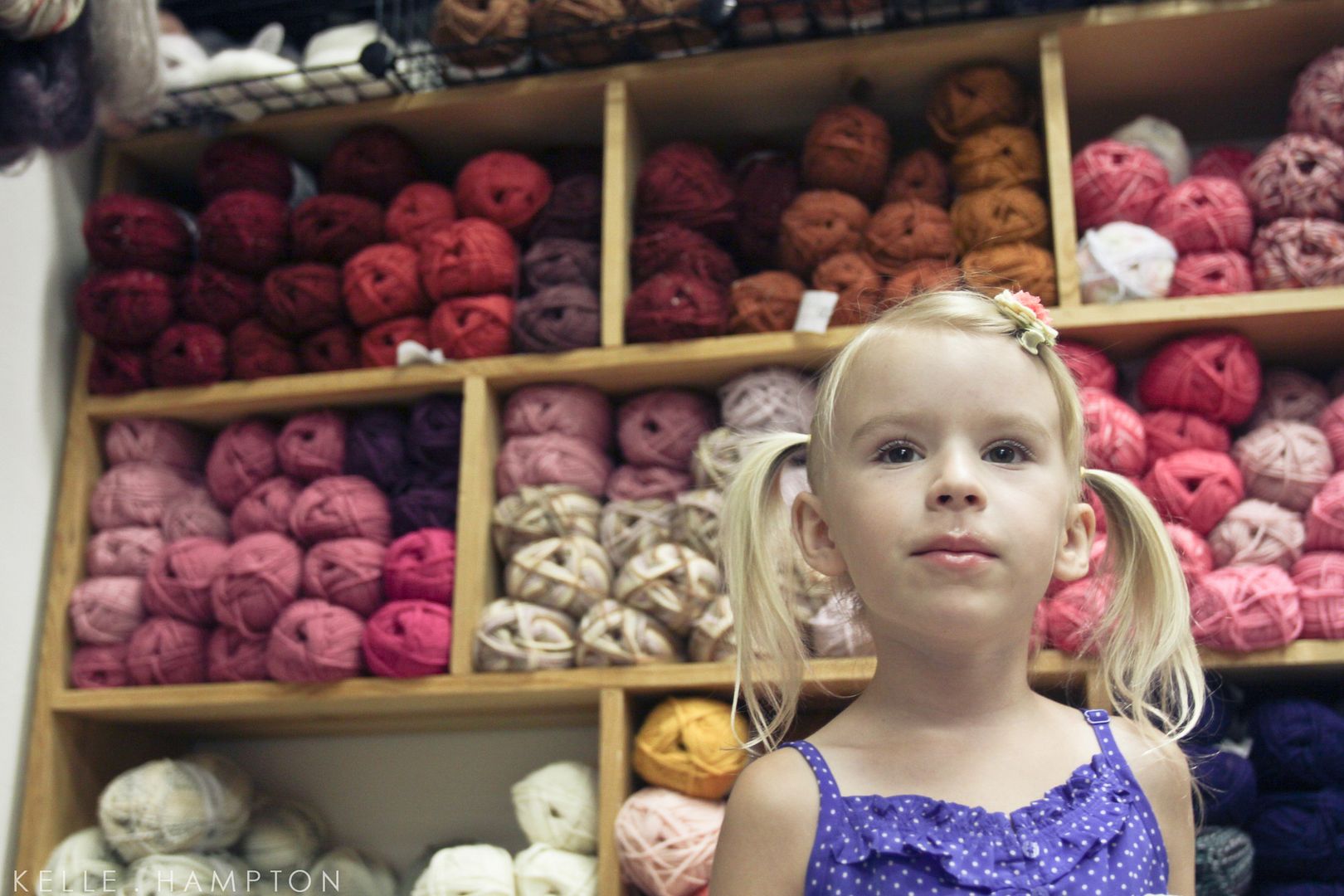 Lainey thought the yarn shop was boring which made me smile. Boring will make good memories too. I should know. I spent many an afternoon wandering fabric store aisles years ago, hiding between bolts of cotton muslin, begging my mom to step away from the Butterick books.
Being bored is perhaps the best catalyst for creativity.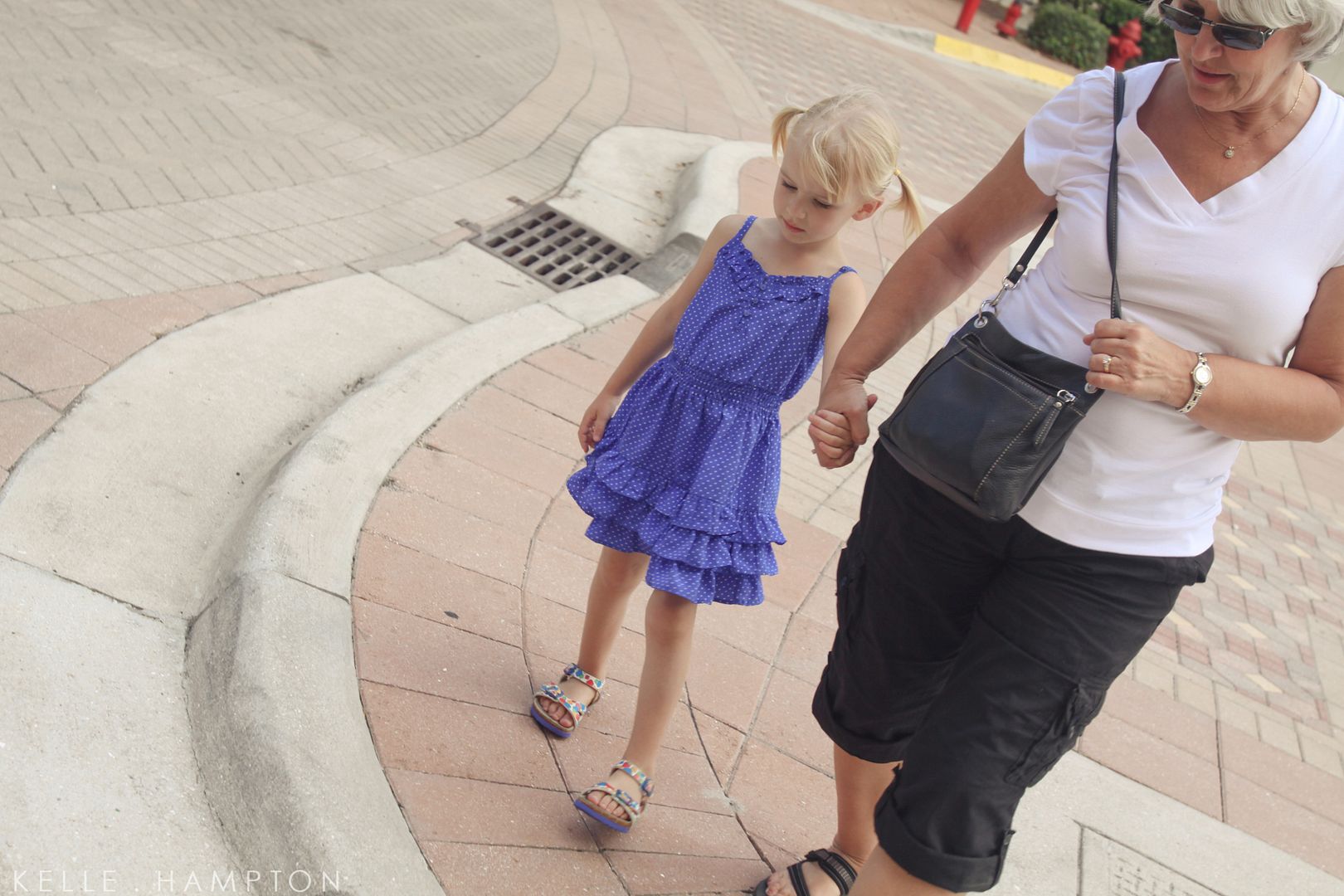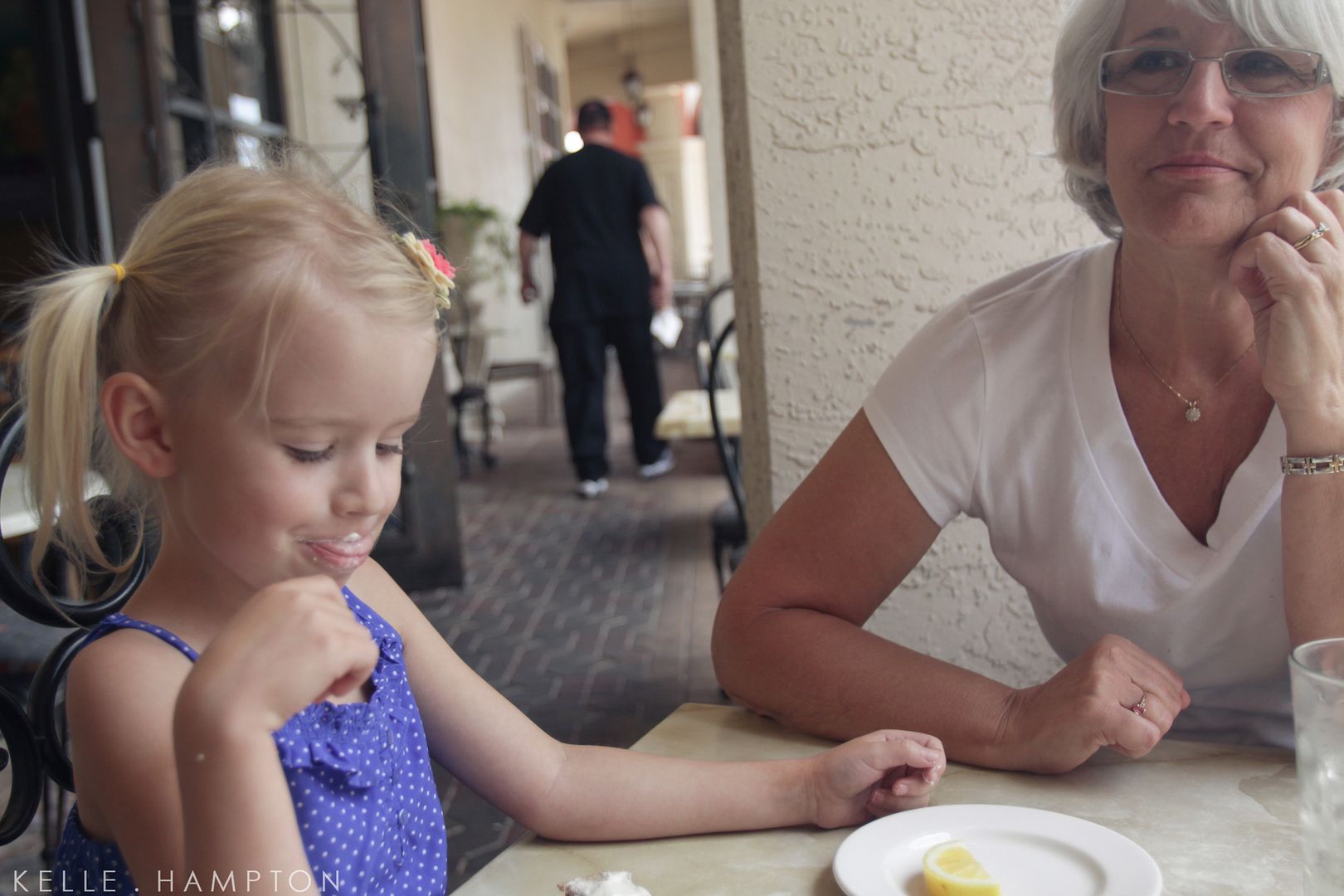 *****
As all good showing-visitors-our-town adventures go, we ended up at the beach Thursday afternoon–a different beach, one that requires a little tram ride to get to but offers the advantage of softer sand, more shells and the interesting landscape of a pass that separates two beaches with a shallow pool and extensive sand bars.
The sky was unusually vivid, the gulf quiet and calm. We couldn't have picked a better day to visit, and I felt a little guilty owning the praise when my mom applauded me relentlessly for picking this beach, for arranging this perfect day. Nature really delivered. But still–I said "You're welcome."
And sand castles? Listen. We don't mess around. We brought a plastic shovel and two pails and, while we started with a humble mound and some shells, some kid a few towels over tried to show us up with this flashy sand mansion. I saw Lainey eyeing it, and I'm sorry to say I suddenly turned into the mom who takes over her kid's science project to get him a blue ribbon. "George, wet sand!" I commanded as I tossed him an empty pail. "Lainey! Sticks, feathers, shells–anything you can find. Go! Bring it!" I ordered. And Mama done lost her mind, sculpting, scraping, patting. Our hard work rendered two homes–the summer beach castle and the winter sand cabin. Moat included.
I will chill out by third grade. Promise.
It is so nice having my mama here.
I've been slipping away to get work done when I can, to catch up on e-mails, do a little writing, clean up chores. It's hard sometimes to be "on vacation" with visiting family when there's a lot of work to do at home. And by hard, I mean good. Because we make more efforts to make memories. We wake up earlier, go to bed later and only choose the very best things to fill our time. We say "yes" to more opportunities, and at the end of the day we are exhausted but completely satisfied. There will be time for rest later. There will be quiet moments to pull back, settle down, recover. But memories take work sometimes. Amazing takes work.
And it's worth it.
*****
I so loved reading all of the things you learned from your mamas, grandmas, and women who inspire you. So much good advice–thank you for sharing!
Congratulations to the Popina swimsuit winner, Comment #414: The Whirling Dirvish: "My mom taught me that I am stronger today than the before and that I am the culmination of the sorrows, joys, struggles and triumphs of each and every woman before me. That having my daughters made me stronger and that it's my job to remind them of the same things she taught me. Oh, and that any day can be made better by new shoes :)"
Whirling Dirvish (I hope that's your real name because that would be awesome), please send your contact info to [email protected] with the subject line POPINA WINNER, and start looking for a fabulous big hat to accessorize your new suit! Congrats!

*****
Introducing new sponsor, Honeysuckle Road, a Georgia hand-stamped accessory shop specializing in personalized jewelry and accessories with inspiring quotes, all reasonably priced.
I absolutely love my Live What You Love bracelet.
Wear your inspiration close where you can be reminded, or pick something out for a friend at Honeysuckle Road. Happy Shopping!
*****
Our weekend continued with a county fair, a parade and, might I add, a whack to the head with a flag stick when I stepped into the line of the color guard today. Happy St. Patrick's Day to ya.
More to come.