official long post disclaimer. if you'd rather have the one-sentence-summary, it goes something like…an emotional mama spews her heart but balances it nicely with every-day doodlings.
the great chinese philosopy of yin and yang describes how opposing forces are, in effect, interconnected and give rise to each other. complementary opposites constantly interacting yet part of a greater, beautiful whole.
i couldn't describe the last couple days any better. and yet, if i look back at every era in our life, it's always the same way.
good and beautiful moments followed by trying and sad. complex hurdles and challenges balanced perfectly with simple happy days. intricate layers of learning and knowing, feeling and being, moving forward and being content to simply reside in the moment.
and i don't think i'd have it any other way. i love the simple, the good, the happy. but without the trying, the complex, the sad, the good just wouldn't seem as good and there would be no propeling forward…to the better us we will be every day.
with that deep pondering out of the way…
the simple, the good, the in-the-moment contentment of our last few days…
grandma.
having her here a part of our home and our family seems like it's always been this way.
yarn.
we found our little yarn store jewel the other day and i was quickly reminded of trailing behind her in fabric stores as a kid and exactly what that entails as it ain't no ordinary shopping experience. unless you call spending 45 minutes deciding between two winter white shades of italian cotton yarns ordinary.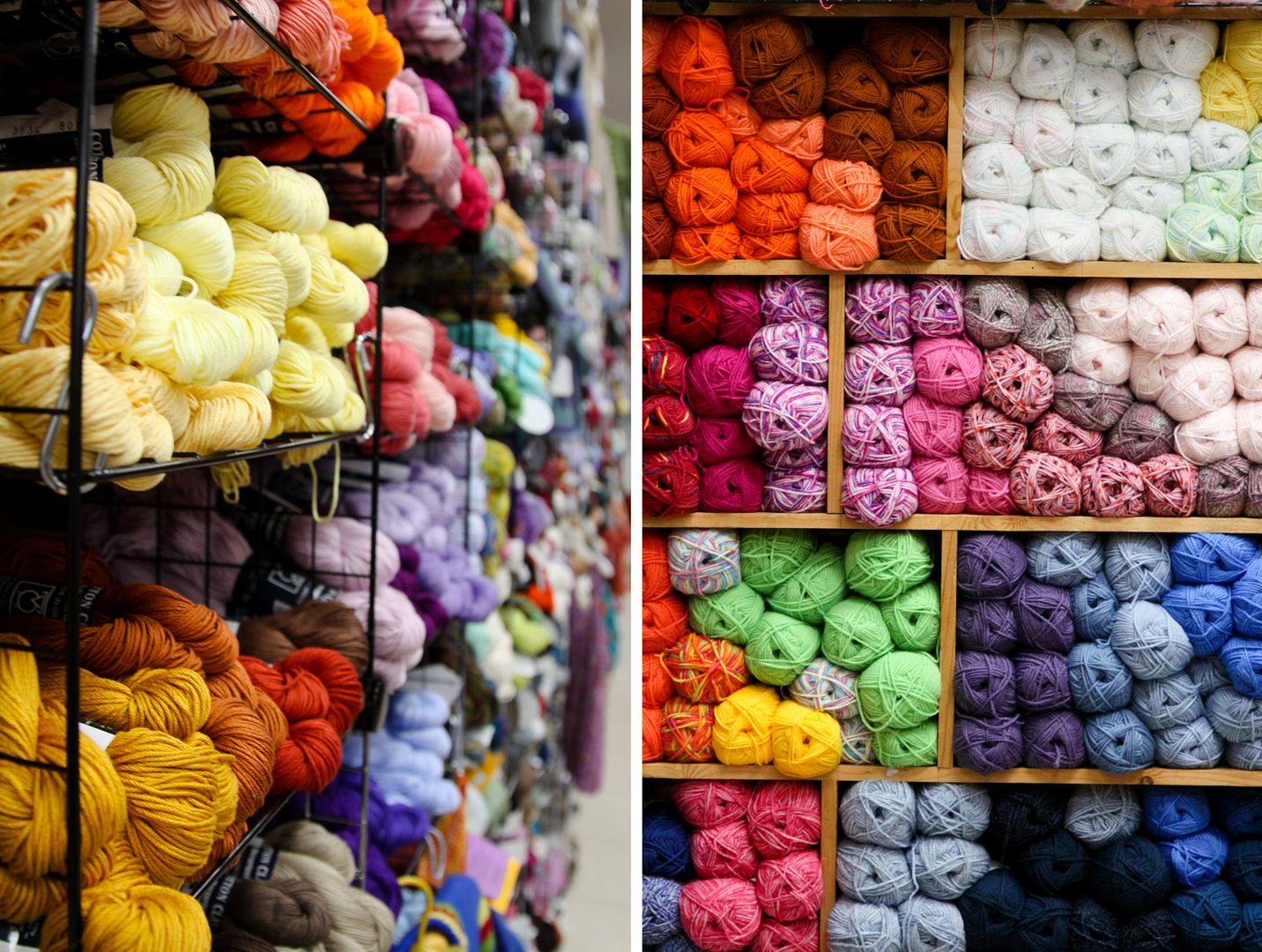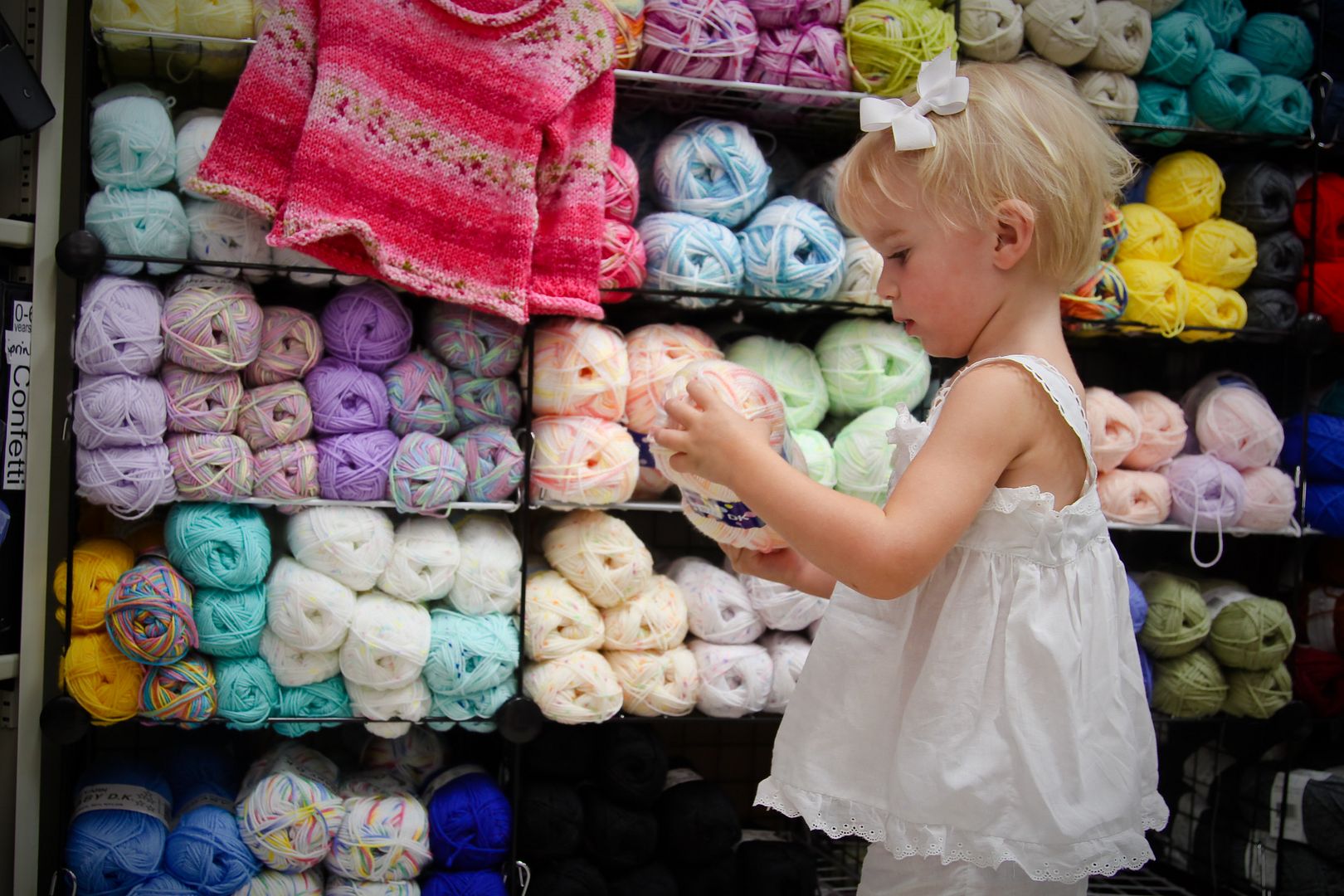 it's for little bean's home-from-the-hospital outfit, and big sis was happy to help wrap up that 45 minute decision with her own suggestions.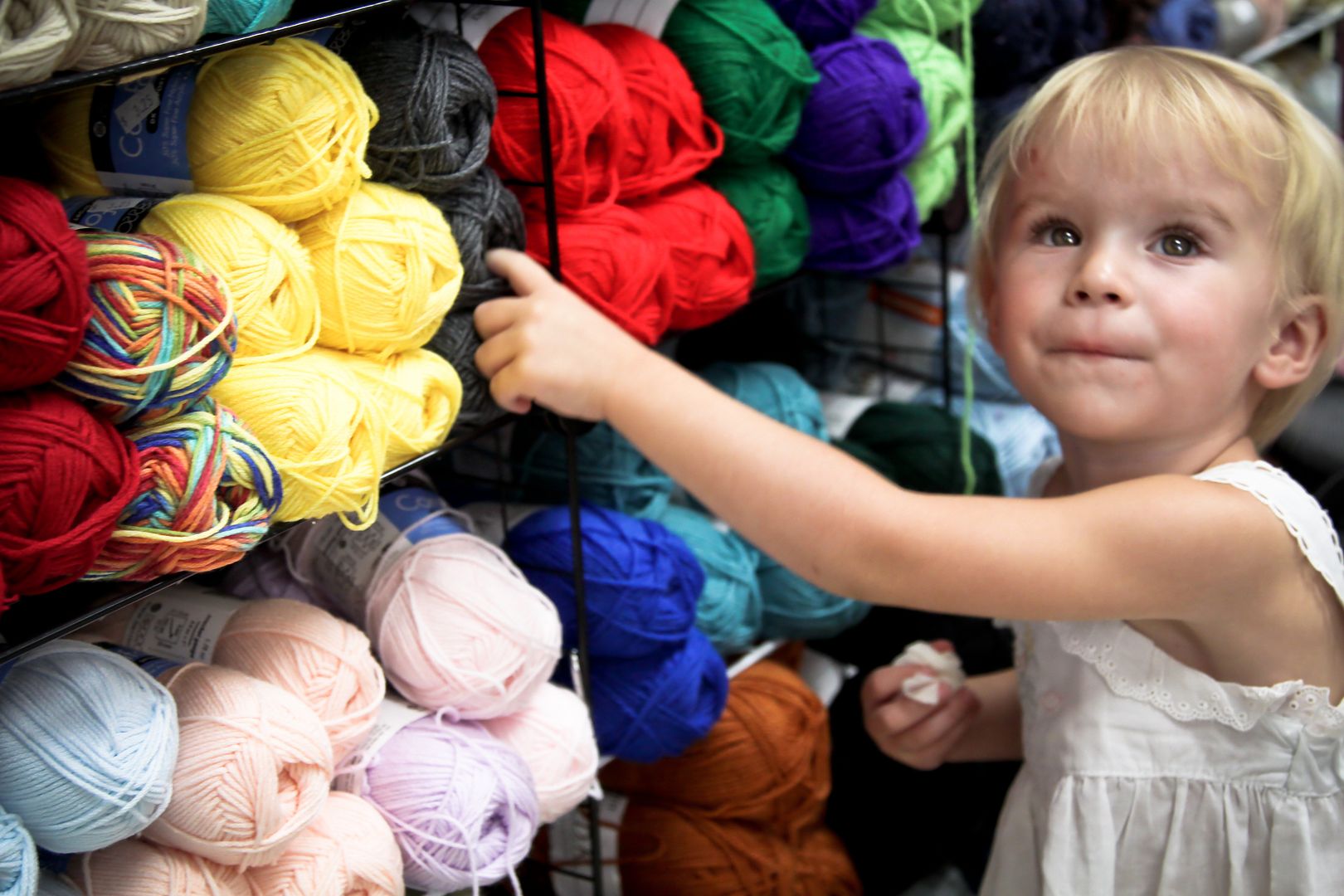 i am invigorated with my own project as my mama gave me a crash re-course in crochet…it's been a long time and anything i've ever made in the past was all cockeyed and crooked anyway. i made a lot of scarves back in the day, but they all started with 20 stitches and ended with like 59.
i chose a soft pink boucle for new little's blanket, and thirteen rows and one and a half skeins in, it is looking lovely.
i've finally figured out how to count stitches and have consistent rows. in fact, i'm flying and according to my mom, i am a stellar student. not that it means anything because it's simple crocheting in a straight line and lord knows i could never handle anything more. 'knit-one-pearl-two' would have me quitting in no time, i'm sure.
so, since she's been here, we've done a lot of sitting…like two lil' ol' ladies…just crochetin' away.
and when we're not crocheting, we're cooking and baking and stirring…
eatin'.
last night's homemade shrimp chowder…
and mom's cherry pie which so puts my butty-crust one to shame.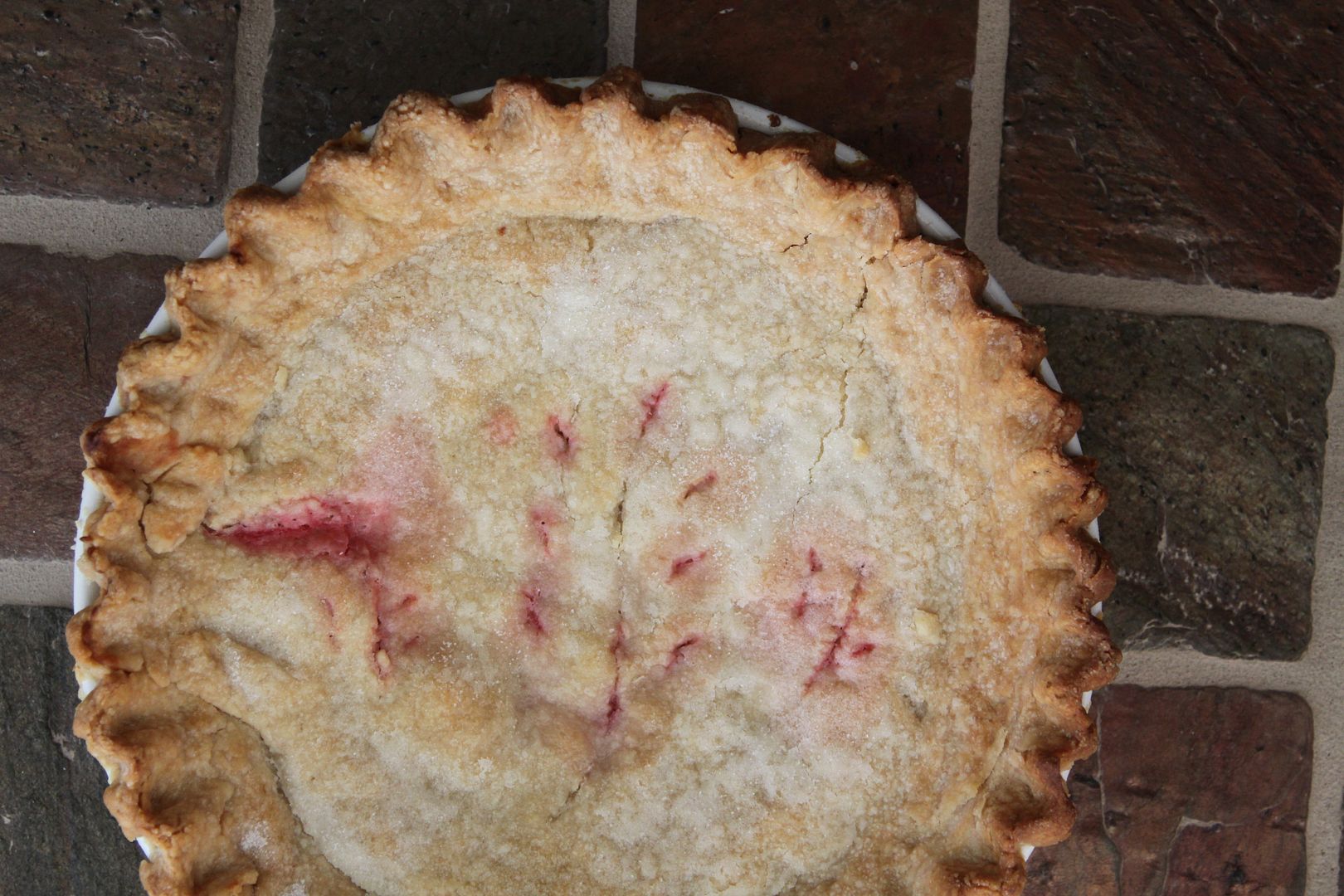 and mama loves her pellegrino, and i love cool bottles so the kitchen island has found a new centerpiece.
haircut.
and finally…
i did it.
after much deliberation over what to do with her sweet troll doll/spun sugar hair, we've caved to all the 'cut-it-and-it-will-grow-thicker' advice. she quietly sat motionless while grandma clip-clipped all that spun sugar off to reveal a new little pixie do…that i so, so love.
hello, little pixie.
mischief.
when baylee and lainey get together, there is always sure to be a laugh.
like when we opened the door to the too-quiet bedroom to find this the other day…
and when they saw us, they started laughing hysterically…and screaming…and rolling in it as if to show us that it was indeed, so much fun, certainly they couldn't be scolded.
and they weren't. because we were laughing so hard.
seriously. snow angels.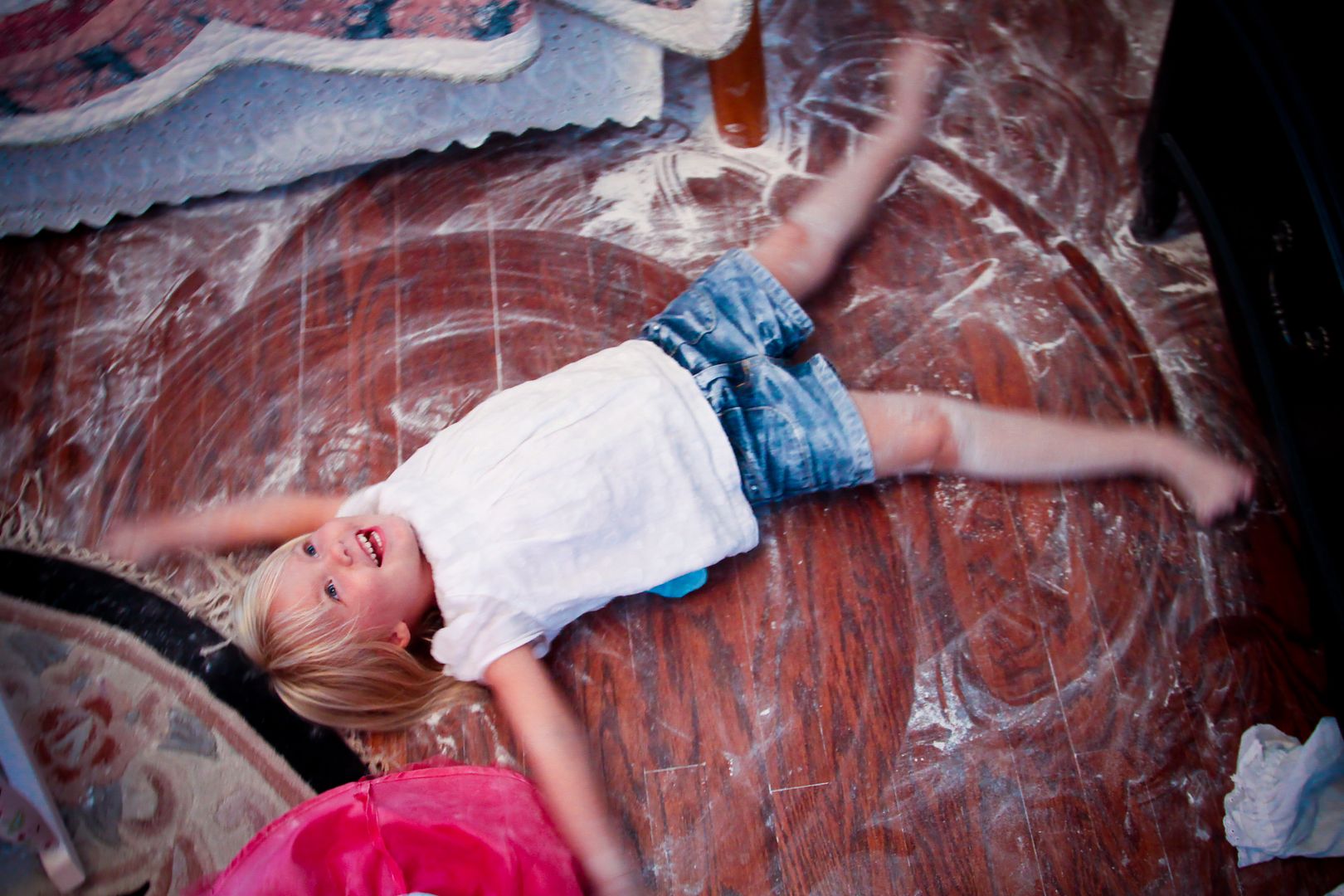 i asked lainey tonight, 'did you get in the powder with baylee?' …and she smiled, climbed out of my arms, laid on the floor and scissored her arms and legs over and over.
'yes,' i smiled…'you did snow angels, didn't you?'
a couple days later, it was band-aids. about fifteen of them. and they were proud to show them off like little wonder-twin-powers-activate girls.
colors.
she knows them all now. all except the boring ones like white and brown.
and every time she says 'purple,' the corners of my mouth curl up into this uncontainable smile. pah-puh.
click HERE to hear it. (and i am flying through asking her colors all mario andretti-ish because i didn't have my memory chip and didn't know how many minutes of video our little camera could hold. or maybe i'm a drill sargeant at teaching colors. you decide.)

light show.
and finally, we sat in the driveway late the other night, completely entranced by this magical lightning storm about forty miles away (and how do i know that? because my little weather-boy husband thinks he's jim cantore. if i had a nickle for every weather gadget in our house and a dollar for every hour of weather channel we've watched…well, we could buy jim cantore, his network and everything in between. the thing is my weather-boy is always right when it comes to pressure and storms and air currents. always). but for the glow of our fountain, everything was black…and then suddenly, like magic, this hollow of sky and clouds opened up with this crazy beautiful light…and every time it happened, we gasped.
…but then i did say this post was something yin-and-yang-ish and, well that's all good and beautiful.
so there is complex…challenging…but yes, good and beautiful all the same…

we had our big half-way point ultrasound the other day and, even with all this funky stuff we've dealt with this time, i always look forward to ultrasounds. even if they are to monitor that stupid blood clot. because, right above that stupid blood clot is this little thing called our child. and getting to see her…to know her more…to take her in just gets me.
and yes, again, it's not the perfect ultrasound we'd hoped for. at least it didn't seem like that when i kept questioning the poor ultrasound tech every time she got quiet and moved the wand a little slower…and then i'd dig for all the what-could-that-mean-s and nearly fall apart after.
but, after a long thoughtful day yesterday, a chat with the doctor, a chat with the nurse, a call to ldr-friend-nurse, lots of huggy-kissy family e-mails, a follow-up call with nurse and her final words of–i think verbatim–'stop worrying and go write a blog post or something,' ( i love you, dot!) i've come to this complete peace that, for the most part, everything is out of my hands and will be just fine. the baby is perfect…there just might be some questionable issues with my placenta that might alter the delivery plan a bit. but then again, it might be just perfect and no issues at all. brett says we don't knock on the cockpit when the plane's flying…so sit back and relax.
and so i will.
i've never ever been a worrier. ever. to the point of i didn't worry about things i should have worried about. but i think my grandma's passed-on worry genes were just lying dormant all these years until babies entered my world. and now…all this love…well, the genes have erupted like vesuvius.
but, hey…look. cute, eh?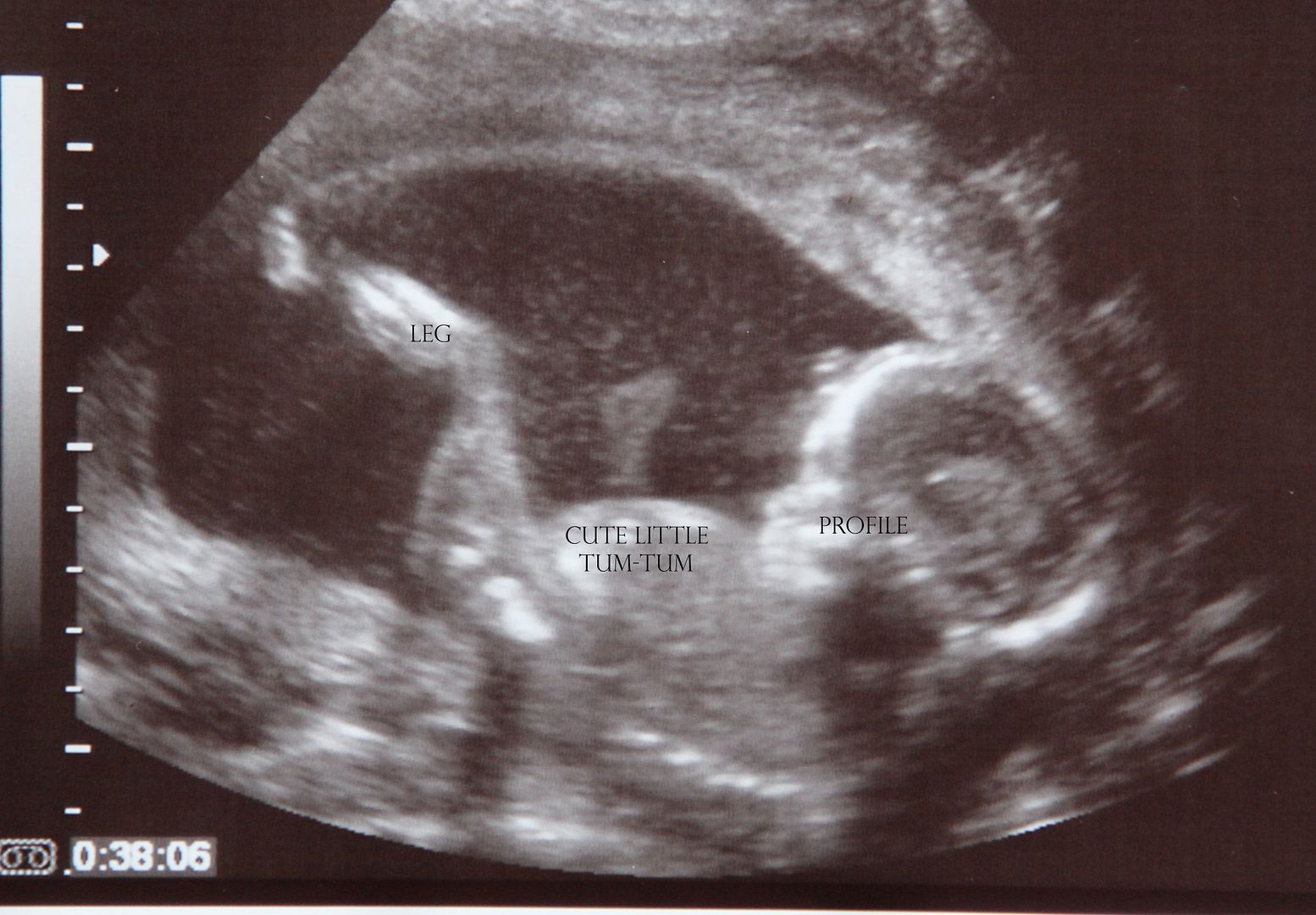 and if that wasn't enough, after a somewhat emotional day yesterday, my girl woke up in the middle of the night with a fever. and clingy. and needy. and i did that give-her-tylenol thing again which made her throw up. and so we cleaned off stinky jammies and freshened up with new ones. and we rocked. and loved. and she was quiet and happy and soon fell asleep in my arms. and today, she just wasn't herself. her eyes said 'sick,' and her bubbly personality was absent…replaced by this sweet, clingy babe who couldn't leave my side. she needed us a lot today…
so we read a lot of books. and just laid around, her legs all intertwined in mine and her hot little head nested as close to me as possible.
and, at one point when her drowsy eyes closed and her hand curled around my arm, i just couldn't hold it. i cried. not because it was hard and trying. maybe because i'm emotional and pregnant. but mostly? mostly because i felt like a mama. (and talk about yin and yang…here i am lying there in the quiet of the room and my big girl is falling asleep outside my tummy while my tiny girl is waking up inside. hello. profound.)

and it dawned on me…all these times we look forward to before we're mothers. the moments we think we'll feel like a mom–like park dates or proudly 'showing off' that wrapped little bundle, birthday parties and art projects…yes, they all define motherhood. and while i feel every bit of mamahood during those happy days, it's the not-so-right times that truly pull out of me the primal mama within. checking temperatures half-awake holding a warm head close. sweeping back tendrils of wispy hair from a hot cheek and kissing sad, heavy eyelids. feeling that painful pull on my heart when the ultrasound tech takes a second look at a questionable area. kissing her tiny helpless body under blue lights in the hospital. comforting her sickness. being needed. sacrificing anything and everything to make them both okay…these are the moments i feel my soul has been matched with its calling. where i know i'm doing exactly what i'm supposed to be doing. for a doctor, it might be the day they are published in the new england journal of medicine. a struggling politician, perhaps the moment they celebrate their election to office. but for me…my 'this is it' moments…they are witnessed by none and felt in the dark…when we're rocking quietly together and our souls are synched. in the middle of the day when everyone's at work, but i am happily glued to the couch, intertwined with my feverish girl. when i don't have all the answers and i don't know what to do…but i sure know how to love. that's when i feel it most. this mom thing. i don't know why or how or when…but i know so deeply how to be a mom because my soul was carved to be one and these littles fit in the hollow of those carved grooves…right in the place of my being that says 'mama.'
the rest, we'll figure out.
i may or may not be a great many things…but today, i was so incredibly happy to be a mama.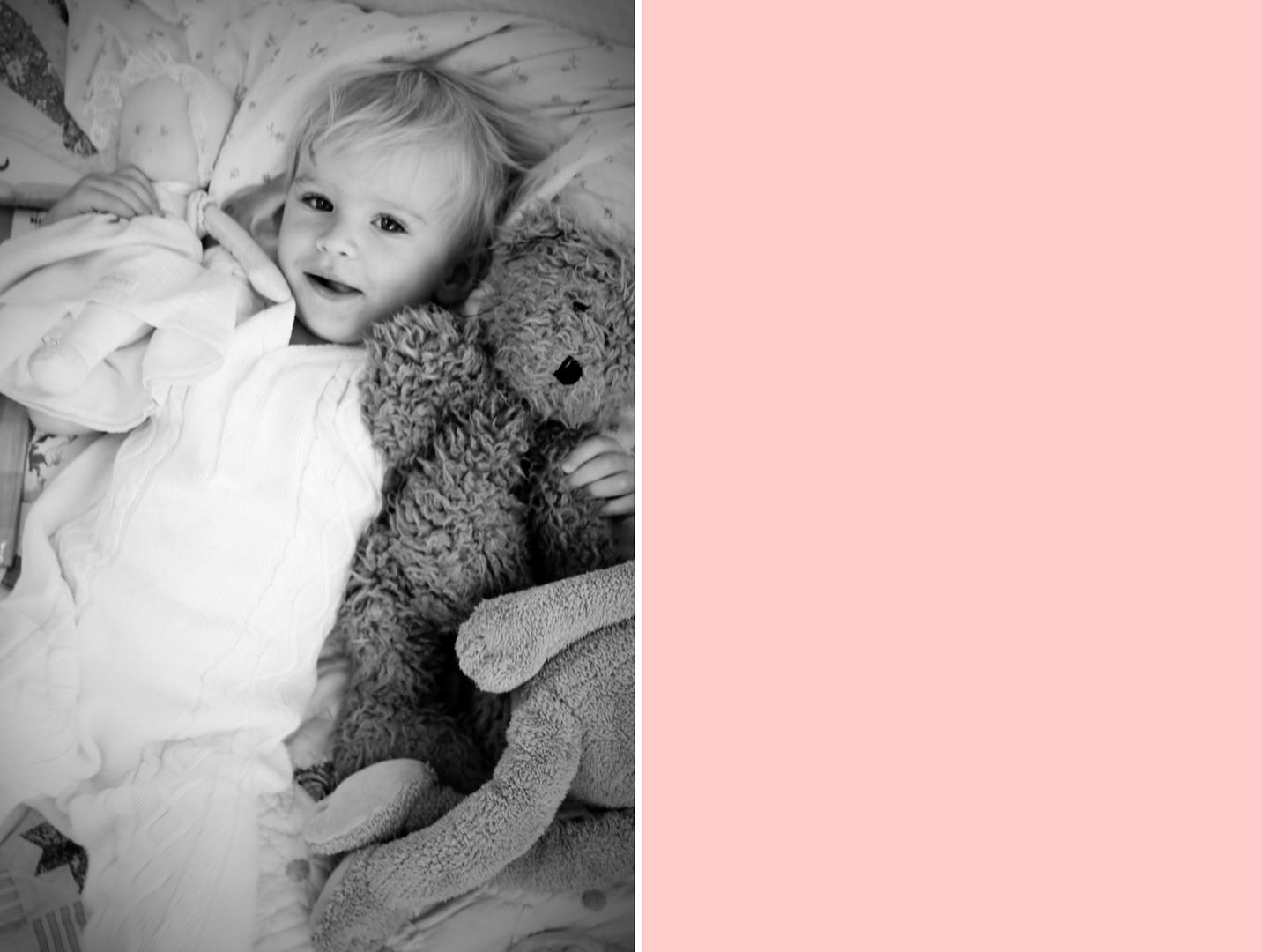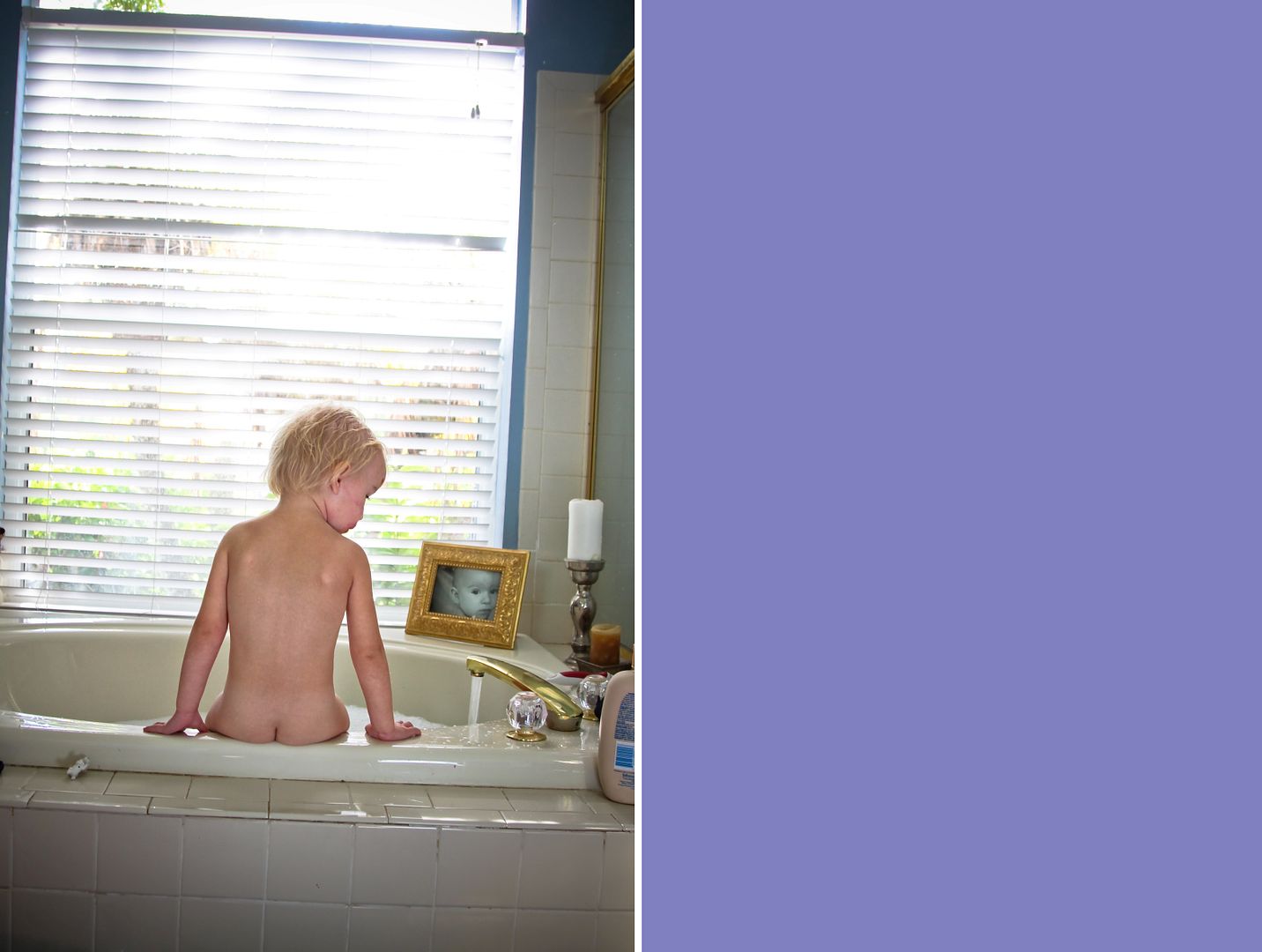 …and i'll take my yin and yang. because, together, they make me so completely whole.