As I type this, the ten-week-old sleeps on my lap, her pefect head warming my knee, her frail legs dangling comfortably across my thighs and one of her socks, as usual, hanging on for dear life as an almost-bare footie is revealed. And it is with this I'd like to start my post–this adoration for babyhood once again. I never can get over it…this loving having babies. And I can honestly say that I know I won't look back with regret. I know I won't want to shake that younger version of myself years from now and tell her to enjoy it while she has it. Because I do. Every bit of it. I savor the weight of her body and the way it falls into the hammock of my arms. I drink in her breathy exhales and the way she roots at my neck when I hold her close, smelling her mama's skin, wanting more. I cherish every second of nursing, the way her tiny fingers curl around mine, her thin lashes batting as her almond eyes lock their gaze onto mine, the perfect pout of her pink lips as they latch on and the relief of all nine pounds of her as she settles into pure satisfaction. And breathes–in and out, in and out–and with each suck, each breath, it's as if love is literally moving with the rhythm of our feeding ceremony.
There is such peace in my life when I'm mothering a newborn. Not to diminish at all the beauty of toddler wonders–Lord knows that possesses its own magic–but there is something so raw and beautiful about sustaining the life of the tiniest of forms and hanging on to the remnants of the physical connection we shared not so long ago. She grew inside me and I birthed her into this world and, as she grows and learns and drinks in this universe, it's just a constant reminder of the amazement and beauty of life.
The girl had me at hello. I may not have known it then, but she did. She had me.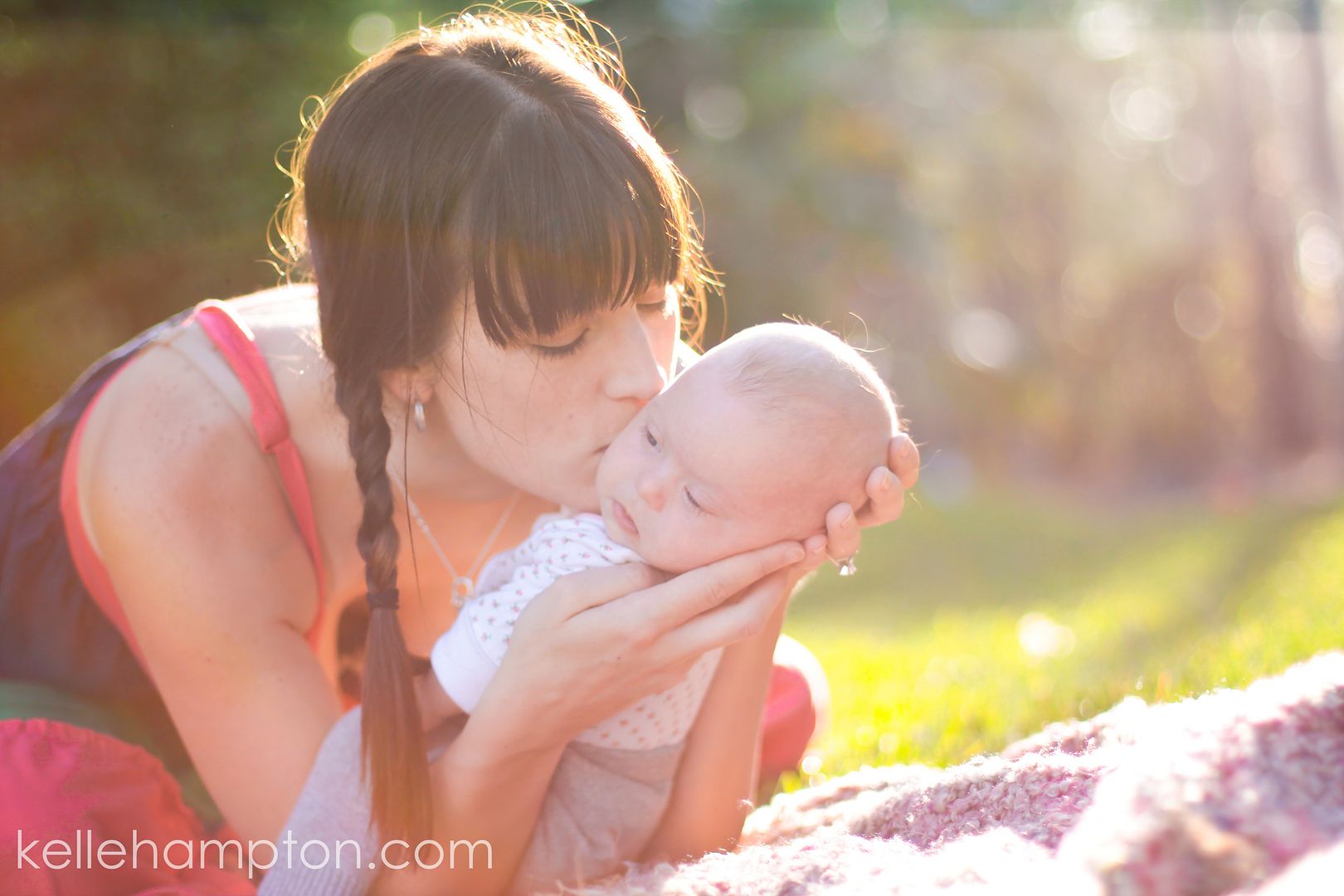 my talented niece, Savannah, took these!
Whew. Moving on…
Our Evening at the Beach…
So, most of our trips to the beach are exactly as I write them…storybook. Family settles into blankets on soft sand, toddler happily makes castles and hunts for shells, champagne is poured, glasses are clinked…"To Life!" we smile…cue pink sun dipping behind horizon. End of story.
The other night was hardly the case.
Lainey had a short nap, so we were pushing it as it was. Enter impromptu decision to head to the beach for sunset with cousins. We arrived in hillbilly Hampton style, dragging pails, dropping cups, soothing cries, and leaving a trail in the sand. I watched as heads turned to take in our entrance, their faces clearly reading please don't sit next to me. Especially the couple with their wine glasses and picnic basket and boombox playing Navaho flute music. They obviously came to experience some Zen awakening and I'm sure the sight of Smith Family Robinson lying their make-shift blankets next to them wasn't exactly the spritual night they had envisioned. So, we scooted down a few yards out of Navaho flute ear-shot. And we began our night at the beach.
Poor Lainey cried and wiped her snotty nose on sandy towels, Nella pooped out her outfit and had no socks, and when the wind picked up and my poor baby needed to be fed, I had to use Heidi's hooded sweatshirt for a blanket which didn't work out so well so I was left publicly cupping my boob while spring break junior high boys walked by and gawked. Dude, pardon me while I feed my baby the nourishment of her life.
Note to Self: Someday, become the mom who has it together.
You know what? We had fun. And that's all that matters.
Having my sister's girls here is a piece of home and my heart never fails to swoon a bit watching cousin bonds form…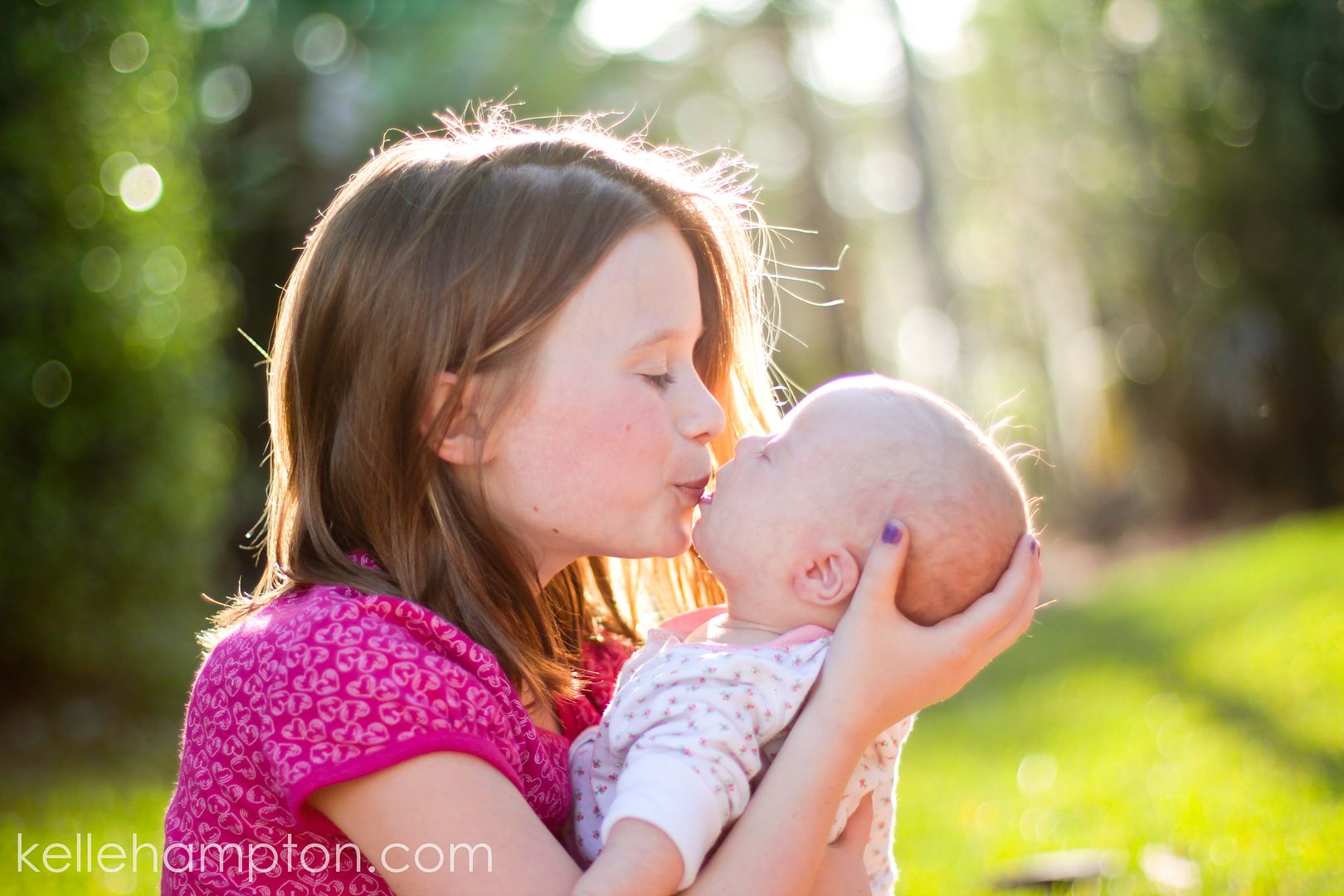 Last night, as the bright sun set slowly into the woods behind our house and cast its happy shadows into the yard, the neighborhood kids gathered at our place for a game of "Kick the Can." We didn't have a can, so we used a bucket. Consequently, the game became "Kick the Bucket," not to be confused with the more common understanding of that term.
Nella slept on a blanket in the yard while kids dodged her as they ran for base.
And I stayed close to my girl, guarding her from flying bare feet that came zooming in to kick the bucket.
I love watching Lainey play these grown-up kid games because she doesn't understand a lick of the rules and yet, if she sees a herd of kids running, she thinks she's playing too if she jumps in and follows suit.
She is the free-est of spirits–my sprite. And it is only right she has a fairy party because I'm quite certain the girl is part fairy–flittering about, casting her magic, her joy, her independence as she flies.
And fairies are gentle and generous, evident by her sharing of the possession most dear to her heart…Puppy and his all-healing ear. Rub Pup's ear on any tear, any boo-boo, any sadness and miraculously, all is healed.
Speaking of fairy…the dining room table is currently a happy mess of birthday goodness, its piles of pink tulle and silk flowers towering above seed packet favors and scraps of blossomed fabric. More to come on birthday prep and the fun we're having there.
Life continues in our home and in yours as well. My heart is so beautifully inspired by the photos and stories you've been sending of of where life occurs in your home from the way your mornings begin scrunched together getting ready behind foggy mirrors in small, cozy bathrooms to the kids gathering at the front door anxiously awaiting Daddy's arrival from work. I've received so many stories of the beauty of conversation and love that occurs around the kitchen table–so much that I'm clearing off our birthday mess so we too can reignite our family meals and what they should be.
I have many of your photos to share, but today, these few beautiful ones…
Laura's favorite lively place: The Playroom. And her words about watching her daughters in this place: "I love to see her imagination go wild. I love seeing her "breastfeed" her babydoll and "talk" on her play phone and be overly expressive with her hand gestures. I love becoming aware of how intently she studies every little thing I do. I love the fact that rather than Mady having a room of her toys and Ashlyn having a room of her toys, we have a communal space of shared toys. What else can I say? It's just awesome. Period."
And I love that she, like us, gave up a formal dining room to have a playroom. Best decision ever. And I also love that, if I see correctly, her little's jammies are on completely backwards.
Belinda's lively place in her home is her bedroom. In her words, "I love our bedroom. It's a place for us all to cuddle, to read, to play. I have memories of the girls as newborns, nursing when the house is asleep and I'm the only one awake just watching and smelling that newborn baby smell. Our bedroom is a great big trampoline, a place to heal the sickies, where we give the girls a million kisses and airplane rides."
And I completely love her photo: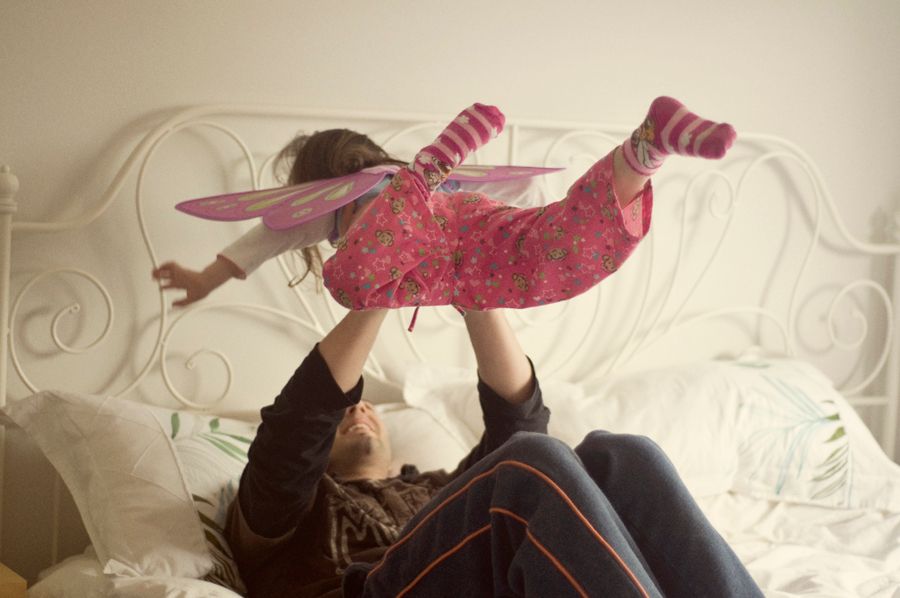 Vanessa admits about her lively place, "when dancing in my kitchen, it feels so full of life that I do indeed feel like there is more than one "me" dancing. My kitchen is vibrant and full of life and is always the gathering place in my home where I can enjoy life with those I love and embrace it."
And that picture totally makes me wish I was dancing in her kitchen with her.
Finally, Kaitlyn in cold Colorado says, about her lively living room and welcoming couch, "This picture truly engulfs my life as I know it for now, for that couch has so gracefully allowed me to soak in it while I lived through the awful pains of morning sickness. And my little Kodie bear has sat by my side, day in and day out through it all. I must say that I can no longer bend my legs like that since the little baby in my tummy isn't allowing me to move in such ways anymore!"
I am so truly enjoying the inspiration of life in your homes and have many more stories and photos to share throughout the week. Thank you for sending!
Have a wonderful, lively day… ~k