These sandals sang to me from their perch atop a sale rack yesterday. I haven't bought a pair of new shoes since my $5 Key West kicks last year but still, I walked away…at first. I knew, though, from the way I craned my neck to gaze back at them, they were the kind of sandals I'd dream about later. The ones I wished I would have bought. I loved them and their rich weathered leather, their sweet little buckle, their kicky justright heel. And they were on sale.
So after a little justification, Mama got new sandals.
I brought them home and ran into my closet where I unwrapped them from crinkled paper and carefully placed them right between a scuffy pair of Nikes and sky high black heels. And behind the line-up, tucked neatly in the background, were my red ladybug galoshes, one slouched over the other. An interesting collection, perhaps screaming Identity Crisis to anyone else, but to me–a symbol that I love a great many things.
Sporty Spice, Funky Spice, This-Chick-Means-Business Spice with a little bit of When-Are-You-Going-to-Grow-Up-Spice to keep it interesting.
This brings me to one of my favorite movie quotes.
Little Women.
Here we go:
Jo March: I find it poor logic to say that because women are good, women should vote. Men do not vote because they are good; they vote because they are male, and women should vote, not because we are angels and men are animals, but because we are human beings and citizens of this country.
Mr. Mayer: You should have been a lawyer, Miss March.
Jo March: I should have been a great many things, Mr. Mayer.
I should have been a great many things.
I know I've used it before. In fact, I drop that line into conversation about once a week. Like when my sister tells me she wears a scarf with a Grateful Dead t-shirt to a film fest on Thursday night and shows up to work the next morning in a pencil skirt and crisp white button-down. "Because you're a great many things," I say. Savvy Go-getter by day, Groovy Art Girl by night.
I think about this a lot. For some reason, I feel at times that I need to fit in to a definitive box of what kind of person I am–what kind of mom, friend, wife, writer, home decorator, clothes-wearer, photographer I am. As if I have to choose only one.

Sometimes I wear glasses. Sometimes I am studious. Sometimes, I take it too far with a pencil behind my ear. It's not even sharpened. And the glasses are $5 fakes. I'm just sayin'.
Last I checked, there was such a thing as overlapping circles on a Venn Diagram, and I find that many times in life, I belong in the gray in-between of A Great Many Things. And, instead of pushing myself toward one clear area, I'm accepting that it's okay to be a hodgepodge mess of everything. A life-loving amalgam.
Hence the triple minor. I confess, I didn't major in anything in college. People have asked me "what was your major?" and I've always mumbled some crap under my breath about things I studied, embarrassed that I had no major. Truth is, I had a triple minor, my school's acceptable alternative to a major at the time. Because I liked English and Biology and Elementary Education and dabbling a little bit in each area was more my style (and a quicker ticket to graduating) than streamlining my studies to just one thing.
I'm not really the just-one-thing kind of girl (except when it comes to husbands; for the record, I'm cool with having just one man).
And I'm not the only one around here who seems to be broadening her "Like" status…
Brett's always been an 80's music fan and strays from it only after Isle of Capri days when he's stuck on Jimmy Buffet or the Joint station on XM for maybe a day or two. But midlife has him stretching his boundaries. Surprisingly, he's suddenly listening to Cat Country, 107.1. Alan Jackson just done went and transformed my husband, the man who tapped his fingers on the steering wheel to the drum solo in Van Halen's "Hot for Teacher" when we were first dating. He knows every word to the As-Seen-on-TV Monster Ballad CD and dragged me to a Styx concert under a carnival tent when I was six months pregnant with our first child. He's never liked country, but suddenly he's expanded–testing out the waters of other loves, and now his music collection looks a bit like my shoes. Heels, clogs, galoshes. Boston, Van Halen, Zac Brown Band.
My point–and there is one–is that there's much in life to dabble in, and I want to swim in every puddle. I am, every day, entranced by the beauty that is motherhood and yet I still love the flippant energy of a night out alone with the girls. I am deeply spiritual, often brought to tears by images of God and Love that I find in everyday occurances and yet I enjoy a hearty laugh from a good sex joke or Tina Fey's new book. I like to sip a cup of tea to Bach but still tip a martini to Euro Techno. And somedays, I'm boho-chic-funky-clog-girl and others, pin-tight-bun-and-high-heel-girl. I don't have a signature scent 'cuz I like too many damn perfumes, and while I pride myself on my Calm & Cool Mom title, today I laid down the law and it was anything but cool…or calm.
You can be a great many things.

Gray and cloudy with a bit of clear blue sky–at the same time–because weather likes to dabble too.
Today, I am Homegirl. Dabbling in the puddle of contentment that comes from a curious cub, a cup of coffee and an extra helping of morning sunshine that pours into the playroom.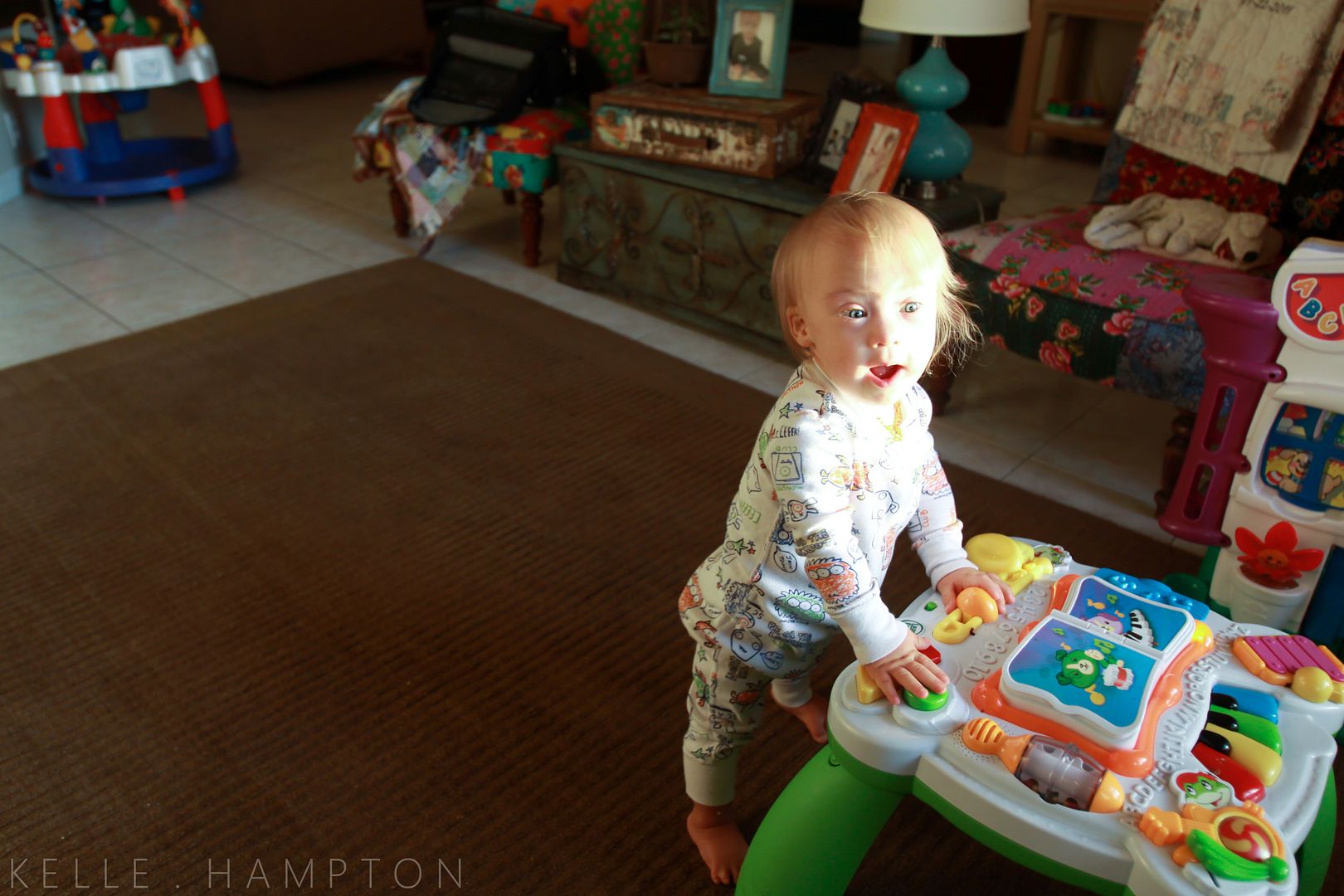 With a side of Firstborn Adoration…

Lainey insisted on getting Nella her own bag of Sun Chips. Nella was crying and wasn't satisfied with being fed little bits of someone else's chips, and Lainey knew the solution. She ran inside, got Sister her own bag and, Voila. Happiness for all.
Today is my favorite day.
But tomorrow is too.

She waves at every single person who walks by. And dogs. And cars.
Or maybe the next day.
Aw hell, maybe I'll just triple minor.
…cuz there's a great many things.
"Do I contradict myself? Very well, then I contradict myself, I am large, I contain multitudes." ~Walt Whitman