So, there is this story my mom tells that I love. It embodies so much of the adventurous mother spirit I know she had when we were little and makes me smile…and wish I could have been her friend back then. Apparently, as my mom tells it, she was home with us kids while my dad was working and, as usual, wasn't going to let not having a second car keep her from getting out. So, she packed us all up–strapped my little body on top of my sister's lap in one of those junky seventies strollers and made my brother walk beside her because she was hell-bent on making a memory. Except my mother would never say "hell-bent." Anyway, as legend has it, she was pushing the day-care-on-wheels across a busy street and, right in the middle of the intersection, the stroller broke and we all like, crashed to the ground in tears. Knowing my mom, she probably laughed and gracefully waved cars on while she picked up the pieces and attended to wounds. And then she probably found some even cooler way of getting to where she was headed with three kids and no help. The point is, I remember lots of occasions like this…where my mom hurdled obstacles to take us to museums, drag us to the park or chain an early model of the bike trailer to the back of her Schwinn for an excursion (ours was called "the bugger," I remember it well—it was black, hardshell, and my stomach lunged everytime we turned corners because I swore it was going to break loose from my mom's bike and we'd be left in traffic).
I think about this a lot. The fact that making memories and getting out of the house and packing diaper bags and taking pictures of the smiles between the whines and pulling over to feed Nella in the middle of a 45-minute drive to an orange grove in the middle of nowhere isn't ever easy. But it's worth it.
I've lived here for almost seven years now, and I've never been to an orange grove. I've driven past them, yes, but I've always wanted to be in them, between those rows of trees actually picking those oranges. And now that I have two kids and am, well, hell-bent on filling my mother's adventurous shoes, it was high time we made the excursion.
It was beautiful. Just like I imagined.
But, I'm not going to lie. Sucking-the-marrow excursions come with the hassle. The real story goes something like Lainey's crying three rows in because it's hot as blazes and she's thirsty, so I'm now clawing oranges apart like a bear, wringing them into her mouth for juice and it leaves my hands annoyingly sticky. A small army of fire ants makes it through the window of open peep-toe in my sandals and starts a buffet on my feet…and then they yell to their uncles and cousins to come join them. Poor Nella's trying to sleep and her head keeps sliding until it gets so far, then she bobs, opens her eyes, cries, pulls her head up and starts the little repetition again. Or there's the backpack I'm lugging or the five gallon bucket of oranges on a pulley that tips and knocks out six oranges every time we try and move to the next row.
But–and there's always a but–it's a memory. A memory my kid won't forget. And you know what? You should have seen the plastered smile on my girl as she dodged from one orange row to the next with a "hey mom, here's a good orange" or the sweet cat that practically made love to the red rain boots (um, dickersons).
There's the way the sunlight spilled through openings in the overlap of orange tree branches, splitting the light into magnificent rays or that feeling of satisfaction as I clicked my shutter with the chance that maybe I'd catch a bit of that brilliance.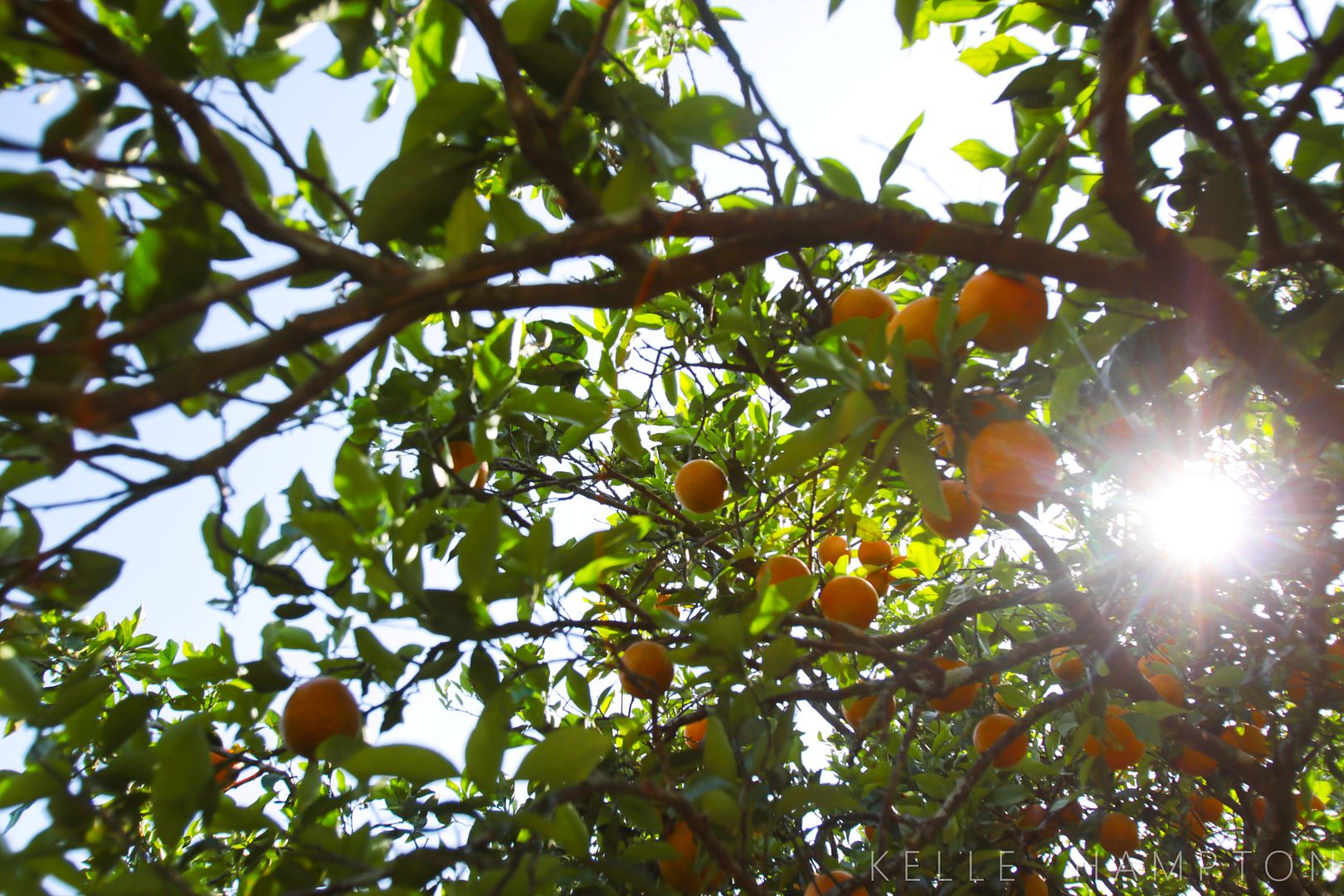 There was the tangy scent of citrus, the relief of finding ant-free mounds of grass to stand on, the laughter that followed Lainey falling to the ground after the orange she was pulling finally snapped.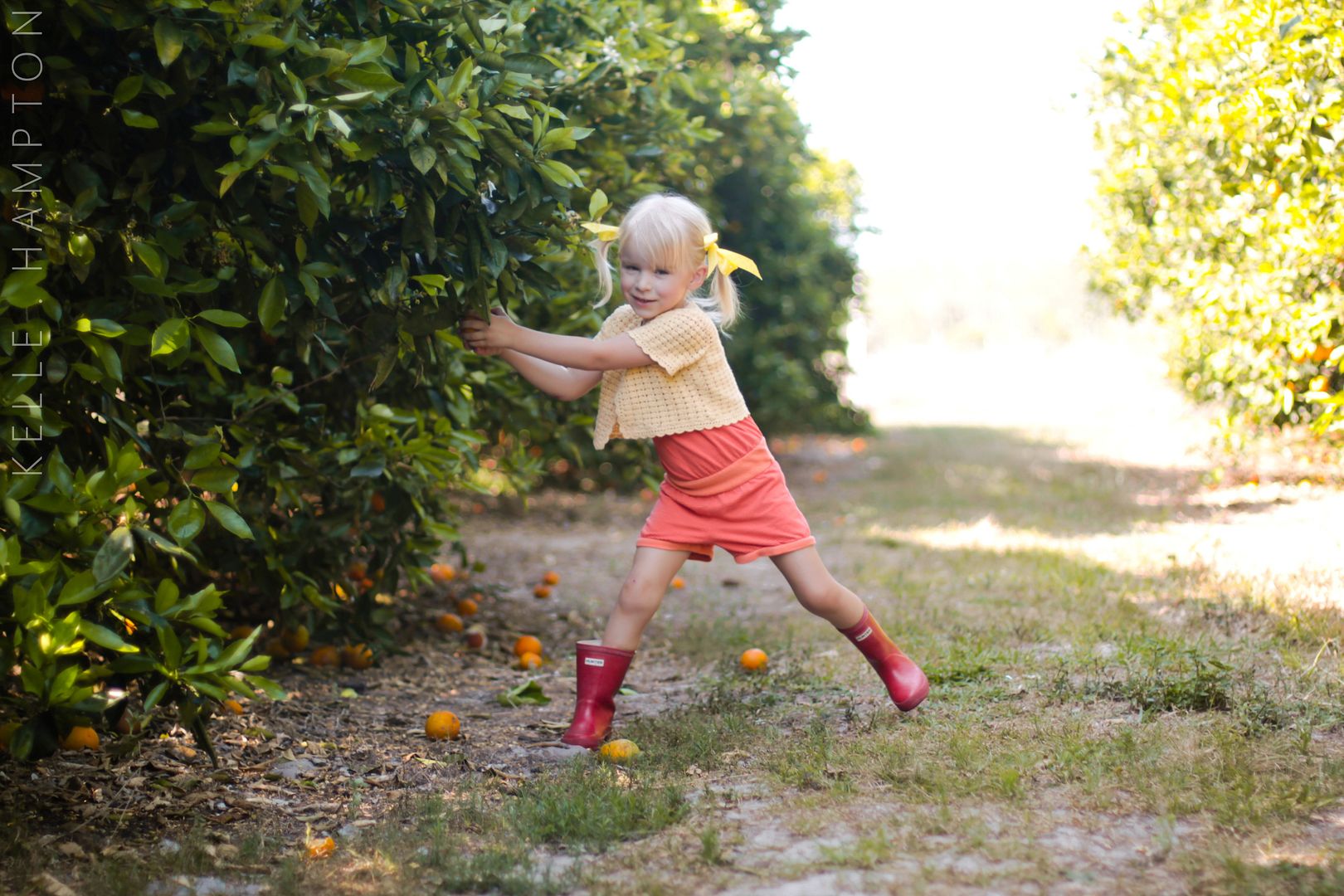 There's forgetting about sticky hands because the orange you ripped through in the middle of tree-plucking tastes that sweet or the call you make to your friend in the heat of it all just to tell her "Dude, seriously, you have to bring the kids here. It's awesome." Because it is.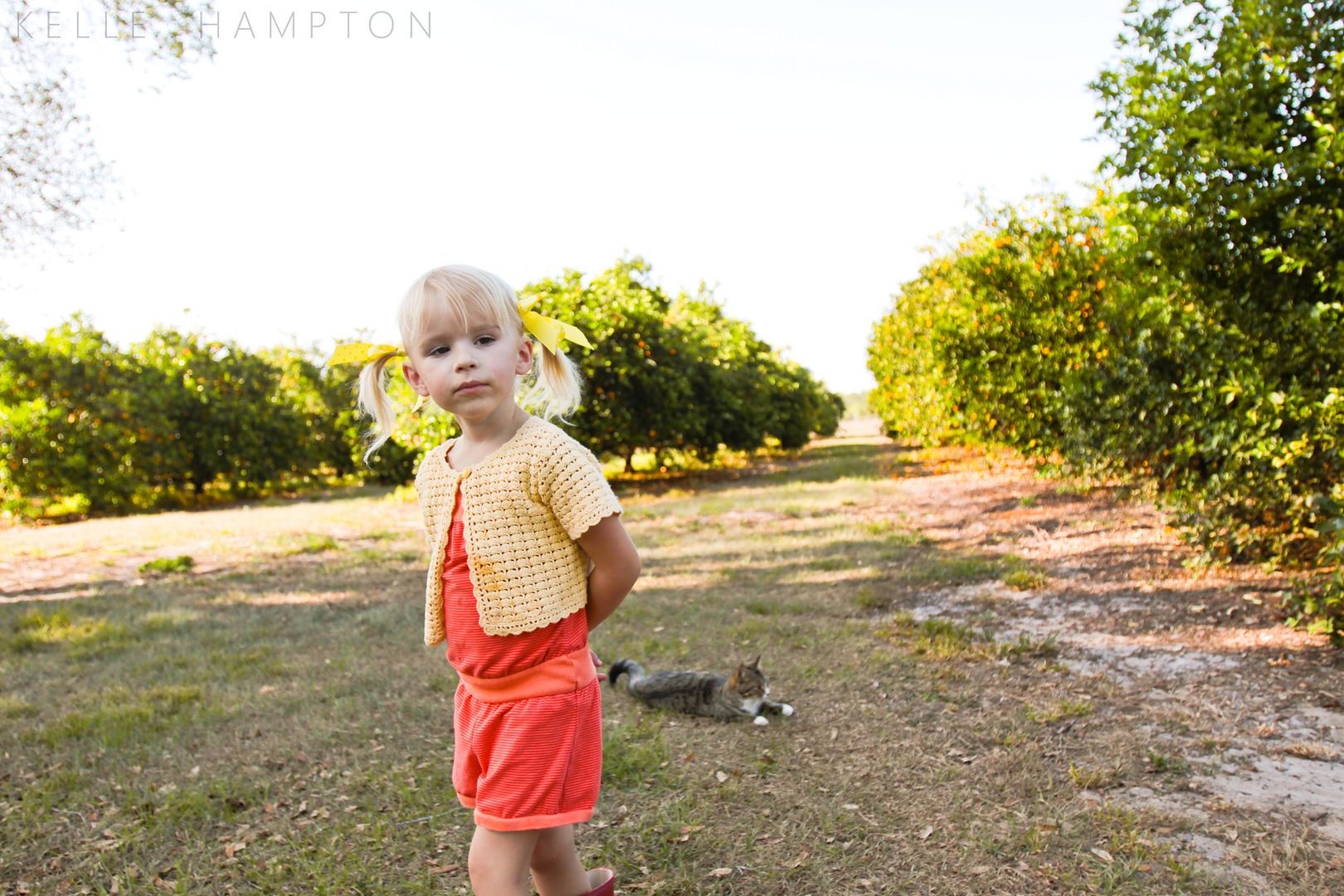 It is worth it. It is always worth it.

This cat freaking loved us. It was so cool. Like I paid him to stick around because the girls couldn't have been happier by his presence.

Sometimes Lainey will retell a memory from months ago. Like "Hey Mama, 'member when we went to that tall slide park?" And I'm remembering the disastrous time I woke her up from a nap and regretted my park decision as she whined and cried and hated that great big slide I thought she'd love. I wait to hear her version of the memory months later and am always surprised when a not-so-hot experience is retold as, "That was fun. Can we do it again?"
Attempts to share time with your kids, to do something special with them, to strap them up in a crappy stroller and face traffic to get to a park…those memories only get better with time. I often wonder if the childhood memories I have of our family Christmas were really as magical as I remember. They are epic in my brain–storybook perfection. And I wonder if maybe there were tears or maybe there was fighting or maybe there weren't a thousand presents like I swear there was. But there is no convincing me it wasn't perfect. And, despite the exasperation of our orange grove trip yesterday, there is no convincing me it wasn't, in its imperfection, indeed the same…perfect.

Photography by Lainey.

Making memories is an investment. Like buying stock guaranteed to increase its value. It's win/win, Baby.
And right when I think the goodness of our trip has far outweighed the hassle, a nice man pulls up in a pick-up truck with little Wilbur in the back and lets us pet him.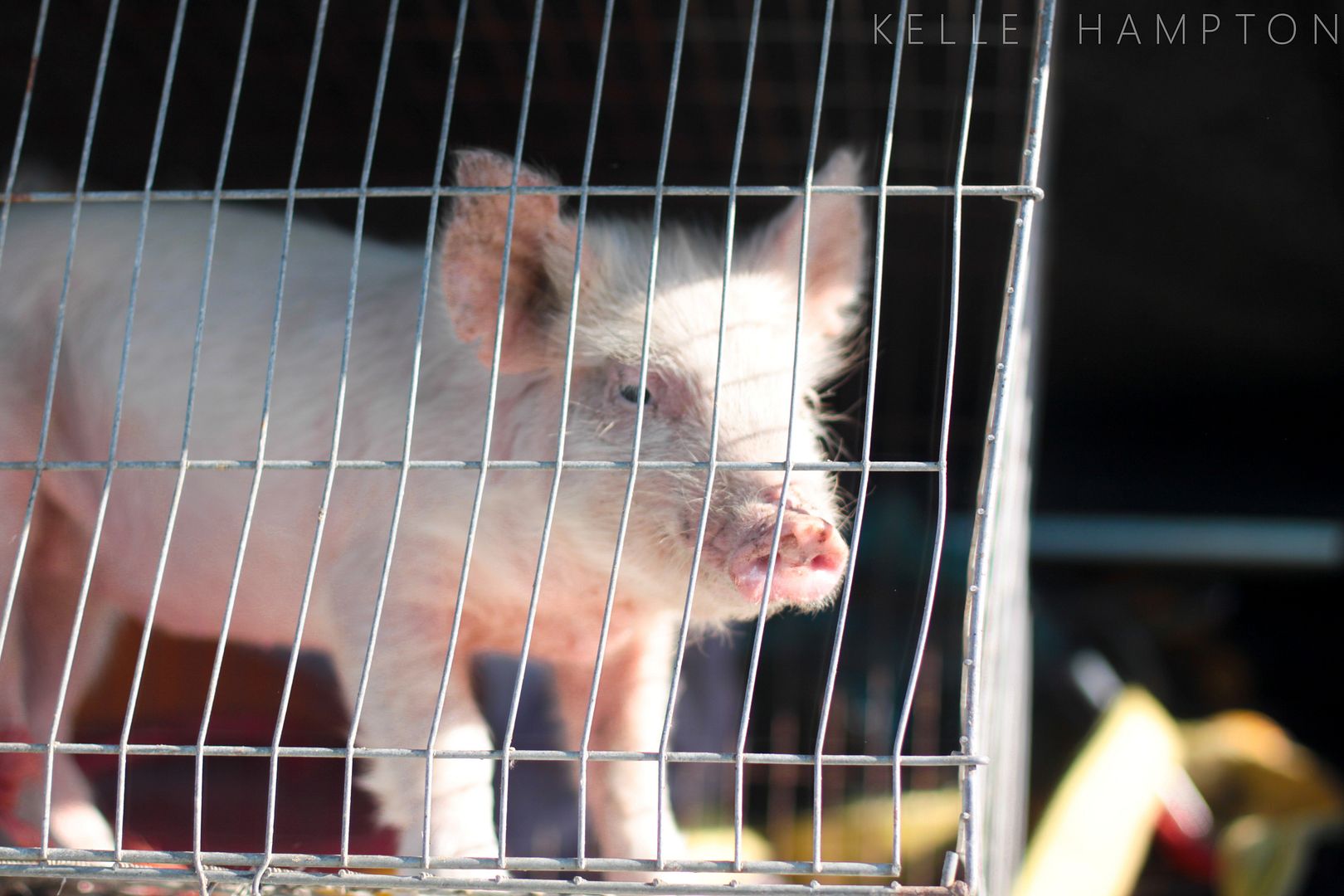 We are now swimming in oranges. Orange recipes welcome. (Orange buttercream frosting, anyone?)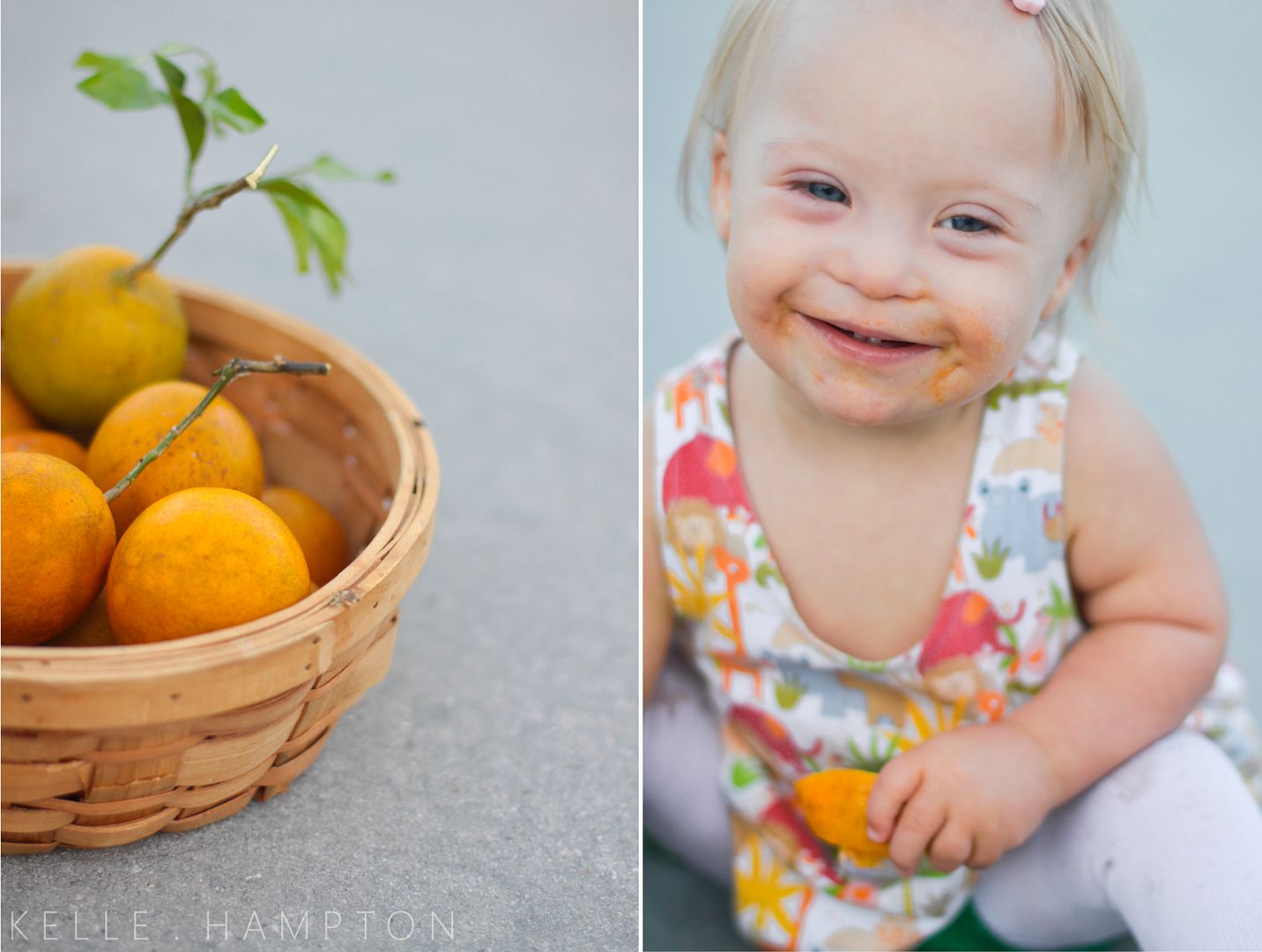 Orange grove info HERE for locals. Awesome place.

I'm happy to have Bambaroos Boutique back as a sponsor. They've added the most exquisite tutus to their shop (satin ribbons and thick tulle…gorgeous for a flower girl…check out this one!), and we, of course, love their vast selection of clips and handbands for both littles and mamas!
Use code BLOGS to receive 10% off your order. And a comment will be randomly selected from this post to receive a $25 gift certificate to Bambaroos Boutique. Happy shopping! Happy Wednesday.
Oh, and thank you so much for your incredibly heartfelt words on the last post. I read many of them out loud to Brett, and it reminded us again of the honor and privilege of this new journey in our life.