Five Children's Bible Books. That's what I found tucked away on our overstuffed bookcase this weekend while cleaning and sorting our ever growing stash. I have to admit, I didn't buy any of them. With the exception of one that came from a sweet group of readers I Skyped with last year, I think grandparents can be accounted for the rest—gifts that carried the subtle plea of Dear-God-please-don't-let–my-grandchildren-grow-up-heathen.

It's not that I need the little Bibles to learn the stories in them. I know every single one of them by heart—how Adam and Eve were created on the sixth day, how God sent a rainbow after saving Noah from the flood, how a great big whale swallowed Jonah because he wouldn't go to Ninevah to preach God's word. These stories were taught to me from early Children's Bible days of giggling at pictures of fig leaves covering Adam and Eve's—ahem, privates— to somewhere in my early twenties when I stopped going to church.
I flipped through the pages of a few of them yesterday and tried to remember the last time I read these to the girls. By Lainey's age, I not only had been read these stories and sang their tunes ("Who Built the Ark? Noah, Noah!"), but I knew their lessons—yes, that God loved us, but also: Don't Piss Off God. He might send a flood or turn you into a salt pillar.
The latter lessons are the reason teaching faith to my children is a complex subject, one I stew over quite a bit. I was submerged in church for more than half my life, experiencing both the good—fond memories of flannel graph Sunday school lessons, church potlucks and Nativity plays—as well as the screwed up: fear, fear, judgment, fear. Oh, and we-are-superior-to-those-who-don't-believe-like-us. The combination makes for a hell of a faith identity crisis. It's taken me years to reprogram my brain and heart and replace the painful scars of judgment and empty guilt with love; even now, I struggle.
For a long time, I viewed my faith issues much like I view my house when it gets too messy—I stand back, take it all in, conclude the mess is too overwhelming, so I make a cup of coffee and walk away. But then I had babies and babies started growing up. And when babies start growing up, you begin thinking about everything you believe—how it matters, how it transfers, how the responsibility of passing things on suddenly bears weight. For six years, I've been asking myself "What do I believe?" Because, honestly…I don't know. I do know that I believe in God, that God is Love, and that there's enough truth in that statement to provide everything I need to teach my children about faith.
My friends and I have been talking a lot more about these issues as our kids are at the age of asking questions. Last week, Lainey and her friend Aleena were overheard discussing heaven—how when they went there, they'd make sure to take their favorite toys and blankets, as if it was just a summer road trip. Heidi's daughter pointed out an image in the story of Noah's Ark in her children's Bible last week—a picture of a woman standing on a rock, holding a baby while flood waters swirled around her—the "unsaved," apparently.
"What's going to happen to that woman and her baby?" Peyton asked her.
"I didn't know what to say," Heidi admitted. "So I told her Noah was going to swing the ark back around to pick her up—he was on his way."
I smiled. "Bravo."
This is the exact reason why I'm not so sure of what role the Bible—the book that literally guided every decision and thought in my life for years—will play in lessons I teach my children. And my former self would be quivering with fear right now for the blasphemy I just typed. I did that a lot—quivered with fear. Say the word "rapture" and my knees go weak. Among meaningful stories of love and kindness, there are a lot of passages in the Bible that make God out to be He Who Demands and He Who Punishes. And for fun, He Who Tests You to See How Much You Love Him. As a mother who understands a little bit about loving children, these concepts aren't things that align with the ultimate truth of parenthood (that's what God is, after all)—Love.
I know that I want my children to know the limitless love of God.
I also know that I want my children to know their worth—worth that doesn't hinge on things they do or the way they believe.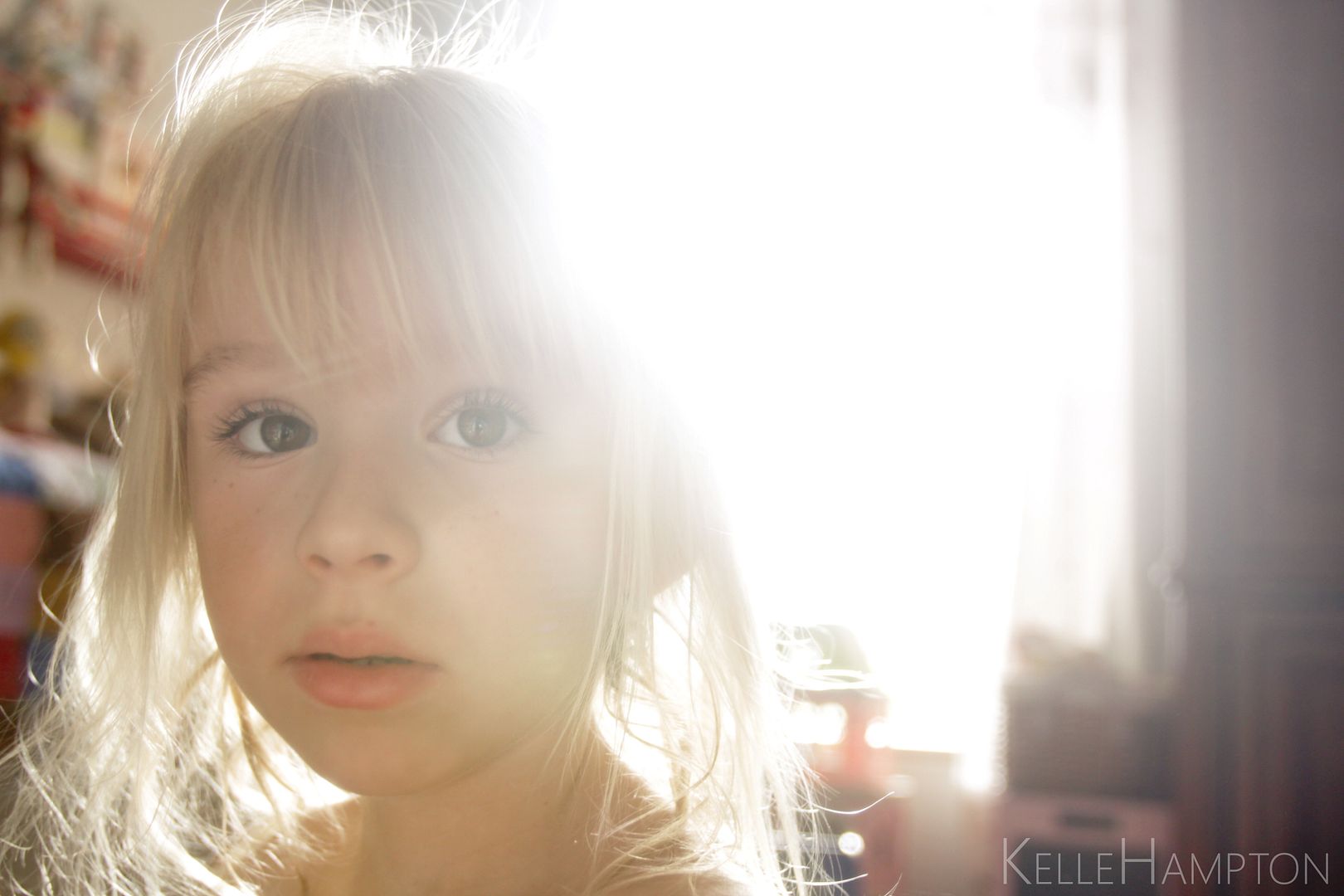 Although I believe in God and am confident of his presence in my life, I have a hard time teaching my kids statements like "we are nothing without God" or "you won't know the answers until you ask God to help you." Those teachings crippled qualities within me for years and, for a long time, paralyzed me from thinking for myself. I want my children to know that God made us all equal—that we are amazing from the start, that we are equipped with greatness and good decision making capabilities just because we exist. There are plenty of people who don't, per say, "believe in God" who are living their one wild and precious lives with significance—founding organizations to help those in need, spreading kindness, choosing good, loving, loving, loving every day. They are happy and living a life with purpose. Their God might not be defined by my terms—perhaps they call him a higher power, the Universe, their inner self, what have you. But they are in no way less deserving of what we all are entitled to—love, albeit here on earth or life after death. I will tell my children to learn from these people and listen to them. Sometimes I think I've learned more about God and love and kindness from good people who believe differently than me than I ever learned within the establishments intended to teach the world about God.
But I also realized I've made the mistake of throwing the baby out with the bathwater, as they say. Because of the pains of my past, for a long time I blacklisted all of it—organized religion, church, Bible studies. I thought I escaped the black hole all these people were tricked into believing, and I realize that's just the kind of judgment I thought I was better than. Thinking I've got the truth, and they don't. I left one kind of arrogance and replaced it with another.
I've since readjusted those beliefs, picking up a lot of the broken pieces of the faith of my past and realizing they're not all bad. I quite like many of them and look forward to reincorporating lessons and experiences of that old faith into the truest faith I've known so far—an evolving one. One of love and kindness and acceptance both for those around us and for our less than perfect selves. I like feeling small compared to something, someone bigger, and I call that bigger thing God. I pray to him every day not so much in "Dear Gods" but in Be kind, How can I help?, Come sit by me, Let's take a walk, Look at that!, Thank you, I'm sorry and I love you.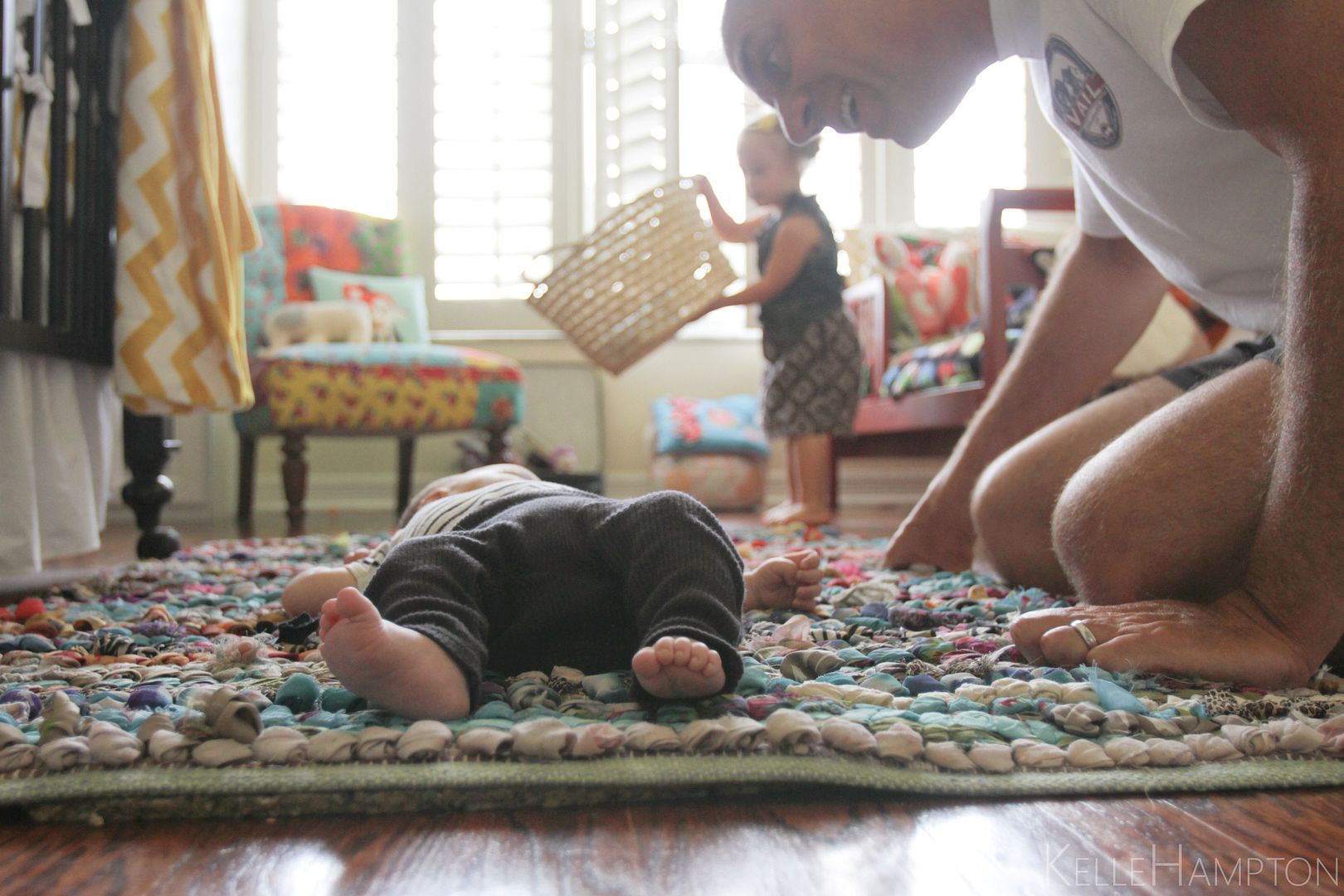 What my Sunday morning looks like: God is very present.
I am truly learning this year to open myself up and learn from others—to listen; to be curious, not judgmental. In my closest core of friends, I have a few Protestants, a few Catholics, an Atheist, two Agnostics, a Buddhist, a Hindu and several who don't have names for their faith. I am intrigued by each of their beliefs and learn from all of them. It's amazing how, when we look at our beliefs with different perspectives, so many of us really do believe in the same important life truths.
So, what to teach my children?
Well, just in typing this, I'm feeling confident that my children know God. You know, last year I had this random moment of guilty panic that I wasn't telling my kids the things about God that I was supposed to teach them—the Sunday school basics, the Children's Bible stories I wasn't reading to them. We were driving, and for some reason, I suddenly felt like I had to do something to catch up for all my kids didn't know—something right now in this car to get it started. We'd begin with creation.
"Lainey, do you know who made the trees?" I asked her. She looked at me like I was crazy. She didn't answer so I went on.
"God did. God made the trees," I told her, repeating something I had been taught as a child and consequently sighing a breath of relief for completing the first course of Godly wisdom for children. The grandparents would be so proud.
But there was a rebuttal from the back seat.
"No he didn't," Lainey argued. "Someone planted them." Ah truth, my little Darwinist.
I realized I was being silly. The details of creation, the many stories, whether they be allegory or not—they aren't as important as the truth we live every day. Love. Love this earth, love each other, love yourself. I am teaching that to my children through terms that literally include God but more so through events that breathe him. We pray "Dear God" when we remember to say the words, but we live "Dear God" when we forget.
And with all the unanswered questions I have right now about faith and my mission to explore them simply by living and learning from others, I've never felt closer to God in my life. I am confident my children will know him too.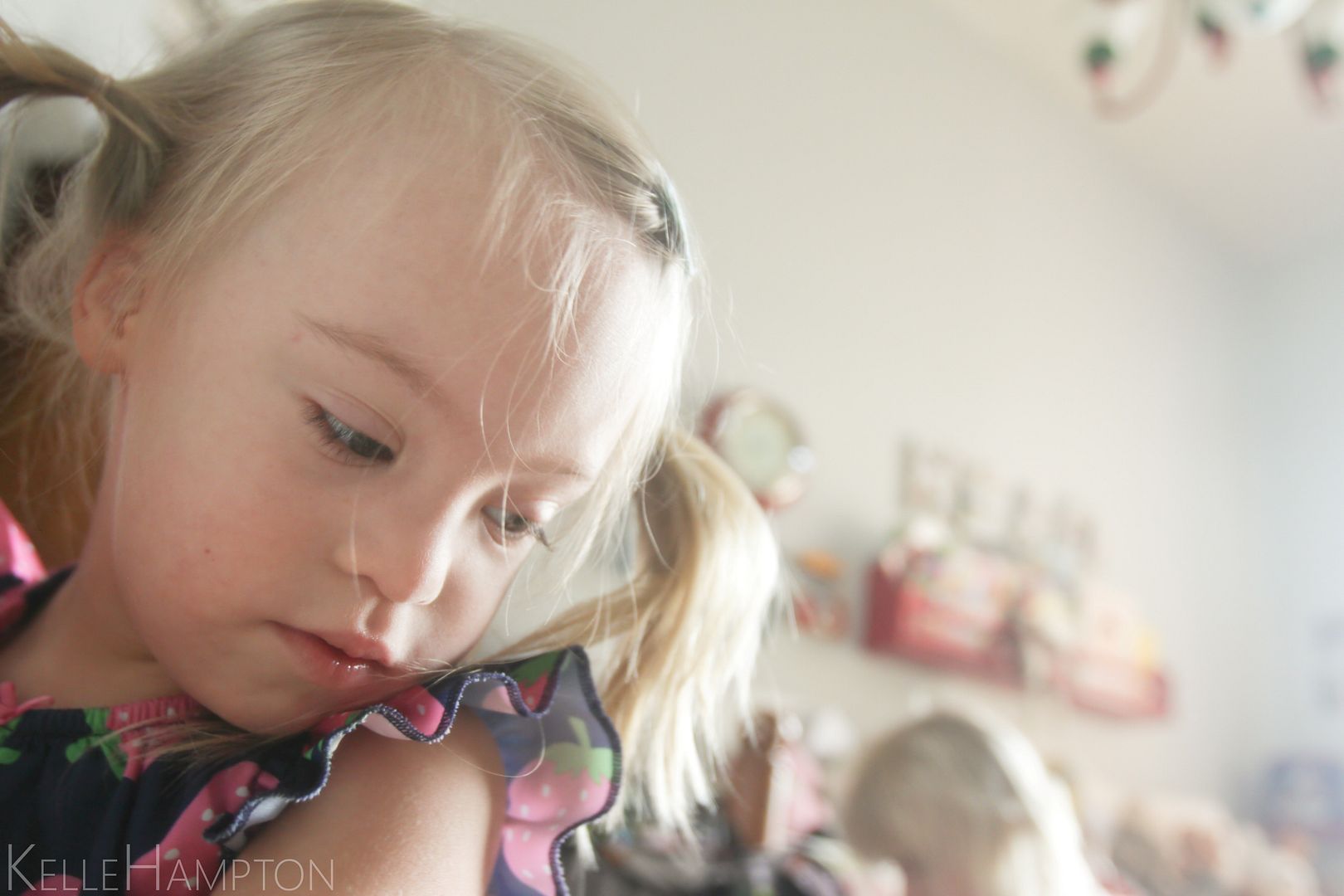 I'll end this with a story my dad once told me. A woman in a faraway country, who knew nothing of religion or God, had a son who grew very ill. Desperate to save him, she tried everything—village witch doctors, potions, medicine—until finally, she threw her hands into the sky and prayed to a higher being she knew nothing of. "Please," she pleaded, "if you're there, save my son and I will serve you my entire life." The woman's son became well and, although she knew nothing of this higher being she prayed to and believed saved her son, she did things she knew to be good—things she thought to be of service. She was kind, she helped others, she tried to make good choices, she loved, she practiced selflessness. One day missionaries came to her village and taught the people about their God, how he loved them, how their lives could be changed if they gave their heart in service to him. The woman smiled and patted her heart. "Oh, I've been serving him for a long time," she said. "I just didn't know his name was God."
Last night, we said a real "Dear God" prayer before bed. I started with "Thank you for—," and Lainey filled in the rest. Food, her mommy and daddy, her siblings, her friends, her puppy blanket, hair ties, pink crayons, Dora shampoo. And then we prayed for those who are hurting, for those in need. "Let them feel love," I said, "and let us find ways to give love." We talked about what it means to feel and give love. "Like when you color a picture for someone?" Lainey asked.
Yes, that.
Sometimes we make things so much more complex than they need to be.