With T-minus-forty-some-days until due date, I am more aware of the window that's slowly closing–savoring the constant movement within, memorizing the curved silhouette of my body and beginning to clearly imagine what it will feel like to have him here. The weight of his swaddled body in our arms, the sound of sleep breaths in our necks, the outbreak of sister fights as they repel each other's grab in an ugly game of Who Holds Him Next. I'm preparing. And I am not ashamed to use Who Holds Him Next as a very efficient bribery tool.
When we found out Lainey was going to be a girl, I was at Sherwin Williams the next day. Pink. Pink, pink, pink–every paint chip card of it taped to the wall until I settled on Romance, the softest blush shade perfectly balanced between too peachy and too purply. I bought the things the baby books tell you need even though you don't. I registered for a girly bedding set. I enjoyed that pink room for over five years, through welcoming another girl and patching more pink over wall scribbles and nail holes.
With preparations for a third baby, I'm much more laid back this time. I know he's set up for at least the first year simply because I have boobs. It wasn't until yesterday that I even realized we no longer have an infant carseat, and all it took was a "Hey, anyone not using…" text and five minutes later, we had a carseat.
But the room? There's something about the baby room to me. It's a place I can walk into that last month of pregnancy, sit down with my coffee and look around at the details that say "We're waiting for you." Okay, maybe I do that all nine months.
Although he'll snuggle in our room first for a while, Baby owns half the rights to the room next door–the pink turned buttery wall room that is now haven for a soon-to-be-bonded brother and sister. I wanted a colorful, gender neutral environment that encouraged play, incorporated art and felt warm and homey.
The New Digs:
My Favorite Things about this Room:
* I made more purposeful choices about what to put in it, and a lot of that included exploring options before I just clicked to buy something or put it in my cart. The only new piece of furniture is a toddler bed we purchased from Craiglist (spray-painted it red). Most of the items in this room are switched out from other areas of our home or were found inexpensively at Goodwill, on eBay or from Etsy.
* For Lainey's first nursery, I didn't know any better than to buy an entire bedding set–a lot of the price going to the crib comforter. We never used that comforter, and this time around the most important crib detail for me was a sheet I loved. We added an inexpensive plain white ruffle and bumper and an afghan we already had.
* Rather than spending the bulk of a room budget on things that will only last for the first couple years of babyhood, I invested in things that will last through room transformations–namely, art. My favorite items in this room are the crib mobile (art that will hang in our room long beyond nursery days–more on the artist below) and the above-the-dresser art which includes Lainey's drawings, some favorite Etsy artists, and some illustrations torn from old children's books. Frames were purchased from Goodwill.
* We don't have room for two dressers, so we utilized the book shelf space to store baskets for baby clothes and accessories. I weeded through toys and made a collection of our most-loved, made-to-last treasures in a corner storage area that's easy to clean up because everything has a place. This has taken me a very long time to learn, but I feel like we are finally getting the hang of simplifying and managing toy messes.

Owl Hanging, Darlybird; Clipboard holds a favorite photo my father-in-law took–a baby-wearing mama in an African village

* Our teepee was a gift from a fellow Florida mama. It creates a fun space for reading and chill time, but I love it because it is completely portable. It can collapse in all of two seconds and be stored in a closet, or we can easily move it to another area of the home.

House Pillow: Two Stars Etsy shop, discount code below; Queen of Hearts doll, Darlybird
* Two simple D.I.Y. transformations: our flag bunting and the fabric-backed bookshelves. For the flag bunting, I spent about $3 on felt, cut it into triangles and hot glued the edge onto twine.
To add more interest and depth to our bookshelves, I cut fabric to size and used UGlue strips to adhere it–easily removeable.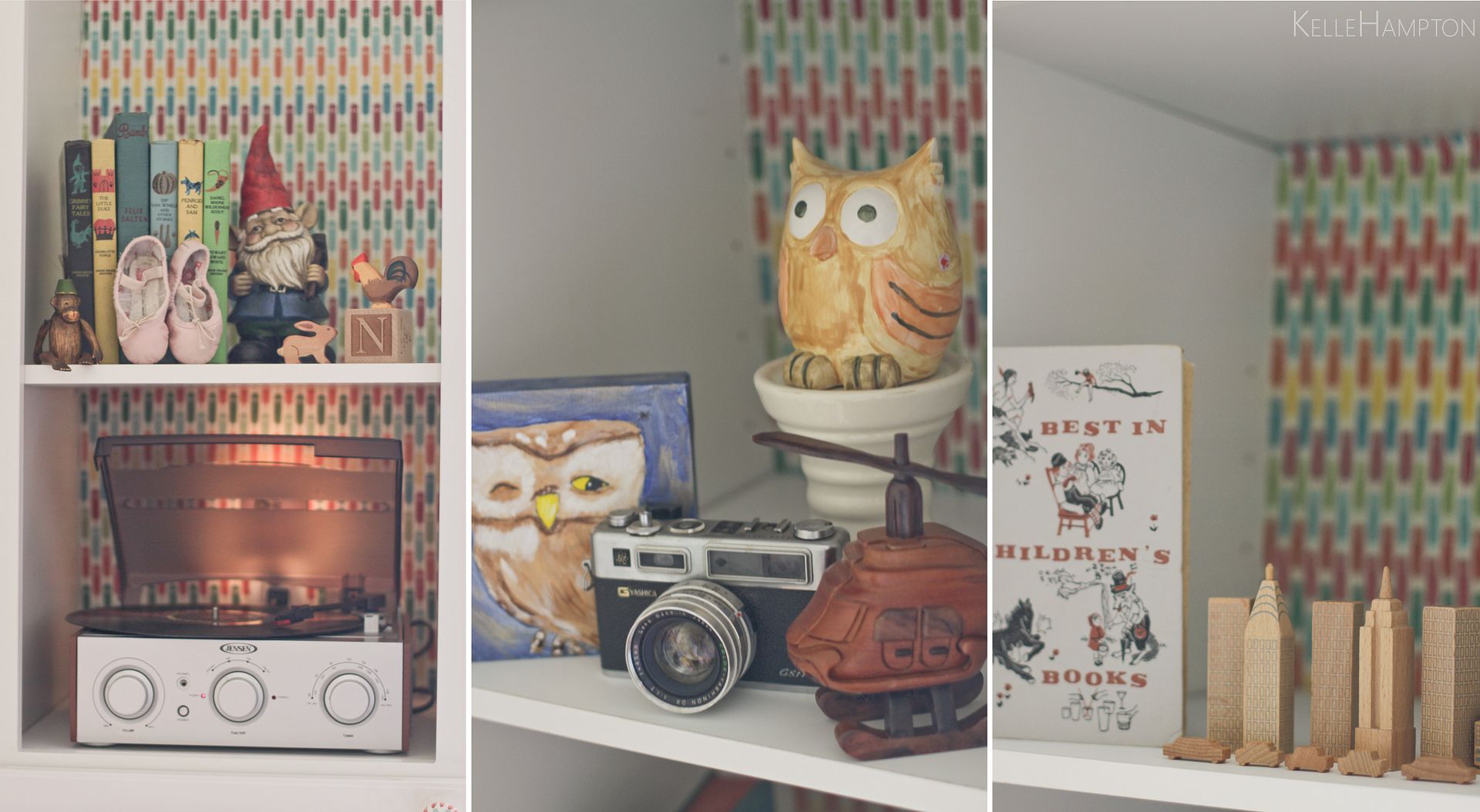 The rest was a little bit of nesting and a lot of love. We are so excited to bring this baby home and create more stories for this room.

Antlers, Yarn-Bombed Anters, Discount Code Below.

Fox Pillow: Gingiber, Doll: Darlybird, Elephant Pillow: ShopRuche

Mother/Daughter Image Block: Artist, Sascalia; "My Wild One" Print: one of my favorite artists, Irena Sophia; Jessie Willcox Smith illustrations torn from a children's book. A huge framed version of the mother and baby one used to hang in my parents' bedroom when we were little. I've always wanted it in my home.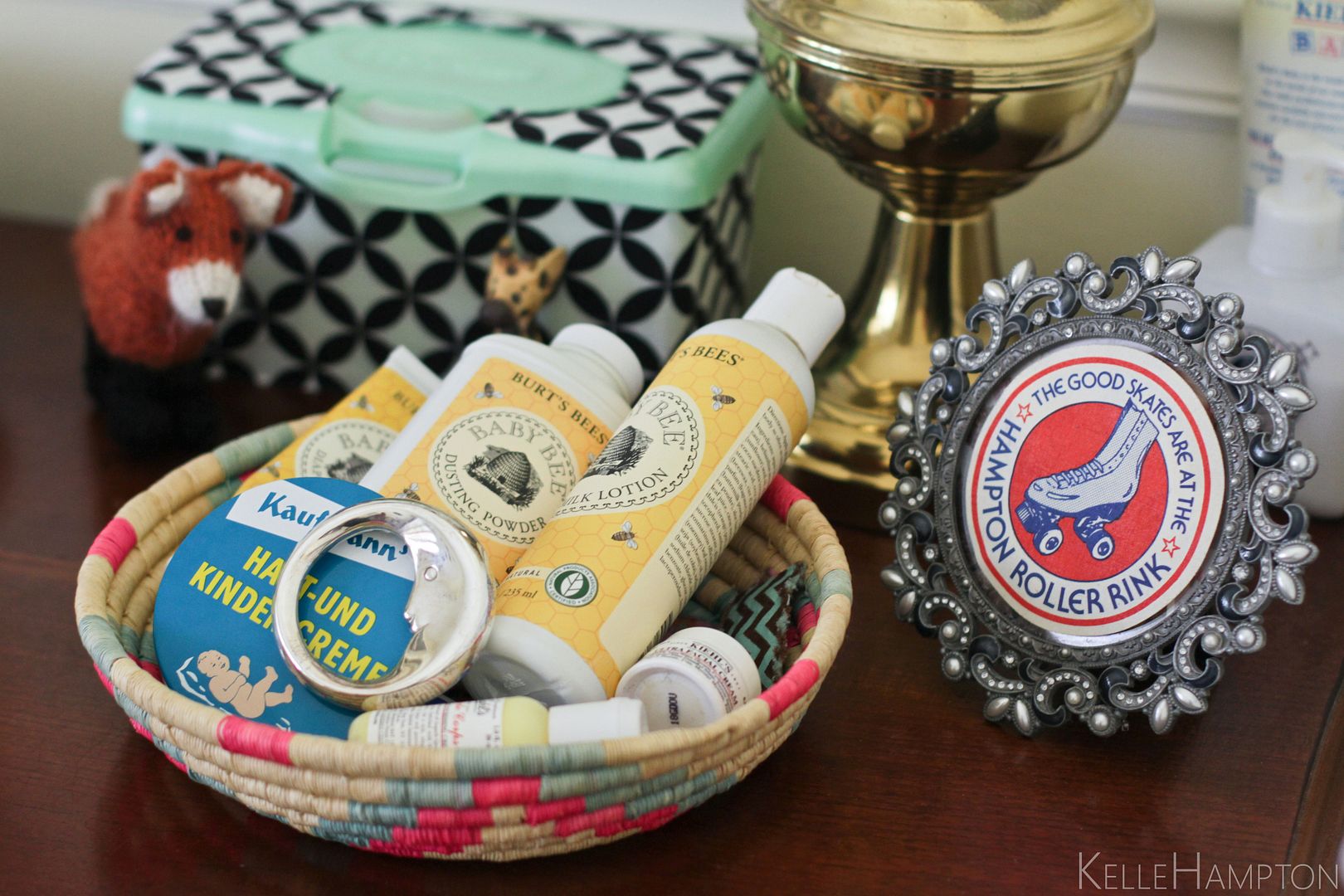 Vintage skating patch–one of my favorite eBay finds.
Other Deets and Discount Codes for you:
Crib Sheet: Land of Nod
Rug: World Market
Mirror: Antique Shop
Mounted Antlers: Yarn-Bombed Antlers, use code 10Offantlers for 10% off your order. Most shop items are set up for your custom order–you choose mounting, stain and yarn.
Hand-Stamped House Pillow: Two Stars, use code ETSTunicorn (yep, that's right) for 25% off your order.
Teepee: Play Haven, use code TP10ETST for 10% off your order.
And my favorite, the crib mobile–our treasured piece of art, representing our entire family:

The detail on Nellie's moccasins slays me. And yes, unicorn. I know. Pretty awesome.
Pink Cheeks Studios, the maker of our mobile, is our new sponsor; and I'm so excited to introduce this mama's talent. This year, I'll be introducing sponsors a little bit differently in an effort to connect not just with a business but the people and ideas behind it. These posts may show up between regular posts, and I will do my best to include them in a way that allows you to move along and click out if you're not interested or follow along to learn more about how these businesses started and where they find inspiration. As always, we choose the sponsors we work with based on innovative ideas, art and products we love and the thought behind the business–and we hope you'll like them too.
I'm thrilled Pink Cheeks Studios is our first "behind the business" interview. I fell in love–like cried when our mobile arrived–with the detail and thought this mama puts into her creations. While we have our mobile hanging over the crib, it's something we'll display in our home long after the babies have grown.
Nichol of Pink Cheeks Studios creates pillows, prints, softie dolls and crib mobiles with various themes. My favorite–the custom created family mobile. She captured so many details about our family–what we wear, what we love to do–right down to Brett's flip-flops and Nella's boots of choice.
I asked this talented mama to answer a few questions, and I loved getting to know her more through her answers.
1) How did your business get started?
My business started when I gave myself a challenge to sew a "pillow monster" a day for 30 days. I did this to jump-start some creativity and help me break free from some sadness after my mother passed away. I blogged about it, and someone in the comments mentioned Etsy to me. Then my pillows evolved to have arms and legs and now I make softie dolls and mobiles. I love every minute of it, and I feel very fortunate that I get to make a living by using my hands in a creative way.
2) What's your favorite thing about making your creations?
My favorite part of making my creations is the "Turing Right Side Out" part. When you sew 3D pieces, you basically sew everything inside-out until you are ready for the stuffing step. Every time I turn a piece right side out, I get a little thrill of excitement (it's the small things, right?).
3) How did the name for your business evolve?
My shop is named after my son, Walter, whose cheeks turn bright pink when he sleeps, laughs or gets a bit shy. He is my main joy provider in my life, and I want my shop to exude joy.
4) Where do you draw inspiration for your art?
I get a lot of inspiration from other artists. I love Alexander Girard's wooden dolls, Chicago Imagist, Karl Wirsum's sculptures, and everything Elsa Mora does (she also has a lovely blog). I also still feel inspired by a puppetry class I took in Prague about 10 years ago.
A big 'ol welcome to Pink Cheeks Studios. We're so happy to have you aboard.
*****
Lainey's back in school, routine has taken over and I'm excited about some new ideas for the blog this year which include our upcoming fundraiser. Three Years, Three Chromosomes, Three Cheers for the way so many have come together to celebrate and honor all of our beautiful differences.
Here's to the excitement of potential.
Have a great Monday.