After the fun of our wildflower soap making adventure, we wanted to make more stuff. Let's be make-ier people. Let's make scarves and pottery and jam and let's open a shop in a charming tiny town where we sell all our makey things. Homemade Stuff is what I'm thinking for a name, but that's just because I'm only in Stage 1 of idea. This title will, of course, progress. Okay, maybe we won't open a shop or make handcarved walking sticks (it was on my list). But I can make little bits of happy with small projects that make me smile. Sometimes I make things for my kids, sometimes I make things for me, and sometimes I can't figure out whether it's for my kids or for me because usually these projects create symbiotic happiness. Except paper mache. That was for the kids, and for me it created nothing but a pastey mess.
But back to small makey happy projects.
Enter Exhibit A: Literary Lipbalm.
It started as just regular lipbalm, but then I was digging through what we had with us on our trip to decorate the top of the lipbalm tins, and I found this stack of miniature illustrated postcards based on literature. We cut them to fit the lip balm tins, and they turned out so darn cute, I want to make more and collect them. Our tins feature scenes from Little Women and Anne of Green Gables, but you could cut up pages of any old books–favorite poems, sheet music, etc. to decorate these. You could pass them out at literary-themed birthday parties or bridal showers. You could turn them into teacher gifts, pop them into bridesmaid baskets, toss them from a float at a parade.
What you'll need:
Lip Balm Tins (10 count) 
Essential Oils (we used Spearmint, and it was our favorite!) and/or Flavorings (we also used these fruit flavorings–watermelon was a favorite kid pick)
Book Pages (I used this tin of mini literary postcards–Little Women, Anne of Green Gables)

Small Paint Brush and Glue
Mix equal parts of the coconut oil, cocoa butter and beeswax. We used 4 oz. of each, filled all the tins and saved what was left. If you have leftover, you can store it in a small Tupperware (do people still say Tupperware? Is Tupperware party still a thing? If so, I want to be at one. Sorry–tangent.). Microwave in 30 sec. increments, stirring between each until everything is melted together. It shouldn't be too hot to work with, and it starts solidifying quickly, but no worries–you can still spoon it into containers if it turns into a balm or put it back into the microwave.
If you want everything the same flavor, you can add your oils or flavorings into the entire mix. Our girls wanted to make their own flavorings, so they added oils and flavorings right into the tin. Spoon mixture into tins.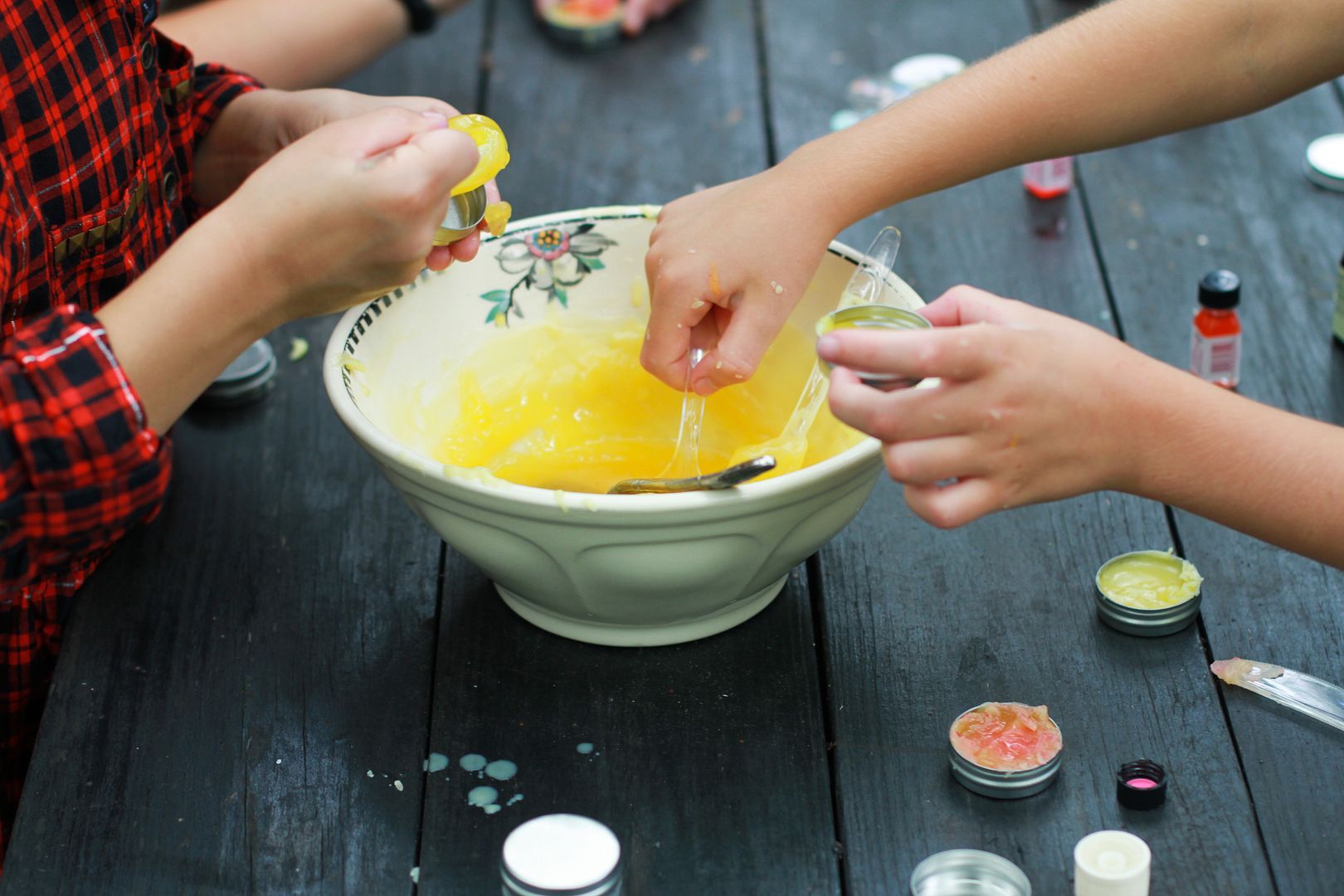 Add flavoring oils into tins and gently stir; plastic knives worked well for this. We added about 4 drops for each tin. I made one with about 8 drops of Spearmint and it was super tingly at first, but I love it now.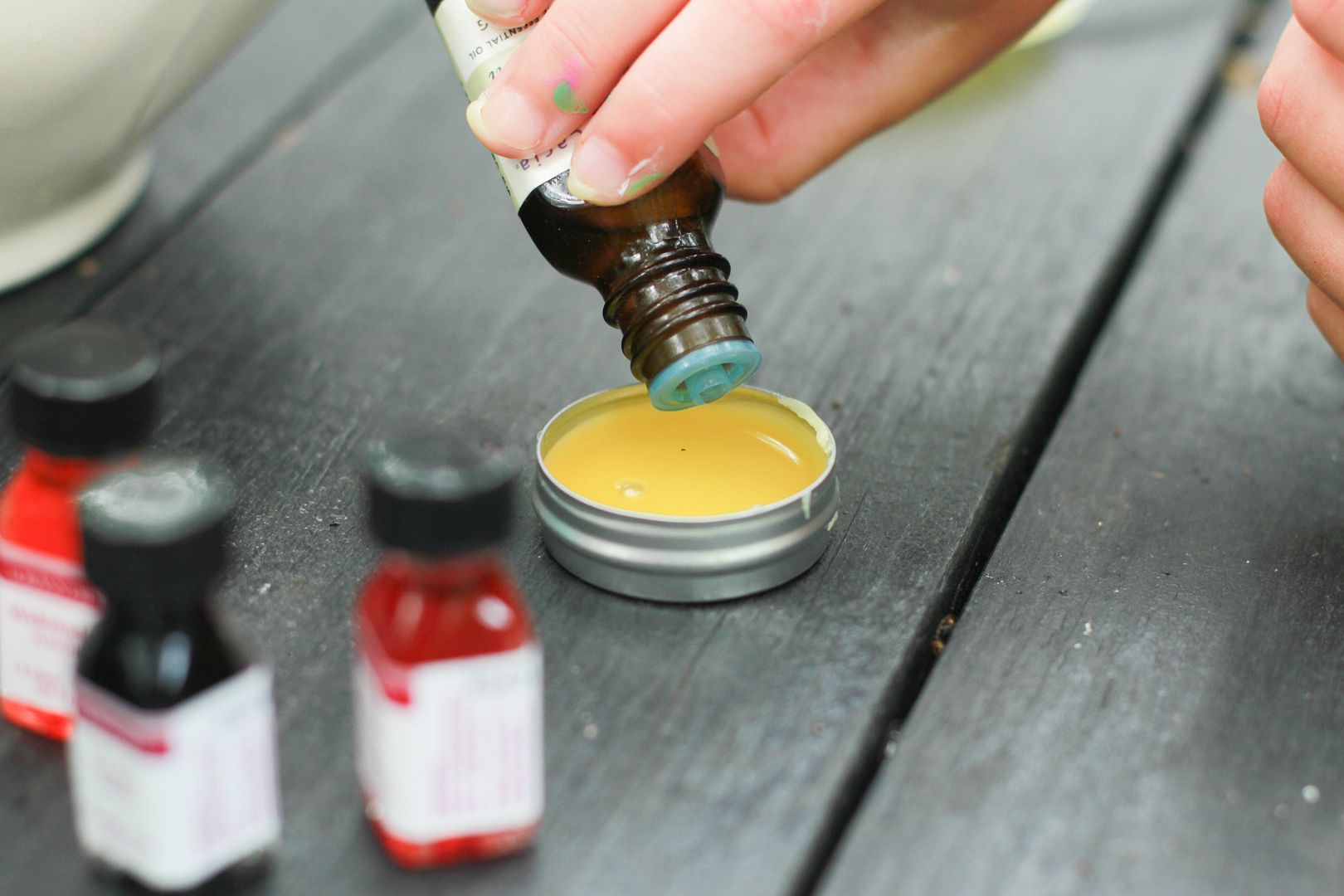 The balm should solidify quickly.
Use tin top to trace a circle onto the illustration you want to use to decorate your tin. Cut a little inside the circle to make it smaller than the tin top so it leaves a nice edge.
Using the paintbrush and glue, paint on a thin layer of glue and adhere your illustration to tin top.
Voila! We love them. The balm feels a lot like Burt's Bees. And the tins are just the cutest.