Tuesday was ordinary, maybe even a little less than ordinary because I was multitasking in ways that had me frazzled, not quite present, edgy even. Ballet followed by lunch with friends was a nice retreat from the craziness I had created that day–a lost to-do list, papers scattered on my desk, clothes thrown on the floor, an unmade bed. It wasn't a bad day. It just wasn't, well, great. I'm okay with that. They can't all be fireworks.
By late afternoon, I lost such direction that I stood in the middle of the room not once, but twice, and said out loud, "What was I just doing?" And somewhere around mid afternoon, when I noticed the long shadows in the driveway and the sun's arrival over the back woods where it begins its nightly retreat, I decided I wasn't letting the day go down without a fight.
I still had things to do, a house to tidy, mouths to feed, but suddenly at that moment the most important thing was finding a way to resuscitate life back into our day. Like it was hidden in a game of hide-and-seek and my challenge was to find it.
No brainer. It's at the beach. I didn't really have the energy to pack up pails and shovels and head out, and I knew Brett wasn't in the mood either. But maybe those are the times you need it most–when it's work. It started begrudgingly–our quick preparation to take the girls to a beach sunset–but by the time we drove the four miles and caught that pink horizon from our windshield right before we pulled in to the parking ramp, everything settled and my lost direction was suddenly clear.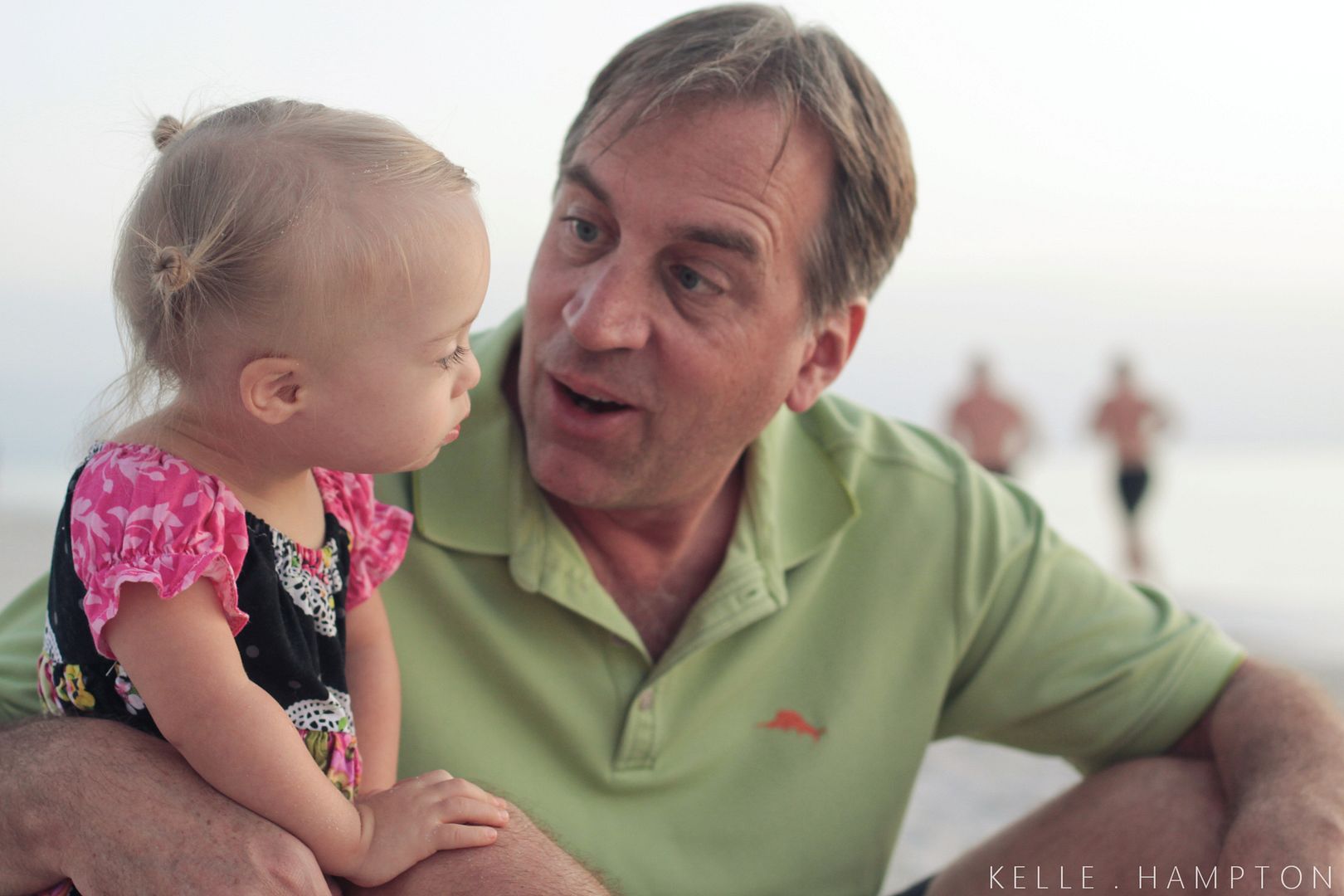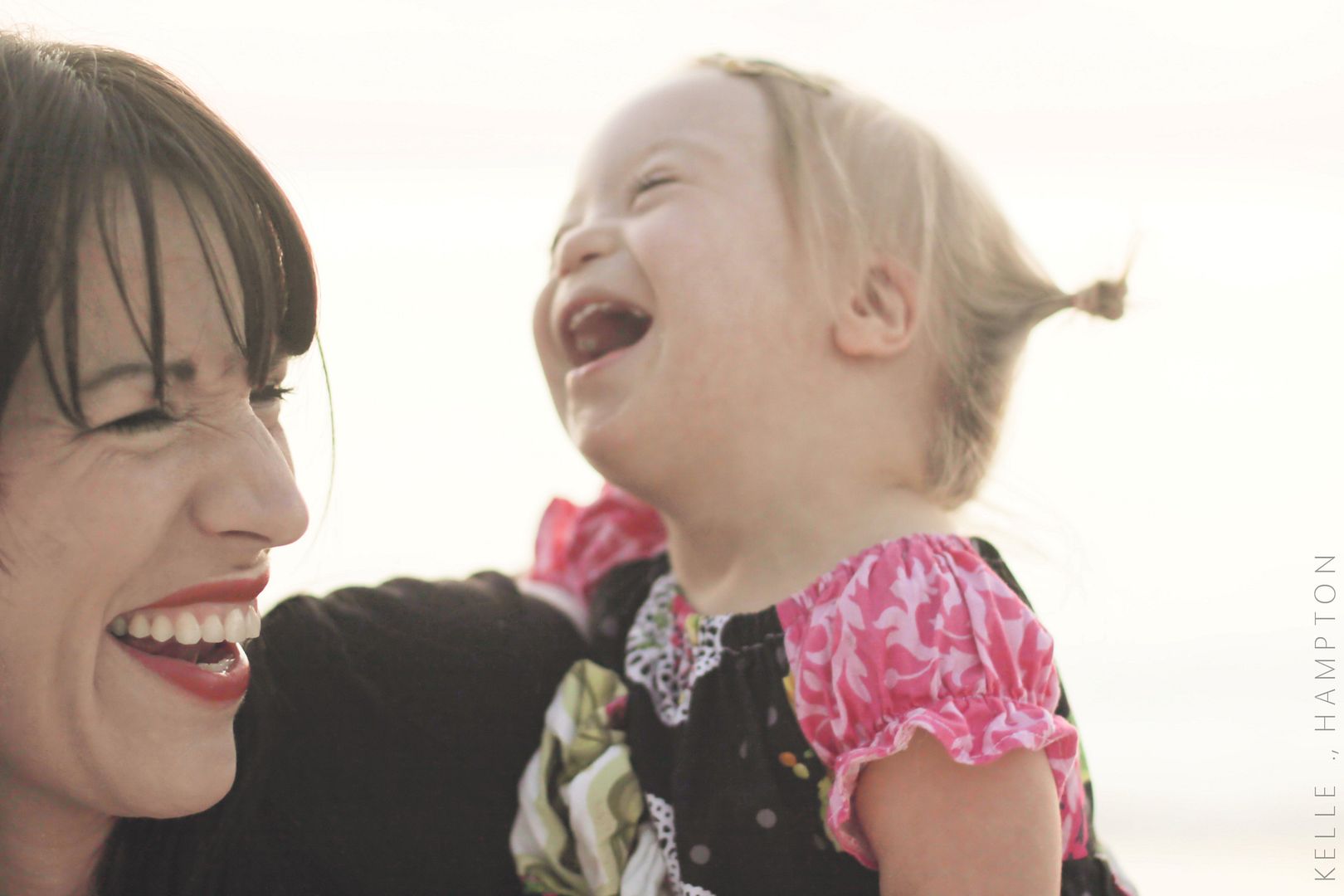 We arrived just in time as if that heavy pink sun hung still right before it hit the water line, waiting for our arrival.
Onlookers clapped like they always do once it finally fell, and we stayed and relished its afterglow.
Nella walked the beach for the first time, her little body confidently trudging right toward the gulf. It knocked her down a few times, and she shuddered as the cold water lapped over her legs and diaper. I pulled her back into dry sand, away from the intimidating waters, but that didn't stop her. She trudged forward, like Joan of Arc, again and again and again. To conquer the water, to seek the thrill.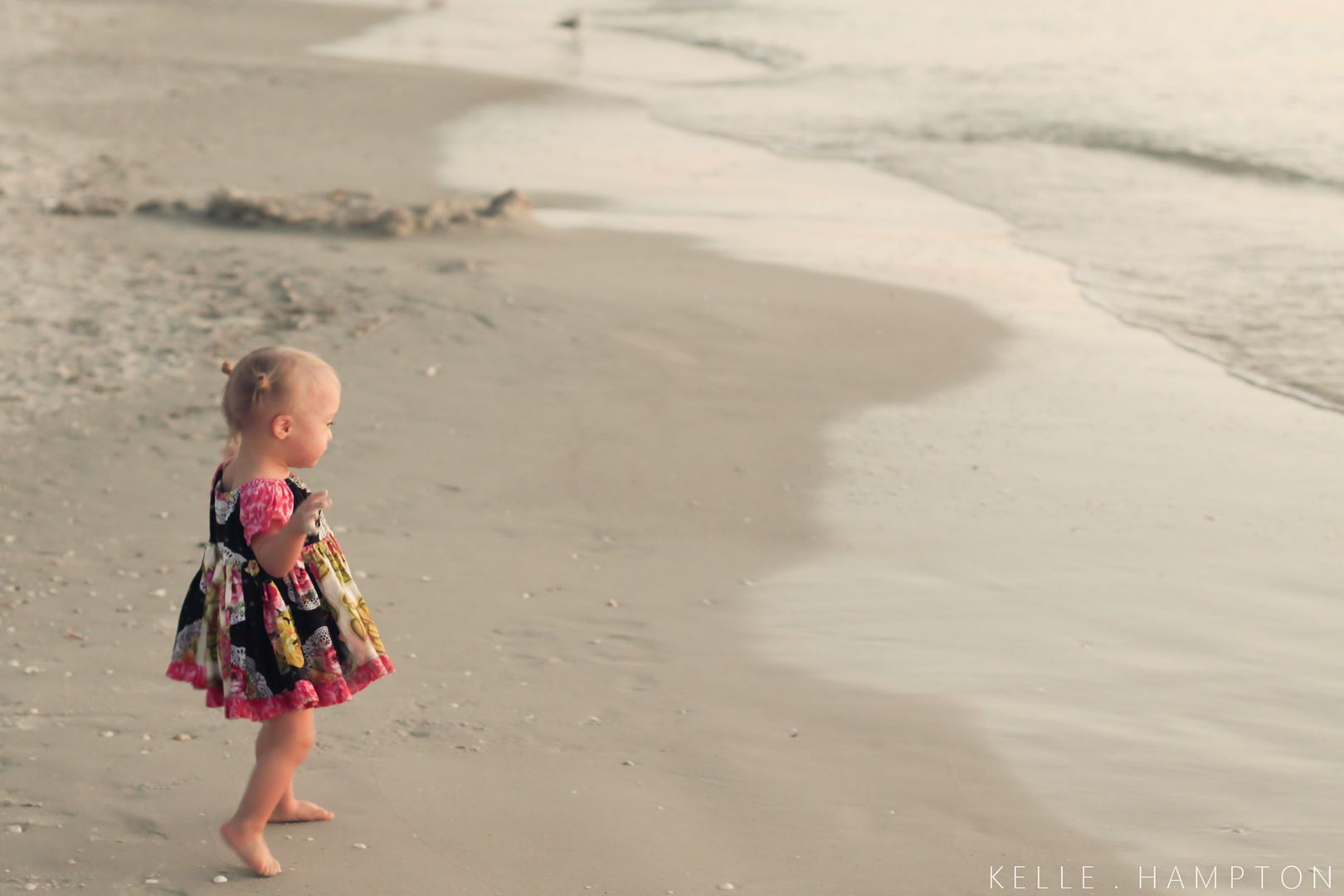 Yesterday, ABCNews.com did a story on Living with Down syndrome and Nella. Cara, the producer, did a beautiful job, and I felt so humbled and honored to have the opportunity to represent this amazing community of parents and share what I believe to be very important–that we all have a choice in how we embrace hardship, and that it can open the door to living a bigger, better life. It's a story we share with many. But, for some reason, I read the first comment after the post–nothing I haven't heard before, a bit of a *yawn* by now–but still, the presented concept pissed me off at that particluar moment. That, my God, a story of a family living life to its fullest and celebrating their child who is doing great is ridiculous because our kid is two and it's going to get so much worse. Here's the thing–this person is completely right in the fact that it's going to get worse–more hardship, far more difficult challenges than, say, occupational therapy. My opposition to the comment really has nothing to do with Down syndrome or negativity in a comment–we deal with both on a regular basis, and we tend to forget about them respectively.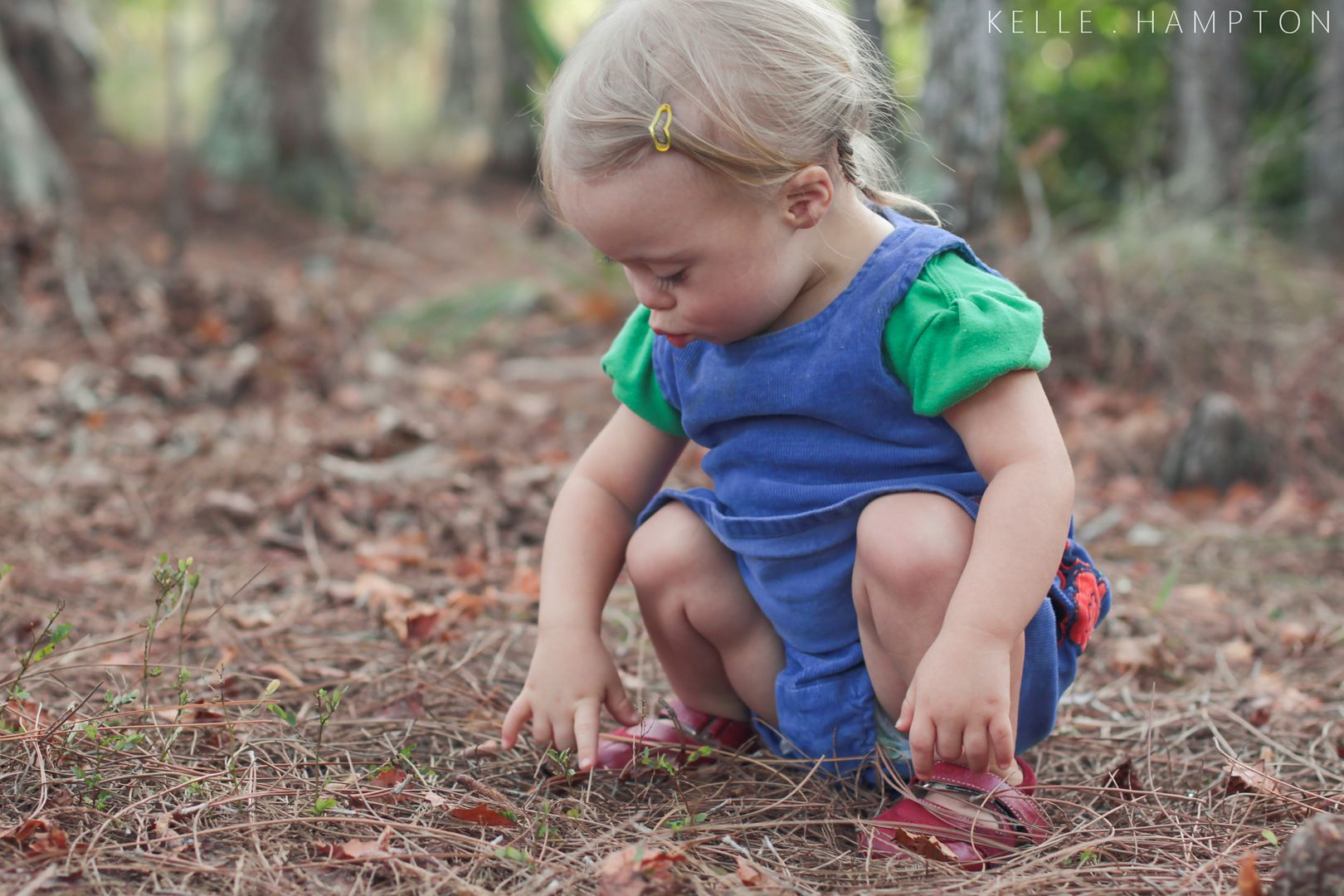 The problem I have with it is the theory that happiness and perspective and grabbing life by the balls is somehow discredited if challenges are still ahead. I got fired up, something I don't often do anymore over a silly comment. Because if there's one thing I have a problem with, it's joy-suckers. Don't suck my joy. Don't suck someone else's joy. You think I don't know what's ahead? You think I don't have moments where I put myself there–ten years from now, thirty years from now, fifty years from now? You know what statistics say? I know damn well it's a hard, hard road and there will be tears. But I trudge forward. Like Joan of freaking Arc, and I embrace the challenges and choose to be happy. Knock me down, Waves. I'll get back up. I do cartwheels, okay? In my driveway. Sometimes in my nightgown. And I will never stop trying to live life this way.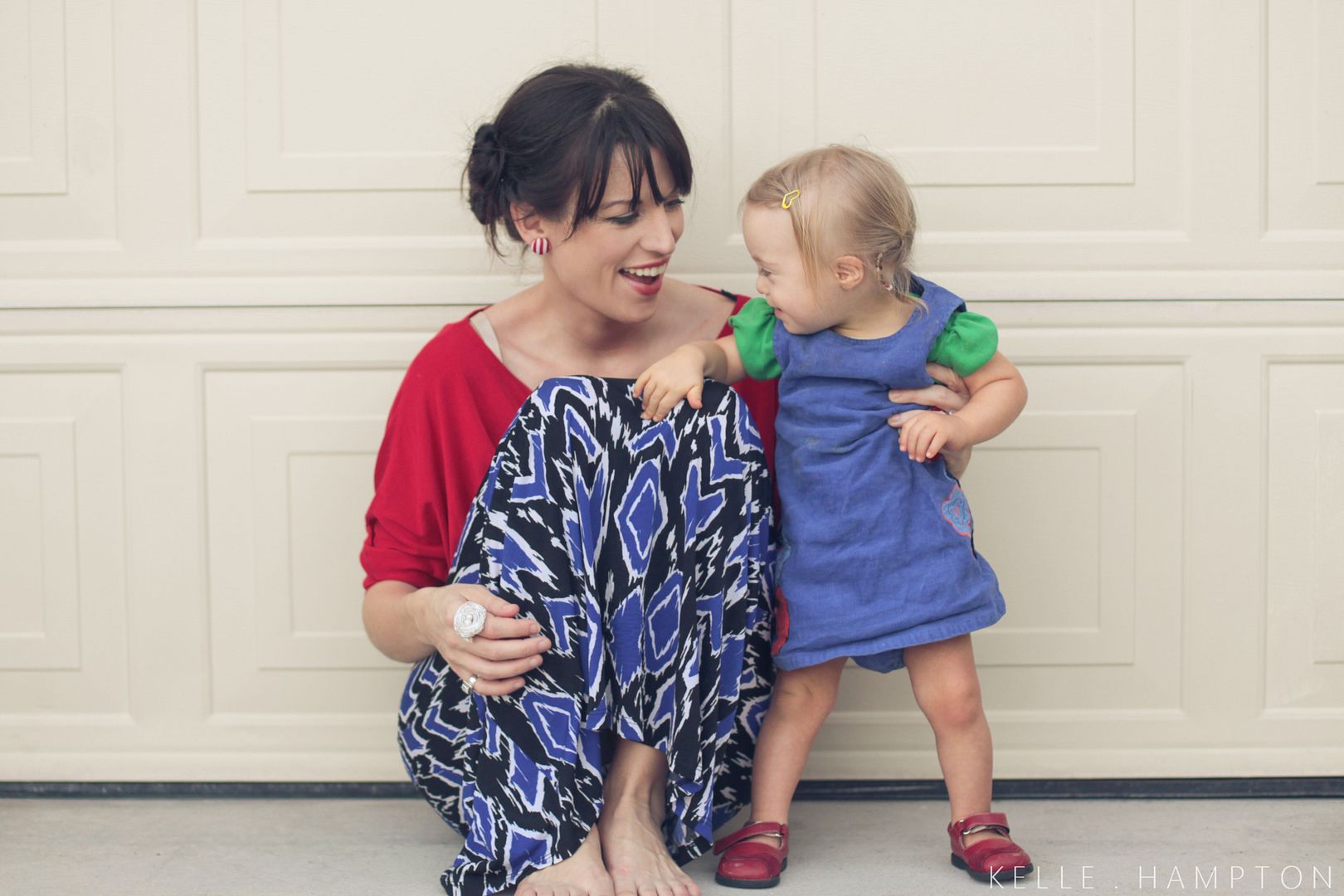 There is reason for everyone to be unhappy. There is reason for everyone to be happy. What's your focus?
I've been thinking a lot about adventure seeking. How people choose to climb Mt. Everest knowing it's a brutal challenge. How my friend, Melina, slips in a kayak and paddles through life-threatening rapids because she wants to feel the thrill. How runners train for marathons when, certainly, a 26-mile run doesn't promise a pleasant experience. How surfers suffer concussions and yet get right back out there because there's something bigger on the other side. Adventure, victory, adrenaline, the self-awareness that comes from conquering something difficult.
You can look at this big picture or small picture; it works both ways. Heading to a beach sunset even when you don't feel like it. Pulling the craft bin out in search of glitter, knowing it will make a huge mess. Signing up for an African Drum class even though it's one more thing on your already busy schedule (I'm thinking about it). Choosing to embrace the heartache of raising a child with Down syndrome and being happy, exhuberant, determined in spite of it.
My point? You cannot wait for Life to come to you. You have to go get it–pursue it in a wild, passionate chase that includes the foreboding depths of challenge and heartache just as much as the ecstacy of triumph and success. You have to want it bad enough to seek it not only when things are rough and the pursuit of it brings the hope of change, but when things are comfortable and easy, and the quest for more living–more purposeful awareness–might even make you scared. It is in that fear–that breathtaking exhileration of "What If?"–that you rise to the occassion.
You step out of your comfort zone and experience the thrill of taking risks and the possibility of believing that, sure, things might be good, but if you stretched a little further, they might be great. I want to know great. And I will work hard to find it.
…and that's why we went to the beach.
*****
Introducing new sponsor, Thirty One Gifts Independent Consultant, Nicki Kusek. Thirty One Gifts has a brand new catalogue out as of yesterday, and it's chock full of some great organizational totes and storage options.
Our new utility bag is like Mary Poppins' bag–you can fit a house in it. Perfect for the beach.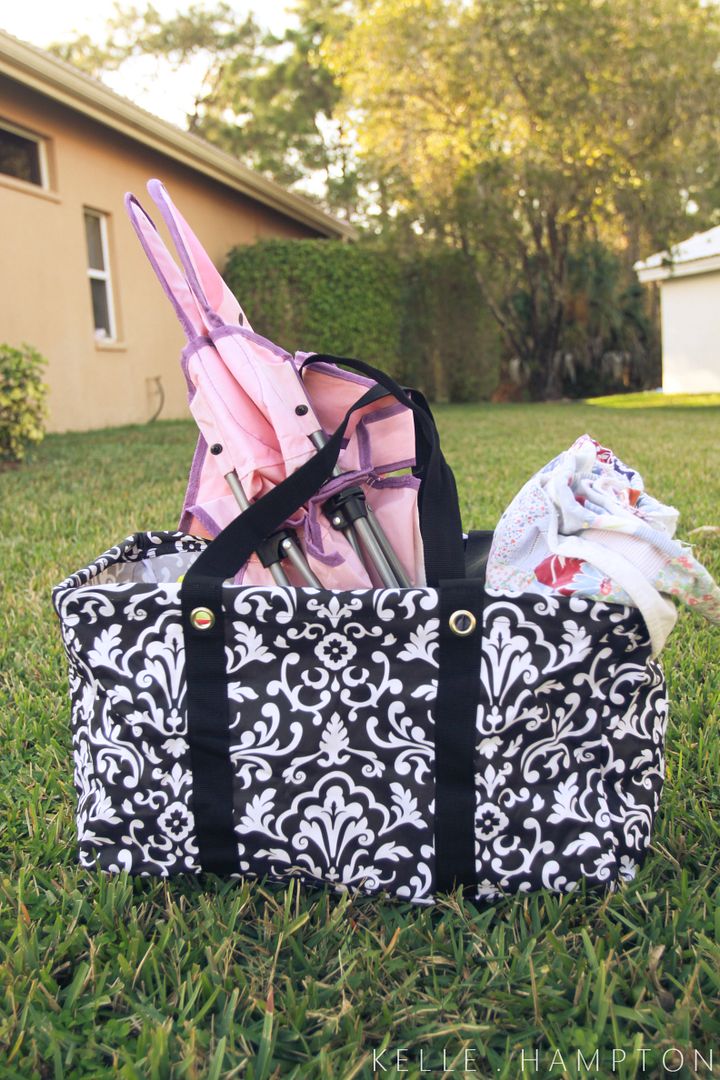 And Lainey & Nella's personalized cinch bags came in handy when I organized everything they'd need while I was in NY last week.
Totes are affordably priced, and there is a great variety of sizes available. Happy Shopping.
*****
Also joining Enjoying the Small Things this month is Mom Colored Glasses, a site dedicated to inspiring moms by providing ideas and information in a fun, well-organized way. One click on their site will lead you to a great collection of articles, recipes, crafts, forums, and little things that will surely make you happy. From ideas for better living to suggestions for both the best kid and mom books, it's a colorful, lively place to be–a great source for motherhood inspiration.
*****
I'm chasing life this week. Planning Nella's little party this weekend is helping.

Tea Party in the Woods to come. We will announce and celebrate the closing of Nella's 2 for 2 Fund after this weekend.

And in case you lost that beautiful piece ABC News did in my fiery sermon, you can watch it HERE.