I woke up early Saturday morning, fetched my coffee and tiptoed across wet grass to the back woods where a blank canvas awaited. In the gray haze of dawn, I began stretching twine from tree to tree, dangling tissue paper blooms and sweeping pine needles aside to create a welcoming place. As the sun rose higher and friends arrived to help, I scurried more quickly–in and out of the house, dragging tablecloths, hoisting chairs, calling for Brett to "Grab an extention cord!" "Bring me my scissors!" "Move that table!" …"Please."
But I love it. Set-up and tear-down is miniscule compared to the sweet moments in the middle. Thank you to Gary for helping set up, and thank you to Kaity who arrived early, stayed late and helped take many of these pictures so I could sit back and enjoy the party.
Nella's dress was made by my dear friend, Rebecca, who recently said "I've never sewn clothes." That was a week before she handed over Nella's beautifully detailed, fully lined dress…and then she made two more dresses the same week. Check out Vintage Giggles, her brand new website and her collection of handmade baby quilts, towel sets and burp cloths. Sister's on a roll. My other friend, another Rebecca, made Nella's fascinator. I'm convincing her to open an Etsy shop, stat, and I'll drop her link when it's done.
Party and vendor deets at the end of this post.
With no further ado…Tea for Two.

Thank you, Jen, for bringing that amazing flower display. It made the table!

Thank you, Poppa, for the tea cups!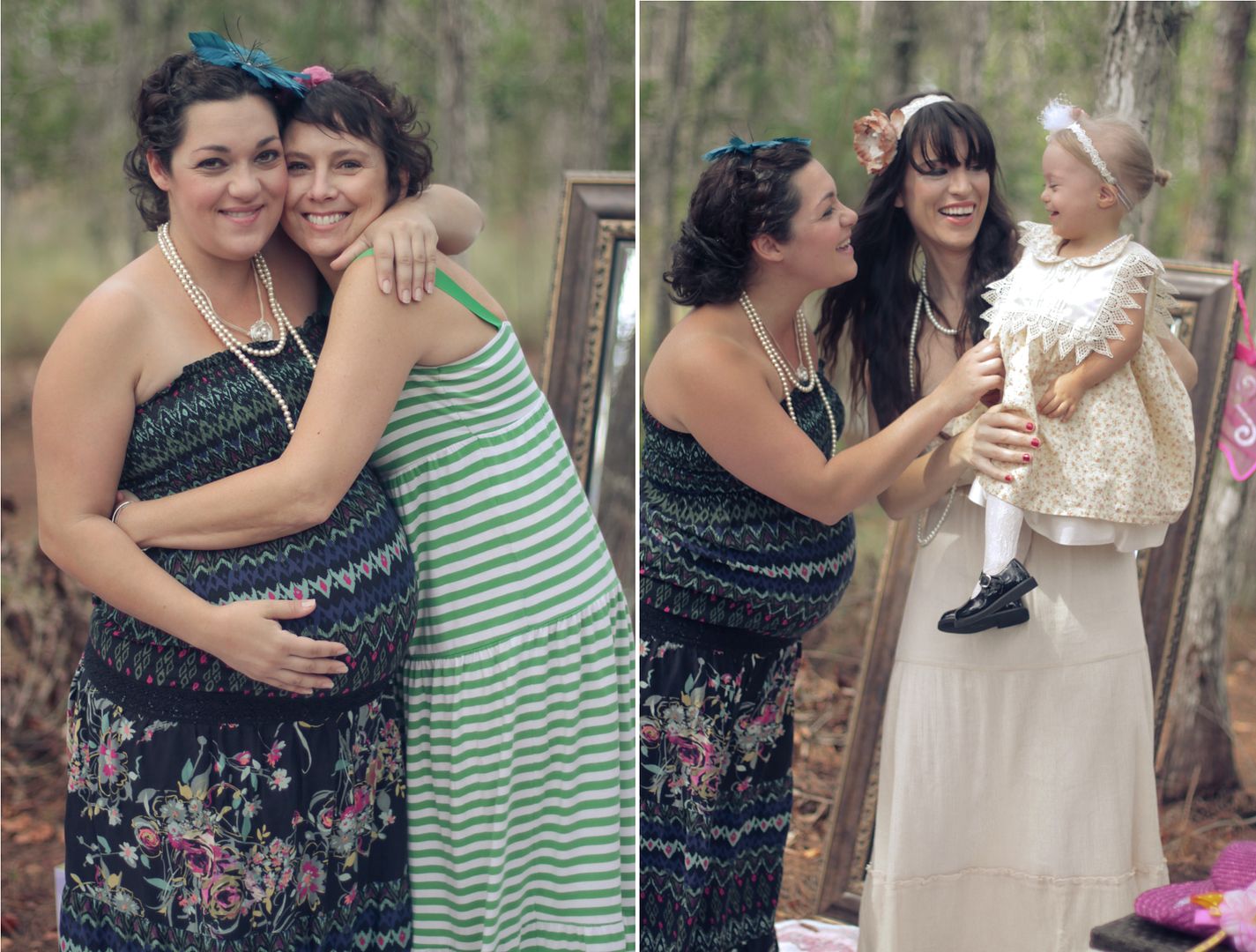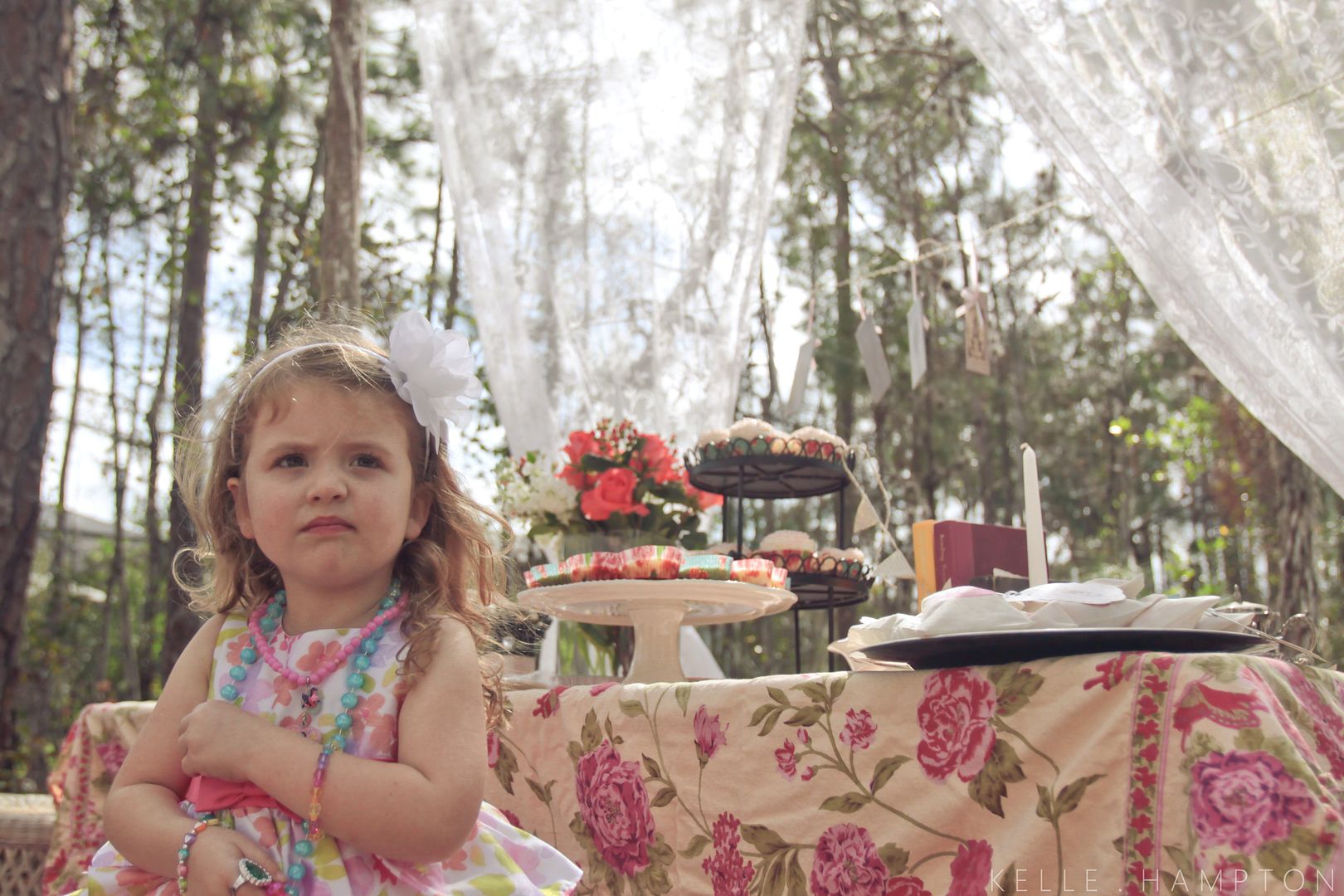 I've done enough kid parties now to realize where I've gone wrong and what works best for this age group. I started out thinking the more activities, games, crafts, the better, but oh how wrong I was. I've found no matter how many things I plan, the kids just want to play together. So, we do one easy craft and one quick game (usually a scavenger hunt because it's free).
Our tea party craft was a "Make your own tea hat" station at the entrance to the party. Mamas manned the glue guns, and girls decorated pre-constructed paper plate hats for the party.
Pre-construction: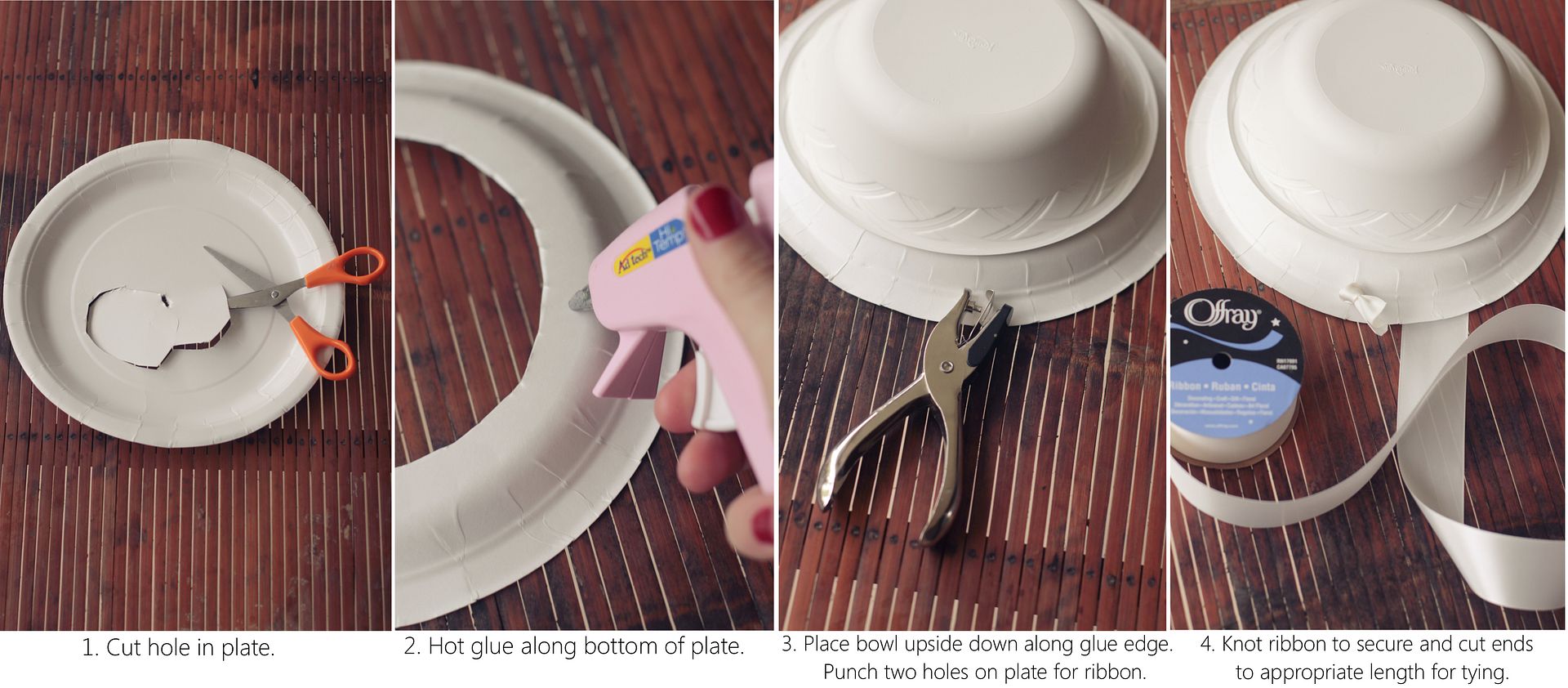 Girls chose from an assortment of silk flowers and feathers to create their hats.
Voila.
Our tea party game was simple. Throw 60 packaged tea bags around the yard and set the kids loose to find them.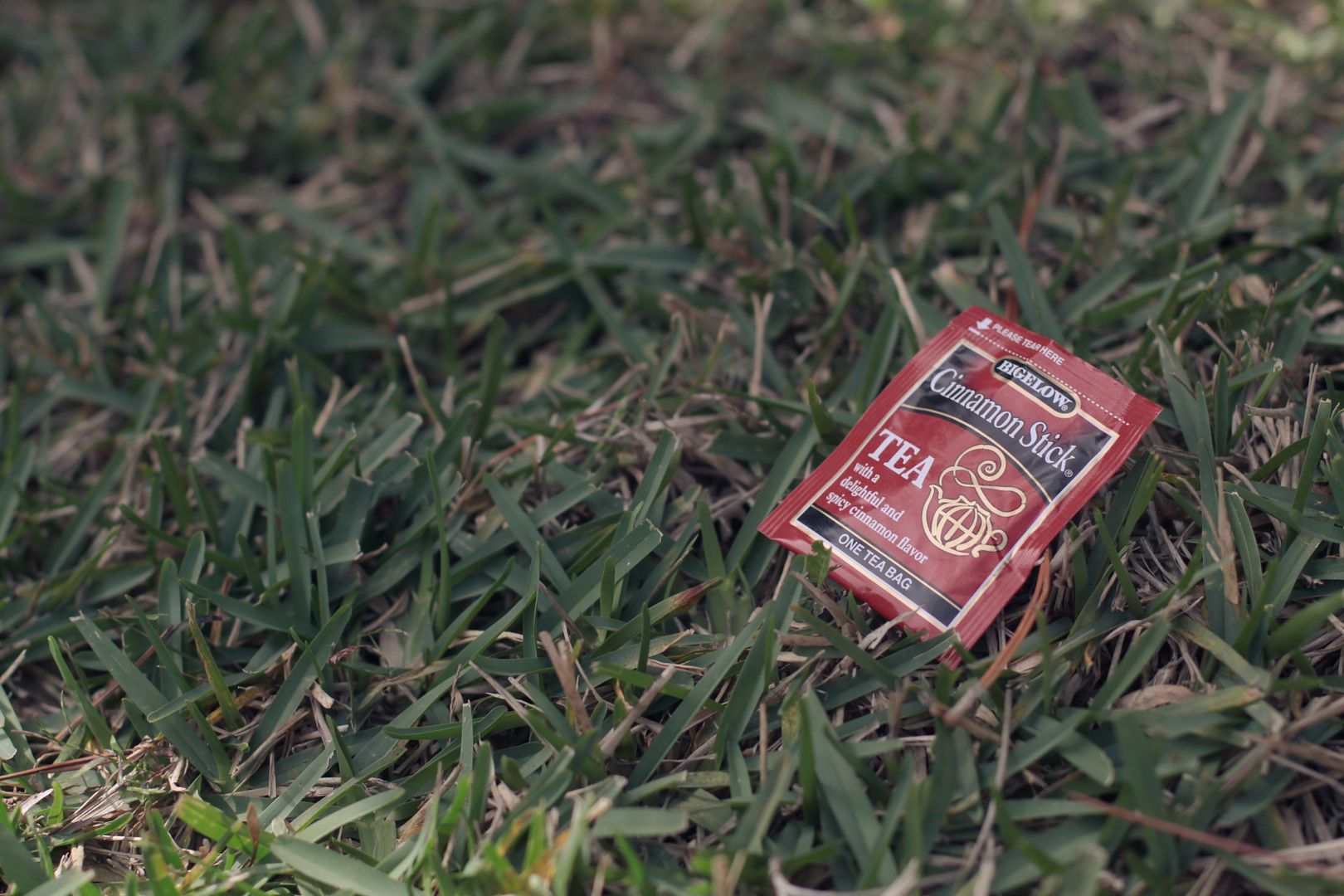 And the little girls took over the rest of the party.
And the tea-sipping part of it? Be still my heart. Nella knew exactly what she was doing.
And so did the rest of the girls.
We told stories on the "magic carpet" which ended up being a favorite part of the party.
I don't know how it happened but one story led to another and soon we were all chasing an imaginary elf whose character became topic for heated discussion. Half of the girls argued that he was a nice elf. And the fiesty ones decided the party would be far more fun if this hypothetical elf was naughty. Some even went so far to demonstrate the ferocious noises he made and described his appearance. "He's blue with claws and he looks like a mean dinosaur," Leah informed us. Thank you, Leah. You will go on to make blockbuster monster movies someday, I'm sure.
Nella finally couldn't take any more fun, so she slept through the end of her party in Laura's arms.
Party Favors for girls: They got to take their tea cup and saucer home and a little bag of goodies.
And for Mamas: Two notecards tied with twine and a shabby chic pen.
It was a special day indeed, and we're still smiling.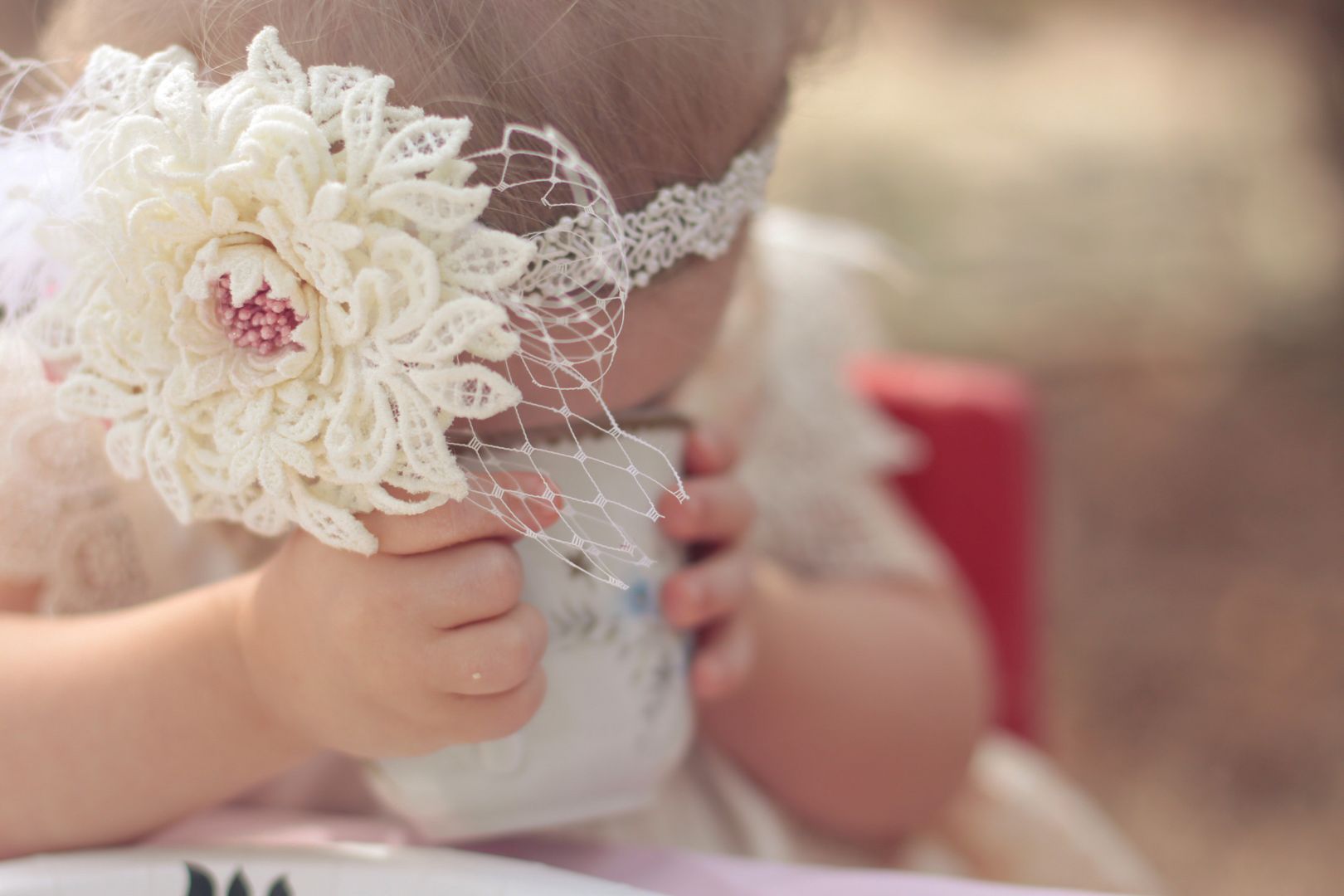 *****
Party Deets:

All decor, linens, curtains, etc. we already had or borrowed from friends., so there isn't much to list there.
Tea Cups: My dad bought the girls' tea cups from this great eBay store, Roses and Teacups. They offer a fantastic collection of inexpensive tea sets, and their customer service is impeccable. Their shipment of the cups we ordered didn't arrive to their warehouse in time, so the day before the party, they e-mailed "what time is your event tomorrow?" and, within five minutes, informed me they were overnight shipping a new selection of cups to arrive in the morning. Sure thing, they were there.
Stamped Favor Bags: Jennifer's Cookies Etsy Shop
Tea House Sign: I painted on a thin sheet of plywood, available at craft or hardware stores.
Nella's dress and headband: handmade by friends.
Tags, all party favor goodies and cupcake papers: Michael's Dollar Bins.

Menu: mini cheesecakes (Easy!: recipe here), cupcakes with buttercream frosting and pink pearl beads, blueberry scones, flower-cut ham & cheese sandwiches, crackers with brie, coconut macaroons, pink lemonade "tea"
*****
With gratitude, we wrap up Nella's 2 for 2 Fund.
*Since our first fundraiser, you've helped us raise: $202,993
*This year's fund included 2,632 donors
*$77,311 specifically dedicated to Nella's 2for2 (since 1/10/12)
*Largest donation = $10,000
*Second largest = $1,307
*Average gift = $10
*Donors are from 24 countries: Australia, Belgium, Brazil, Canada, France, Germany, England, Ireland, Israel, Italy, Netherlands, Norway, New Zealand, Oman, Peru, Philippines, Portugal, Singapore, Spain, Sweden, Switzerland, South Africa, United States
*Donations also came from US Territories and Military Bases
*Overseas donations were from 230 donors – Canada had the most and Australia had the second largest number of donors
*At least one donation came from every state, including D.C
And all this? Reading it makes my throat tighten. What a powerful thing, this Internet, and the way people can truly move mountains. We sincerely thank you so very much for what you've done. Big things, friends. Of course, you can still give to Nella's Rockstars throughout the year by clicking on the button on the right sidebar. And to see where your money goes, check out the NDSS Milestones video.
*****
Finally, introducing returning sponsor One Delightful Button. Shop owner, Katie, makes unique jewelry and accessories using both vintage buttons and buttons she hand creates. Everything is affordably priced and whether you're buying for yourself or a gift for a friend, One Delightful Button offers a variety of styles and colors to accessorize your look.

Red and White Stripe Button Earrings

Use Code NELLA for 10% off your order.
*****
Happy Monday!