I've intended to write something good and serious for the last couple of posts but then an hour before I write, I walk out a nice four-block stride to Pumped Up Kicks and when I come home, all I want to write about is happy little things. Like Nella kissing her glass reflection.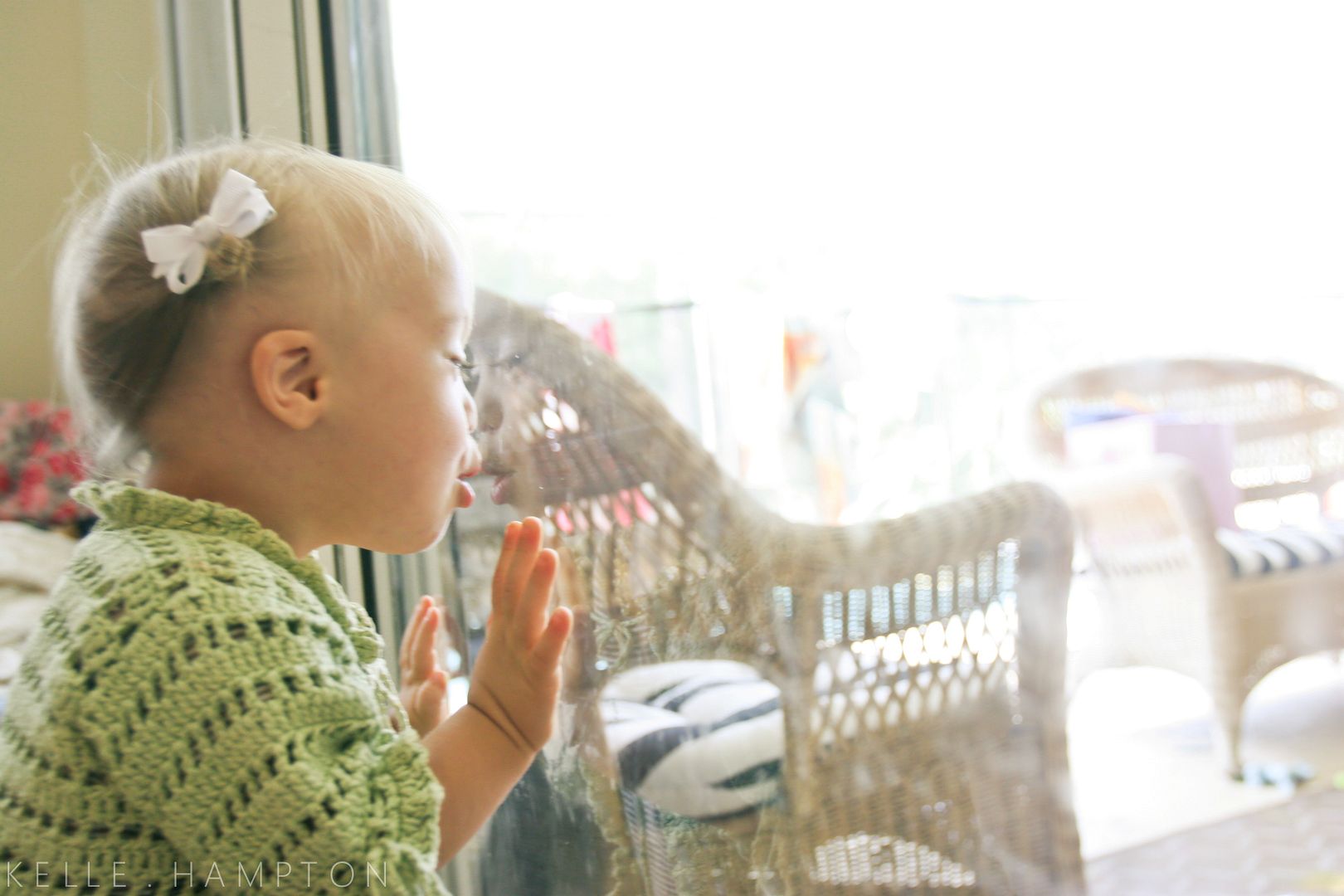 Or puppet shows.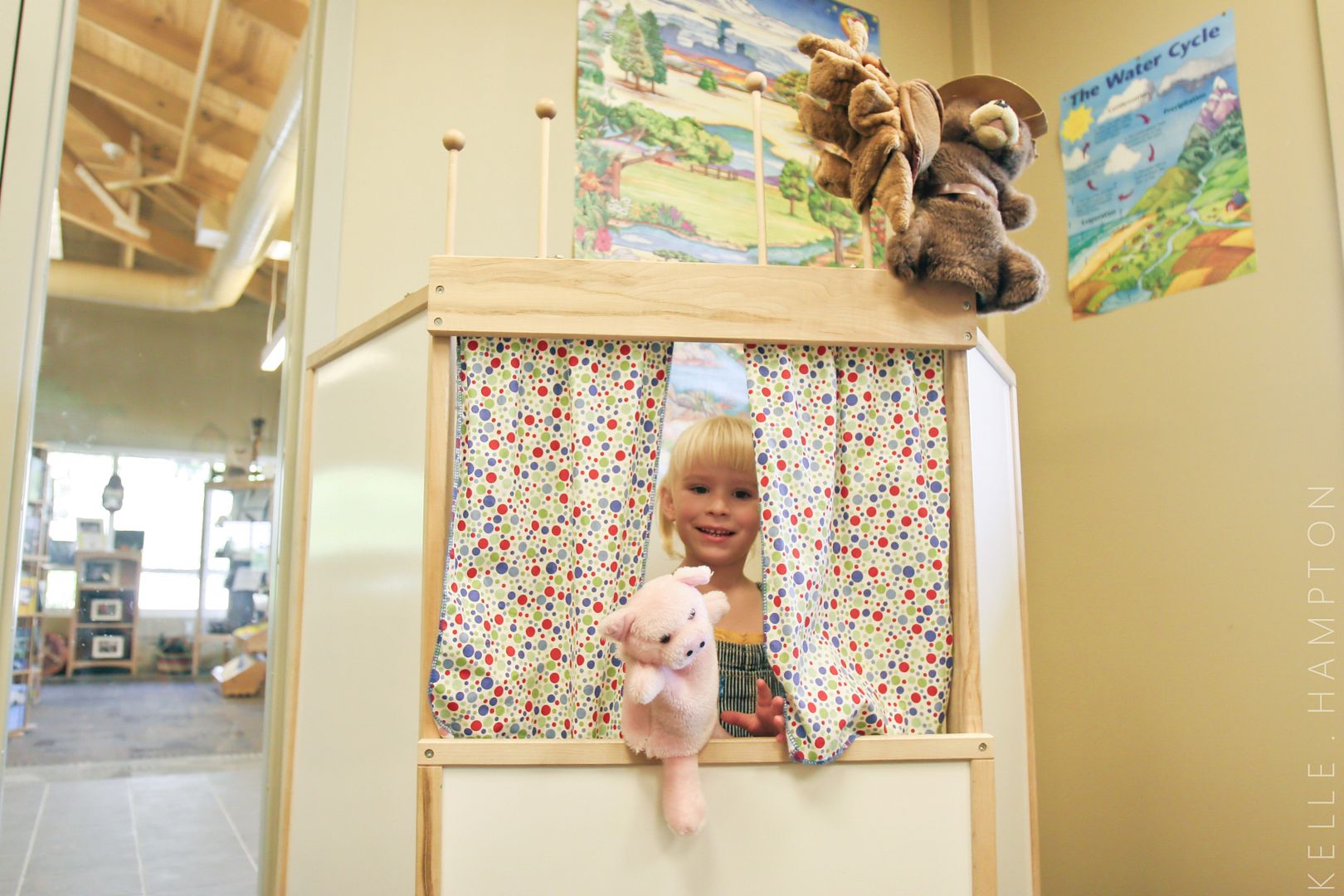 Because that is the heart of life, you know?
It is Down Syndrome Awareness Month, we have a Buddy Walk in less than two weeks, and an almost-two year old who is continuing to stretch our perspectives but more so, broaden the joy in our home. I have things to say about this, but my thoughts? I like to sift through them–separate the wheat from the chaff–before I write. So, I'm working on it. In the meantime, we're still making efforts to raise the roof on our Buddy Walk fund…if you'd like to help, every little dollar counts.
And to be honest, I could write and write about things I want the world to know. But I think I'm saying it with every post.
Read between the lines.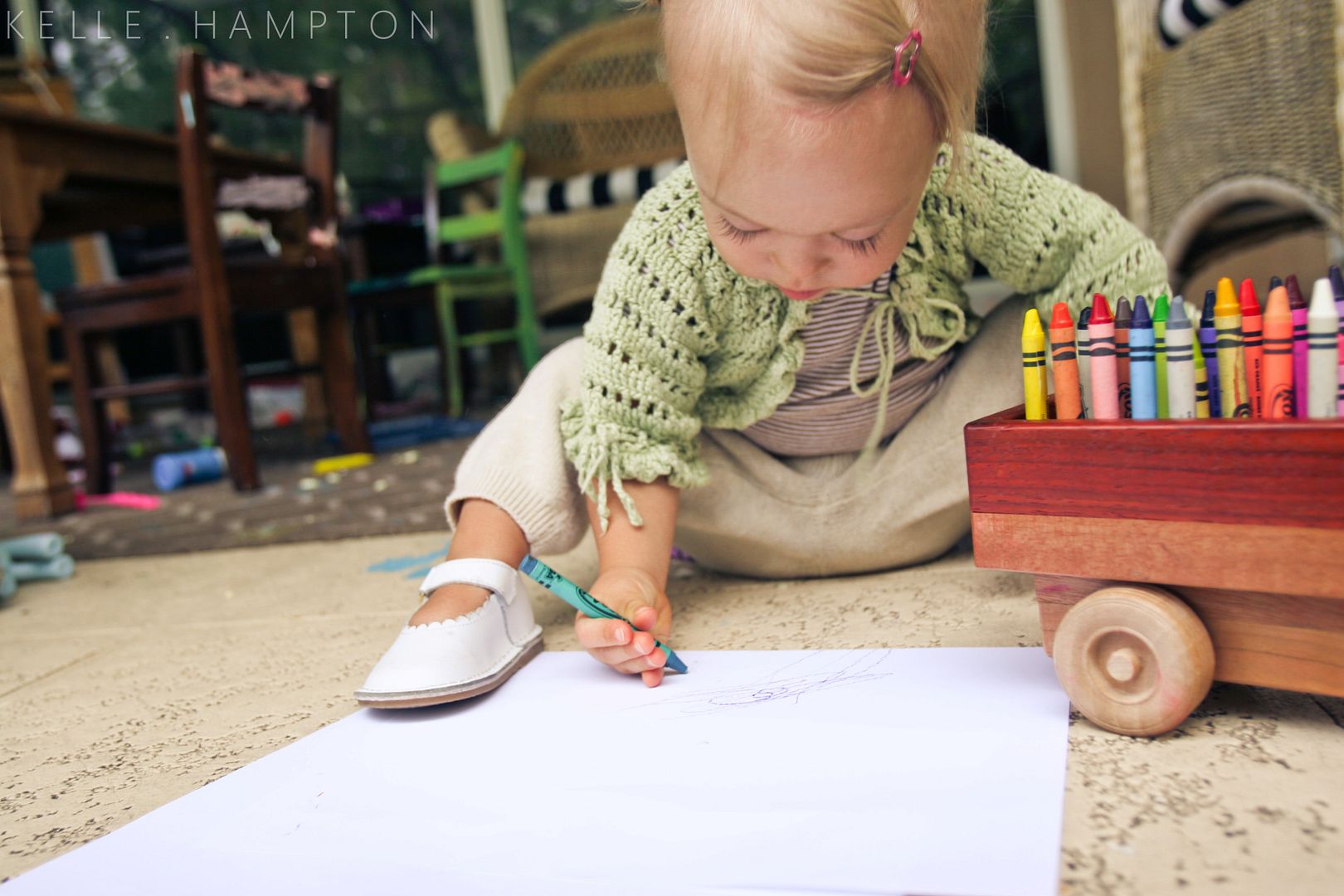 I trust you do that already.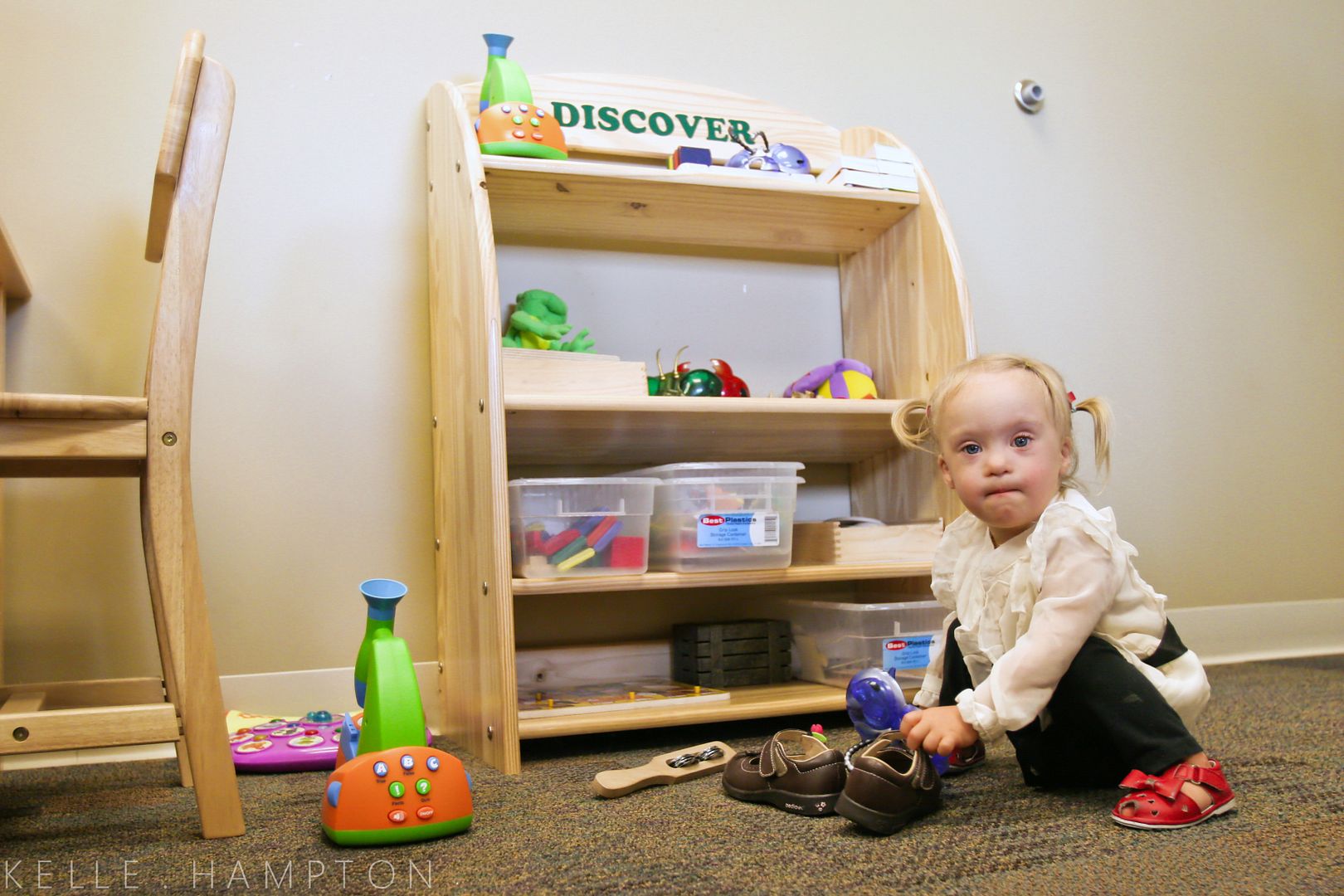 *****
So, where were we?
Happy little things.
*****

She Walks in Beauty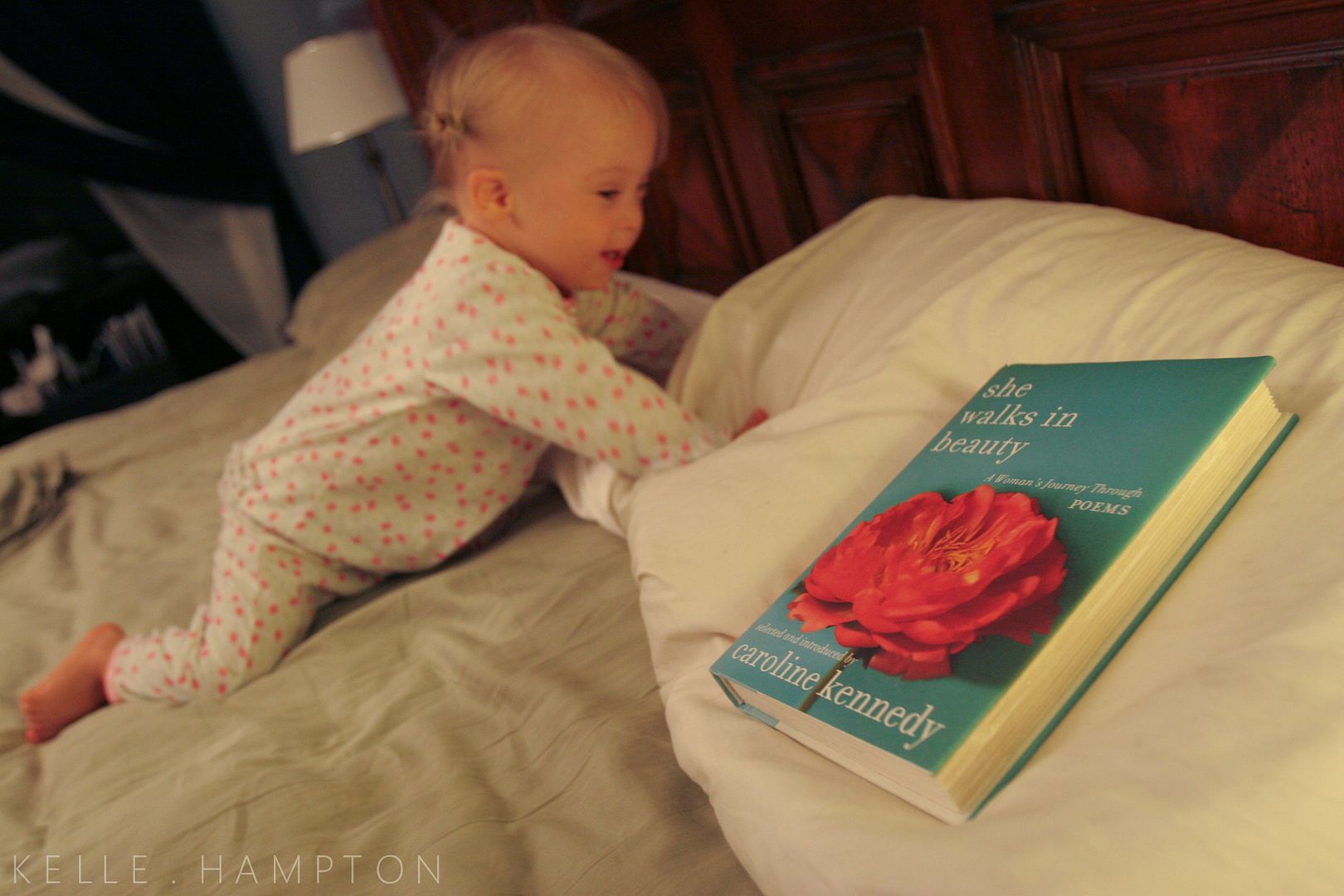 On my nightstand right now. It's been a little while since I've read for pleasure, and this book caught my eye the other day. I'll admit it was the turquoise cover. And the soft pages with deckle edges. But then I bought it and started reading it and realized, I really like it.
I read a ton of poems in college (English major–alright, alright…English minor), but I was in a completely different place in life and missed the point on most of them. This book calls for a highlighter.
Don't Scare Me
There is one rule in our marriage: don't you freaking scare me. Brett knows that I will legitimately knock his teeth out if he scares me, and we have some unspoken vows that I am allowed to throw punches if he sneaks up on me/jumps out from behind couches/greets me wearing any kind of mask. I'm not kidding, I can't even help it. You scare me, and I will instinctively crouch into aggravated assault mode. And he thinks this is funny. More reason to scare. And when my arms fly out all Dukes of Hazzard and swing, he laughs hard.
So I'm writing in the dark the other night, and he comes up behind me like this.
He is lucky he has all his teeth.
Overhead Lizards
Random but true: I love it when lizards walk the lanai screen over our heads. I think they know I love it because they try and get my attention whenever I'm underneath them.
Nella likes art.
She holds a crayon like nobody's business. She's got a nice death grip on a piece of sidewalk chalk. And, God forbid you start a craft project with Lainey without inviting her because Sister will come let you know that's so not cool.
Speaking of craft…
Fall continues to unravel its magic and, in searching for an autumn centerpiece for our table, I employed Lainey's help and looked to the woods for the only genuine remnants of seasonal shift we have.
Seek and ye shall find.

Why hello, bark. Hello, woodsy flowers. Hello you pinecone-producing evergreen!

Girlfriend will find Fall when she wants to.
Hence, my infatuation with these wheat-looking weedy things. I'd Google it for you and give you a proper title or call Gary the horticulturist and ask him, but I'm feeling lazy tonight and Gary is sleeping, so wheat-looking Florida weedy things will have to suffice. Regardless…it looks like Fall.
We still have pinecones.
So, Lainey and I went out and gathered a bunch from the woods, and Big Sister painted them all with metallic fall colored paints.
We sculpted some acorns out of clay (bear with me–at least we bought the clay and didn't blend it ourselves from organic mud), baked them, and Lainey painted them with gold and copper paints (store-bought…ha ha)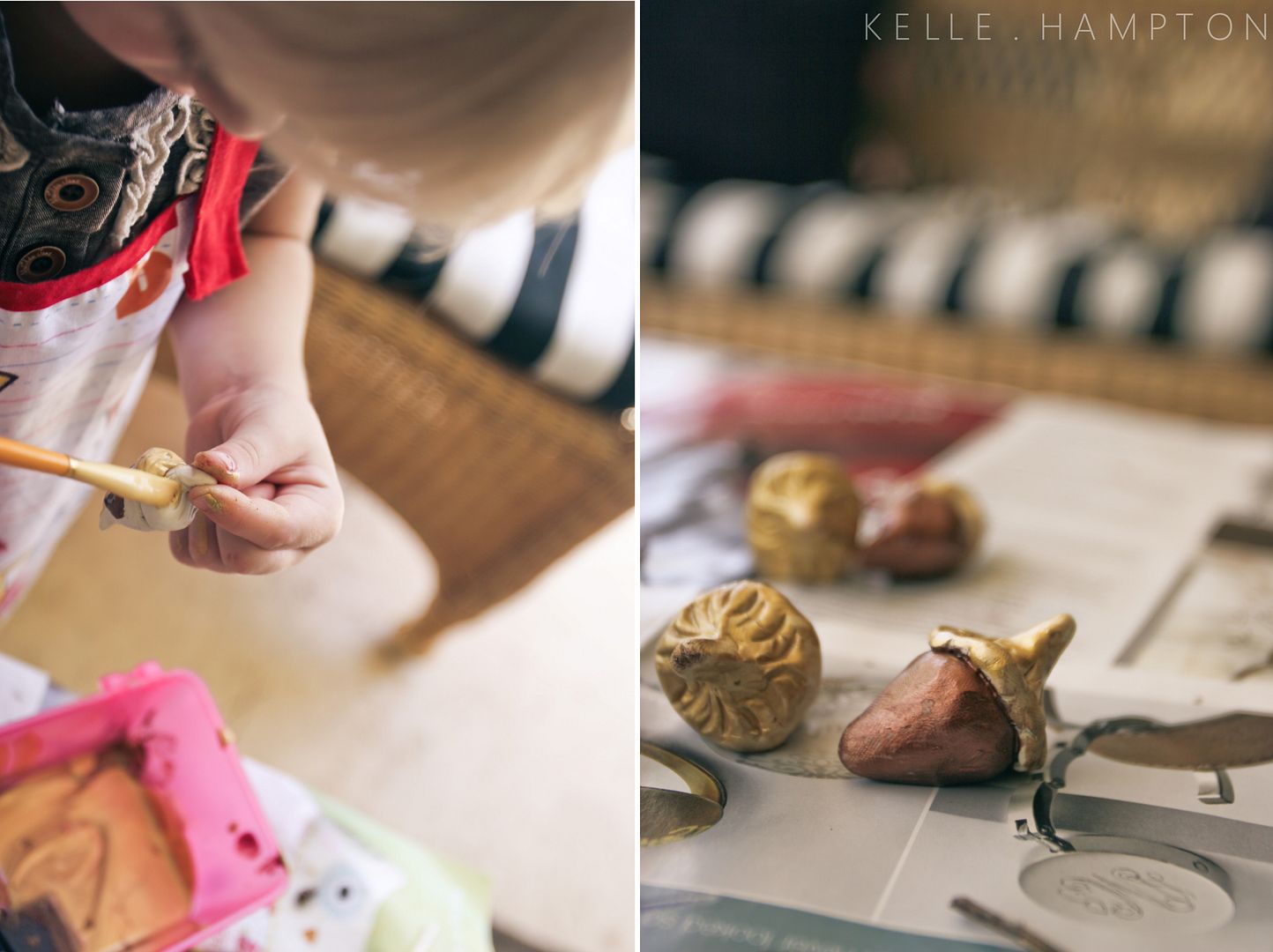 Painting acorns was her favorite part. She took to that job with a serious face and a steady hand and was very careful to make sure the gold didn't overlap the copper. Sister was a rockstar with that paintjob.

Pile hodge podge mess of painted pinecones, acorns, hollowed baby pumpkins and candles onto cake platter…and, Voila. Centerpiece. Lainey's pride for the finished product was worth it…minus the pumpkin cutting, she did everything all by herself.
Nail polish.
Last gushing on fall and, I swear, I'll zip it. I don't usually have time to paint my fingernails. Unless I am overcome by seasons. I don't see little bottles of nail polish…I see apple cider. Pumpkin pie. Scarlet maple. My nails beg to represent.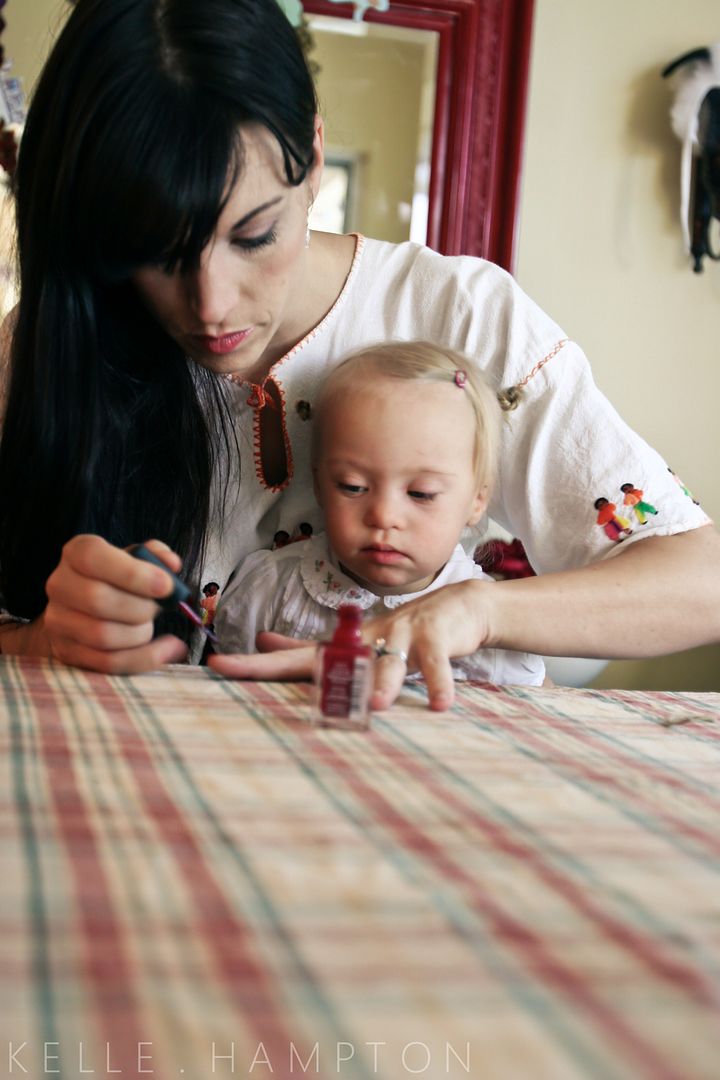 Nella's face is all, "Seriously? You are ridiculous."

Crisis.
I know it wasn't long ago I was all "I'm barley chicory root girl" but I'm over it, and I like my coffee again.
Which is why it is not cool our coffee pot broke yesterday. It brews a nice pot of hot brown water. The flip side? I've rediscovered my love for the simple french press.

Plants–you like? I am seeing if my green thumb has nine lives. We're on, like, seven. But our bay window begs for oxygen.

It has its own charming ceremony, and I'm loving how tres chic I feel when I'm tapping the glass of my french press against my mug to pour a steamy cup of just right. A new pot can wait (but if you have a coffee pot you love, do tell).
Computer Swiper.
When Lainey has computer time, Sister doesn't want to be left out. Her tippy toe stance to check it out just kills me.

So does the crap under my desk.

Tonight's Festivities
A trip to those majestic mountains.
Nella climbed the hill all by herself in the time it took for Lainey to run up and roll down about fifteen times.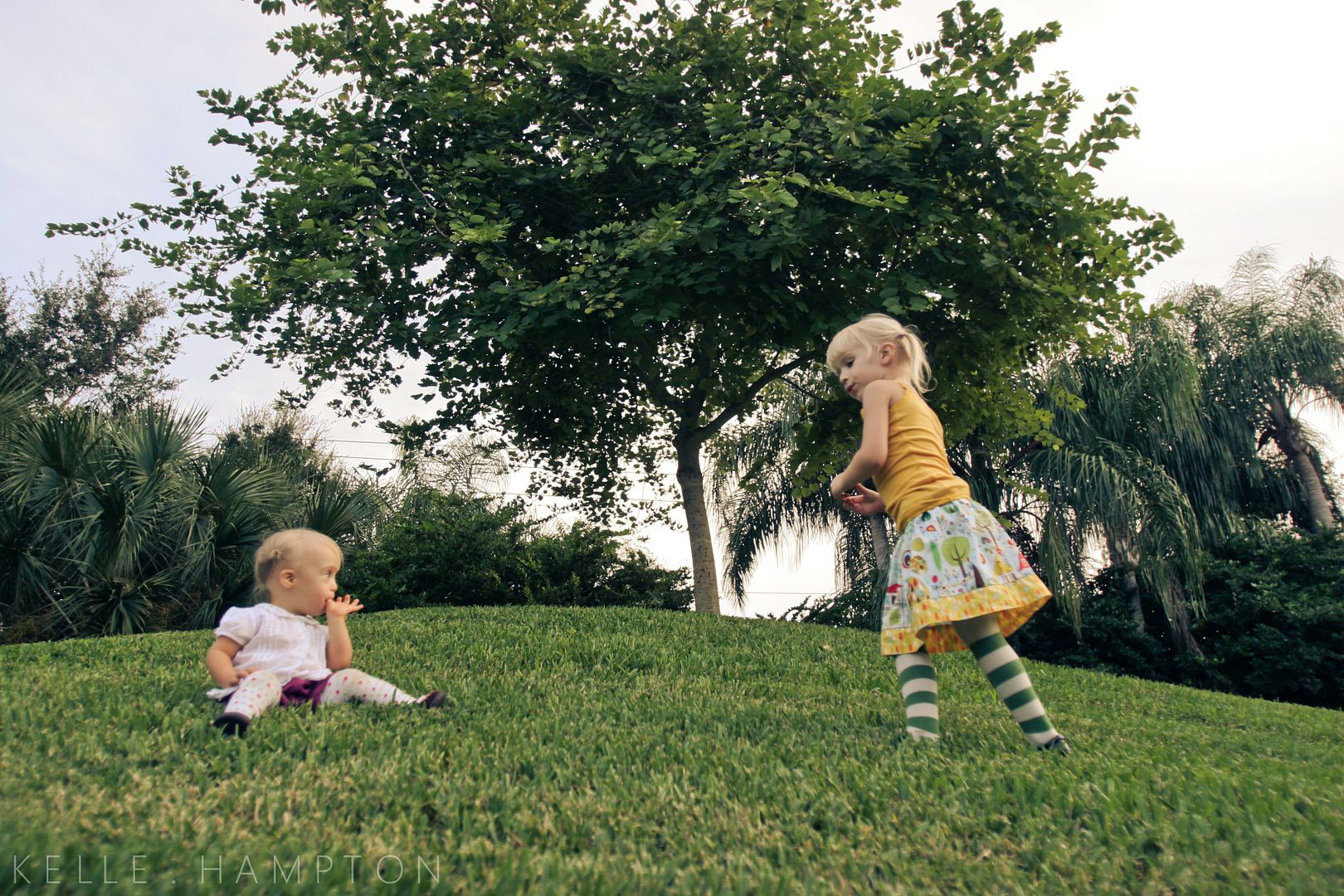 We passed a neighbor friend on the way there and I said, "We're headed to the mountains." And he was all WTH?
Stubby hills, mountains. Tomato, tomahto.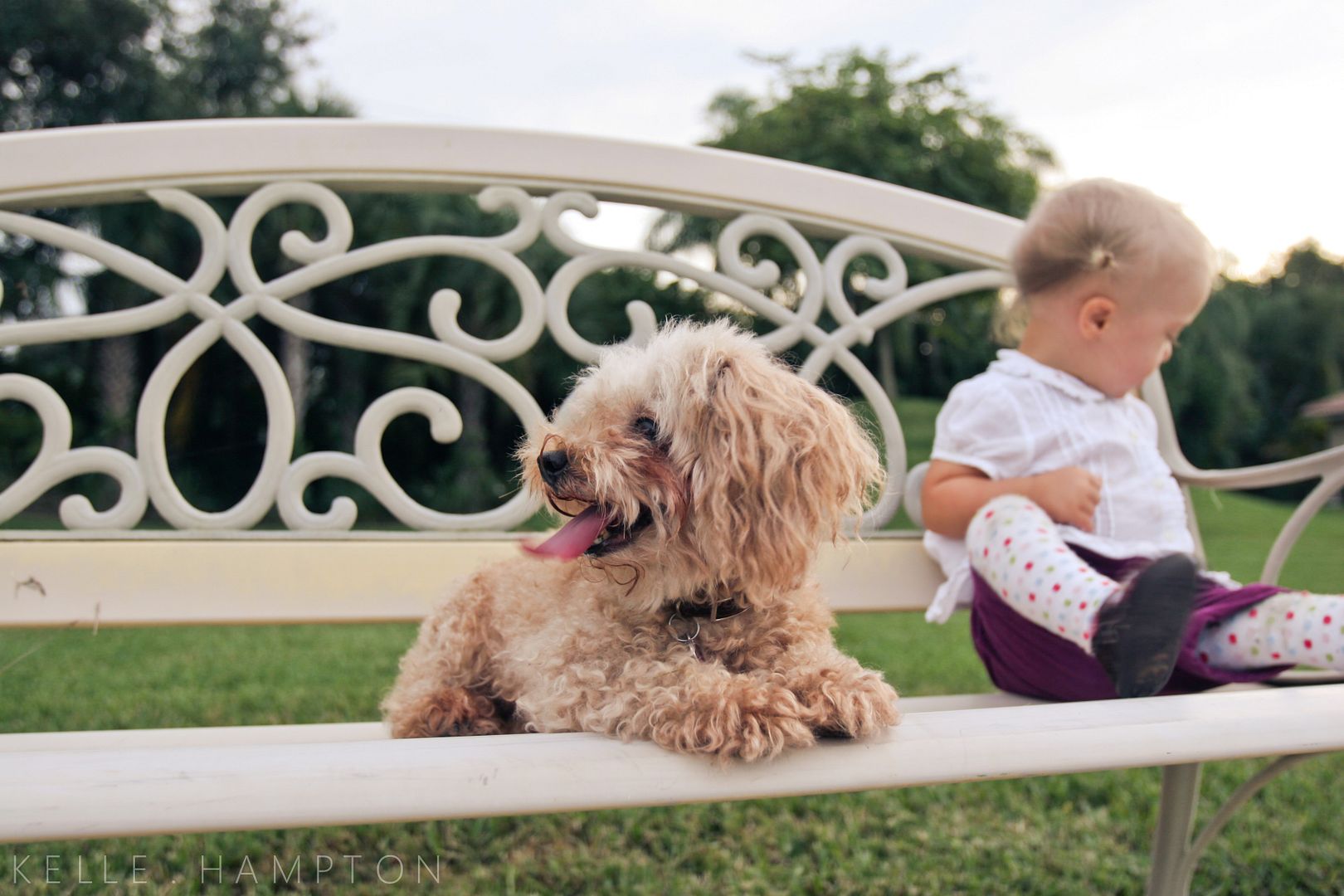 Boo
And my favorite part tonight: We booed. Many of you, I'm sure, are familiar with it, but if not…become acquainted. I had never heard of it until I married Brett and realized it was something he had been doing with his boys every year in our neighborhood. You start mid-October and hope it trickles until Halloween.
We started by printing off three copies of this. We included these copies in three bags of treats we arranged to deliver to neighbors. And then you sneak out in the dark, pick a few houses, ring the doorbell, leave the treats…and run before the neighbors see you. They find the treats, mark their door with the ghost as having been "booed," and they continue the fun in nights to come until as many houses as possible have been booed before Halloween.
Lainey was beside herself. And every time I watch her get so excited that her eyes are wide and her speech is breathless, I am that much more motivated to do these things.
As we tiptoed past street lights and into the driveway of friends, whispering and hiding behind bushes, I watched my girl smile and beam and thank us with her eyes for making memories. I said to Brett after our first ding-dong-ditch, "Babe, she's going to talk about this when she's twenty, you know," and he smiled and said, "oh, I know. Why do you think I do this?"
I love traditions.
And that is it. The end of a Wednesday post.
*****
I'd like to introduce a lovely new sponsor, The Power of Moms. The Power of Moms is, as they describe, a gathering place for deliberate mothers. It is a site that not only provides a place where you can be empowered to be the mother you are meant to be, but a place where you can encourage others with your voice. Check out their Deliberate Mothering Videos and join (for free!) a network of moms who share meaningful ideas on a range of topics from organization to finding time for yourself. I checked out their videos this week and love their transparency–these are genuine mamas wanting to create a place where you can connect and feel safe, find information, be inspired…and inspire others!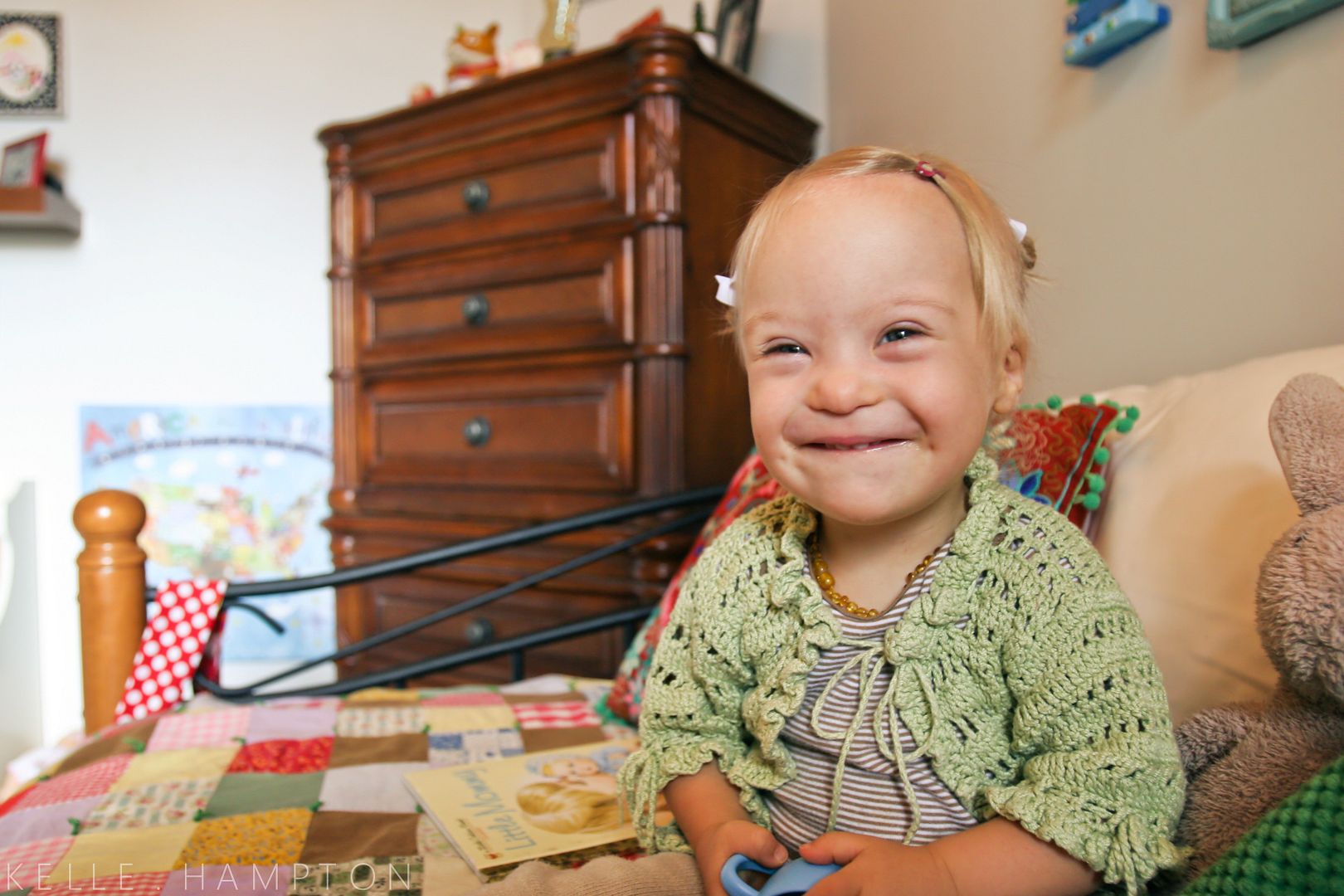 *****
And now it is late, far past my bedtime.
I'm off to bed before Brett jumps out as a werewolf and loses an eye.
Happy, happy little things to you and you and you.