I introduced a friend to Parenthood for the first time last night–which feels a bit like leading someone to a secret island where there is buried treasure you know will change their life. As if the show isn't already emotional in that 'Parenthood will GUT you' sense, we watched it together–me, on the night after celebrating my first born's 9th birthday; her, stretched across my couch, her hands resting on a small hill of a belly where her first baby grows. For three hours (yeah baby, three episodes in a row), I felt turned-inside-out, more than usual, from the very thing that tied it all together in that moment–Parenthood, literally and figuratively. I was inclined to be the obnoxious person who keeps interrupting a good show with condescending explanations and commentary–"It's really like that, just wait and see"; "Uuggh, this part makes me cry–I've so been there."; "She loves her kid so much–can't you just feel it?"–but I didn't because no doubt my friend already feels it, and also I try hard not to be that girl. So I stayed quiet, instead calculating the fact that I have been a mother for a mere quarter of my life now, but cannot even remember what it's like not to breathe love every moment of every day for someone that belongs to me–at least for a little while. Mother time weighs more than real time, so let's just say I've loved this child for half my life.
Over the past nine years, I've saved a few trinkets that define her current year, stashing them in a big bag in my closet with the hopes of one day, years from now, stumbling upon it–maybe with her as we pack her bags for college or gather up her things for her first home or search for treasures for grandbabies–and suddenly remembering, "Oh my God! Zhu-zhu pets! You loved these! Squinkies! You had 100 of them. Shopkins–Lainey they were your world!" She grows and graduates from small windows of her life–quicker than ever now–while I pause to reflect on how much joy that little phase brought us. From the butterfly rattle to the Elmo doll, through My Little Ponies and Fur Real Pets, to Rainbow Loom bracelets and Shopkins. These little loves are reflections of the big loves that will one day embrace her and carry her into the world–the studies, the places, the people, the passions. But for now there's charm necklaces and sticker books, and swimming and crafts. She wanted the latter two to team up for her birthday party theme, so it was "Splish, Splash, Arts & Crafts" this year. A little from our 9 year celebration this past weekend…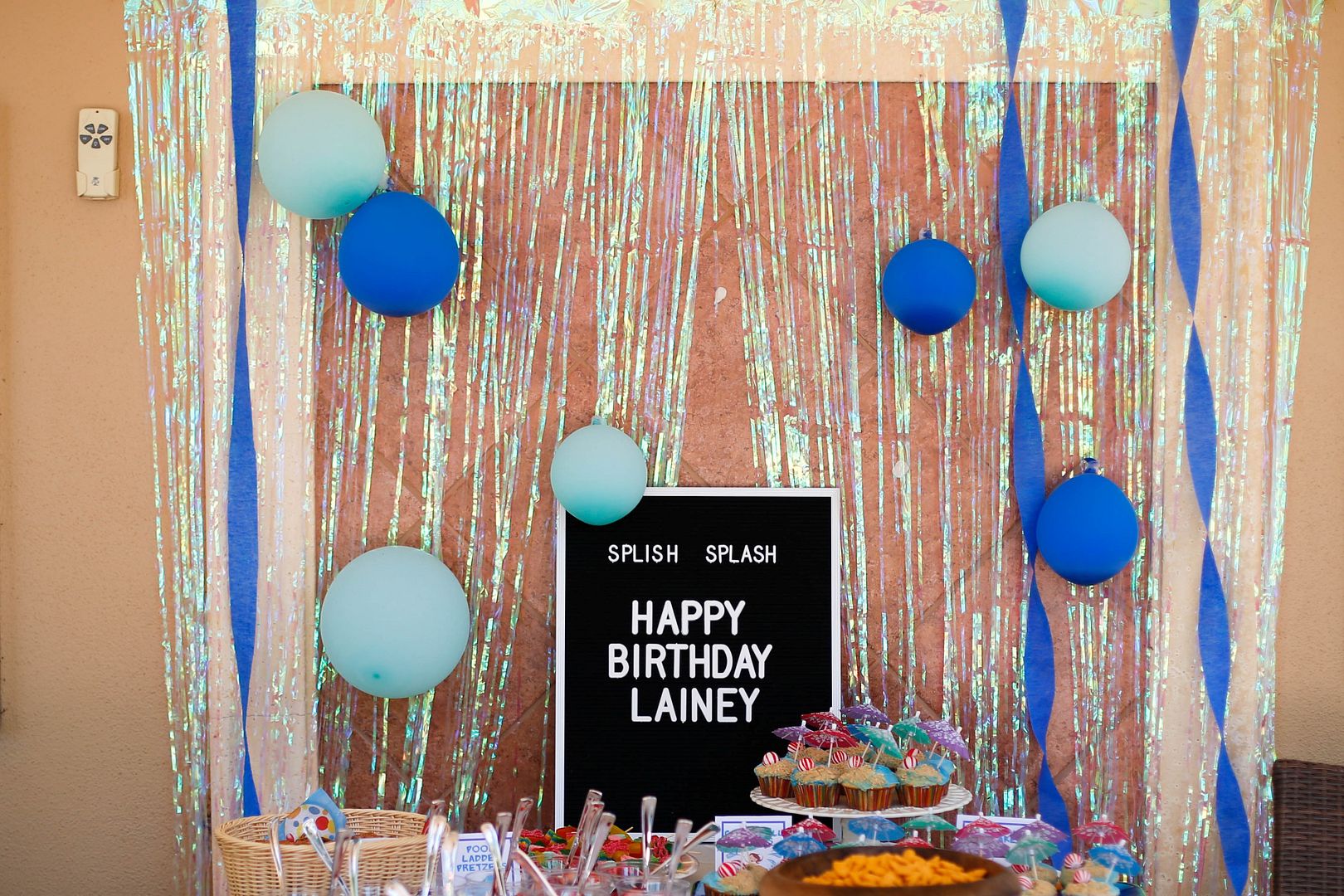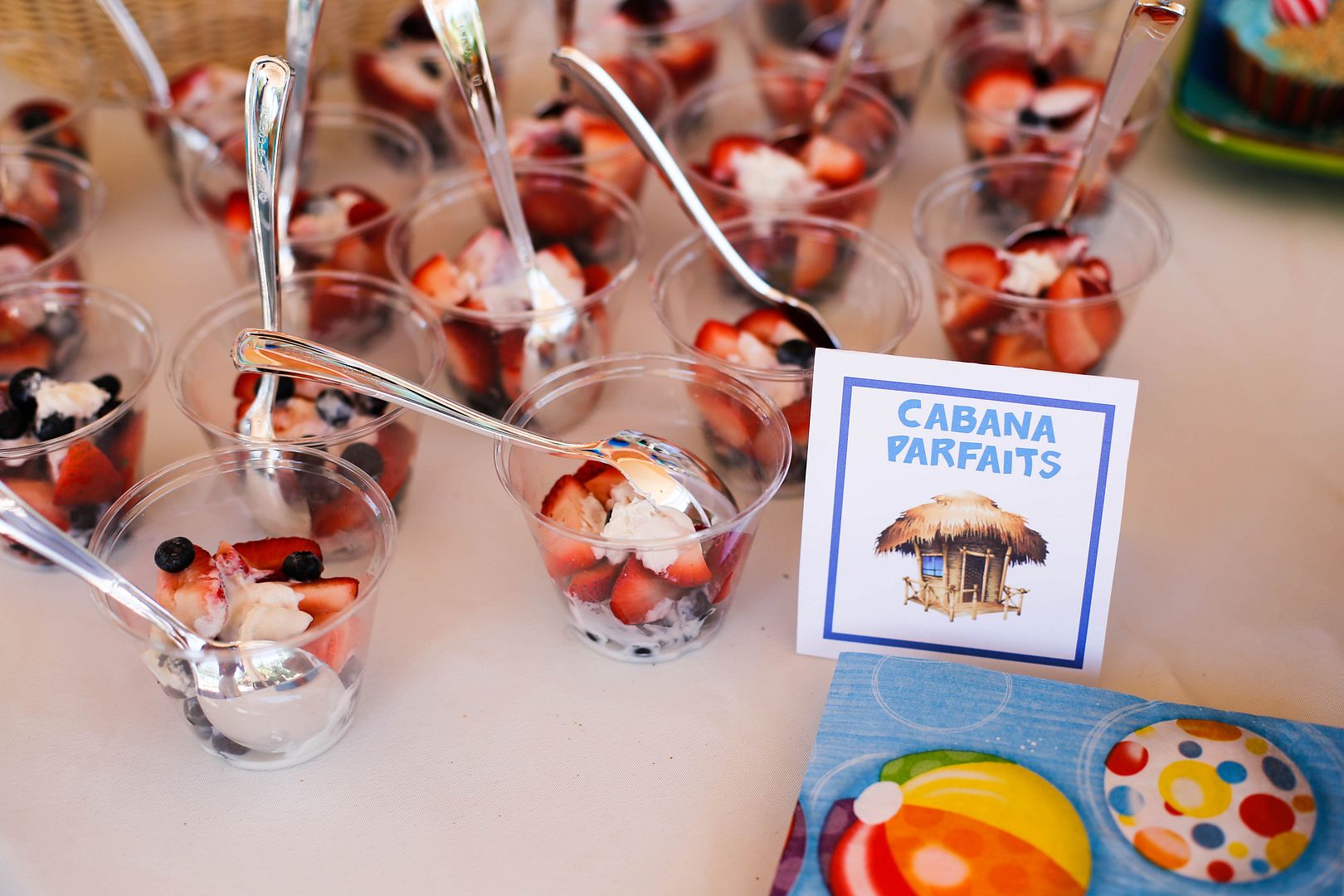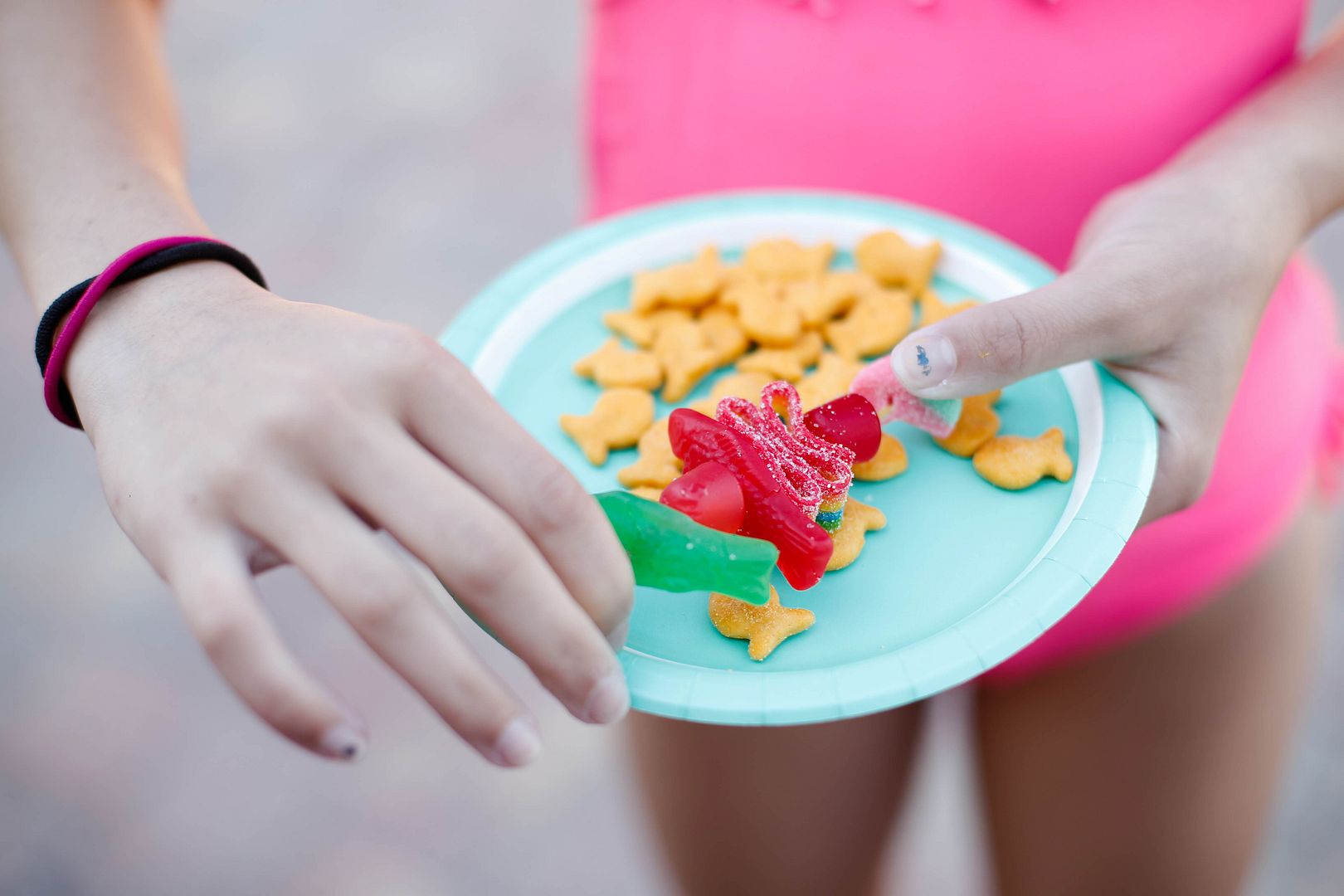 We set up three craft tables that didn't require any mom help:
Design Your Own Water Bottle

bulk neon sport water bottles, Sharpie oil-based paint pens
Decorate a "Pool Tote"
…and Make a "Pool Tile" Necklace
I love using these "jello shot" containers for parties. They work great for making individualized kits for each kid. These had an assortment of glass beads, a pre-cut necklace cording and a clasp to tie once finished. Kids rotated stations on their own, and it was smooth sailing and mess free–just the way we like it.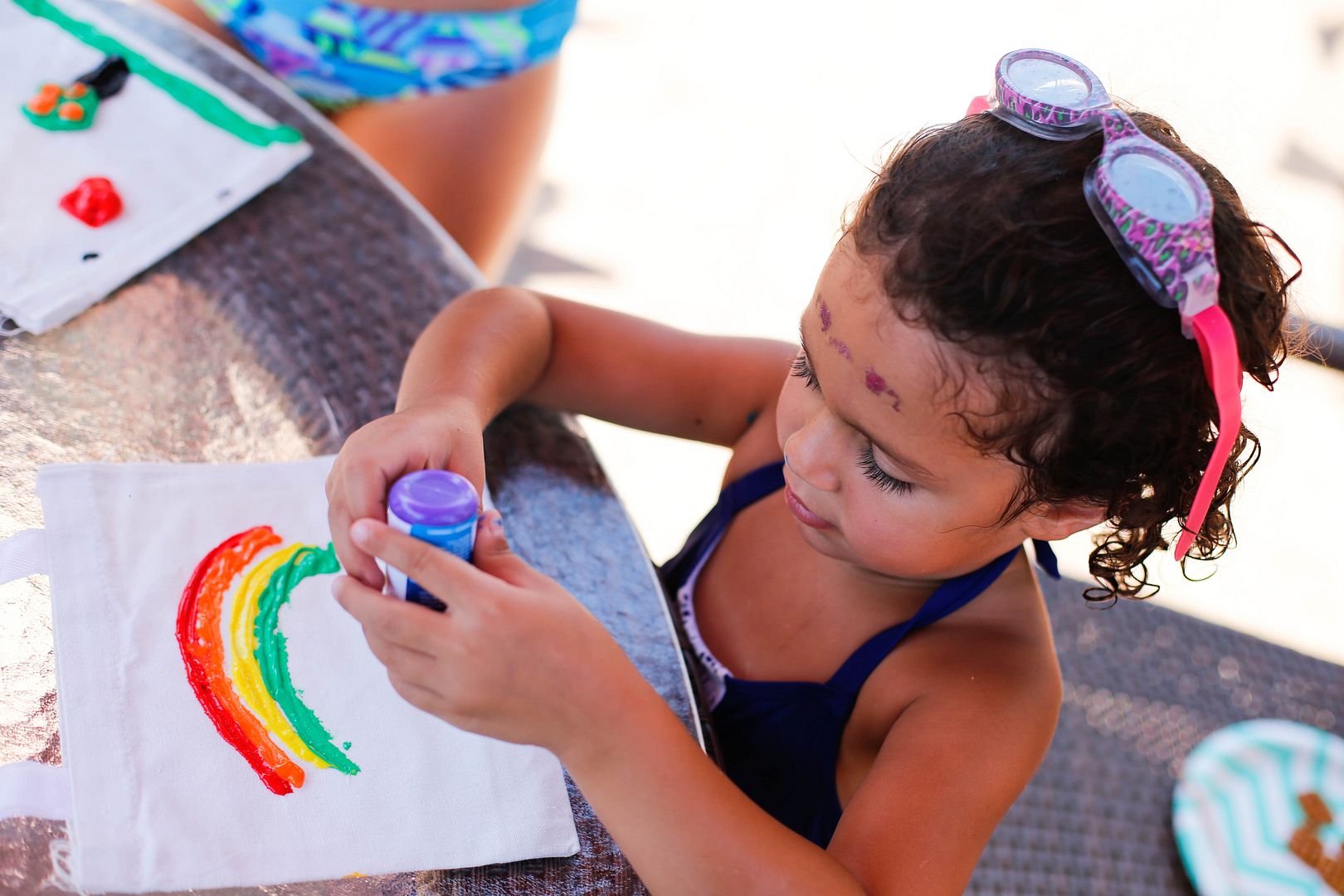 The big hits were the pool floats (pretzel pool float, pizza float)
…and the money dive game. My dad brought a big bag of change and scattered it all over one end of the pool. We set the kids free to collect it all, and the top two amount winners won beach towels, and everyone got to keep their change. Winner strategy was definitely to go straight for the quarters.
Super easy and inexpensive party favors–dollar section packs of lipgloss; tuck one and a few pieces of candy in a little paper bag (Michael's), seal with blue glitter washi tape and paint on some glitter waves.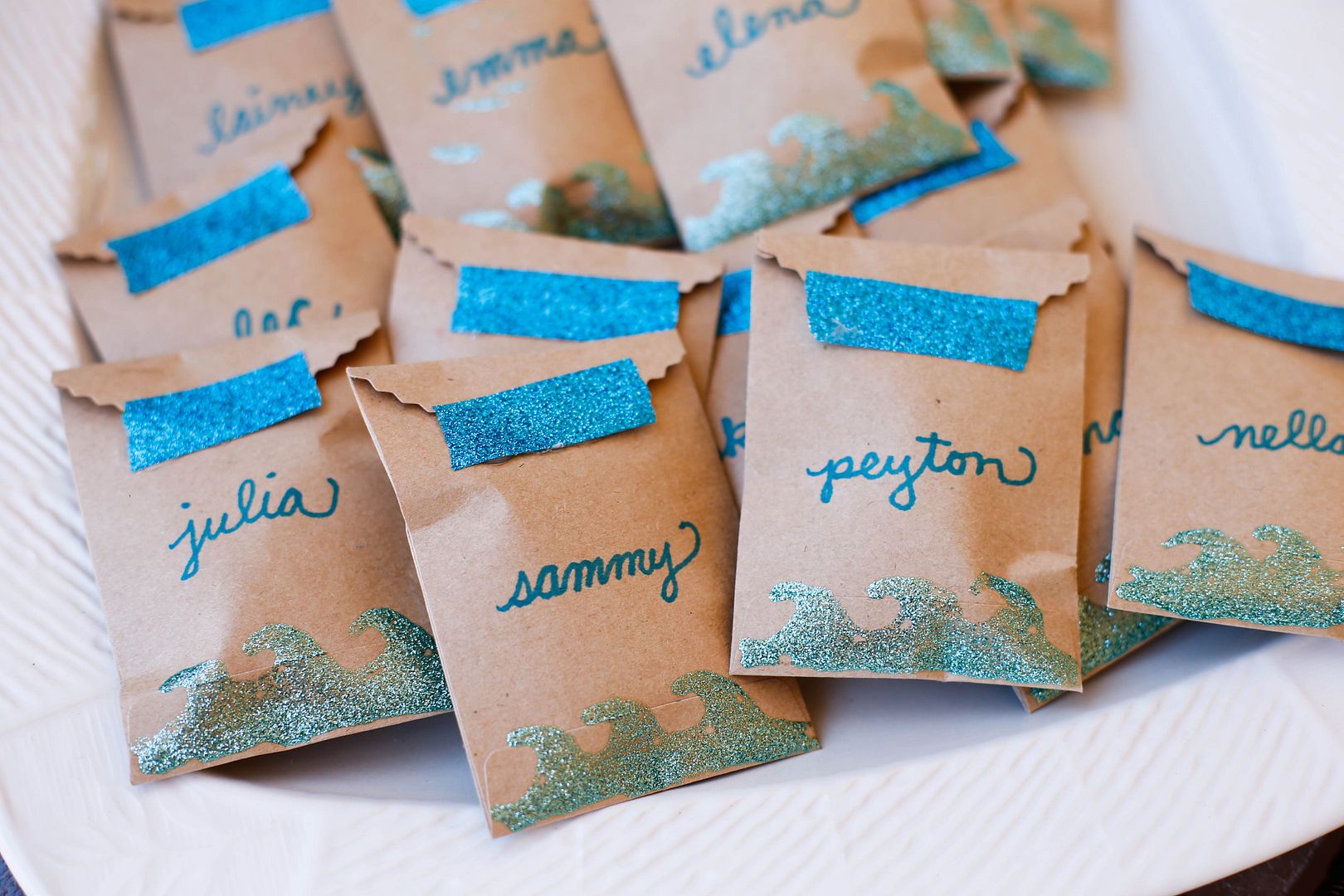 It's our last single digit year…to many more charms on her necklace. xo