Step on a Lego lately? Tired of finding Shopkins wedged between the couch cushions? Got a few Barbie shoes hanging out in the bathtub toy net? Home overtaken by tiny shit? Hear ye, hear ye: a solution for all. Actually, I was trying to think of something fun the kids could make at Nella's Barbie-themed birthday party and wanted to use up some Barbie shoes that are everywhere in our house except on a Barbie's foot. And since I have a few minutes before the Never-ending After School Errand Adventure begins, I thought a short little post with our Tiny Shit Find-It Game might be fun. Except we won't call it Tiny Shit Find-It Game this weekend. We're calling it:
You'll Need:
16-oz Juice Bottles (one per kid) We used these ones.
Colored Rice, a little less than a pound per bottle (we just used regular food coloring to dye dried rice)
Funnel
Tiny Toys. You can use Barbie shoes, Shopkins, Legos, etc. Just make sure they look different and you keep track of what's in the bottle so kids know what to look for. We are making sets of 10 different Barbie shoes for each child's game. Because these kids are preschool age, Lainey helped me make photo keys for what each child needs to find.
Have kids funnel their rice into their juice bottle, pausing periodically to drop a Barbie shoe in until all of them have been placed. Fill the bottle almost completely with rice, but leave a little bit of space to allow movement/shifting. The more tightly the bottle is filled, the harder the game is.
Secure the lid, shake the bottle up, and shift to find each shoe on the list.
Found the green one!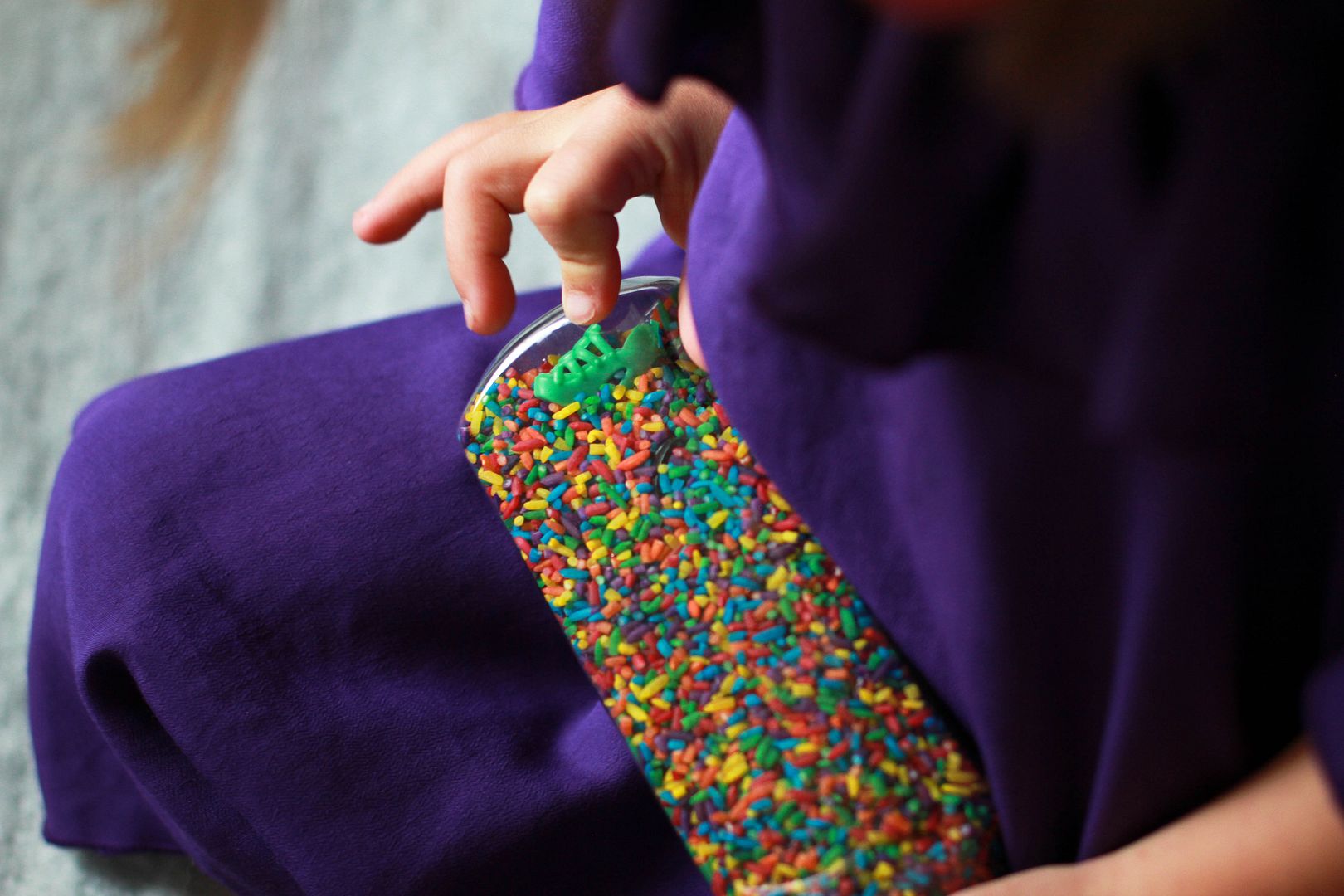 Nella loves it and quickly got the hang of how to move the bottle to find the shoes. Easy peazy. I wonder how many of these we'd have to make to clean out our junk drawer.