I used to record what my kids were loving every single month, scratching endless notes on loose leaf paper and tucking them in the baby book where the given lines under "monthly milestones" couldn't contain all I wanted to remember. Things like…
You love avocado now. You run into the kitchen when you hear me doing dishes so you can climb in the dishwasher, your favorite place for mischief. You love Goodnight Moon and Twinkle Twinkle. You'd eat scrambled eggs for every meal if we let you. You love your new blue flip flops. You like to pour your own bath soap, and we let you.
Every single month, I wrote them down–a page for each child–until life with three kids got too busy, and I recognized my effort to write down every love, every month, for every child was another way of hanging on too tight to what would never stop changing…time.
There are still occasional notes written down and tucked in the books–things that are too good to let go, too funny to forget. And the rest, we summarize in our birthday parties–a celebration of what our kids love and who they are. For Dash and his fourth year, it's garbage trucks. Or, as he shouts every Tuesday and Friday morning as he runs to the viewing perch at his bedroom window, "The jerbage truck is coming!"
The bonus in choosing a garbage truck theme for a party? EASIEST. PREP. EVER. You decorate with…wait for it…
…trash.
As in, save some newspapers, egg cartons, tin cans and milk jugs, and then pile it up and call it decorations.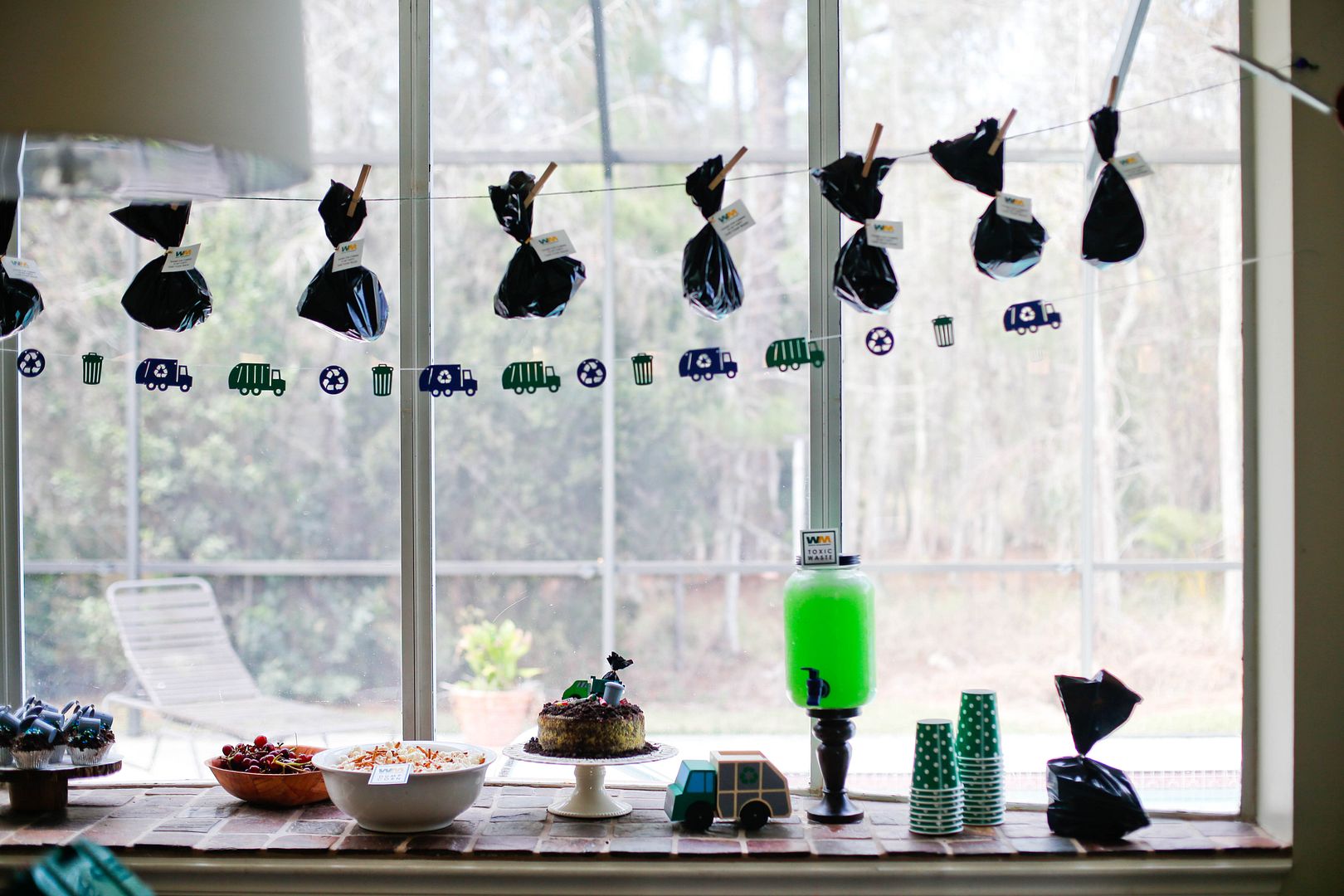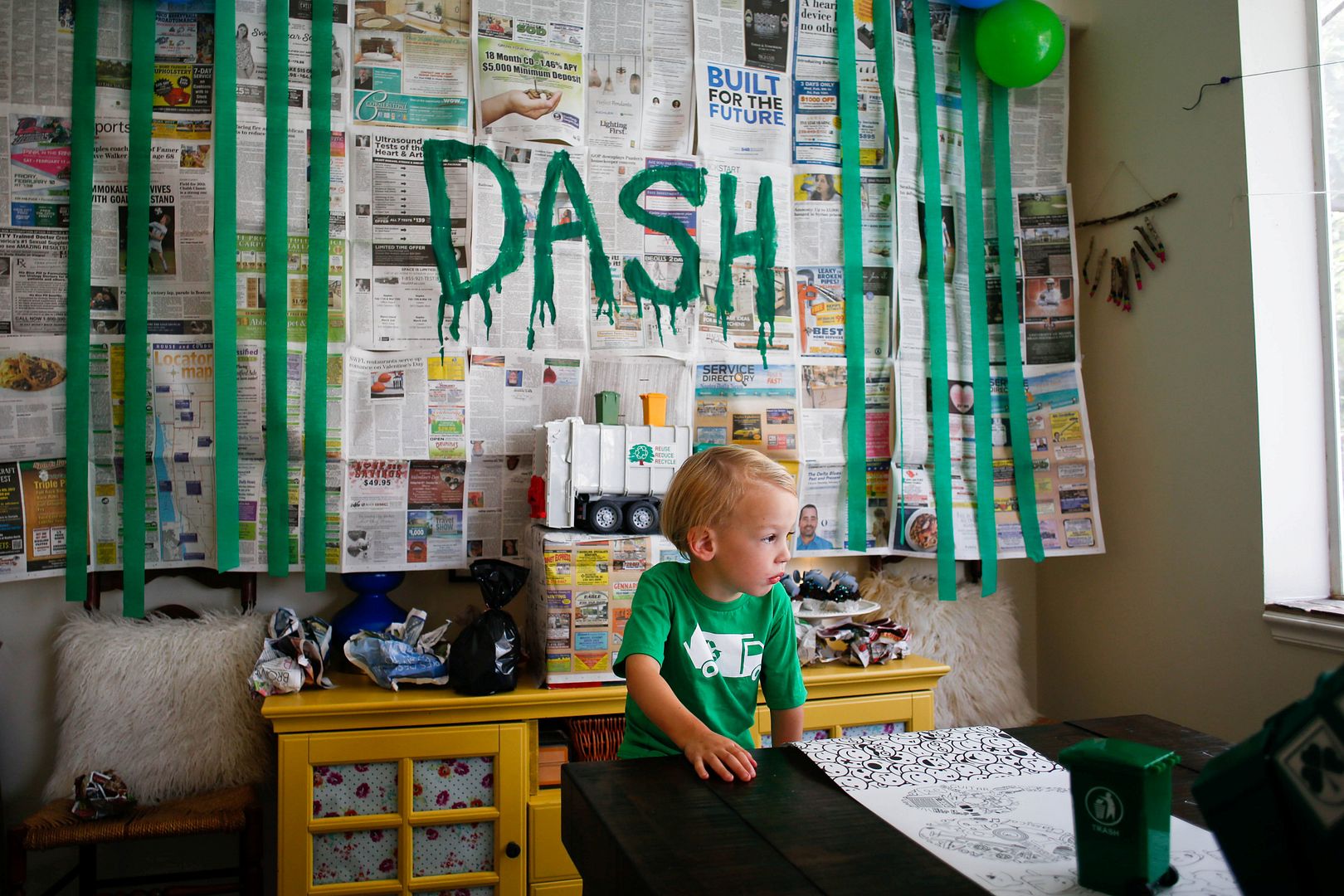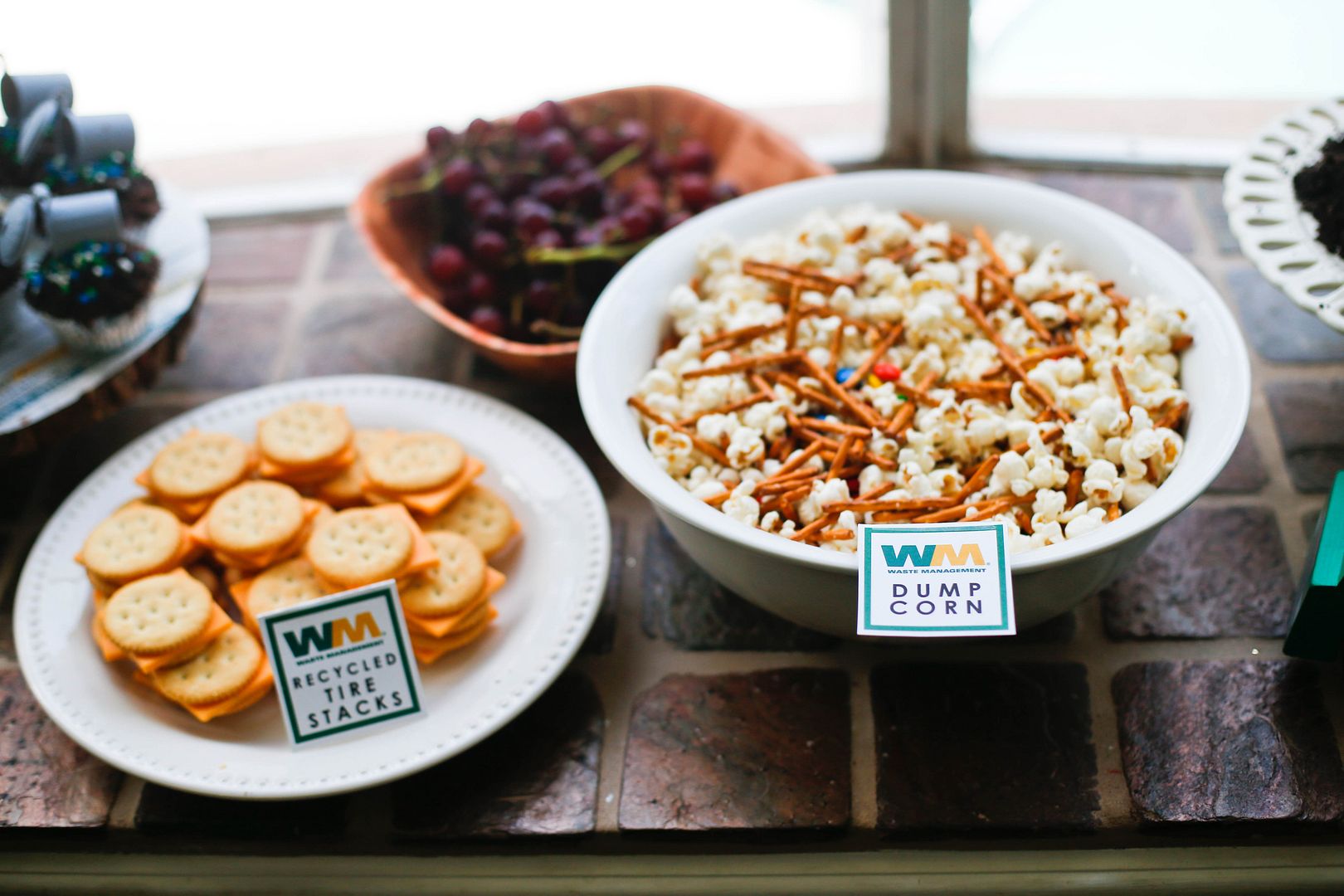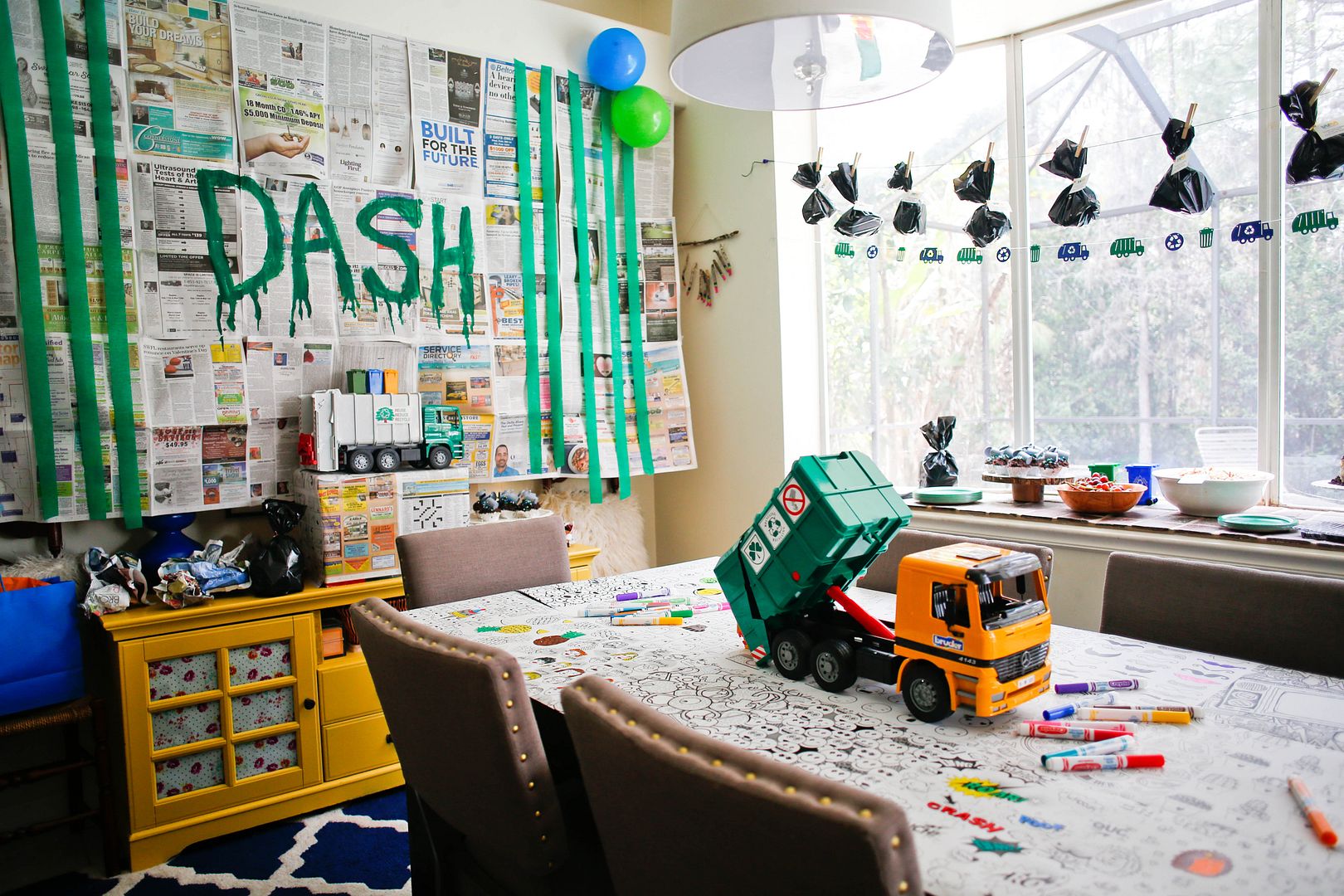 I'm learning where to cheat and save my energy for where motherhood needs it most right now, so I bought a store bought cake (Wynn Dixie chocolate cakes are so good!) and decorated it in FIVE MINUTES. Scrapped off the top, dumped some crushed Oreos and arranged a toy garbage truck and a few dollhouse miniature newspaper and groceries.
We did make the cupcakes, but they were easy too, thanks to tipped over garbage can cupcake toppers (there's a list of links for all the party details at the end of the post).
Party favors: treats in a trash bag.
Some favorite moments from his party: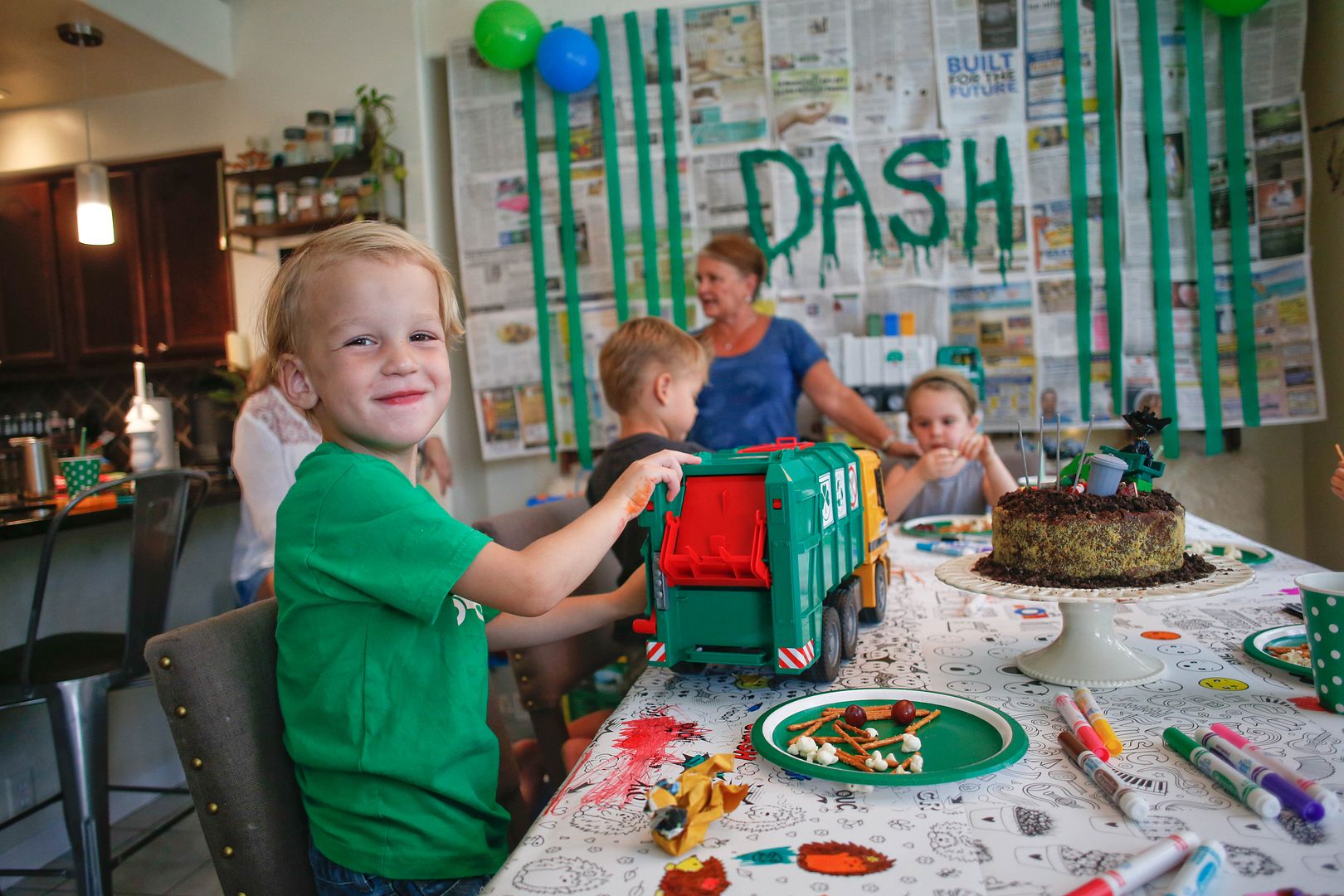 We played a trash toss game…
…and had an art station where kids were encouraged to make new treasures out of old trash. On one side of the table, I piled up recycled bottles, cans, cartons and cardboard, and on the other side, put out a bunch of craft items I found in my craft closet–tissue paper, pipe cleaners, moss, beads, pom poms, fabric and paper scraps, sequins, glue, washi tape, etc. And then it was a Project Runway challenge…except with garbage.
The kids got creative and made sculptures, vases and collages with their garbage.
The little ones' favorite game was the Trash Pick-up Relay–two teams that raced to fill their garbage can first, collecting and dropping one piece of garbage at a time using a grabby hand picker-upper. That's the official name for it, right?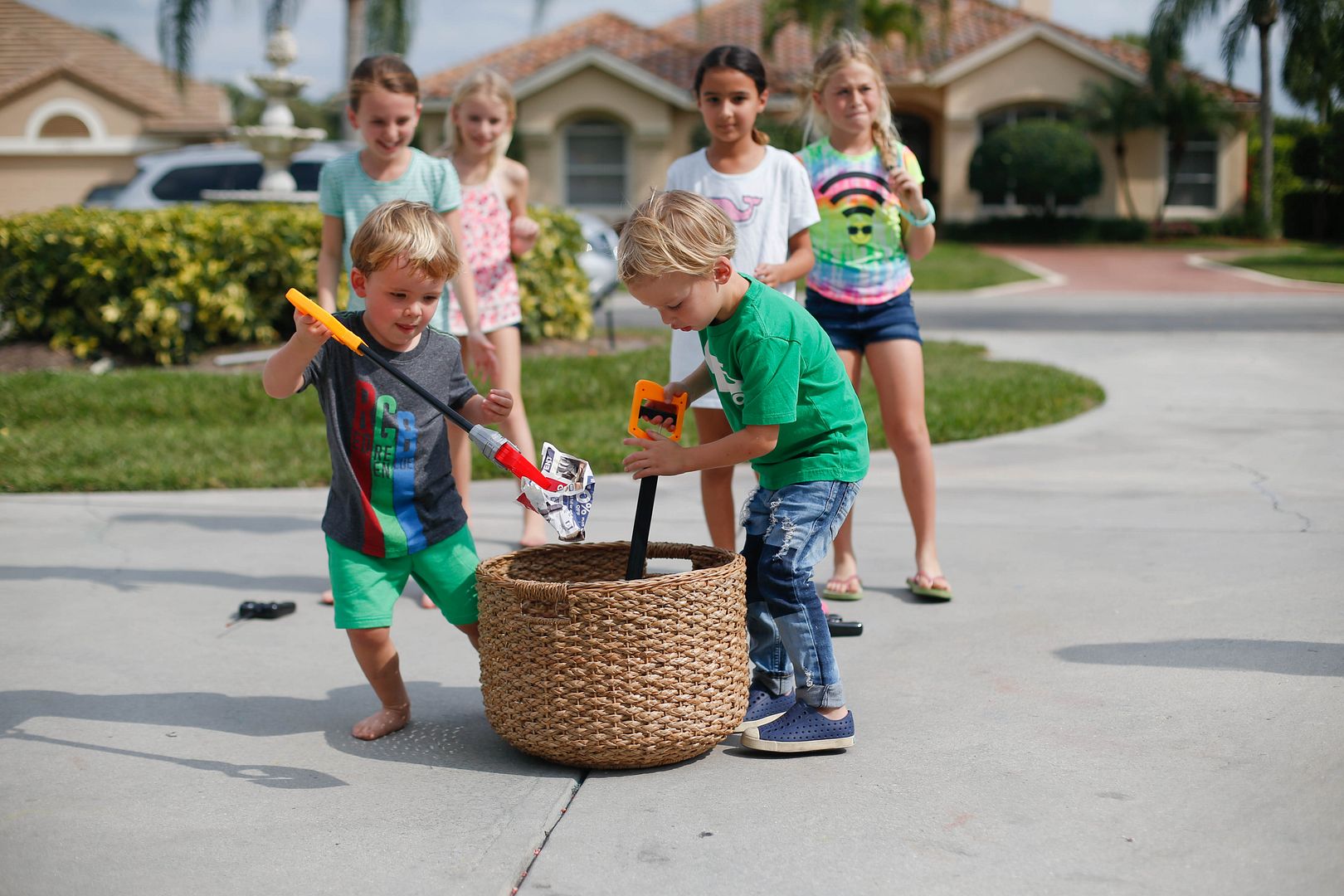 Dash is still adamant that he's not four and will stay three, so he blew out 3+1 candles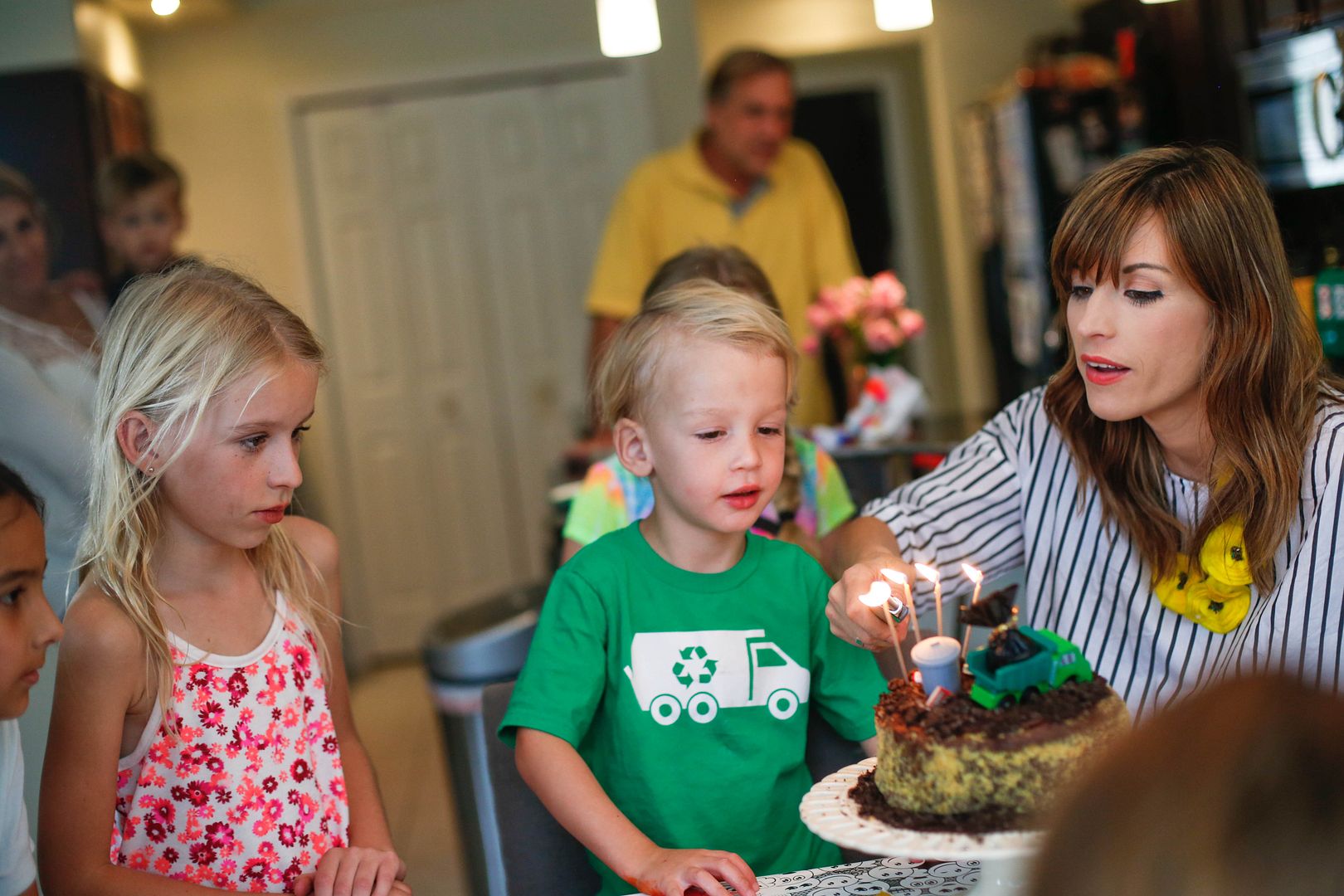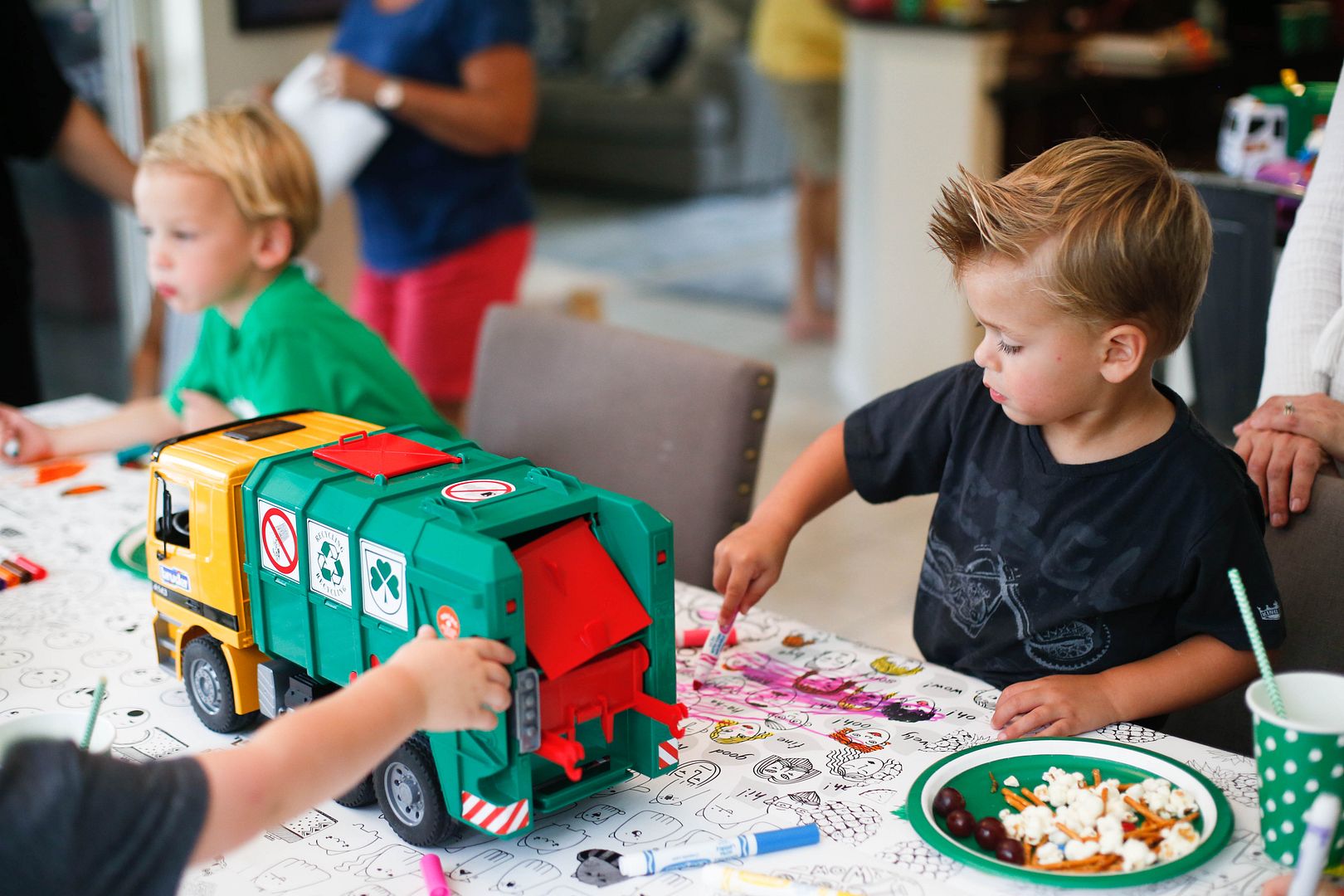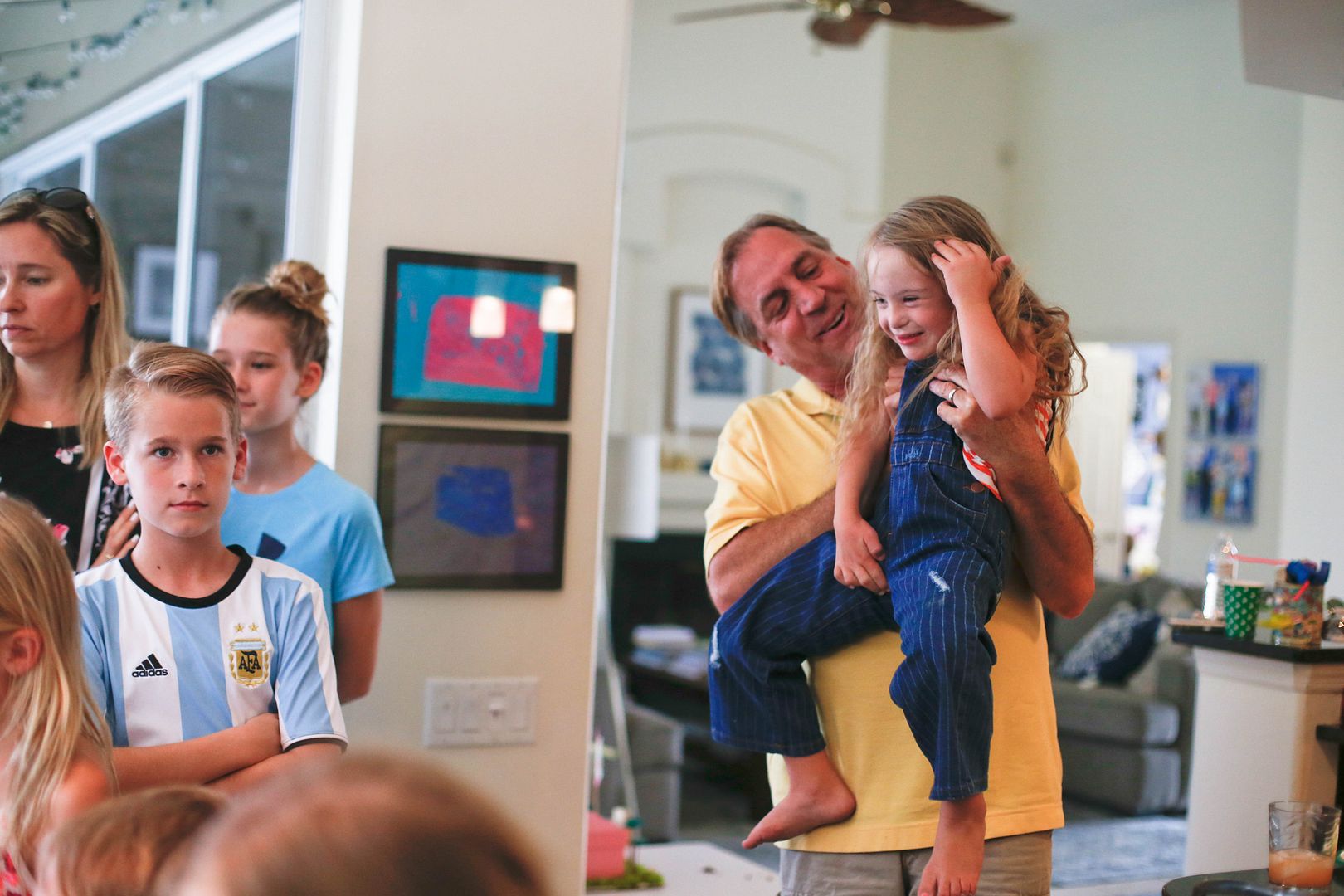 Last one at the table eating…that's my boy.
Another candle, another year, another shoe size–so happy to celebrate our boy and everything he loves right now: balloons, wearing "handsome man" cologne like daddy, grapes in his lunch box, cutting his own hair (once–dear God, the scissors are hidden now), his train pajamas, having his hand tickled while he falls asleep, being kissed on his eyelids…and big, loud "jerbage" trucks.
Dash's garbage truck t-shirt
Garbage truck garland
Trash can cupcake toppers
Mini trash can and recycle bin set (we used as cups)
Black plastic favor bags