I left the house to write, and just when I thought the scene was damn near perfect–hot tea and cinnamon scone, a booth with an electric outlet, a kitty-corner view of a cute old man in black socks and taupe double-velcro shoes buttering his sandwich bread–I realize I forgot my headphones, and the music is so loud it feels like Clay Aiken is here, in my booth, singing "I'd make you mine tonight" just for me.
I'm realizing I feel better if I get up and out. It helps to wear lipstick and cute shoes, and it helps to know that soon I will feel good–certainly by the time the season shifts, and I can dream of apple pie and baby knits simultaneously. Heidi comes home this week, and I'm excited for our annual Hurricanes reunion.
This weekend, we were enjoying…
Mercato Fashion Show
I joined a group of teacher friends to walk in a Fashion Show Friday night and was given this beautiful wrap dress to wear that multi-functions as a shawl, blouse, vest, backwards dress, criss-cross dress, cowl neck dress, backwards blouse, backwards vest–you get the picture. And I had to demonstrate them all. While I walked and awkard smiled. Which involved taking it off and flipping it upside down and putting it back on and jump-roping with it, all the while trying not to slip and fall because that's exactly the sort of thing I do at this event.
Hot mess. A super hot wrap dress mess. The dress was beautiful, but I didn't wear it right, and the last image of me walking off the runway looked like Batgirl in a winged cape.
Second look was more redeeming, as was the night that followed with friends. And Pad Thai.

Red dress, Bio NY at Mercato




Wiggins Pass
Brett found another great beach last week after driving around a few hours on Thursday to scout out a good weekend spot. Find it he did, and in true Hampton style, he couldn't wait to share it. Like a little boy anxious to show off his G.I. Joe show-and-tell collection, he woke up early Saturday morning to make sure everything was ready. Left the house at 8 to get to the beach before anyone else and secured the best picnic tables–the ones with the good grills and the ocean view and the big shady tree. And then when our friends arrived and raved about its perfection and marveled at the fact that we scored the best site on the beach, I watched my proud man smile. Humble about most things, he doesn't mind flaunting his quirky talents. He can predict the weather like Jim Cantore. He can serve a good drink. He can teach his kids to swim better than any swim teacher money can buy, and he can find the best damn beach gathering place within a sixty mile radius.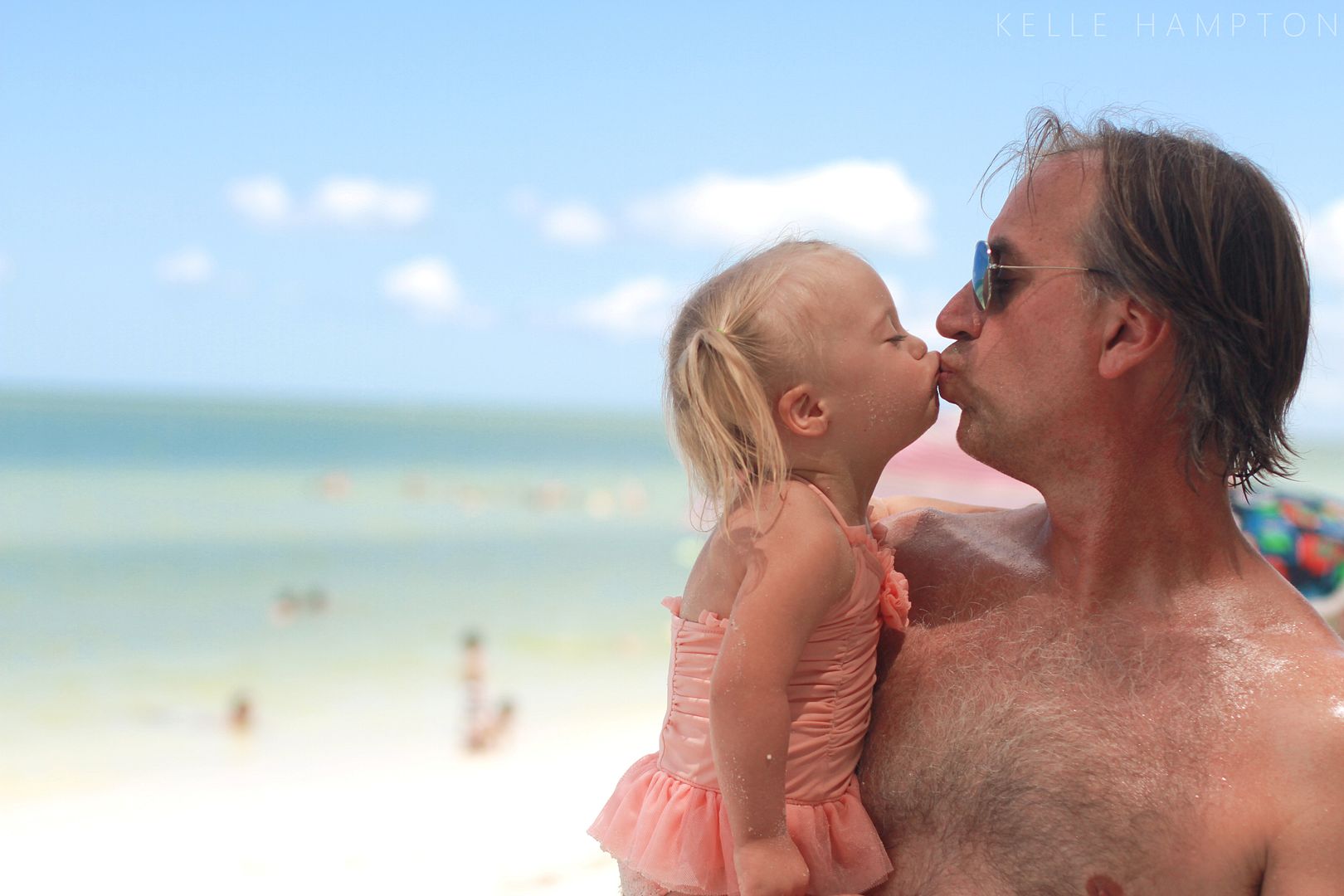 Love that I can spot my girl anywhere in her traffic cone orange suit.

Nella and her physical therapist, Jonah.

And now I'm obsessed with paddle boarding.
Balloon Chase.
There's been a half-inflated balloon floating around our house since Nella turned two. Not the same one, but still. It's a house necessity now and a reliable source of entertainment.
Like balloon soccer.
Or some version of don't-let-the-balloon-fall-to-the-floor game. Nella thinks it's hilarious.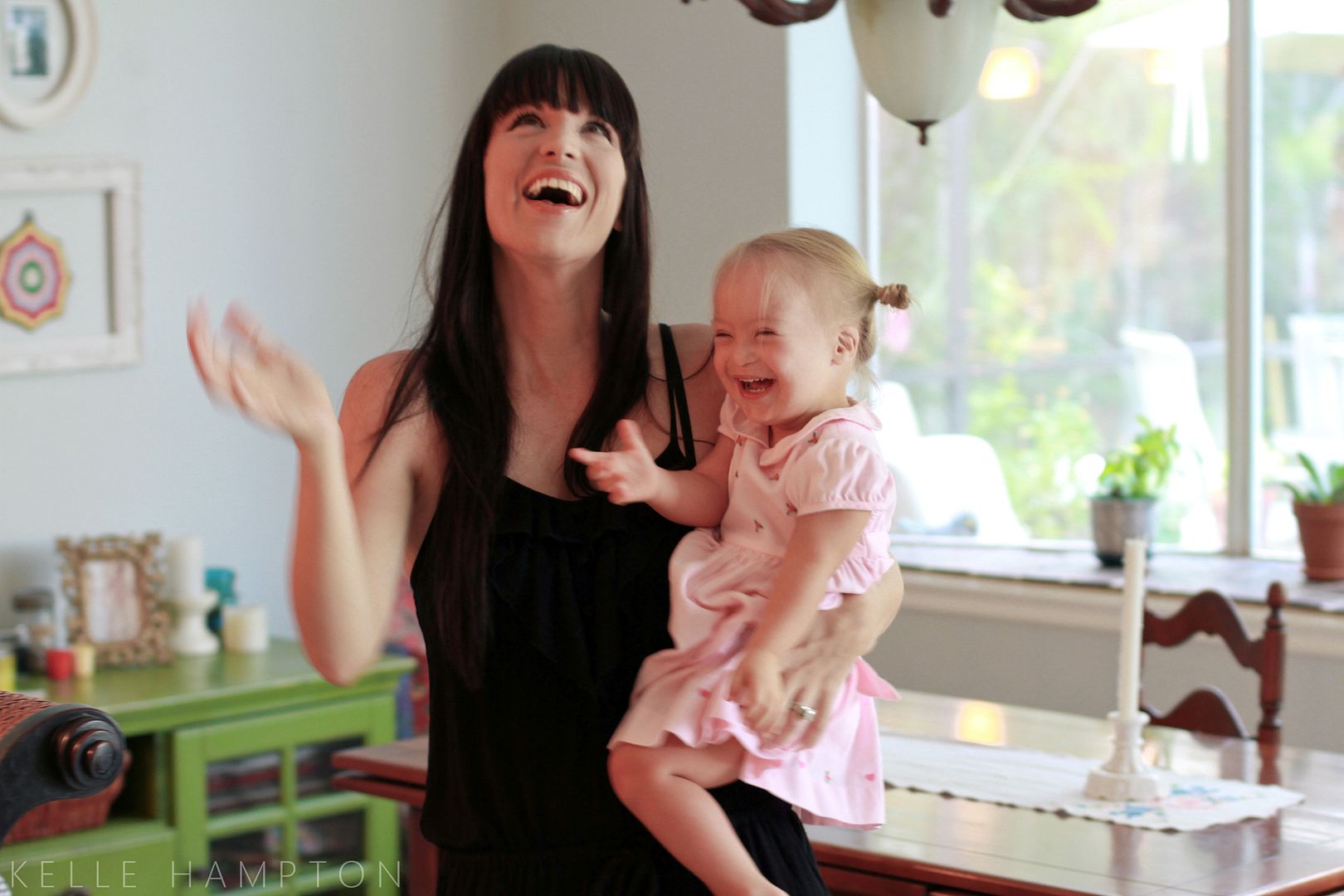 Dress-Up.
The laundry pile has thinned out these days as Lainey spends most of her time in play clothes. Hoop skirts, cheap silk and click-clack shoes. A girlhood rite of passage, indeed.
Insert random creepy sand-eye doll.
The frickin' pan.
Oh, she thinks it's so funny. A little metal frying pan from Lainey's kitchen, and when Nella gets a hold of it, she Venus Williams it–bats it through the air, trying to hit things. Like tile and walls and sometimes heads. It's loud and obnoxious, and the more annoyed you appear, the funnier she thinks it is.
The very first clang-clangs are always reflexively followed by my "Oh God, the frickin' pan." But she loves it.
*****
Friday Photo Dump:

Friday Phone Dump photos are taken on the Instagram iPhone app (free) and dropped into a 12×12 collage using a photo editing software (Photoshop Elements works). I am @etst (enjoying the small things) on Instagram if you care to follow the feed.
And your #enjoyingthesmallthings photos. (If you use Instagram and have a photo that makes you happy, share it by using the hashtag #enjoyingthesmallthings. Yours may be chosen to be shared in a Friday post.)
*****
Returning sponsor Nella Designs, creator of Lainey and Nella's silhouette room prints and my beautiful pendant, is returning with new shop products and some brand new art.
The Personalized Name Pendant Charm Necklace features the names of those you love as well as your favorite charm and gemstone, making a simple and delicate statement.
And Nella Designs Subway Art is a striking addition to any room in your home and can be customized to include favorite quotes or special messages.
Use Code Kelle10 for 10% off all Nella Design jewelry.
*****
I'm putting together another F.A.Q. post. If you have a question you'd like answered, please leave it in the comments of this post, and I will choose as many as I can to answer as well as address some of the most repeated questions in Skype book club chats.
And look how purty the sky was last night.