The wrinkles acquired from Saturday's costume party have been ironed out of Lainey's Little Bo Peep apron, and a plastic jack-o-lantern with a handle sits ready by the door. I have answered the "how much longer until we trick-or-treat?" question all of seven times so far today, and the sugar buzz from the four Smarties I doled out after lunch is finally fading–which is more than I can say for the skeleton tattoos adhered on the back of Lainey's hand. They'll most likely last until Christmas.
But, here we are–the first of the end-of-year holidays, and I am drinking it up.
I ran out yesterday to get a few ingredients for appetizers tonight, and I'm sorry to say they included cocktail weiners. I couldn't find them anywhere in the store, and when a friendly gentleman employee saw my back-and-forth wandering, he kindly approached me with a "Can I help you find something, 'mam?" And, without thinking, I answered, "Yes, I can't find the cocktail–" except half-way into it, I froze and didn't want to say the word weiners because I am shamelessly immature about these things, and I knew I would laugh. So I stood there, trying to think of another word for "weiners" and saying "cocktail hot dogs" was way too much of an obvious cop-out. And before I could even think of how to finish, I found myself saying, "I can't find the cocktail sauce. For shrimp," It just came out. He directed me to Aisle 5, and I, of course, detoured back toward Aisle 10 in search again for the infamous weiners. I finally found them and realized they can alternately be referred to as 'Lil Smokies. Good to know.
*****
The truth is…I like Halloween. And thankfully, for us, it began early this weekend with a neighborhood parade and party.
I was stoked about the girls' costumes that I actually finished (with the help of Dot who sewed Lainey's apron) before our trip. What I didn't know was that Nella would hate hers.
Her poor little body was trapped in a cotton marshmallow, and Sister threw a fit. So, I stood in a line of a hundred billion people at Party City Saturday afternoon for a back-up and altered it back home with with some scissors and a patch of black velour from an old pair of sweat pants.
Much more comfortable.
Lainey and her friend both opted for Little Bo Peep this year, despite the mamas' attempts to sway them toward individuality.
Lainey chose a policeman for Brett, but he looks like Mario.
And I am forever enthralled by the enchanting Audrey.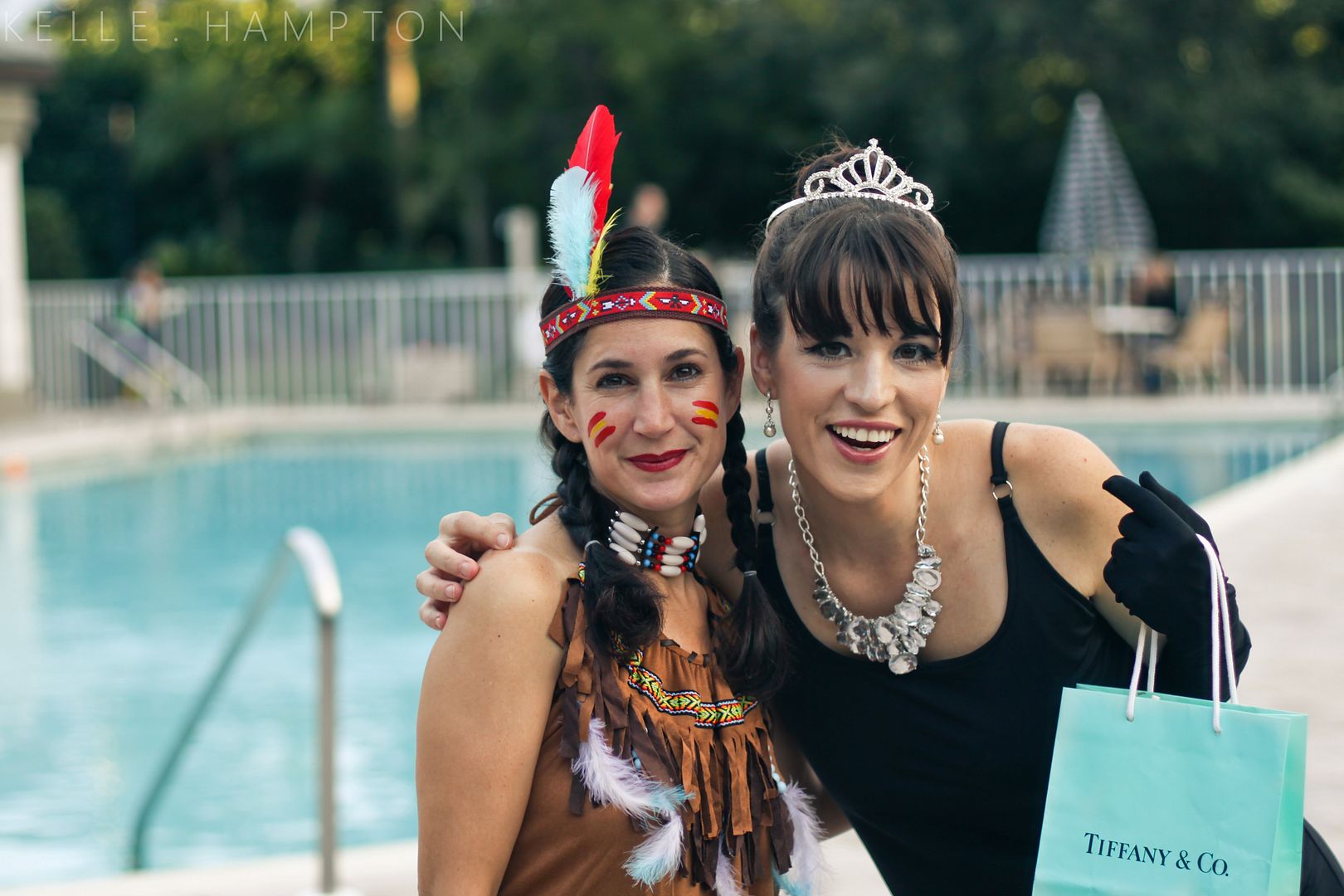 We joined the throng of costumes in the march along our streets, and I smiled as I watched the line of littles grow.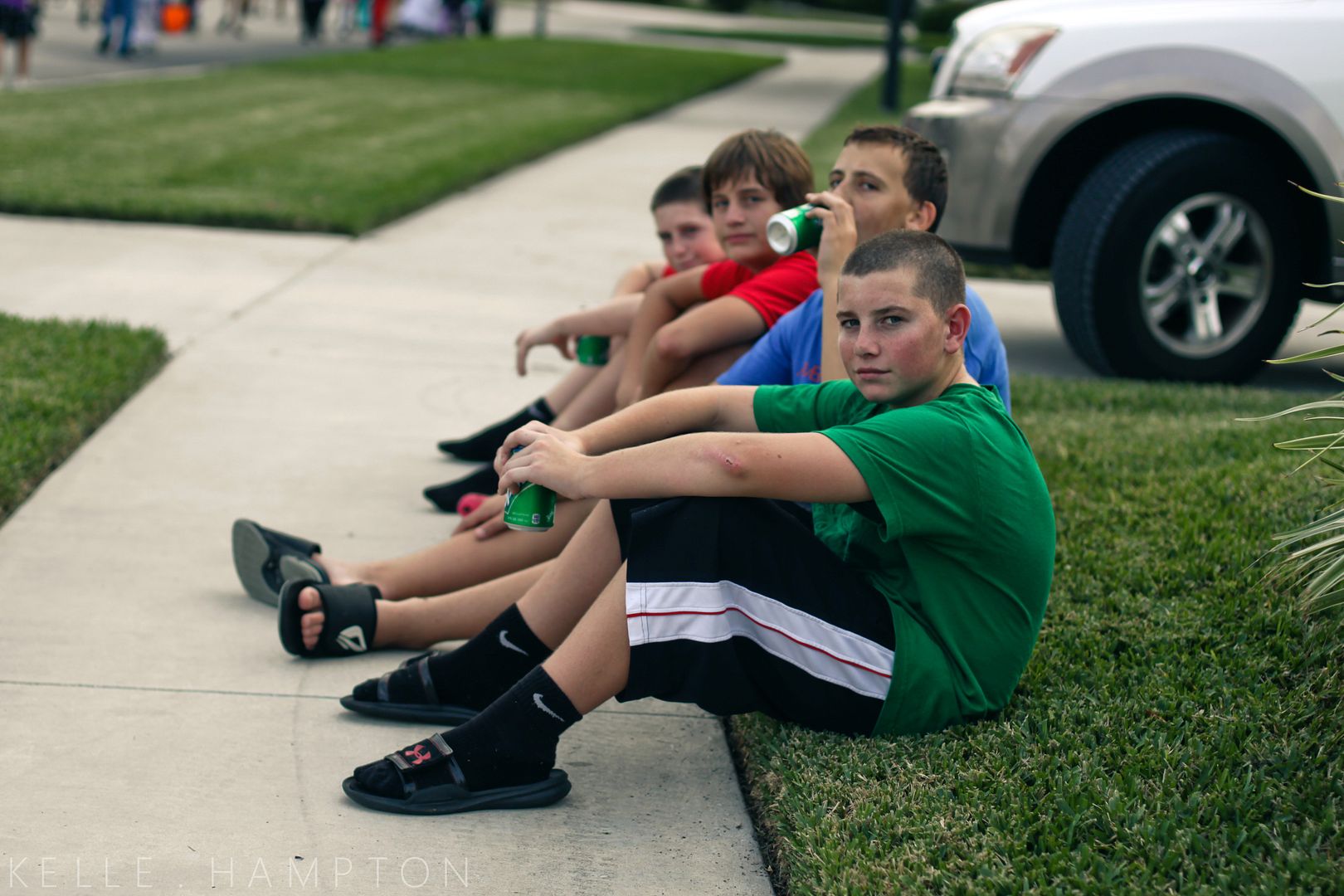 *****
We had another costume birthday party yesterday…
…and the mailman brought us a gift just in time–flamenco dresses from my friend Janita's trip to Spain.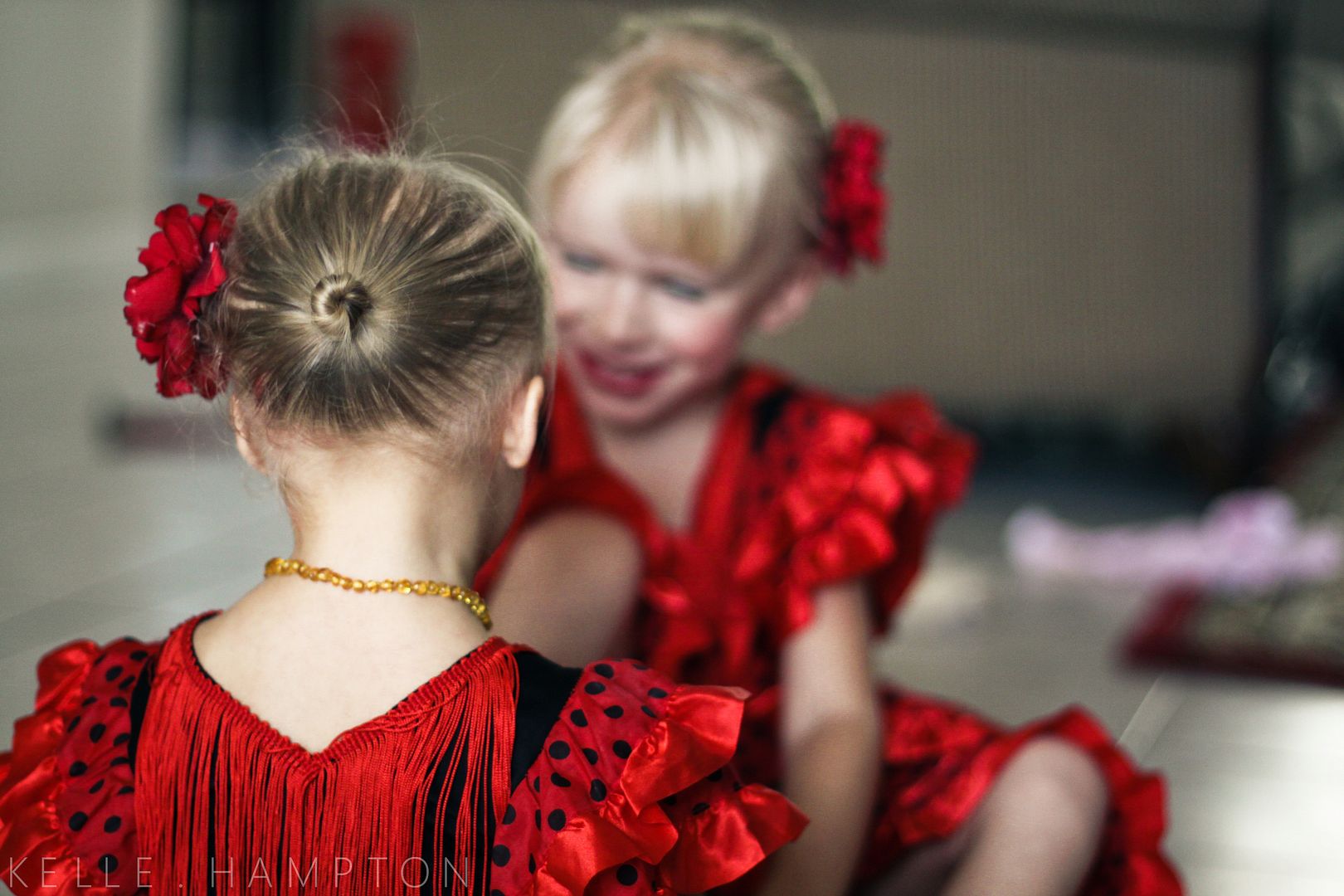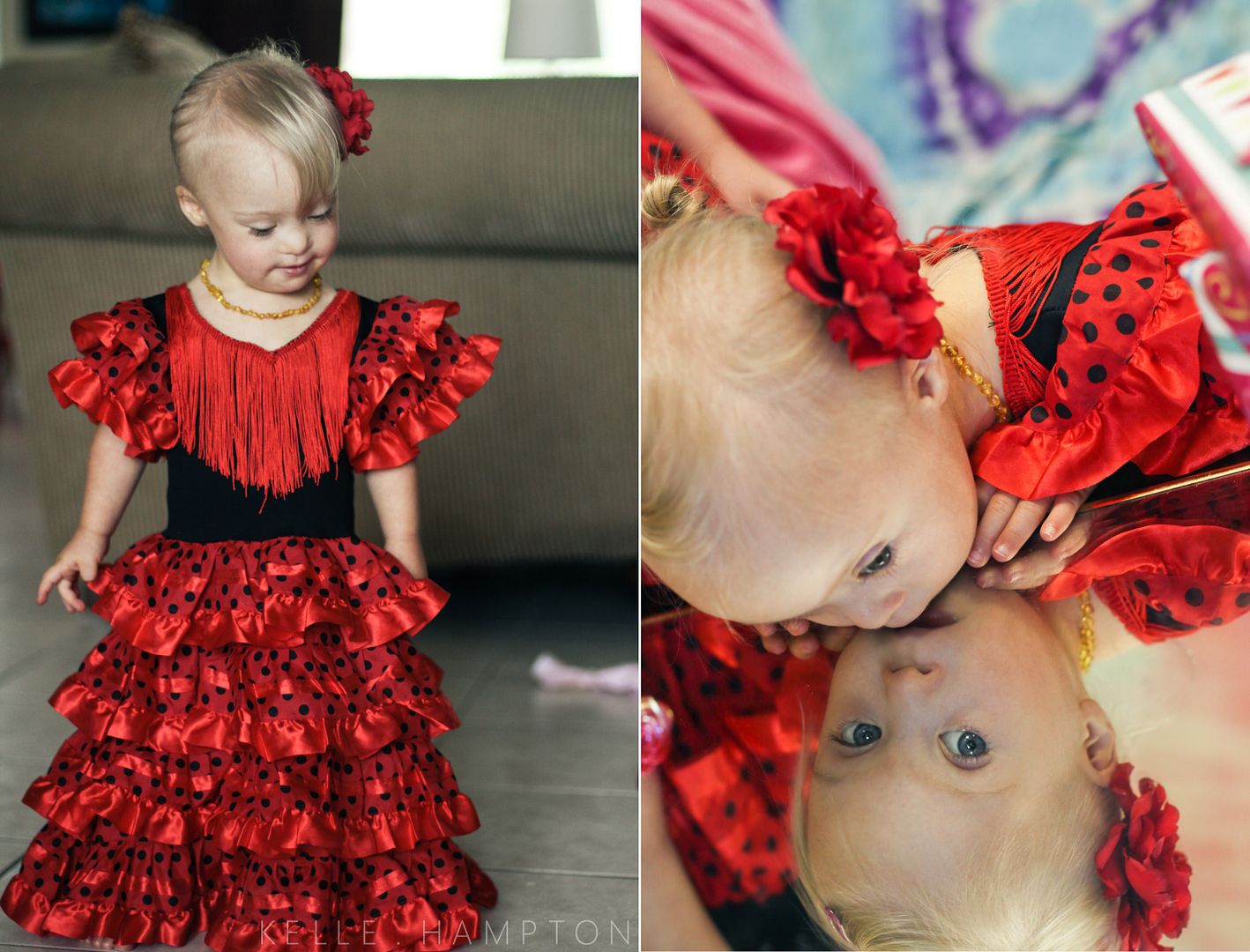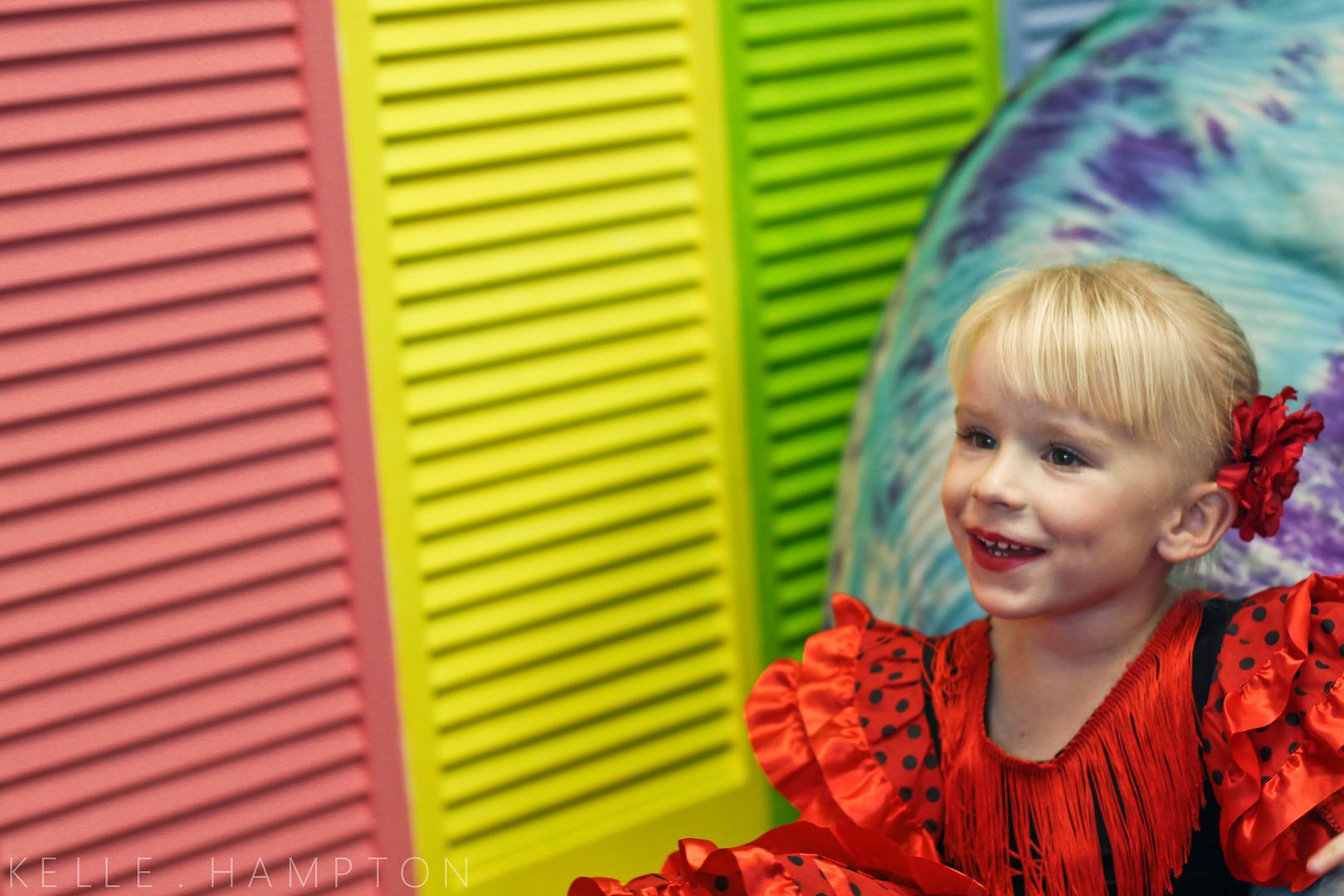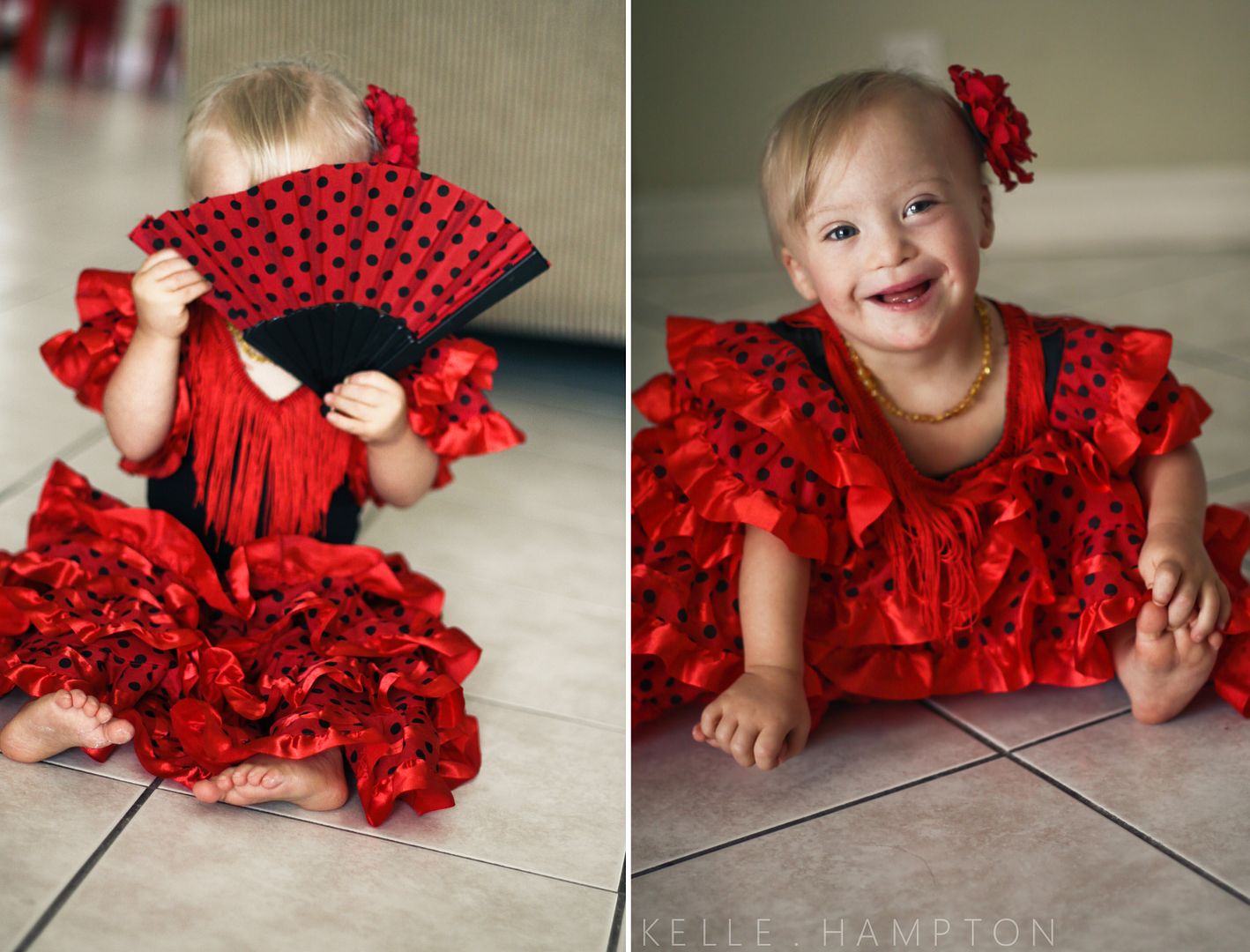 Thanks to Lainey's boa and a few feathers, a black dress turned into a flapper for me.
And we'll do it all over again tonight.
*****
If I've relentlessly reiterated one theme, it is that of balance–ebb and flow, yin and yang, home and away. I've thought about it a lot this weekend, especially after coming home from a jam-packed trip. I'm not a good traveler. I'm not particularly fond of our family being separated, and I get all sorts of knots in my stomach as I'm packing my suitcase. But once the plane is in the air, I get excited, and when I'm meeting new people and learning new things, I feel that rush–that surge of adrenaline that whispers to every cell in my body "you are living…you are doing something good…you are reaching your potential." I like that feeling. I like the motivation and inspiration that comes with challenging myself. I come home telling stories, reflecting on what I learned, remembering details that I want my kids to know someday. I am always glad I made room for travel and opportunities and stretching my boundaries, and often, on the way home, I'm wondering what our next adventure will be.
But home. Oh, home.
Travel and busy schedules contrast it deservingly, and this time of year, I appreciate everything we strive to create in our home. And while, yes, every day of the year is important, the last months of the year are the grand finale. Tonight, as we welcome friends and pour hot wassail and light every candle in the house, we initiate the rituals of togetherness that will follow.
I love this time of year because of it.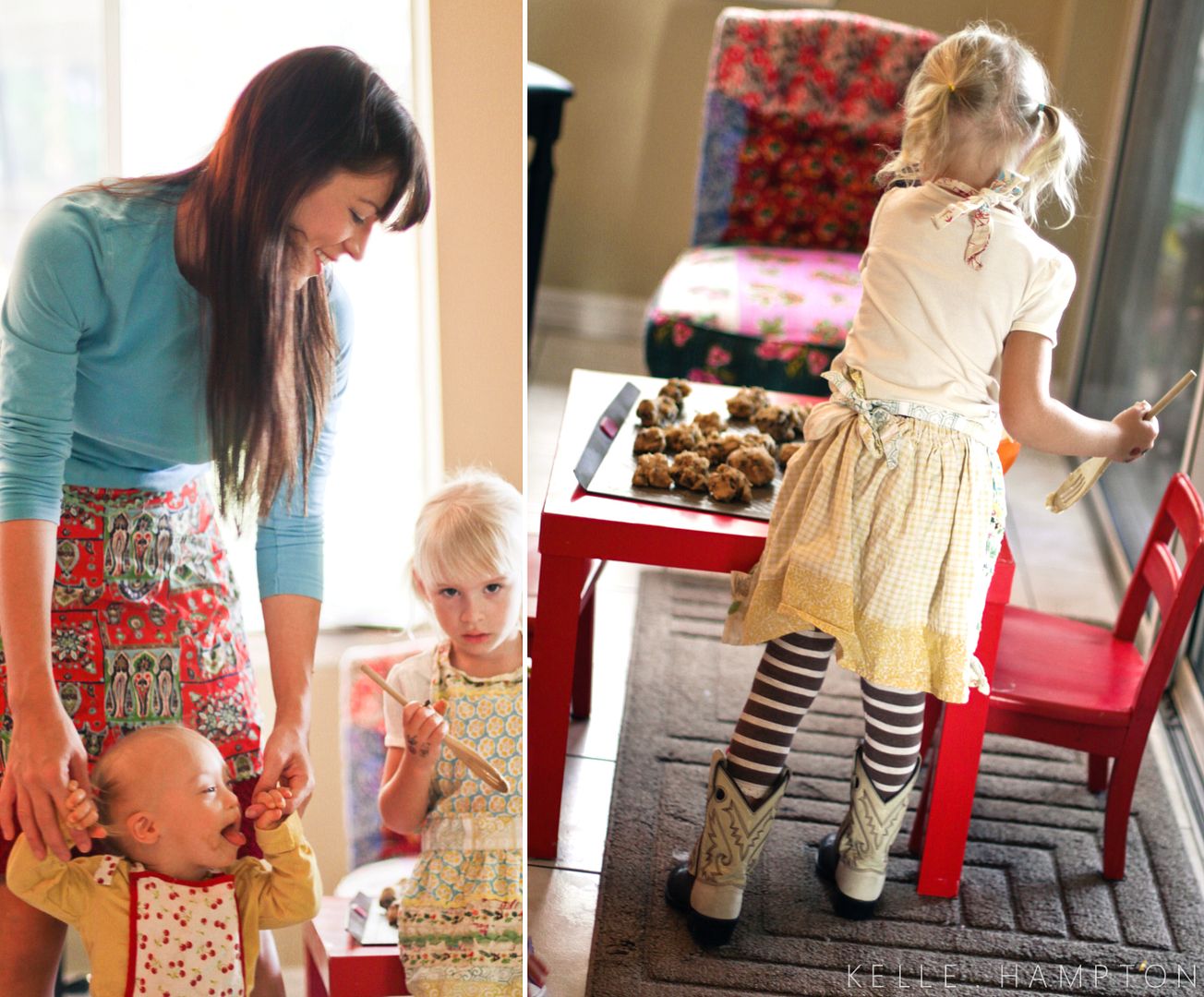 *****
Sponsor, Scentsy Independent Consultant, Jessica Clough, is back again and I love what she has to offer this month. Jessica is donating all of her commission from Nella's Fundraiser Party to Nella's Rockstars fund (100% of proceeds benefit the National Down Syndrome Society).
As I type, I have my Clove & Cinnamon burning, and there isn't a day this time of year that our house doesn't smell like Autumn Sunset, Weathered Leather, or my current favorite, Autumn Stroll. Buy from Nella's Fundraiser Party, and your purchase will do more than just make your kitchen smell good.
*****
Tomorrow is November. Can you beleive it? Bring it.
*****
Have fun tonight. We'll be back tomorrow with a Hallmark sponsored post.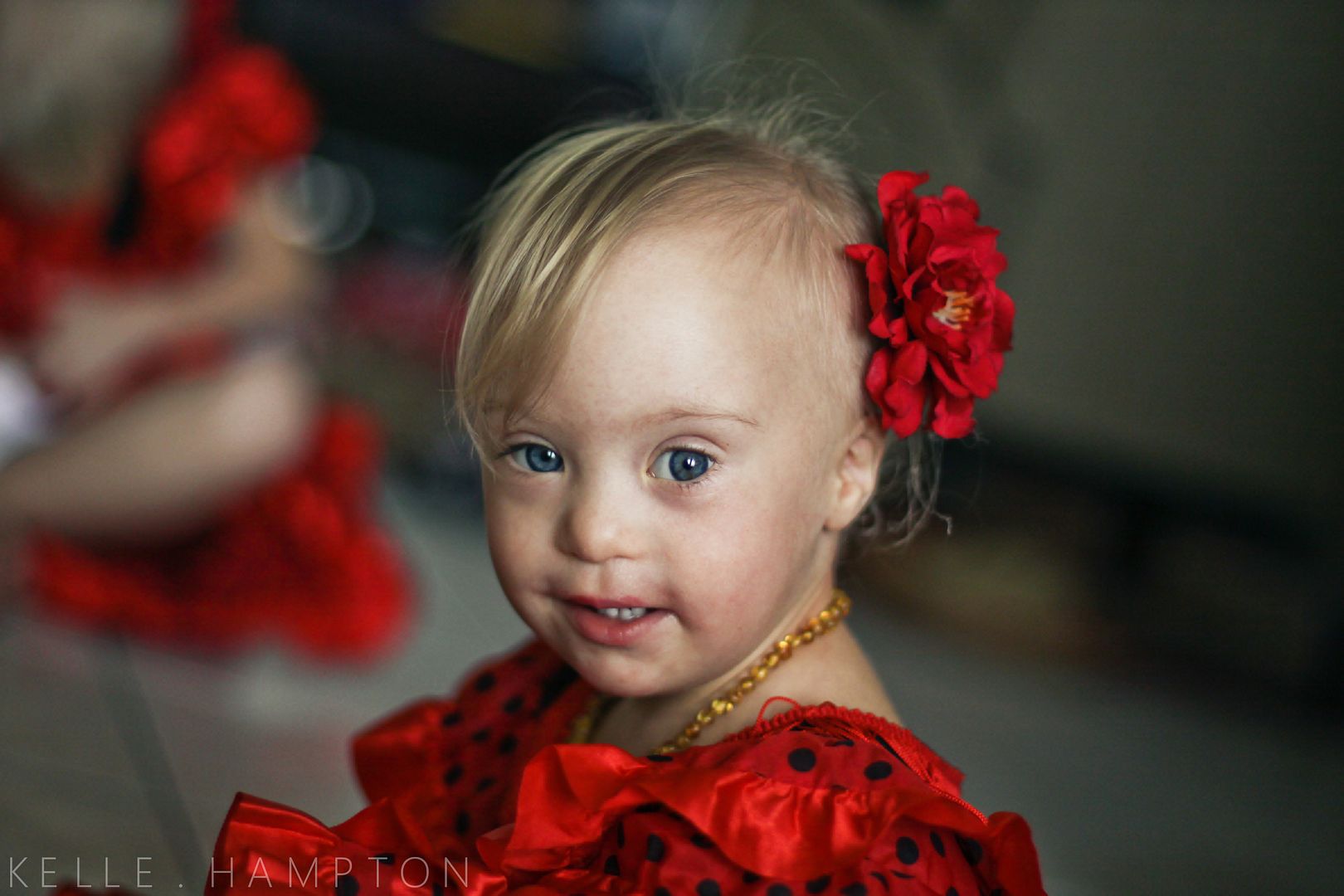 Any hot Halloween plans tonight? Any fabulous costumes? Do tell! (And link up your blog if you have a great costume to share!)