Thankfully for me, Lainey's activity of choice lately has been coloring. I like coloring–so much that often, after a while, she runs off to find something else to do and I am left coloring, happily, while laundry waits and kids make messes. I color like it's my job–shading, highlighting, scribbling flecks of contrasting color into Barbie's hair or deliberating much too long over Wild Raspberry or Hot Magenta for the stripes in Strawberry Shortcake's shirt. I am selective in my crayon choice and have been known to choose colors based on their names alone. You would understand this if you're familiar with Crayola's Box 'o 96, featuring Macaroni n' Cheese, a warm soft orange, or Wild Blue Yonder, a murky mountainous blue.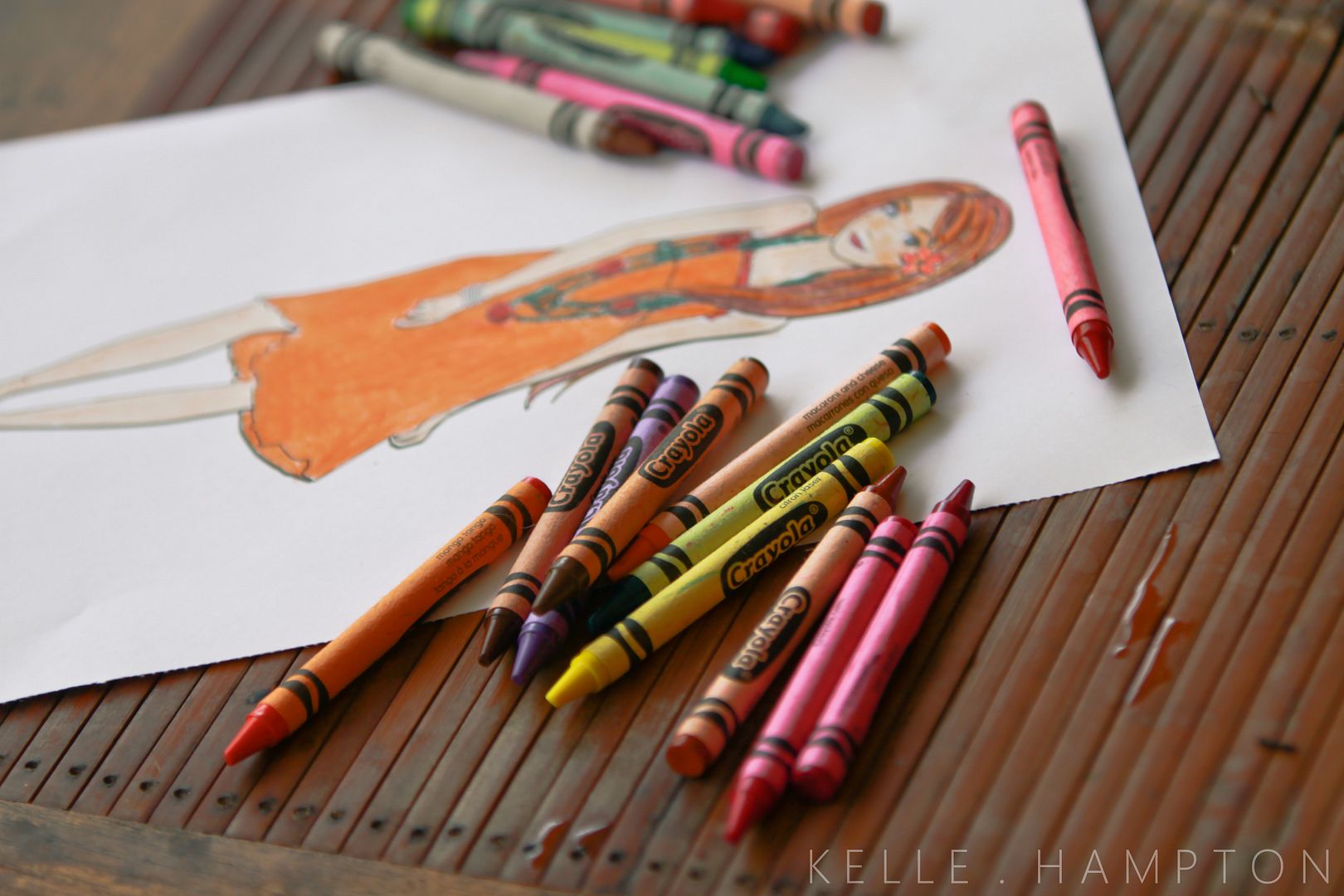 I've also been known to throw out a perfectly good picture and start over if I've colored outside the lines or, God forbid, misjudged the intensity of Jungle Green (which, for the record, is far too vibrant for an eye color choice). So it has been a good parenting exercise for me to encourage the freedom of expression that's so beautifully demonstrated by Lainey when she colors–sometimes out of the lines, sometimes all one color, but every time, her own style. And while I'm carefully gliding my yellow crayon (Laser Lemon, to be precise) along a flower petal to add depth and she's decided Shamrock is a nice choice for Bert 'n Ernie's faces, I've come to the conclusion that not only is it okay, but it's pretty cool that my girl does her own thing and stands by it. There are no rules to creativity.
But we do draw the line on where you choose to color (although a purple smiley face scribbled on the inside of the girls' closet door begs to differ).
Weekending…
My shattered phone has been replaced but before I synced my contacts, I enjoyed a calm weekend with a quiet phone–which overlapped to a vacant computer and a mama caved-in. Heidi calls it "the cave"–the secret place we retreat to when we're subconsciously overwhelmed or too busy. It usually involves–without even intention–ignoring the phone, letting e-mails stack up and hibernating to the inner depths of our homes where we bake, read books or, in my case, color. Retreating to the cave is a necessary occurance for me–a replenishing inverse from the go-and-do-and-see times. I like both ends of the spectrum–the thrill of adventure and showing my girls new things as well as the comfort and convenience of routine and feeling settled.
Holidays make me feel settled, and traditions like dyeing eggs connect me to all the puddles of nostalgic happiness that dwell so fondly in my memory and fuel me to recreate them for my own family. So we did. We colored eggs this weekend.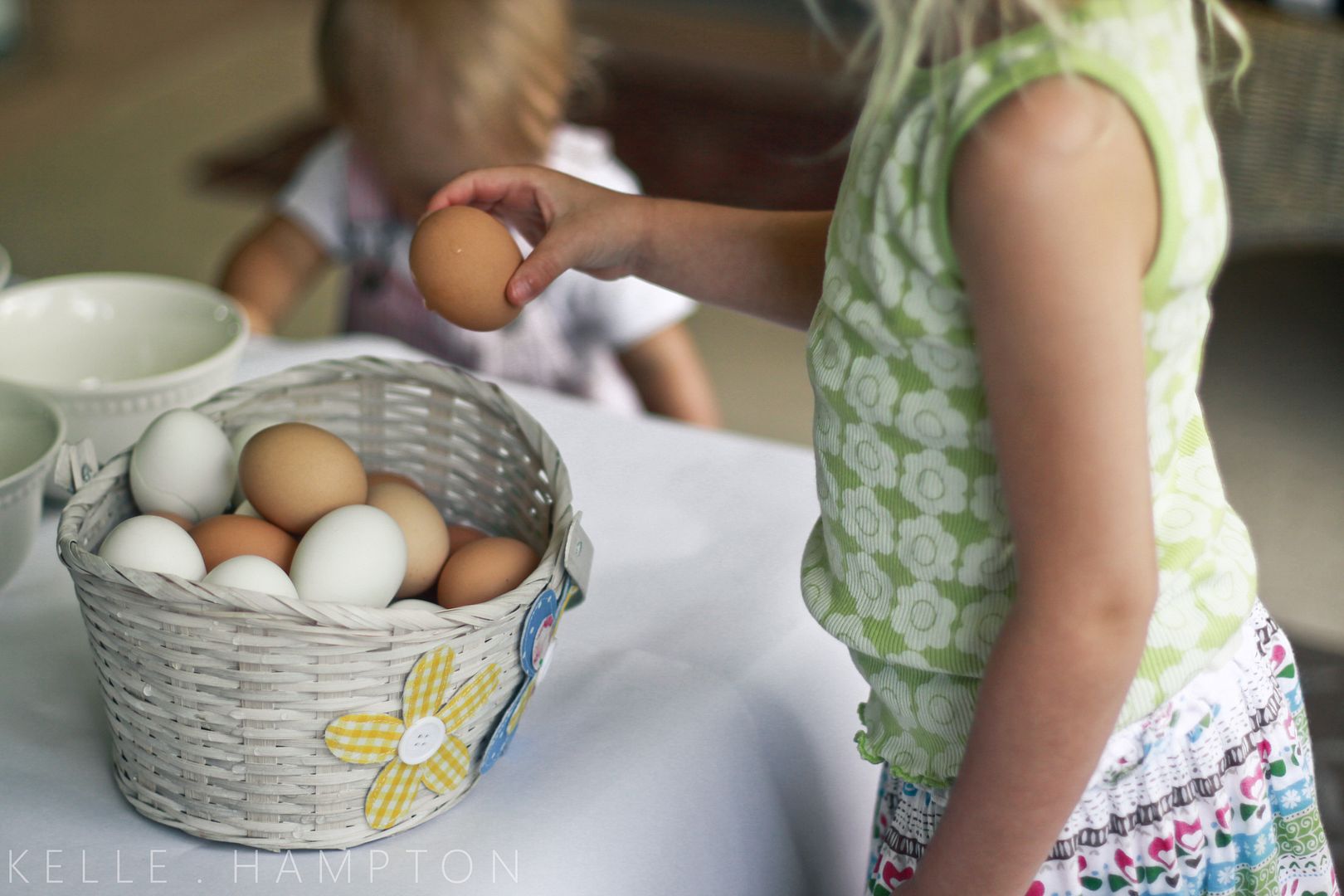 I love that there is no reason behind this tradition. Or rather there is, but when I Googled the historical explanation, it didn't excite me the same way that "because it's fun" did. And I'm totally cool with doing elaborate things with my kids for no reason at all.
There is something strangely thrilling about dunking these pure and delicate little ovoids (the proper name, I learned) into cups of color and waiting while they transform. Or watching as Lainey leans over to carefully check their color progression, tipping them just above the color line with her spoon and, like a stylist refolding the foil after inspecting unfinished highlights, she says "not quite yet" and slowly drops the egg back down.
Nella, on the other hand, took every egg I handed her and threw it which, of course, thrilled her sister.
We had to remove her from the situation as Lainey didn't appreciate the way she handled the eggs.
Just as in coloring, I held back my dyeing critique and watched, cringing, as Lainey did it her own way–plopping two eggs into one cup, dipping them quickly from one hue to another, mixing dissonant colors, cracking shells and yet completely satisfied with her results.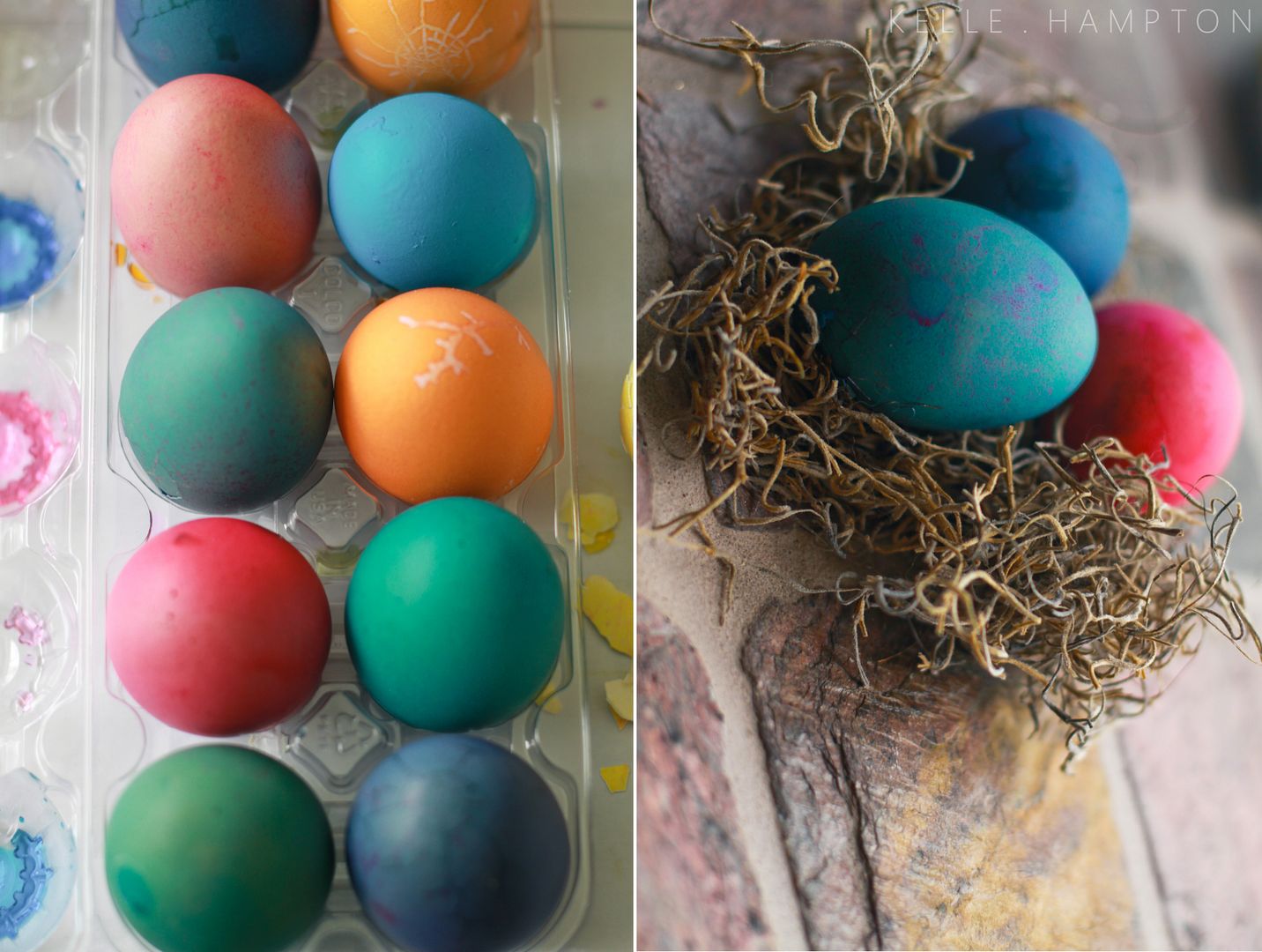 Turns out, the splotchiness adds to the beauty of her vibrant little egg art.
The weekend would not have been complete without the following bit of unearthly loveliness. I actually have to stop and gather my thoughts for a moment because it is quite possible words will not do justice the deliciousness that is–there needs to be some kind of drumroll here–Haagen Dazs Five Lemon (stop, applaud, bow–it's worthy). Add this to your Bag of Tricks, fo sho.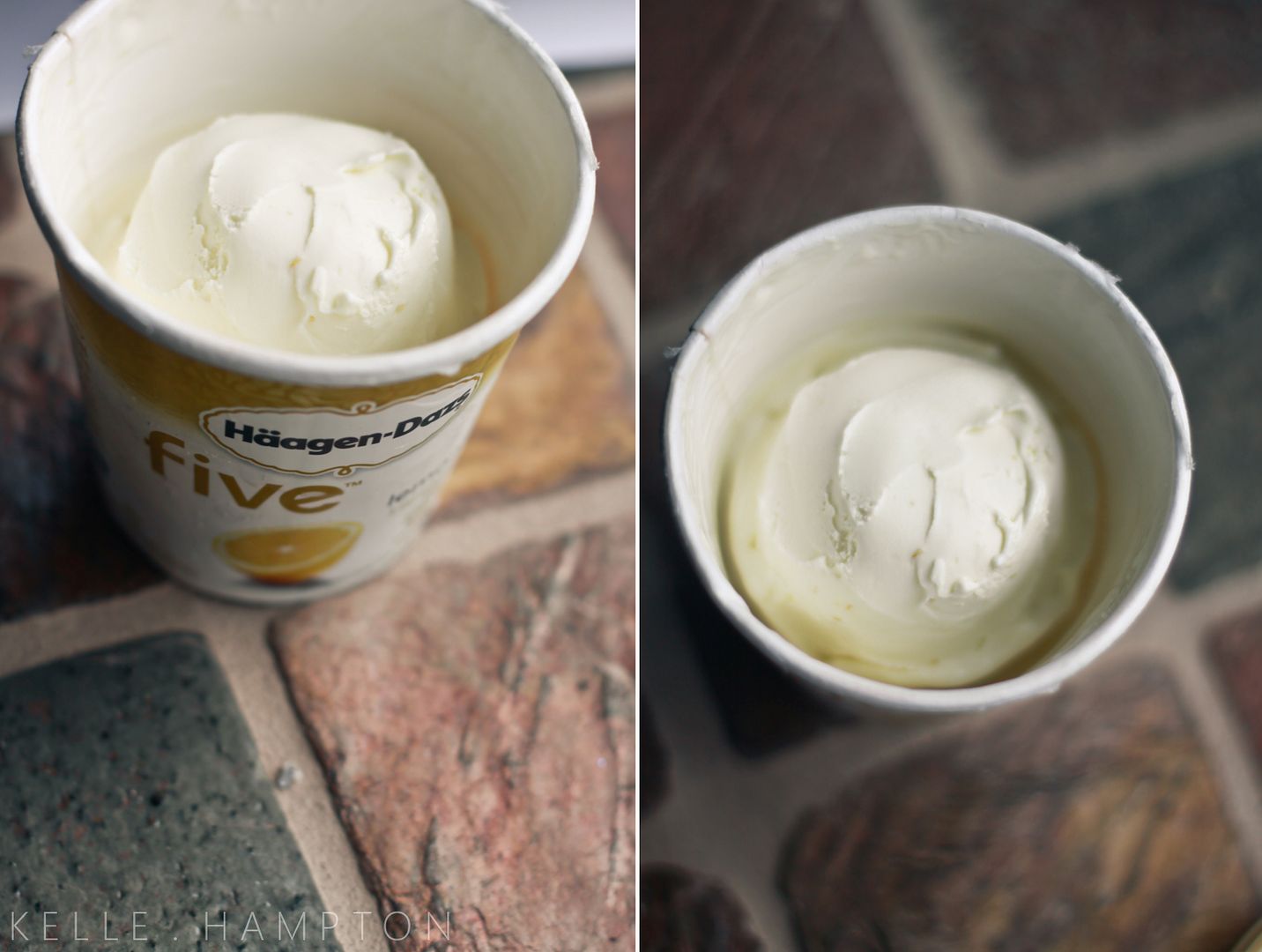 My sister's been telling me about it for a long time and I finally gave in and bought some while I browsed the grocery store waiting for Austyn and his friend to pick out a movie at the neighboring Blockbuster this weekend. You see that little hump of ice cream left in that picture? That's what's left after I used my finger as a spoon in the Publix parking lot. Only five ingredients–milk, sugar, eggs, cream and lemon–but more than five non-repeatable exclamations that followed my first bite. And I'm sure it's like the coolest thing for a sixteen-year-old to have his friend along on the ride where his stepmom is driving twenty under the speed limit because she's balancing navigating a steering wheel with shoveling ice cream with her finger.
Finally, our "caving it" weekend was completed with pruned toes.
Like life, we swam both ends of the spectrum. The go-and-do-and-see of adventurous jumps and loud splashes…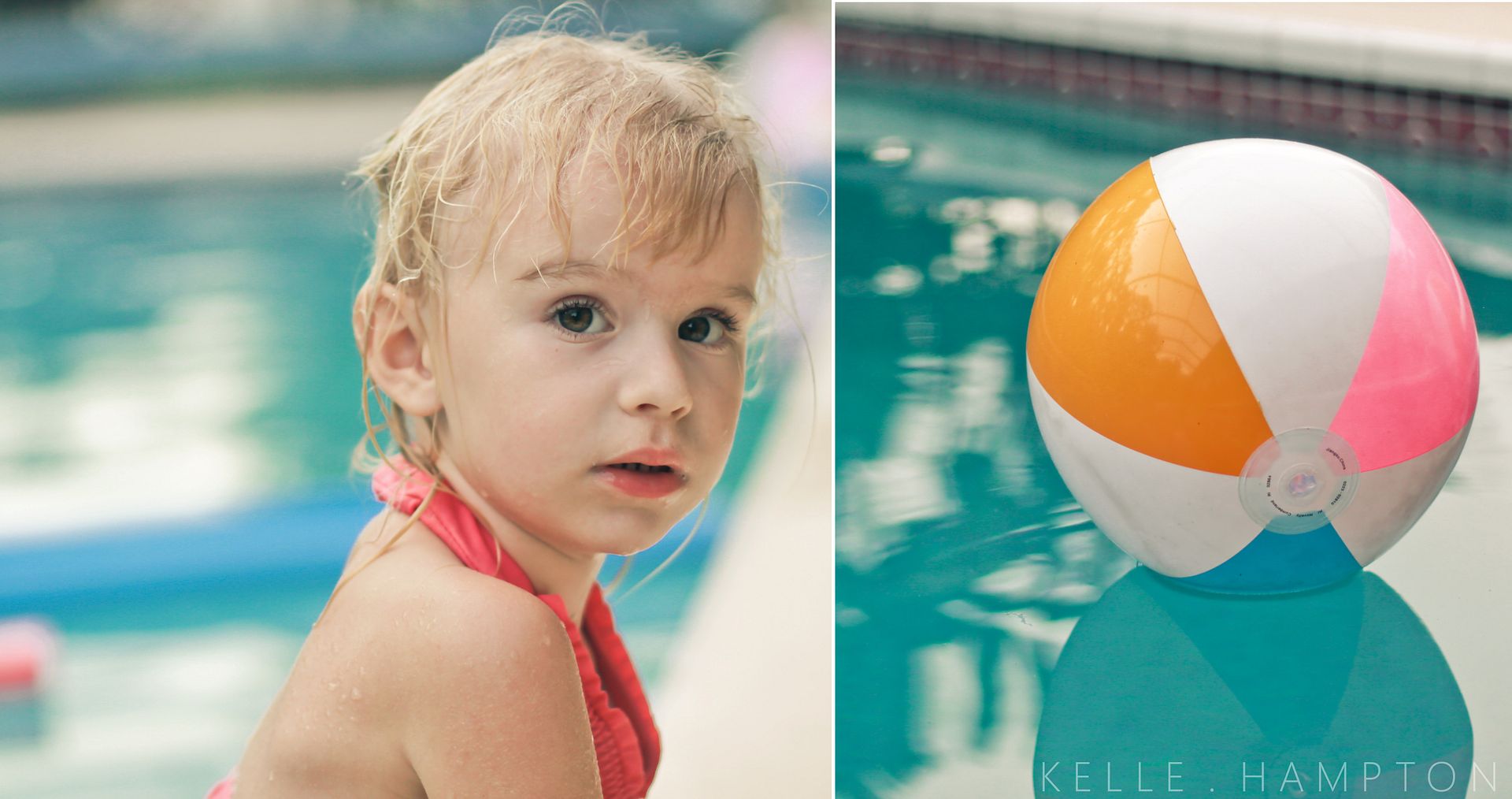 …and the calm repose of tranquil floats and quiet wading.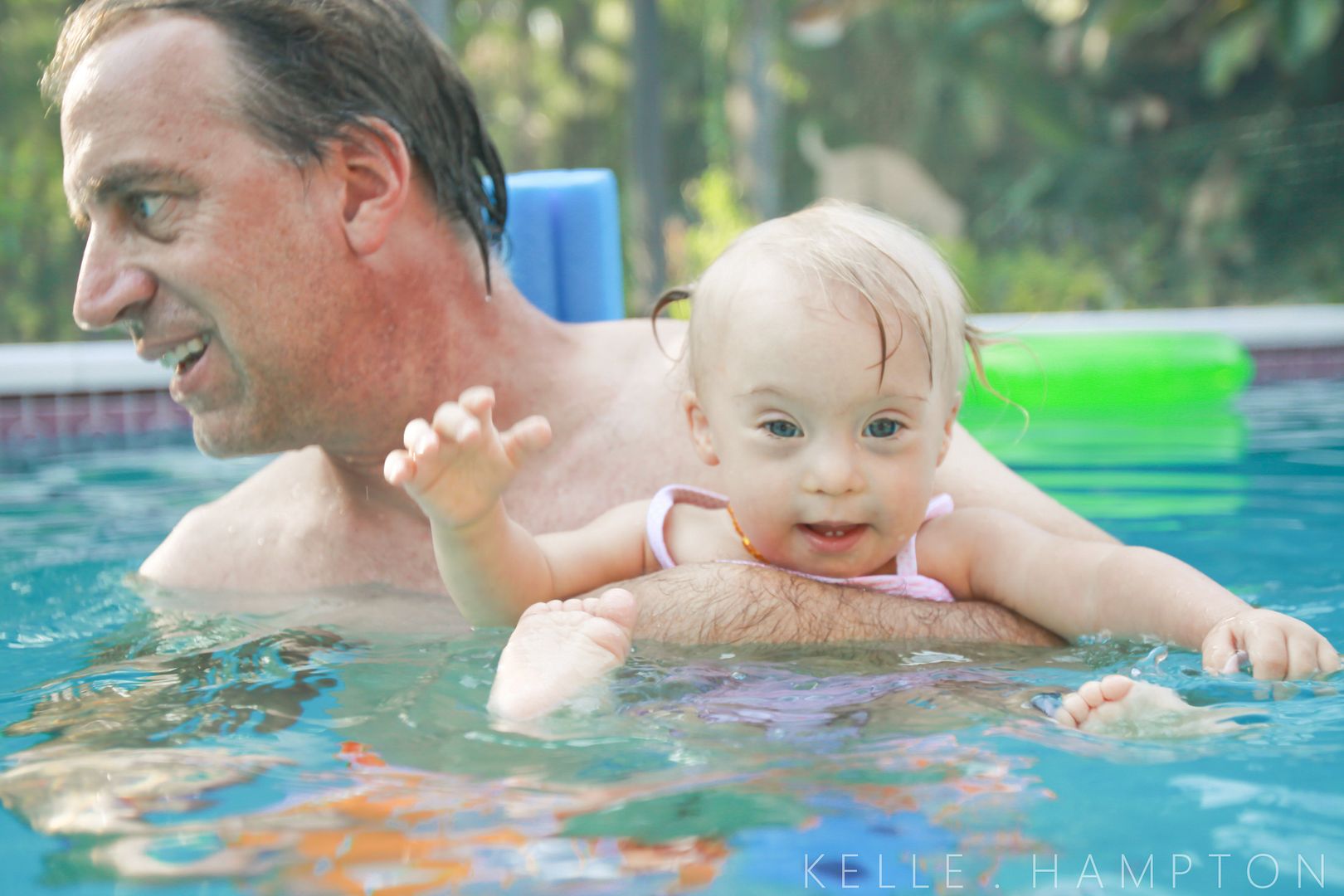 Our new $10 kiddie pool makes water play much more fun and accessible for Nella.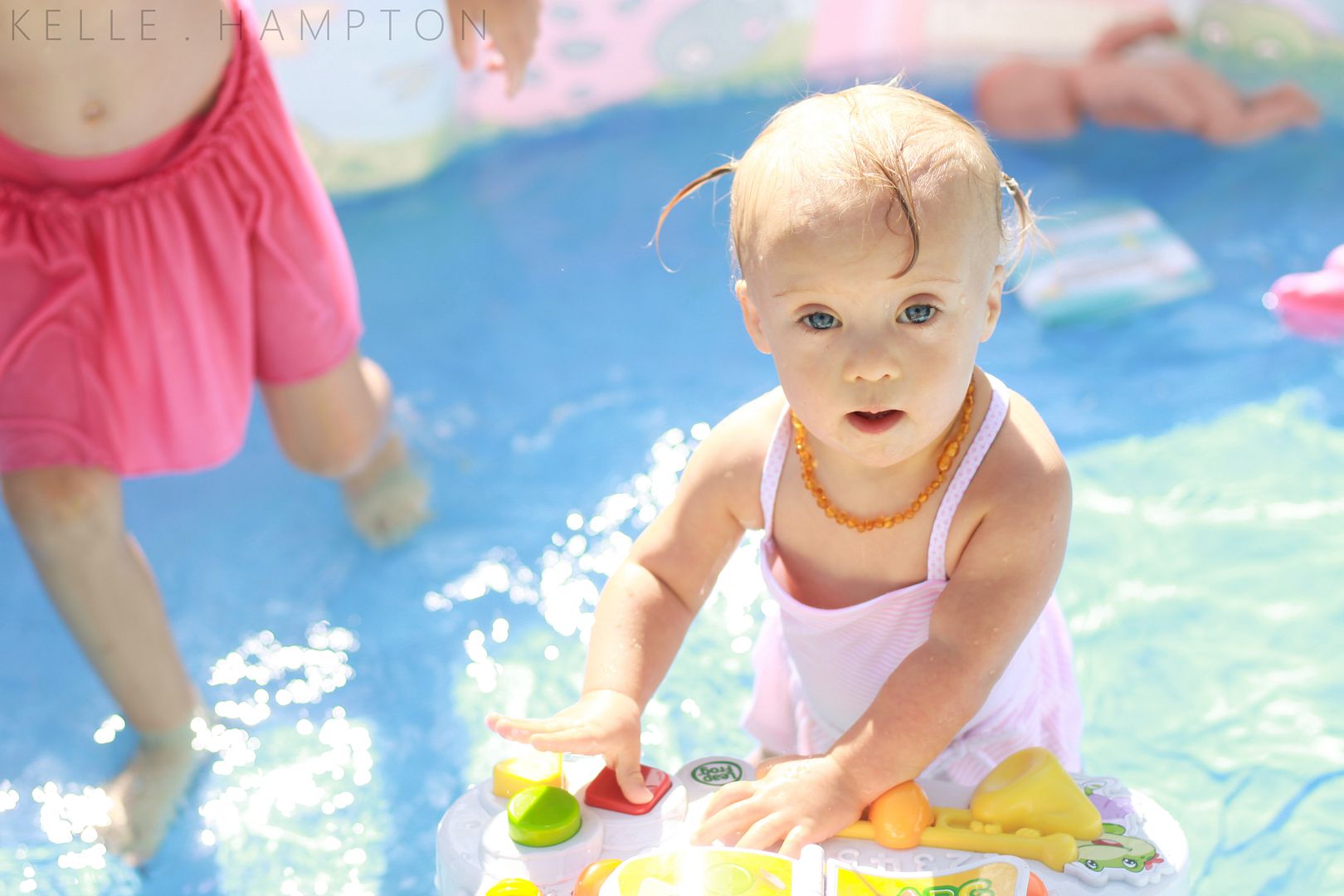 And it's only April. It's just beginning.
Looking forward to some upcoming traveling, out of the cave, and plenty more retreats at home, in the cave, where we belong.

Congratulations to the winner of the $40 gift certificate from The Meg Shop:
Comment #859, Kim: time. one of the things in my bag of tricks (for myself). observantly spent time. to find out what it is i need. often a couple of minutes is enough. take a breather, have a coffee/tea/wine and enjoy. simple as that. PS: that b/w pic of nella in her pjs has got to be one of the cutest ones ever! what a beauty.
Kim, please e-mail your contact info to [email protected], and you'll soon be richer in the jewelry department.

Your "Bag of Tricks" were insightful, funny, and enjoyable to read. Thank you for sharing!
The full moon may symbolize crazy, hectic, frantic…

Left, Saturday night; Right, Sunday night
…but our weekend was just what we ordered: over easy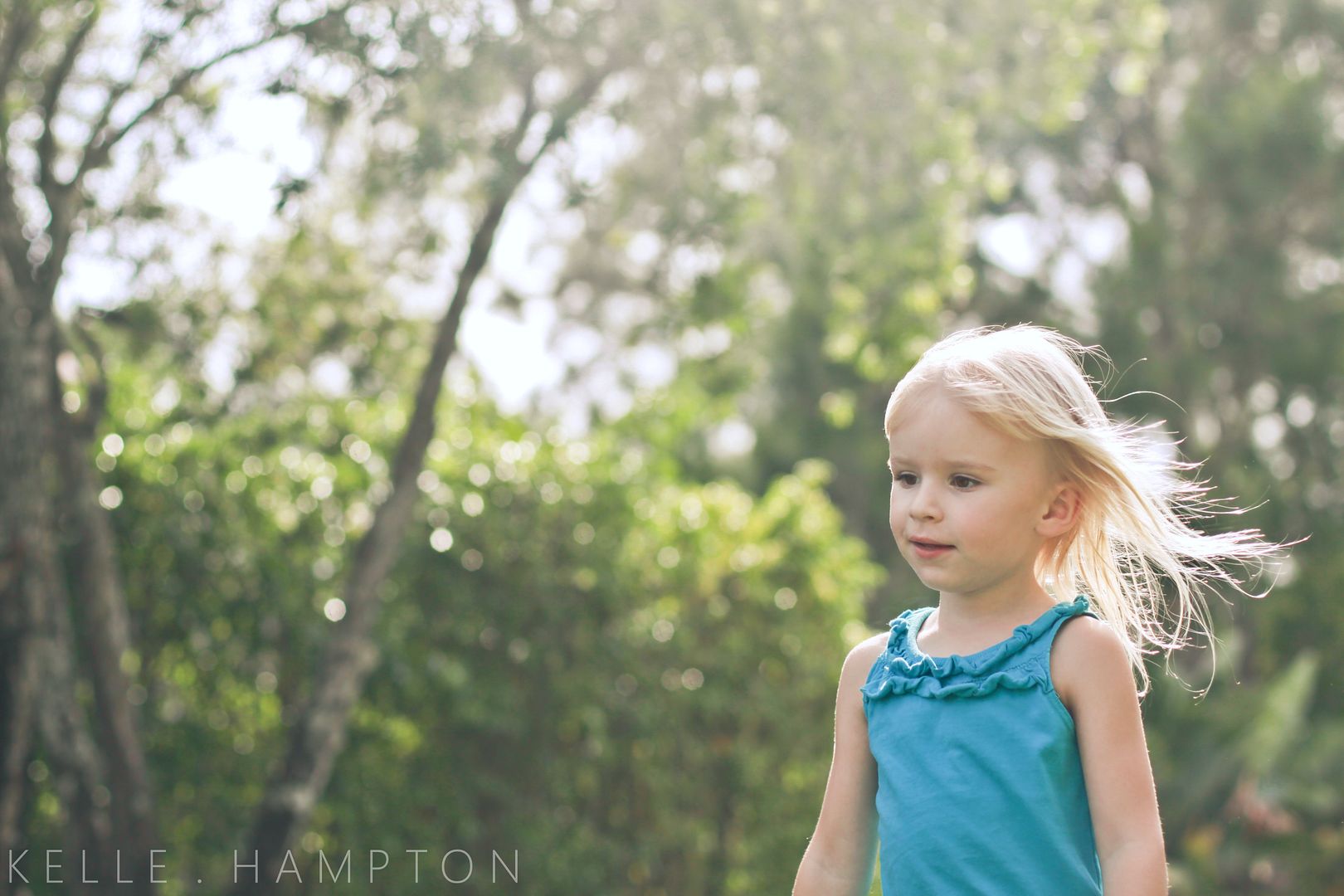 My girl and her kite-tail flowing hair.
Happy Monday.